Simple Vegetable Soup- Steamboat in a bowl?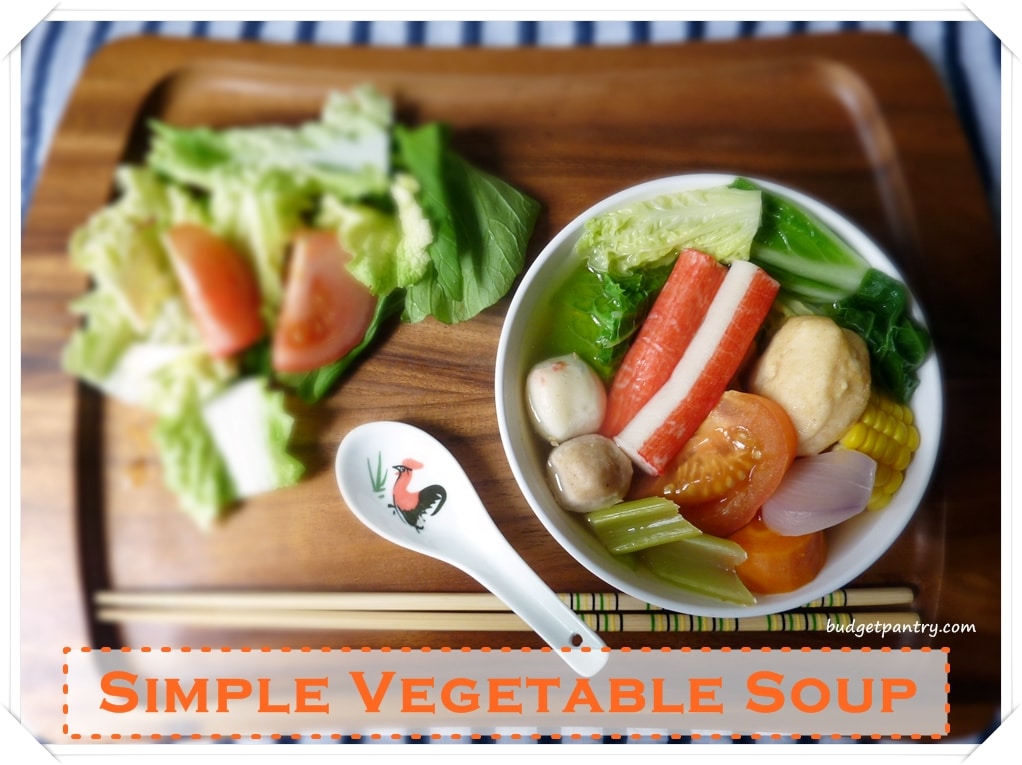 Everyone has a dish that he or she takes for granted. It could be Mom's fried egg with dark sauce, porridge with light soy sauce, or even instant noodles with egg. This is it for me- Vegetable Soup- something that I've always taken for granted.
It is a dish when I need a break from cooking but still need to eat. It is a dish I cook when my brain cells are fried and can't conjure up anything new. It is a dish I cook when I need to feed my family more vegetables! You can vary the ingredients and add pork slices, prawns, squid, abalone (!).. in which case it won't be "Simple Vegetable Soup" anymore but "Steamboat in a bowl"!
This soup very versatile ok?
Simple Vegetable Soup
Serves: 4
Total cost: $3.75
Total cost per serving: $0.95
What I used:
Base Ingredients: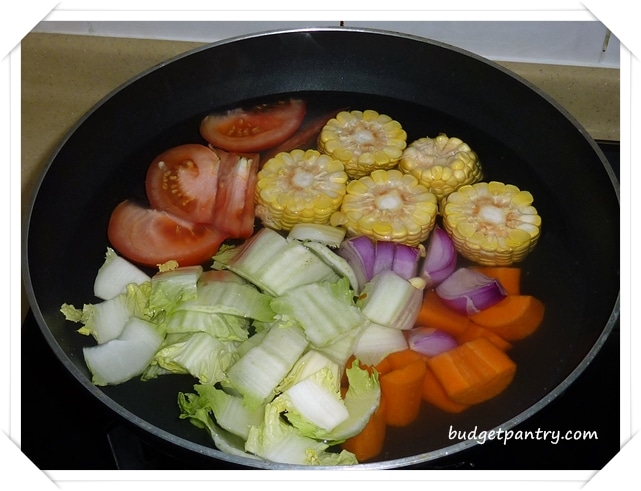 1 carrot, peeled and chopped into chunks
1 corn, chopped into 5-6 pieces
1 medium tomato, wedged
1 red onion, wedged
A handful of cabbage stems (the white part of WaWa Cabbage-'Napa Cabbage', Chinese Cabbage, or Beijing Cabbage)
2 celery stalks (optional. I only remembered about them later on so that explains the late addition below!)
Enough water to cover all vegetables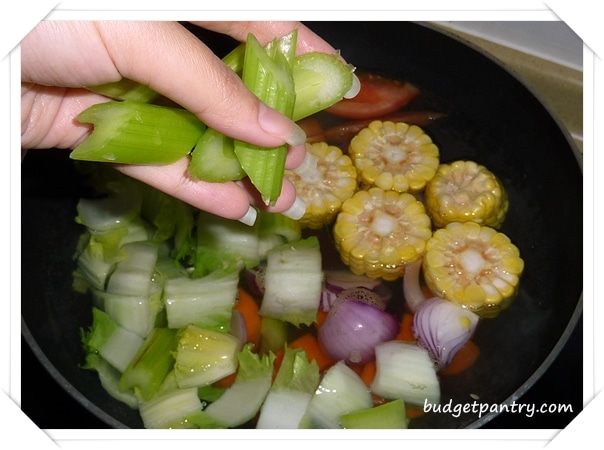 Assorted Ingredients (up to you, really):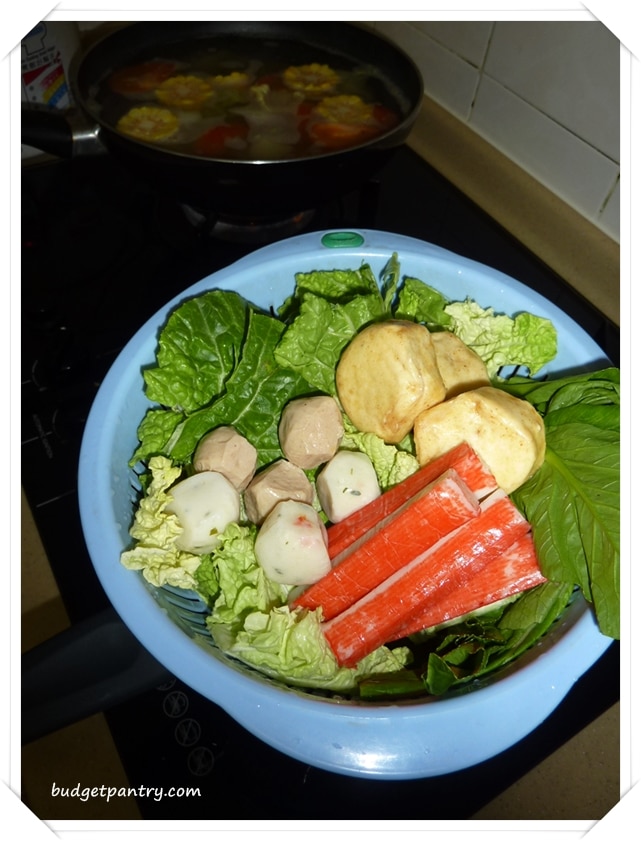 Crabsticks
Fishballs
Meatballs
Cheese tofu
Napa cabbage leaves
Xiao Bai Cai
Seasonings:
1 tablespoon Woh Hup Concentrated Chicken Stock
Pepper
Half tablespoon Mushroom seasoning: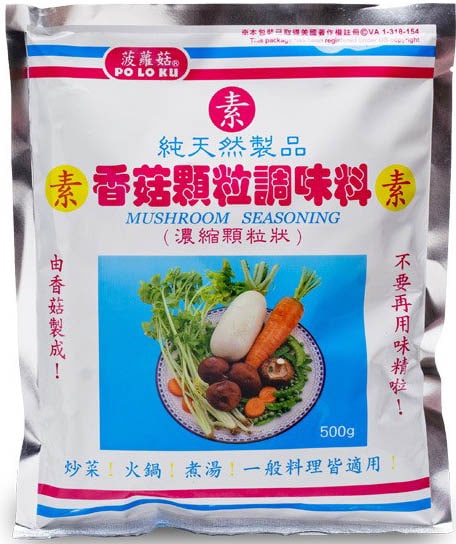 Steps:
1. Place "Base Ingredients" in a large pot or pan and cover with enough water.
2. Let it boil, then lower the flame and add "Assorted Ingredients" except the vegetables and crabsticks. Simmer for 15 minutes.
3. Add in vegetables and crabsticks, cook for 30 seconds, stir in seasonings, do a taste test and off the flame. Enjoy!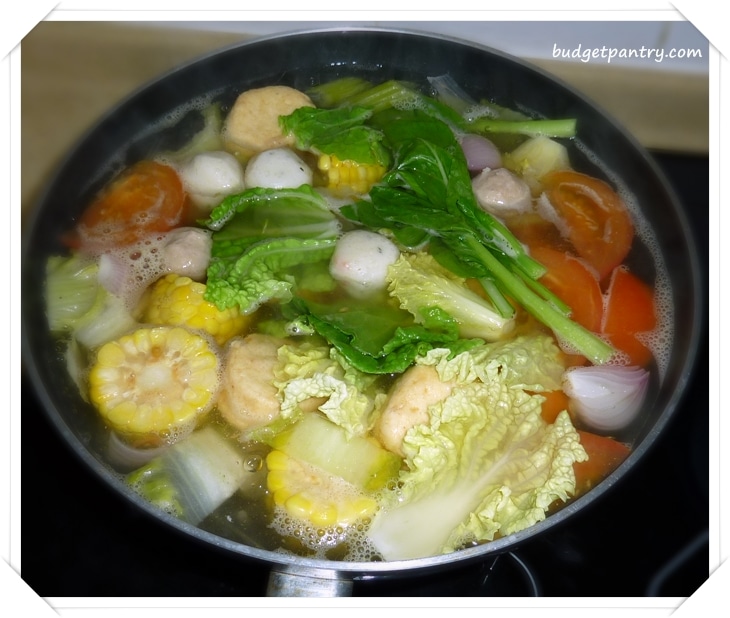 How much I spent:
$0.30 for carrot
$0.45 for corn
$0.30 for tomato
$0.20 for onion
Approx $2.50 for assorted ingredients
Everything else from my pantry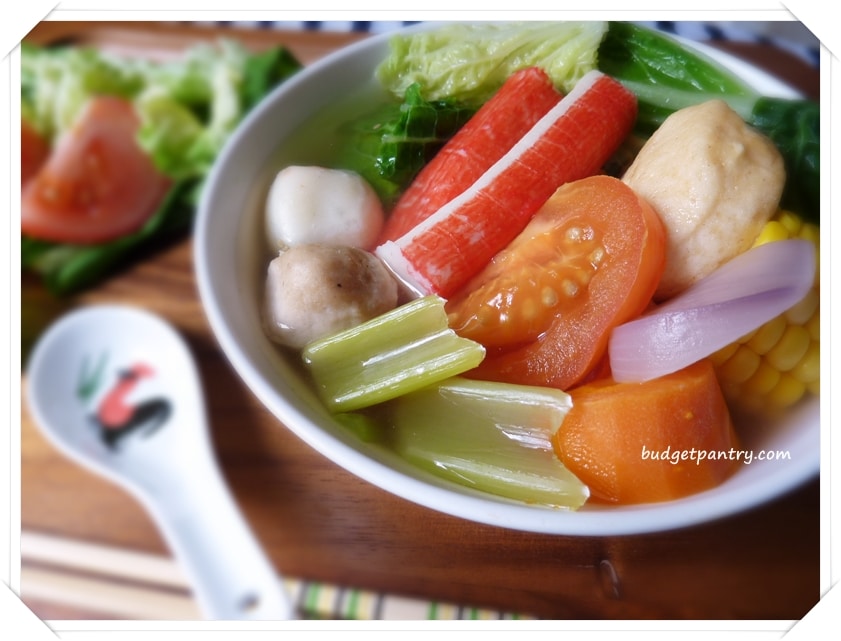 The best part of this soup is that you can vary the assorted ingredients depending on what you have in the fridge. If you have some garlic, peel and crush them lightly before adding them whole together with the base ingredients. You can also throw in some noodles or bean vermicelli. This is an easy way to add a dish to your dinner table and definitely my favourite way to eat vegetables!