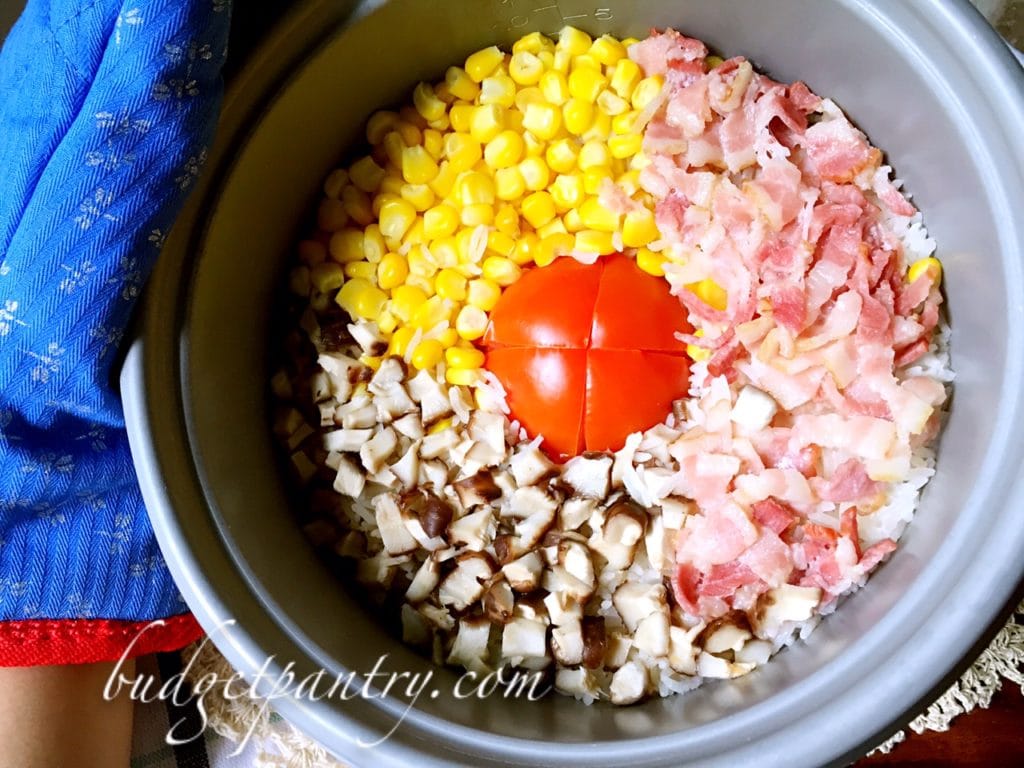 We're back from Spain! It has been an eventful (read: drama-mama) trip starting from taking off– or not! Our plane was scheduled for 0200h but when we went to the gate at 0130h and I saw that there was no boarding, I thought ok, maybe late inbound. But ten minutes later when I noticed that the CREW was still sitting in the gate hold room, I knew something was really wrong!

Five minutes later, the entire crew left the gate. And another five minutes later, the gate staff announced that we would be given an update 15 minutes later.
15 minutes later, we were told that the flight would be delayed til 0300h. 0300h came and went. Nothing happened. The crew did not come back. Another announcement was made at 0315h saying that the new ETD was 0400h. By then people were out of patience and started screaming at the ground staff. Please don't scream at the ground staff. They wish harder than you do that the plane would take off. You have no idea. And how do I know? The airport was once my playground.
To cut the already very long story short, the flight was grounded due to safety reasons. We had to be either put on other airlines or rescheduled to the next available Qatar flight at 2025h. We chose the Qatar flight. We didn't want to deal with uncertainty (there wasn't even a confirmation that the seats on other airlines were for sure), and we didn't want to arrive into Barcelona at midnight. By the time we left Changi airport, it was already close to 7am.
But the holiday was fantastic. It was a good chance for us to spend more time with each other and this trip made me realise that Jason is a really awesome travel partner! I shared tales of my trip on-the-go on my Facebook page, so if you haven't, LIKE me already! I also posted videos and more photos on Instagram, so follow me there if you have an Insta account. I'll continue back-blogging going forward, so stay around!
We reached home on Friday. The severe jet lag made me want to die because not enough sleep is can die. And not enough sleep also means not feeling well. But what was I to do when I was itching to cook? I decided to make us the viral rice cooker tomato rice which appeared in my dreams even when I was in Spain!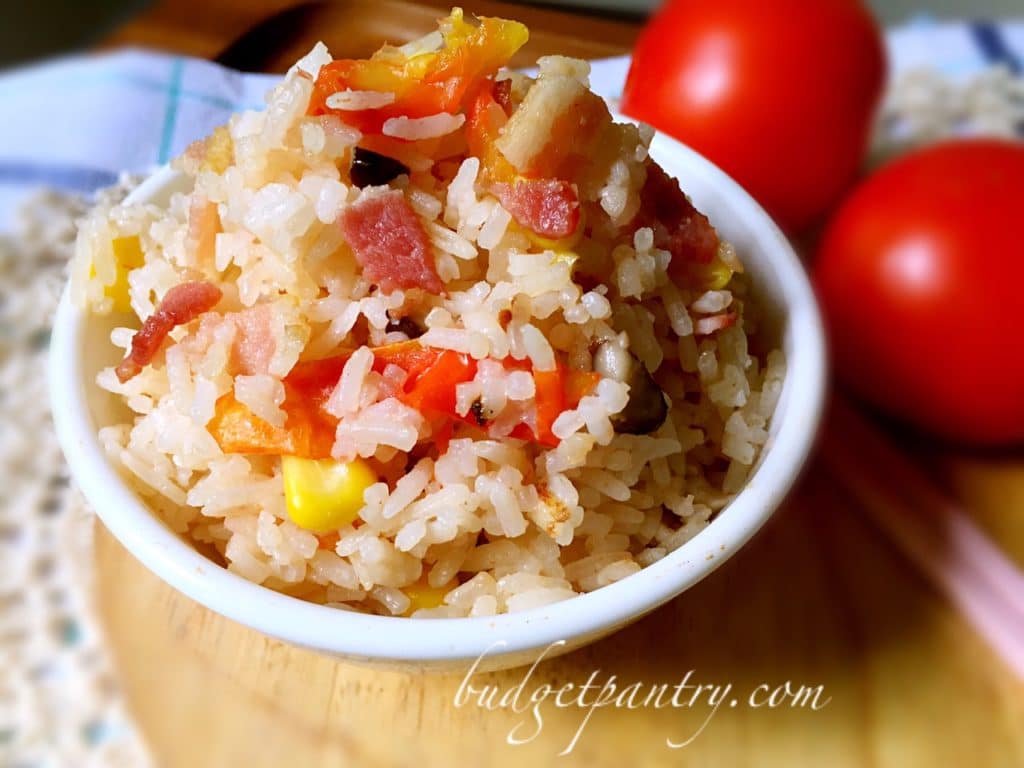 This recipe should have originated from Ochikeron. I think everyone should give credits when they share a recipe. If you know of someone else who was the creator of this method of cooking, let me know!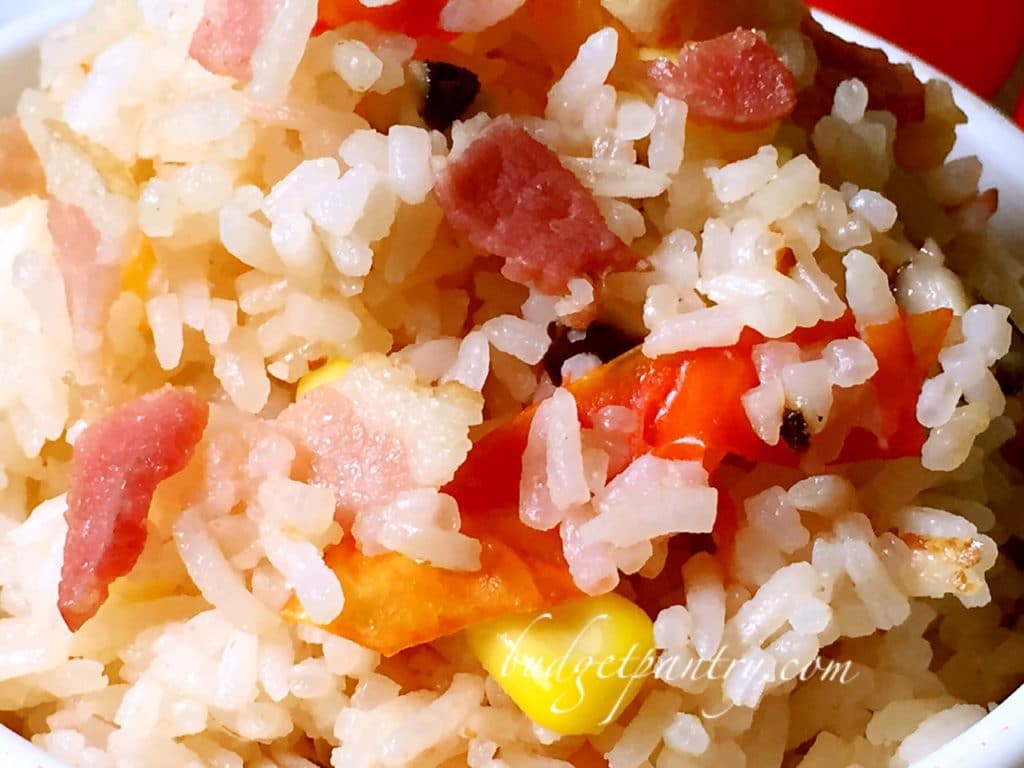 I made my version with shitake mushrooms, corn nibbles and bacon. Very yummy.. You'll have a tendency to overeat because you'll be thinking it's so healthy (no oil), but rice is carbs after all! And remember to season the rice. Don't expect it to taste like fried rice when it is just cooked in water. I used chicken broth and still added some seasonings. For dinner, I topped the rice with some pork floss.. yummy too. Have fun! I'm gonna try a cheese version next!
Rice Cooker Tomato Rice
Makes: 4 servings
Total cost per serving: $0.43
What I used:
2 cups uncooked rice
1 tomato
3 slices bacon, cut into small pieces
3 shitake mushrooms, cut into small pieces
A large handful of corn nibbles (I used frozen)
1 teaspoon oyster sauce
1 teaspoon superior light soy sauce
A drizzle of sesame oil (optional)
Pork or chicken floss (optional)
Chicken broth (fill to almost reaching inner markings of the rice cooker for 2-cups rice)
*the recipe calls for removing 6 tablespoons water (I used broth) as compared to the normal amount of water used. I only removed 3 tablespoons, so fill your chicken broth til approx halfway between the 1 and 2 cups marking.
Steps:
1. Wash rice as normal. Fill chicken broth til halfway between the 1 and 2 cups inner marking of your rice cooker.
2. Remove stem of tomato from top and make a criss criss at its bottom. Arrange all ingredients like in picture.
3. When done, stir in the oyster sauce and light soy sauce. Drizzle some sesame oil and top with some pork or chicken floss (both optional!) and mix well.
How much I spent:
$0.20 for tomato
$1.33 for bacon
$0.20 for mushrooms
Everything else from my pantry