Quick and Easy Lamb French Cutlets in Char Siew Glaze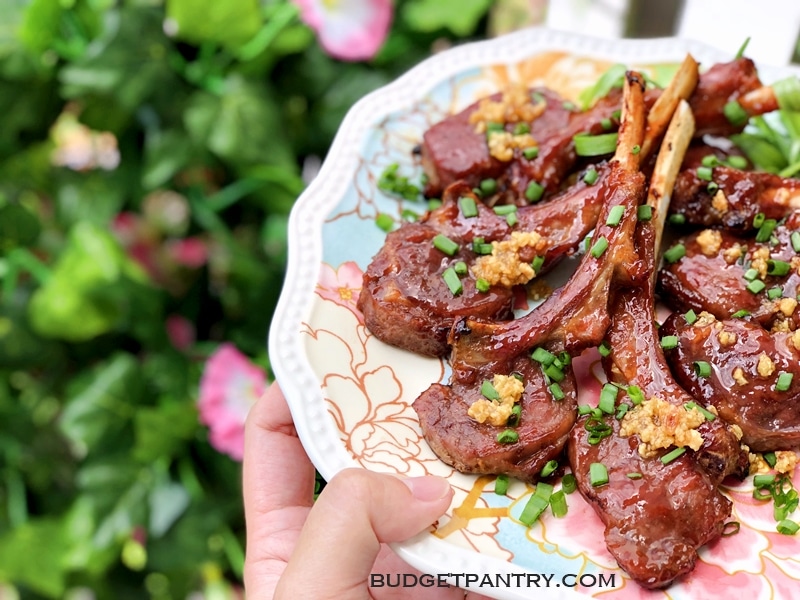 After discovering how easy it is to cook lamb French racks last Christmas, I've decided to contribute this dish for Chinese New Year's reunion dinner: Pure South Lamb Cutlets in Char Siew Glaze.

This gorgeous dish took me all of 20 minutes to prepare, honest! 5 minutes to slice the lamb racks into individual lollipops, 5 minutes to baste them in garlic char siew sauce, 6 minutes in the airfryer at 170C and you're done.
You can of course choose to pan fry or oven roast, or grill them. Read on for the different ways to prepare these Lamb French Racks!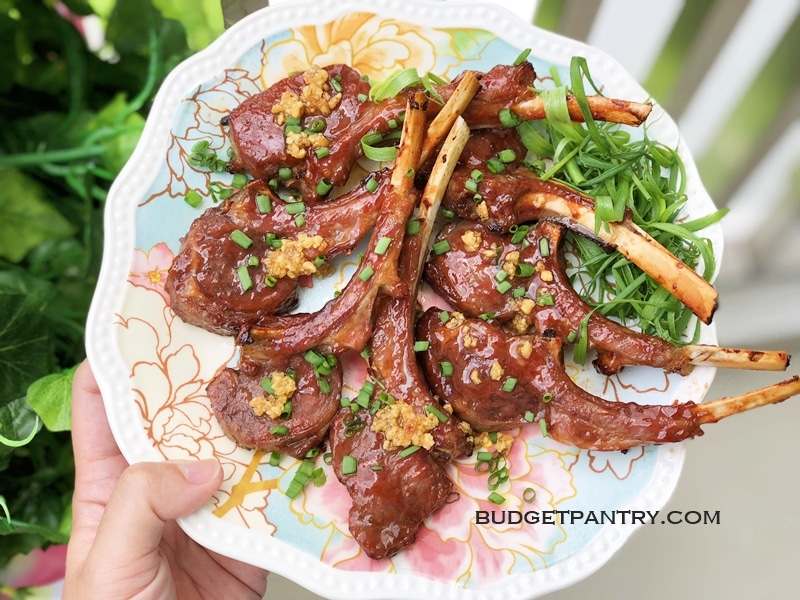 Why I like these Lamb French Racks
Apart from being the most tender part of the lamb, this ONE reason about the French Racks has made me a lamb-convert: It's incredibly easy to prepare at home.
Simply remove from package, rinse and pat dry, slice them into individual cutlets (it's super easy to do – I sliced them all up in 5 minutes with my IKEA knife), season with spices/sauce or simply salt and pepper, then cook for 6-8 minutes.
You can also choose to roast them whole in the oven and only slice them after cooking. This way, even more juices will be retained, making the meat even more moist and tender.
Where's this lamb from?
The lamb I'm using is conveniently packaged and frozen from Pure South, a New Zealand brand wholly owned by skilled and passionate Kiwi farmers.
Pure South dates back to 1948, when a group of farmers came together to process and market high-quality meat. Today, with over 4,000 farmer shareholders, they continue to lead the way with their passion and pure expertise in what they do.
Free range, grass fed stock = leaner and juicier meat
Free range and grass-fed stock is simply better. It's healthier, tastier, and raised in New Zealand's pure environment, it's the ethical choice for quality red meat. The meat is leaner and juicier thanks to a higher moisture content. My entire family loves it.



Try it for Chinese New Year with a storewide 18% discount till end of Feb
These frozen lamb racks are available on Pure South's online store, with prices as low as SG$23.91*!
Now available in single-rack packaging (approximately 400g), it's perfect if you're new to lamb, are curious about its quality, or if you have a small family of 2-3.
*Website reflects discounted price
Where to buy
Pure South New Zealand
Ecommerce website: https://puresouth.asia/collections/frontpage
Facebook: www.facebook.com/PureSouthAsia (lots of recipe inspirations!)
Instagram: www.instagram/PureSouthAsia

Recipe:
Quick and Easy Lamb French Cutlets in Char Siew Glaze
(budgetpantry.com)
Serves 2-3
What you need:
1 package Pure South Lamb French Racks (400g), thawed
3 tablespoons char siew sauce
1 tablespoon chopped spring onions
1 tablespoon chopped fried garlic
Steps:
Using a sharp knife, slice the lamb rack into individual cutlets. Rinse with water and pat dry.Coat the cutlets front and back with char siew sauce. I use a basting brush.
To cook the cutlets
Airfryer:
Preheat AF to 170C for 5 minutes. Once preheated, airfry for 4 minutes. Open the drawer and baste the cutlets with more char siew sauce. Turn up the temperature to 200C and continuing airfrying for another 2 minutes.
Pan:
Add the oil to a frying pan over high heat. When oil is hot enough, reduce heat to medium and cook cutlets for 3-4 minutes each side.
Grill:
Preheat a barbecue or grill pan to moderately hot. Cook cutlets for 2-3 minutes each side, or until just pink in the centre. Baste with more char siew sauce when cooking.
For all methods, allow cutlets to rest in a warm place for 5-10 minutes before serving.
Garnish with chopped spring onions and fried garlic before serving. Goes incredibly well with rice.