Not so cheesy Mac and Cheese
I know, what's the point, you might ask. I am not a big fan of mac and cheese because it is always too cheesy.
"Too WHAT?!" I can imagine my "little" brother, Cheng Lip, ask in disbelief. Now 24, he was the teenage gamer who stunk up our entire house with Parmesan cheese sprinkled over pizza, bread and instant noodles. He loves cheese over anything. Me? I sit as far away from him as I can during buffet lunches.
I never quite understood the hype over Kraft's Macaroni and Cheese. The cheese is gooey, heavy, and looks artificially orange. I don't like it and I don't think I ever will. But then as a non-cheese lover, what do I know?

So if you're like me who can't quite appreciate overly cheesy cheese, you might like to try out this recipe. Ditching a "traditional" mac and cheese recipe, I used penne and substituted Parmesan with sliced cheddar. I also skipped the roux component and simply made it with butter and fresh milk. The result? A less starchy and not nauseatingly cheesy version of of Mac and Cheese that I could eat over and over.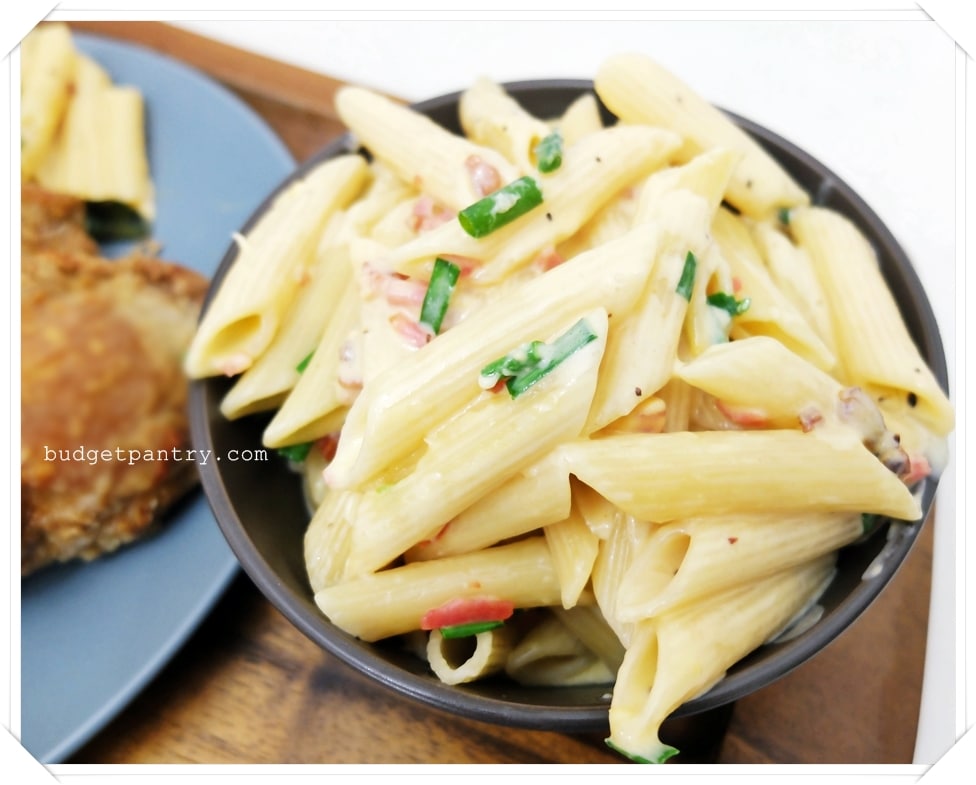 Not-so-cheesy Mac and Cheese
Serves 2 as a side dish
What I used:
2 handfuls penne pasta (I used Barilla, um, airflown from Rome. yes, I flew pasta home!)
1 tablespoon butter
1 cup milk (I used regular milk, not low fat, but you can)
1 teaspoon minced garlic
1 taiwan sausage, diced (are you judging me? fine, you can use bacon)
3 slices cheddar cheese
Spring onions, chopped (optional)
Salt to boil pasta
Salt to taste
Steps:
1. Boil a pot of water, add salt and cook pasta til al dente. Reserve 1 bowl of pasta water. Drain and set aside.
2. In a round "instant noodles" pan, melt the butter using low heat and add the garlic and chopped bacon/ taiwan sausages. Cook til garlic is aromatic and just turning golden.
3. Add the milk and simmer for 3-4 minutes until milk becomes slightly thick. Add the cheese slices. Add salt to taste, if needed.
4. At this point, if the sauce is too thick, add a bit of reserved pasta water.
5. Add in the cooked pasta stir to combine. Add a dash of black pepper and sprinkle chopped spring onions on top. Serve now!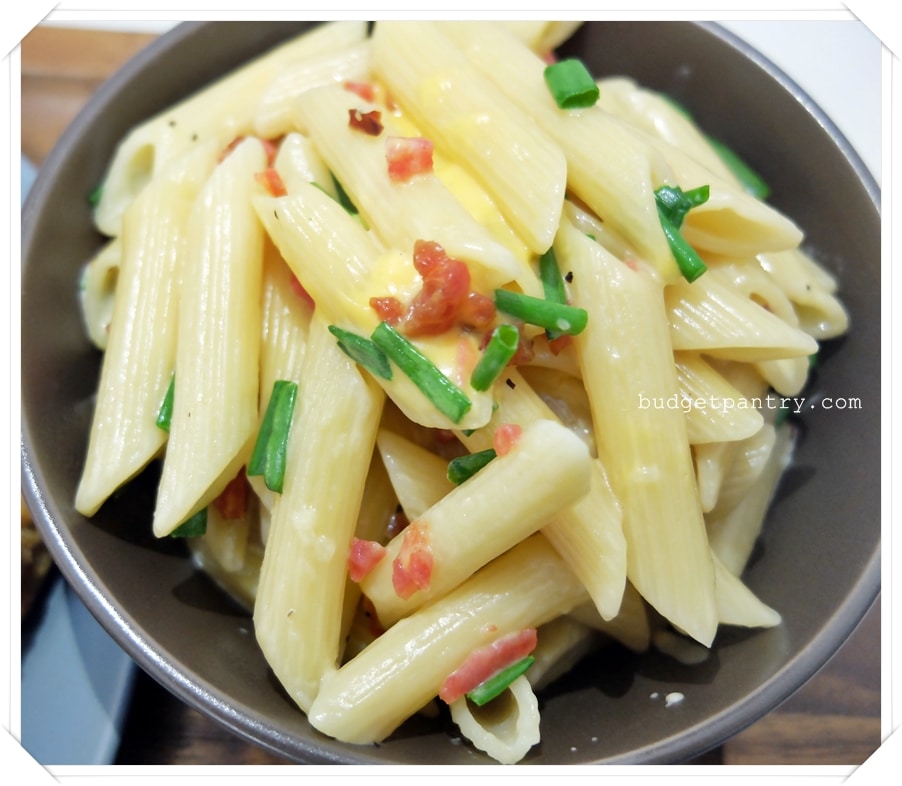 I served this with my Crispy Curry Fried Chicken but this can surely hold its own as a main. And in all budgetpantry fashion, this dish was the result of throwing things together to reduce cost and prevent wastage. I had some leftover milk and taiwanese sausages in the fridge, and I always have pasta in my pantry. I was surprised at how good the pasta turned out. I think the taiwanese sausages really imparted a unique, subtly sweetish flavour and it worked very well with the cheddar cheese sauce.
Try it, the result might surprise you!