Orange Chiffon Cake for the Lazy Baker
I'm not quite the baker, but boy, do I love cake. :)
This is my first attempt at chiffon cake and I am surprised how uncomplicated it is. I wouldn't call it easy, but it wasn't too bad once you got the egg whites whipped up. I probably wouldn't do it again because I should really re-name my blog to "The Lazy Girl Who Loves to Cook", but nothing quite beats the satisfaction of baking my own chiffon cake instead of buying one off the corner bakery.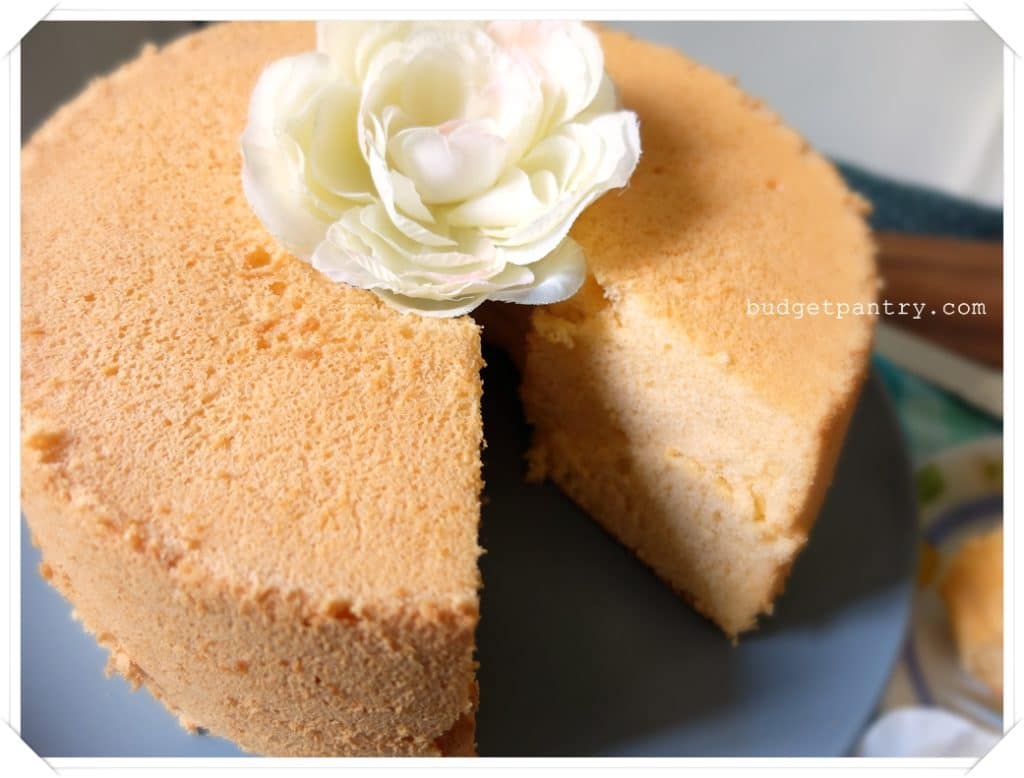 For a novice baker like me, this was quite an achievement! For this recipe, I used a 9-inch chiffon tube pan. Do not grease it in anyway as the cake needs to cling on to the sides as it cools.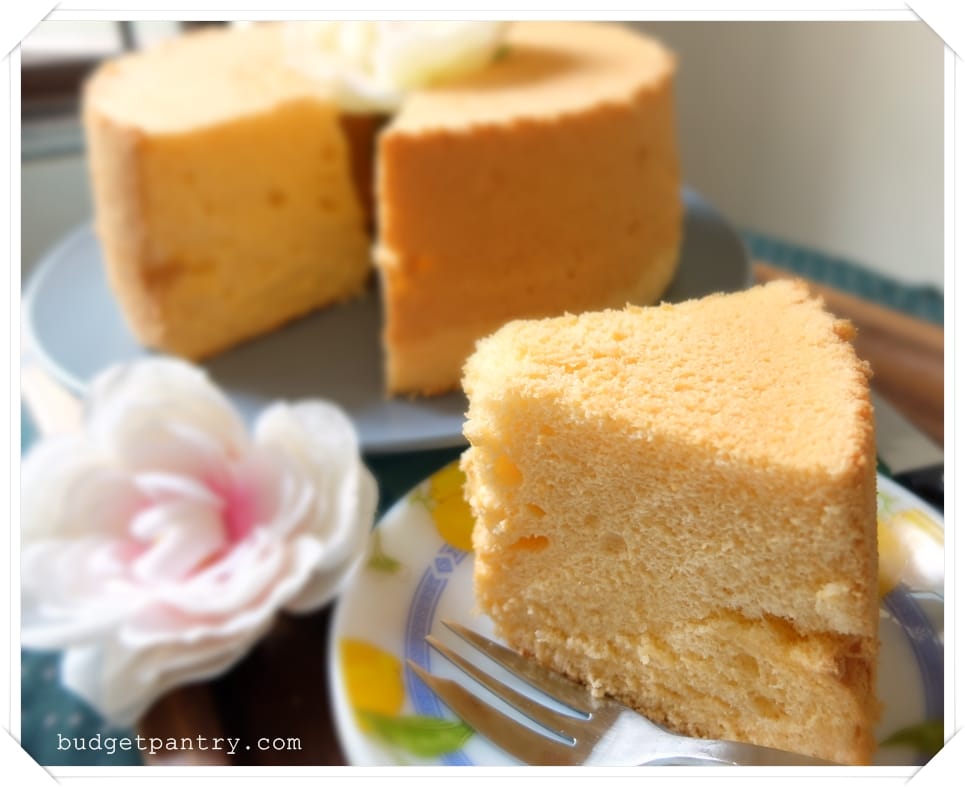 I used a few drops of orange colouring but you can most definitely skip it.
Some tips:
1. Separate eggs when you take them out of the fridge and bring to room temperature before using.
2. Use carton orange juice instead of freshly-squeezed as carton juices tend to have more flavour. I bought Peel Fresh. You can use juice from one orange if you wish but the orange taste wouldn't be as good.
3. When beating egg whites, use a large glass bowl or stainless steel bowl. I don't recommend plastic as the material is porous and oil/ butter from previous bakes might not have been washed off completely. This will contaminate the egg whites and prevent them from whipping properly.
4. I used cake flour in my recipe. If you're using self-raising flour, you can leave out the baking powder.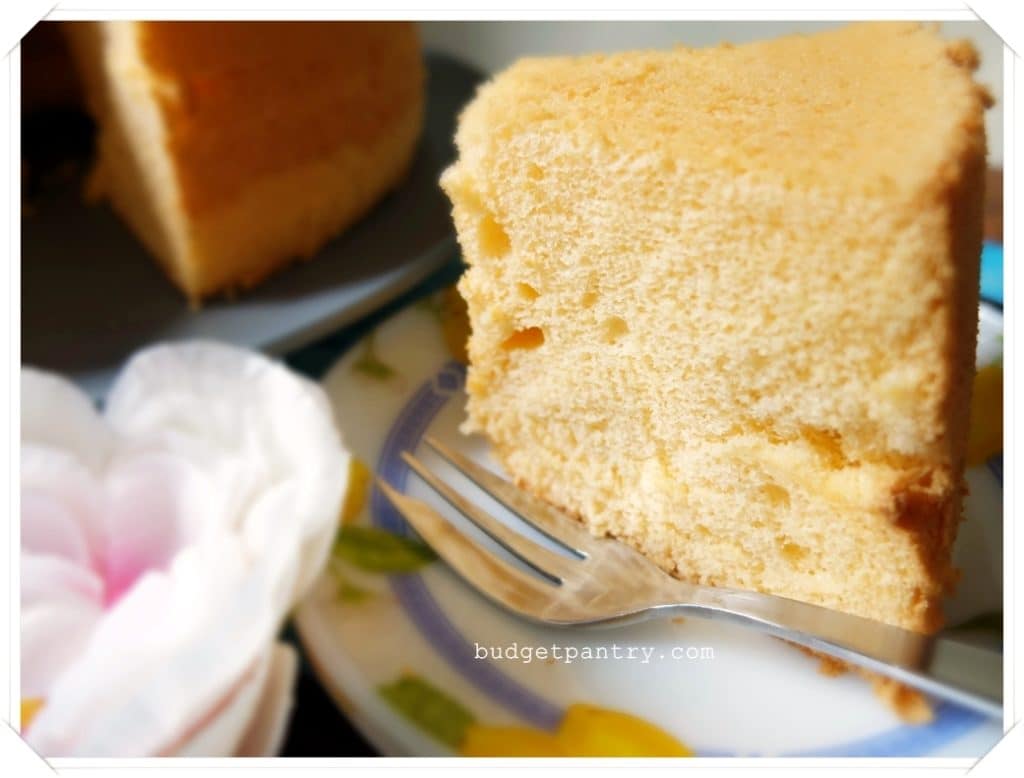 And I think you're ready for that chiffon cake party!
Orange Chiffon Cake
Serves: The entire family
Total cost per cake: $2.65 with ingredients from my pantry
What I used:
For the batter:
6 egg yolks (room temperature)
120g cake flour (sifted)
1 teaspoon baking powder (sifted together with flour)
60g caster sugar or baker's sugar
4 tablespoons canola oil (you can use any neutral-tasting vegetable oil)
1/4 teaspoon salt
1/2 teaspoon vanilla extract
4 tablespoons orange juice
For the egg white meringue:
7 egg whites (room temperature)
1/2 teaspoons cream of tartar
100g caster sugar or baker's sugar
Steps:
1. Preheat the oven to 170 degrees celcius.
2. In a large bowl, add the egg yolks, sugar and salt. Using a hand whisk, mix quickly to combine, making sure the sugar is dissolved (about 2 minutes). Stir in the oil, orange juice and colouring (if using) and mix well.
3. Add in the sifted flour and baking powder in 3 additions and fold in gently into the above mixture. Set aside.
4. In a glass or stainless steel bowl (avoid plastic), beat egg whites and cream of tartar using your hand-mixer until soft peaks form. Add in the 100g sugar and continue beating until stiff peaks form. Watch this video.
5. Fold in the egg white meringue into the batter in Step 3. Be careful not to stir or over-mix.
6. Spoon batter into ungreased chiffon pan. Tap 2-3 times on the counter top to get rid of any air bubbles and bake for 50 minutes or until top springs back when touched lightly. Quick remove from oven and invert the chiffon pan on a wire rack.
7. Cool completely. Loosen the cake by running a knife along the sides of the pan. Invert back onto a flat surface. Slice and eat!