Braised Claypot Ee Mee (Claypot Noodles)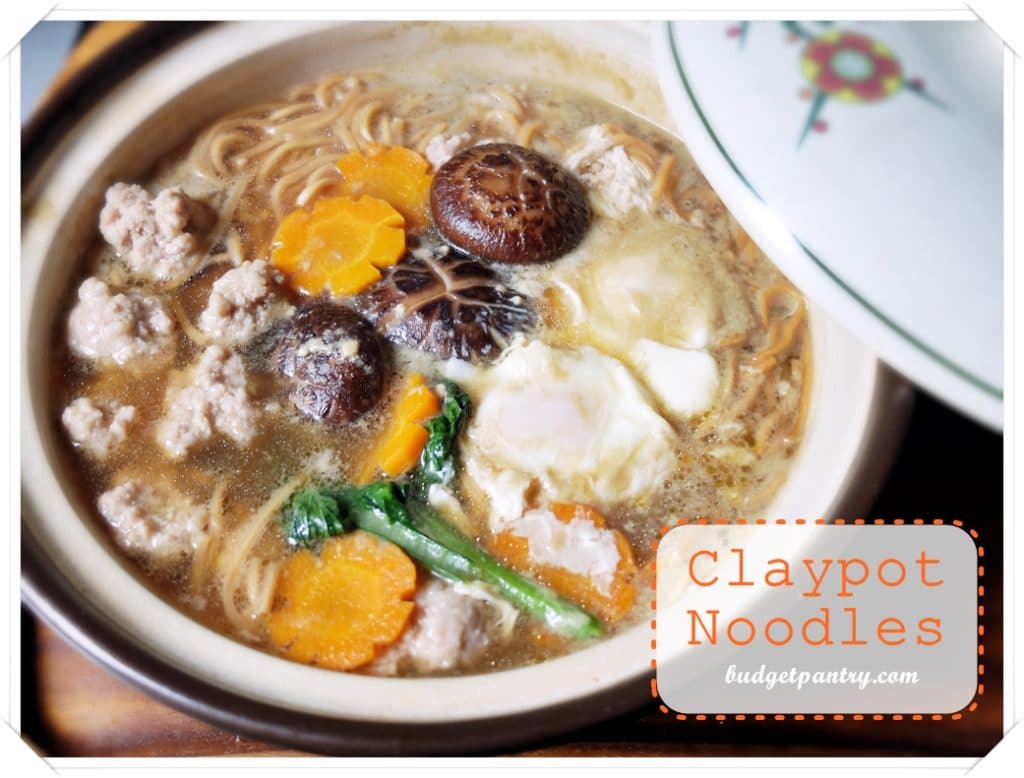 This is one dish that Jason asks for over and over- Claypot Ee Mee. Ee Mee, also called "Yi Mein", "Ee-fu Noodles" or "Yee Mee", depending on your dialect group, is essentially a type of wheat noodles, DEEP FRIED and usually sold in a packet of 4-5 round noodle blocks.
Here's a picture of what it looks like (picture credits to foodsze.com):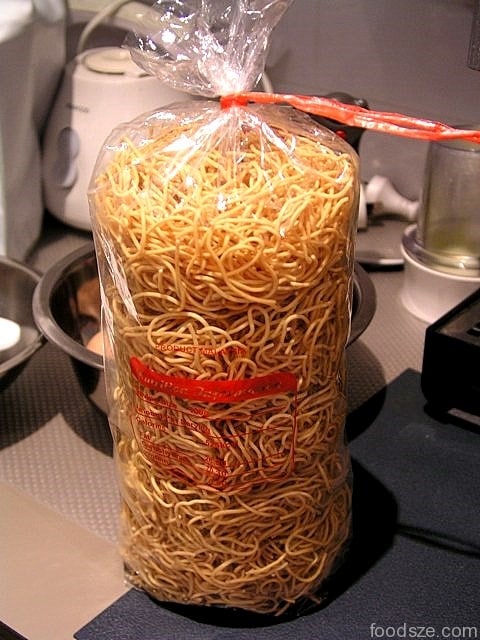 The type I buy from Giant costs $1.35 for 4 servings, so that works out to about $0.35 per noodle block. Cooked with an eggy gravy with some meat balls, vegetables, carrots and mushrooms, this is something that tastes great at a low budget. You can substitute the meat balls with seafood, chicken, fishcakes, or leftover ingredients and this will still taste great. Mushrooms are essential in this dish as they give the base for the gravy.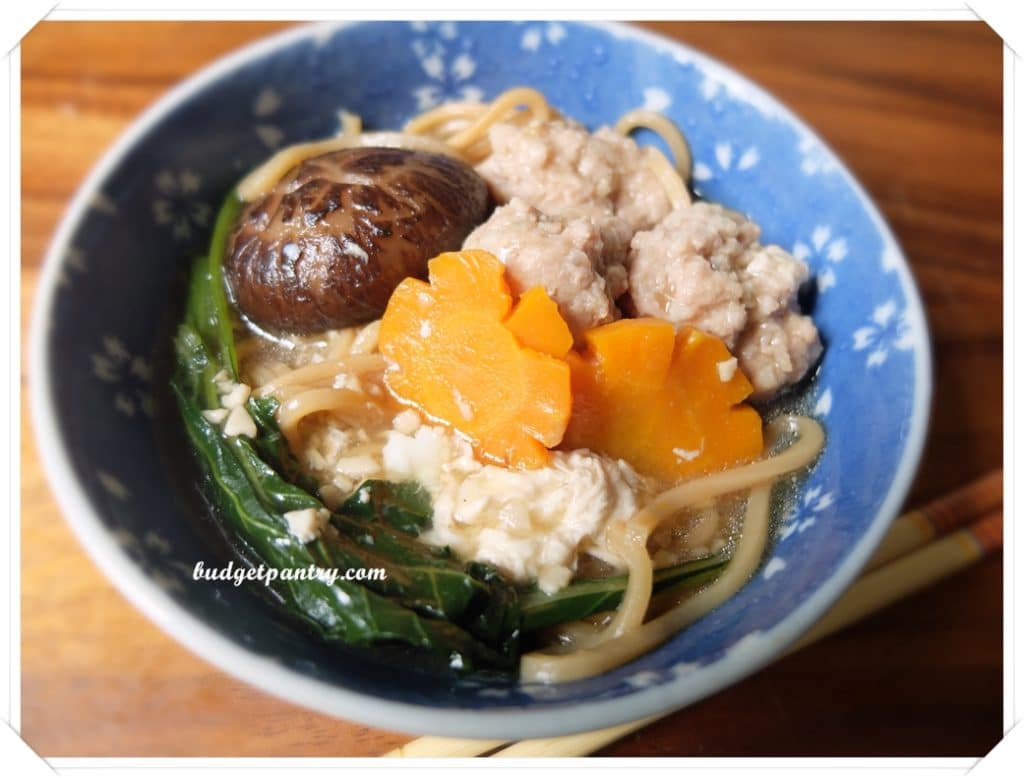 You can choose to add in a beaten egg or crack an egg on top and let it cook whole, til just about set, like I did: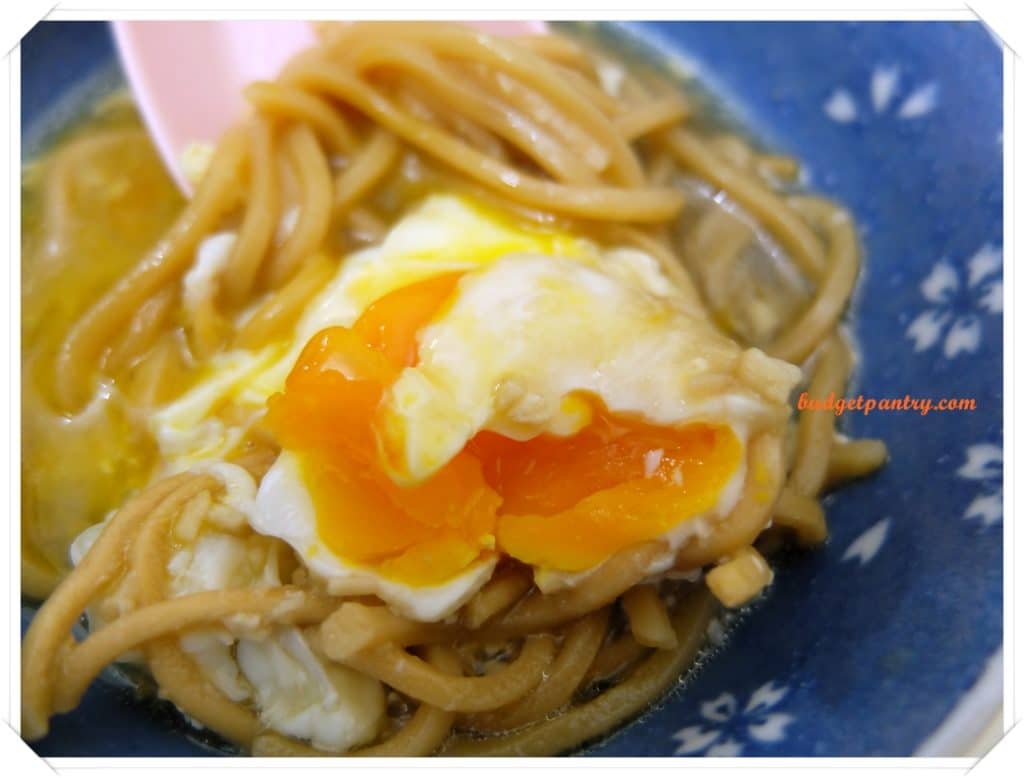 Braised Claypot Ee Mee (Claypot Noodles)
Serves: 2
What I used:
2 blocks Ee Mee
150g minced pork, marinated with soy sauce, Chinese cooking wine and some white pepper
4 dried mushrooms, stems removed, cleaned and soaked in 500ml warm water til softened. Reserve soaking liquid.
Half a carrot, sliced
Green leafy vegetables of your choice, blanched
2 eggs
1 teaspoon minced garlic
1 teaspoon oil
1 tablespoon cornstarch dissolved in 2 tablespoons water
For the gravy (mix everything together in a measuring cup or large bowl):
500ml reserved mushroom soaking liquid from above
300ml water
2 tablespoons oyster sauce
1 tablespoon fish sauce
1 tablespoon Chinese cooking wine (hua diao jiu)
2 tablespoons light soy sauce
Half teaspoon mushroom seasoning powder (optional but very good. see below.)
White pepper
Steps:
1. Heat up the oil in a deep saucepan and fry the garlic over medium heat. Add the mushrooms whole (or you can slice if you prefer) and fry for 3 minutes.
2. Add the gravy mix. In the meantime, shape the minced meat into meat balls and drop them one by one into the pan.
3. Bring the gravy to boil, then lower the heat and simmer for 20 minutes til mushrooms are soft and the gravy is infused with the goodness of the mushrooms and meat balls. Add the cornstarch solution.
4. Heat up your claypot. Place the noodles in the heated claypot and arrange the vegetables, mushrooms, carrots and meat balls on top.
5. Carefully ladle the gravy over and crack the eggs on top. Cover immediately and simmer til eggs are cooked.

This portion is for two people so I used two eggs and two noodle blocks. If cooking for one, reduce the quantity of the liquid and seasoning by half and don't be afraid to check for taste while the mushrooms are cooking. I added my favourite mushroom seasoning powder for extra taste. To see what it looks like, go to my recipe for Simple Vegetable Soup. I use it in place of chicken stock/ seasoning most days now. It really adds a savoury flavour to soups, stews and gravies.
Happy noodle braising!