Pregnancy: Mount Alvernia Hospital – Maternity Tour & Estimated Bill Size 2016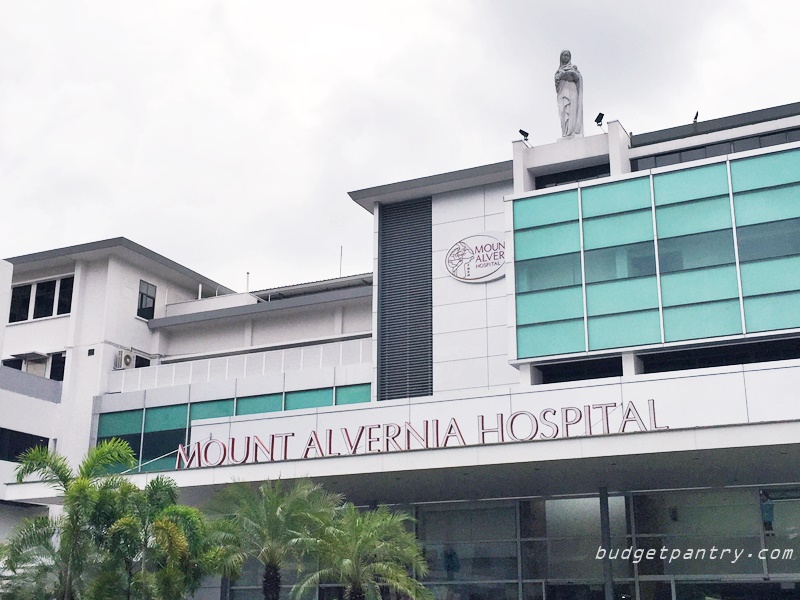 [updated 24 March 2016 after the Budget speech]
I can't believe that I'm now close to 31 weeks pregnant! Wasn't it just a while ago that Chua Bee Bee measured just 1mm big? If you're new to my blog (hello!), read about Chua Bee Bee and her week-by-week growth in my first trimester.
Deciding on a hospital wasn't so difficult for me. I only had two choices: Thomson Medical Centre or Mount Alvernia as my gynae only delivers in these two hospitals. After listening to first-hand experiences from friends who had recently given birth, and reading online reviews, the choice was clear: It's going to be Mount Alvernia.

I'm going break up this post into two sections: 1) Estimated bill size & how much cash to pay and 2) Maternity Tour
Part 1: Estimated Bill Size & how much cash to pay
The example I'm gonna use throughout is SINGLE ROOM NORMAL DELIVERY WITH EPI AND BABY DOES NOT HAVE A SEPARATE BILL
Your total hospital bill will generally be made up of four components:
1. Hospital's Maternity Package
2. Gynae's fee (including delivery fee and doctor's daily visit fee)
3. Anesthetist fee (for epidural or GA)
4. Baby's expenses (components like Pediatrician fee, hearing test, x-rays etc which you have to top up)
Hospital's Maternity Package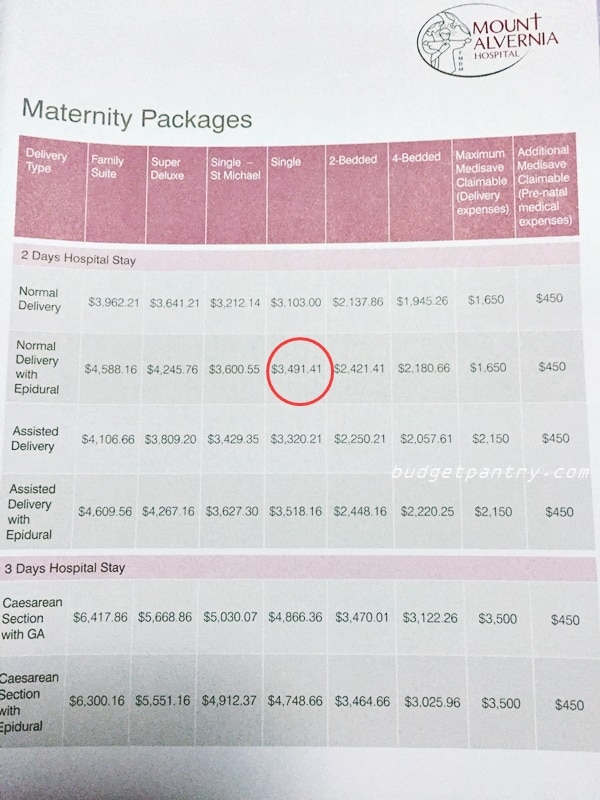 How much you pay depends on the room you choose and whether you stay 3D2N or 4D3N. I'm going to use myself as an example. My ideal is having a normal delivery with epidural in a single room, so for the first component of my bill, i.e., 1. Hospital's Maternity Package, I will be paying $3491.41 including GST. Note: as of today 5 March 2016, their 4-bedded rooms are closed till further notice.
What is included and not included in the package? Take note of the box at the bottom stating the consumables and services not included – these are added costs on top of the amount stated in the maternity packages chart above – but not everyone will need them. Err they will also charge you for extra pads so bring your own, syringe to collect colostrum if you're breastfeeding etc. As long as it's something not included in package, you'll be charged.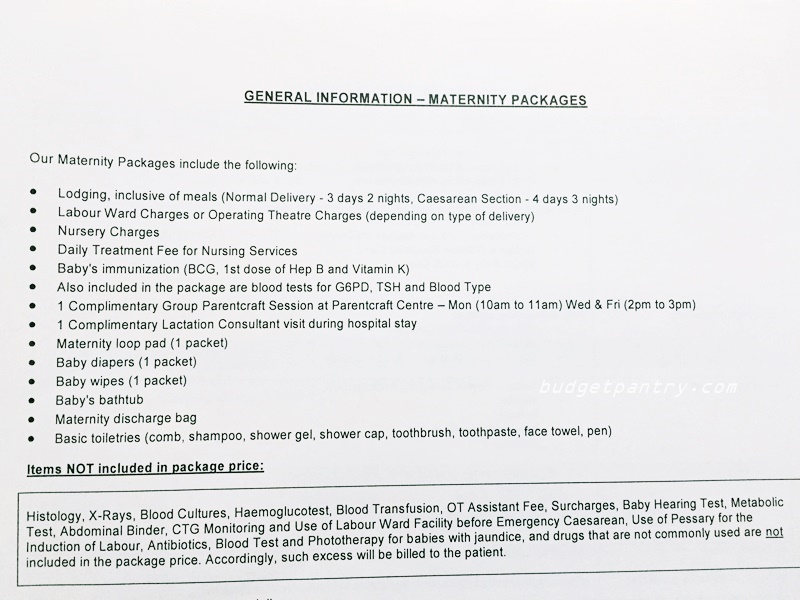 Gynae's fee and Anesthetist fee
This will depend on your gynae so check with him/her. For me, my gynae charges $1200-$1500 for normal vaginal delivery and less than $200 daily visit fee. So I'm gonna round up my gynae's fee to $2100 total. I'm not so sure about the anesthetist fee but from what I've read, for normal delivery epidural it's around $650. C-sect epidural and GA will cost more.
Baby's expenses (components not included in Hospital Maternity Package, like pediatrician fee, hearing test, x-rays etc which you have to top up)
Part of baby's expenses, like nursery and daily treatment charges, are covered under the Hospital Maternity Package. According to a sample bill given by the business office, for normal delivery with epi and baby stayed two days, baby's additional expenses cost an extra $550. These additional expenses include things like the pediatrician fee, hearing/diagnostic imaging tests, consumables, etc. Yours could be higher or lower depending on factors like how much your pediatrician charges and if your baby stayed more than 2 days.
How much maximum can I claim from medisave?
Refer to the maternity packages chart above. Again using my 3D2N example, I can claim:
a) For mummy's hospital charges (me): $1650 + $900 = $2550 (Breakdown: $450/day for 2 days + $750 for vaginal delivery + $900 for pre-delivery from MOH website)
b) For baby's bill (if not separated from mummy's bill): $0 (see note below)
Total medisave that can be claimed: $2550
Please note that "assisted delivery" or "csect" allows you to claim more than $2550.
Note: According to the business office, there are circumstances where baby's bill is separated from mummy's bill. In these cases, you can claim extra medisave of $450 a day for baby's bill. That is when your doctor has a 'diagnosis' for baby (how he determines this you have to check with him – for eg baby needs to be admitted for phototherapy), resulting in separate bill. Scroll down to the comments below for example. For more info as to in what circumstances baby's bill will be separated, ask your doctor. For general billing enquiries, call Mt. Alvernia's business office at 6347 6601.
Soooo….. how much cash do I have to pay?
Upon admission, medisave paying patients pay a deposit equivalent to the full package price of the selected maternity package by cash, nets or credit card (for me, it'll be $3491.41). Non-medisave paying patients will pay the full package price + $800.
Upon discharge, you pay the remaining components [gynae's fee + anesthetist fee + additional baby expenses] minus [estimated claimable medisave amount]. So using my example, it's [$2100 gynae's fee + $650 anesthetist fee + $550 additional baby's expenses] minus [$2550 estimated claimable medisave] = $750
So at this point, I would have already paid $3491.41 + $750 = $4241.41 by cash, nets or credit for normal delivery with epi in single room.
A final bill will be sent to me 2-4 weeks later informing me of the balance to pay (if any). This is in the event that I had used any other consumables during my stay like rental of breast pump ($21.40), formula milk bottles if needed ($1 per bottle) and other surcharges and tests not included in the maternity package.
Disclaimer: This is a rough guide and does not represent the actual amount you have to fork out. Your hospital bill will NOT show the full Hospital Maternity Package price (i.e. $3491.41) billed in one lump sum, but instead show breakdowns of the different services, which could result in confusion. For financial counselling or detailed explanations, please approach Mt Alvernia's business office.
Part 2: Maternity Tour
Here's their tour schedule:
Monday to Friday: 2.30pm to 3.30pm
Saturday: 10am to 11am and 12pm to 1pm
No tours on Sundays and public holidays
Register online or call them at 63476788 for more information. Email: patientassist@mtalvernia-hospital.org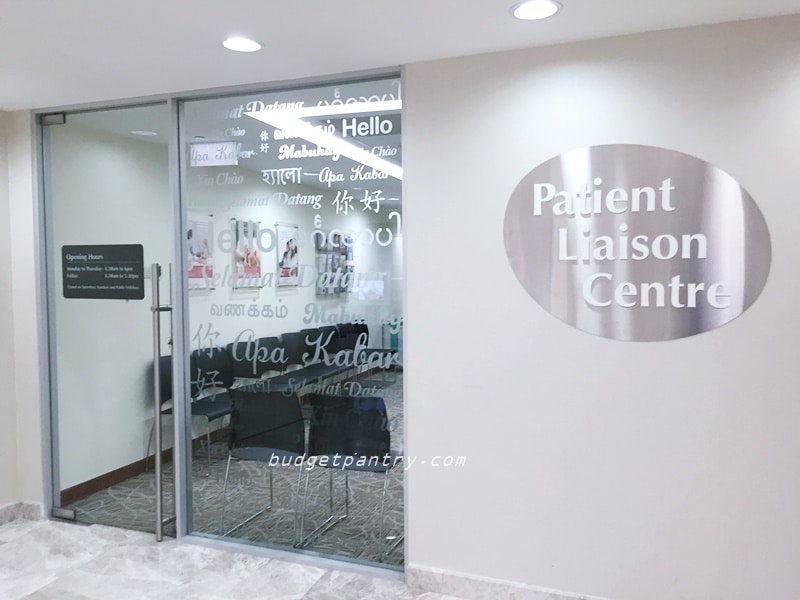 We met up at the Patient Liaison Centre in the main lobby where we went through some slides of generic and useful information before going on the tour. We also got a goodie bag with these items:
Our first stop was the Parentcraft Centre at level 2.
Each mummy is entitled to one complimentary session at the Parentcraft Centre. Sessions include breastfeeding talk and consultation, bathing your baby, bottle feeding and weaning, baby massage class and etc. Next, we went to St. Michael's Ward: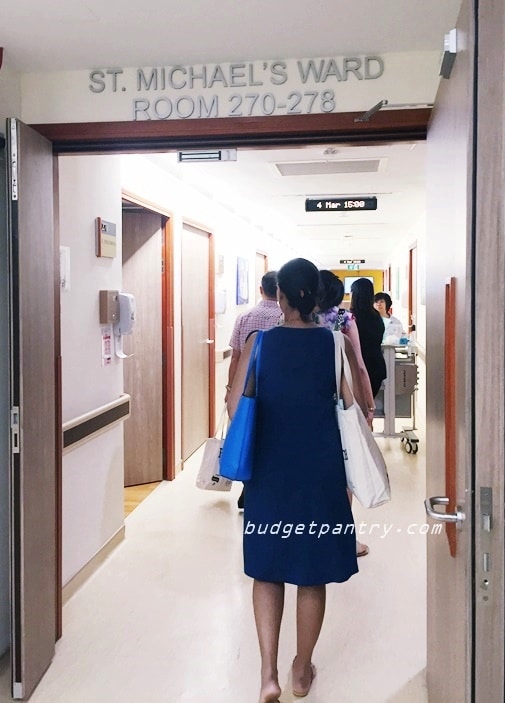 This is the Single Room at St Michael's Ward. The only difference between the St. Michael's Single Room and a regular single room is that St Michael's single room has an iPad-controlled room lighting (?!) and wheelchair-friendly bathroom. Other amenities are the same as the single wards, which cost about a hundred dollars cheaper.
We then went on over to Our Lady's Ward at level 3 to view their regular single room and 2-bedded rooms: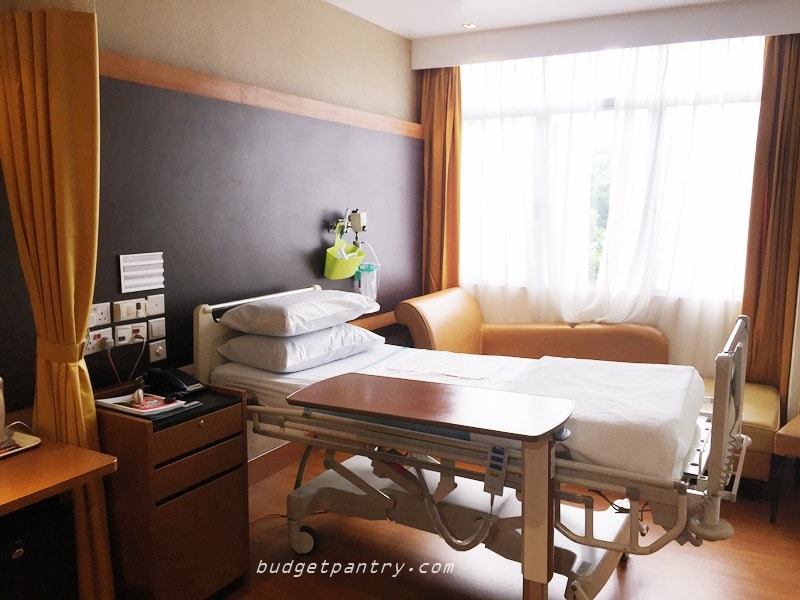 The single room comes with a personal dressing table and sofa armchair which can be converted into a bed. If you choose a single room (likewise for St. Michael's Single), your husband/companion can stay over for a fee of $80.25 per night, inclusive of meals. There's also a fridge right in your room. Here's what the bathroom looks like: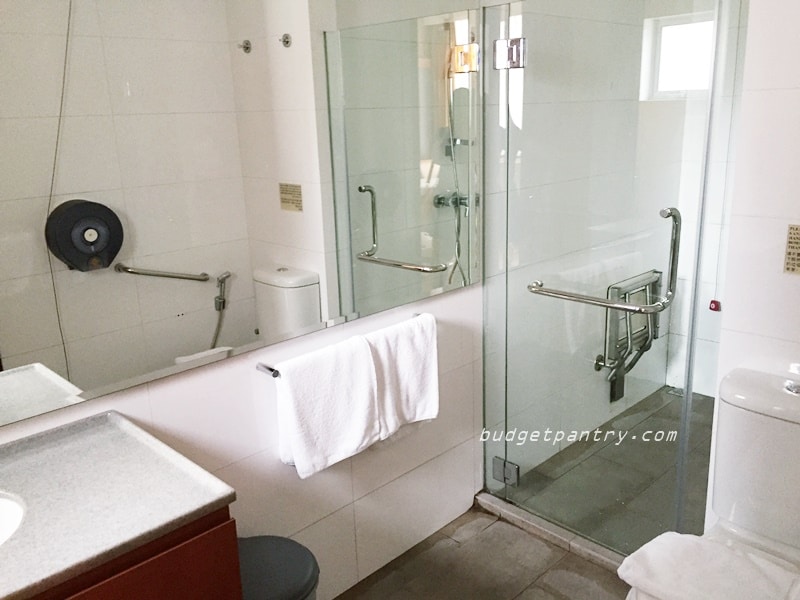 Our Lady's Ward also houses the Family Suite and Super Deluxe Room. We didn't get to view the rooms but if you're interested, you can view them on the Mt. A website.
Here's the 2-bedded room. Each bed has its own TV but there's no fridge in the room, and of course the bathroom is shared. It actually looks quite spacious and comfortable. And now for the delivery suite: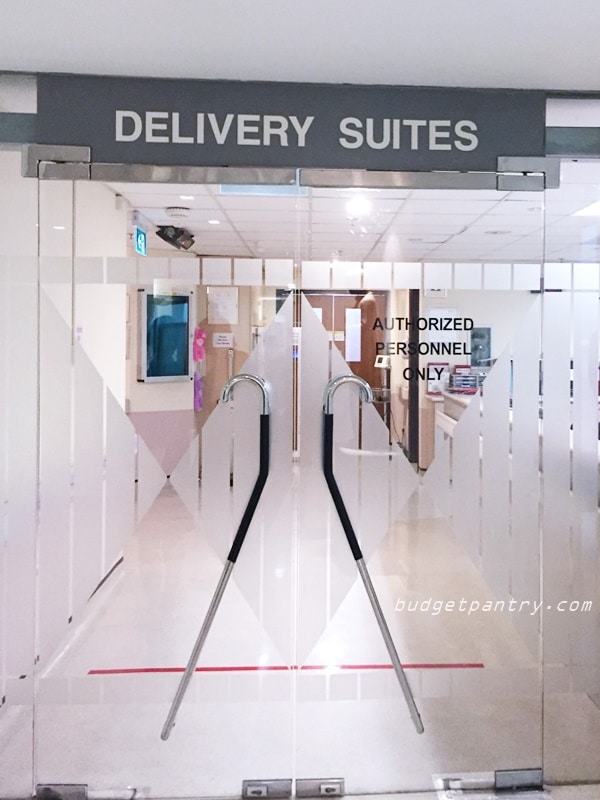 Your husband can accompany you to the delivery suite regardless of which maternity package you choose. If he is overseas and unable to to make it, then one other companion may take his place. My first reaction when I stepped into the suite: COLD! Bring a cardigan with you. The delivery suite is equipped with an arm chair, CD player, bathroom and various pain management tools like gym balls, floor mat or aromatherapy. Let the nurses know if you need any of these. If you're banking your baby's cord blood, remember to hand over the cord blood collection kit to the nurses.
Oh and I wasn't allowed any photos of the babies in the nursery, but in case you're curious what the free bath tub and 'maternity bag' look like…
One last thing to add: If you opted for normal delivery at admission but for some reason have to go for last minute emergency c-sect, you will be moved to the operating theatre from the delivery suite. Package-wise, you simply pay the c-sect package (refer to maternity packages chart above) + the delivery suite fee (around $300+) + consumables (around $100+) and the charges for CTG machine (the machine to monitor your contractions) which sorry I don't know how much.
I hope this post was able to clear some of your doubts for $$ matters and the types of rooms available at Mount Alvernia Hospital. Again, please note that this is intended to be a rough guide and your total bill may (will!) vary. Information correct as of 5 March 2016. I take no responsibilities if any info has changed by the time you deliver! Wishing every mummy a safe and healthy delivery. If you have any questions, leave a comment and I will try my best to answer. Follow me on my Facebook Page for more baby tips and updates!
Next:
Pregnancy: Bellybuds! Playing music for your baby in the womb
FY2016 Budget: Is the government giving us an extra $3K into the Child Development Account?
Pregnancy: Why I'm choosing GAIA Natural Baby Organic Skincare for #ChuaBeeBee
The third trimester: Tips for changing your gynae at Week 35
Pregnancy: When you wrist hurts like nobody's business (De Quervain's Tenosynovitis)
How to bake your own chunky chocolate lactation cookies
Pregnancy: Week 39 – Low amniotic fluid and an eviction notice!
Previous posts:
Pregnancy: The big reveal!
Pregnancy: The first trimester scans… I saw an empty womb on my first scan
Pregnancy: The second trimester – harmony test and gender reveal!
Pregnancy: The second trimester – 20-week anomaly scan + gestational diabetes scare
Pregnancy: The third trimester 4D scan – I saw Chua Bee Bee's cute little face!