Eggplant with Garlic Minced Meat Gravy 鱼香茄子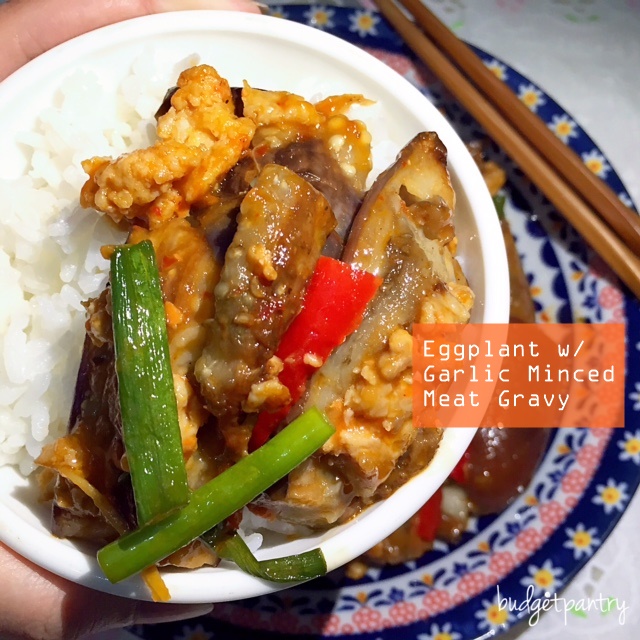 You would have known by now that I love eating eggplants. They're great grilled, baked, deep fried or airfried, in a low-carb lasagna, yong tau foo and stir-fries. I've featured it many times in my lunch boxes grilled and topped with tuna and egg, but one of the best ways to eat this is in this dish: Eggplant with garlic minced meat gravy 鱼香茄子.
Restaurants or zi-char stalls cook this by deep frying the eggplant in hot oil to quickly get them soft and melty. You can achieve the same by doing a shallow-fry in your wok, but it is more time-consuming. By nature, eggplant absorbs oil easily, so I turn down the heat and just add about two tablespoons of olive oil for 2 eggplants. Still relatively 'oily' by my standards but way better than deep frying.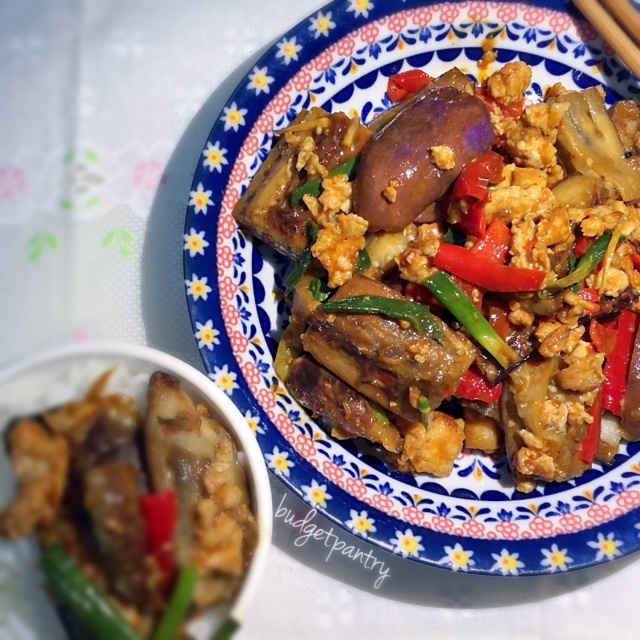 If I can eat rice freely, I will totally wallop 2-3 bowls of rice with this! The minced meat and garlic gravy matches so well with the soft and melty eggplant! And the sliced chilli and spring onions lift the flavour to another level. I used big red cut chilli for this as the aunt can't really take spice cos of her gastritis. I would have used chilli padi! If using chilli padi, chop them really fine and fry together with the garlic and ginger.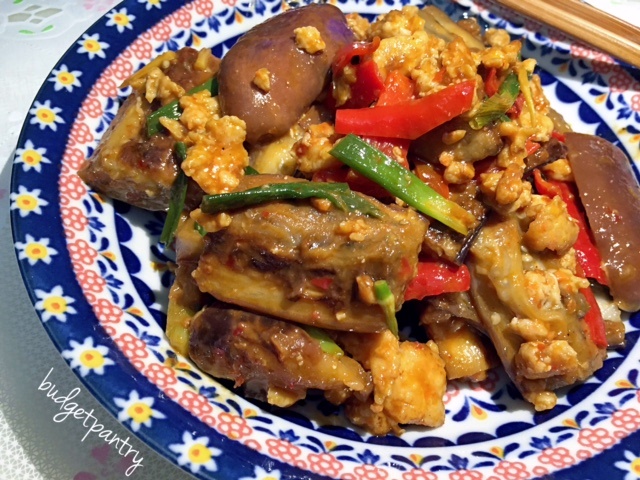 Eggplant with Garlic Minced Meat Gravy 鱼香茄子
(budgetpantry.com)
Serves: 3-4 as part of a Chinese meal
Total cost per serving: $1.05
What you need:
2 long eggplants/brinjals, sliced into 3″ x 1″ length
200g minced meat (chicken or pork)
2 big red chilli, seeds removed and sliced
2 cloves garlic, minced
Half tablespoon chopped ginger
1 stalk spring onion, chopped into 1″ length (separate white and green sections)
2 tablespoons + 1 teaspoon olive oil
Water and 1 teaspoon salt (for soaking the eggplants)
Seasonings
1 tablespoon chilli bean paste
Half tablespoon light soy sauce
1 tablespoon cooking wine
1 teaspoon sugar
1 tablespoon water
Steps:
Soak the sliced eggplants (no need to remove skin) in salt water for 15 minutes. Remove and drain.
Heat up 2 tablespoons olive oil. Place eggplants flesh side down and let it cook under low heat until soft, about 10-15 minutes. Use a pair of chopsticks to rotate eggplant, making sure each side is cooked and soft. Remove from wok and set aside.
In the same wok, heat up the remaining teaspoon of oil and fry garlic, ginger, white part of spring onion and red chilli till fragrant. Add the seasonings and mix well. Add some water if too dry. Mix in the spring onions, do a final toss and serve hot with rice.
How much I spent:
$1.20 for eggplant
$3 for minced chicken (you can use pork)
Everything else from my pantry