Some of you ask me if I still cook as often since I'm now 31 weeks. YES I'm still cooking! Cook as often but not so elaborate la. I still prepare my lunchbox for work and come home to cook dinner for Jason, myself and sometimes Ah-mm and 88.

Mealtimes are simple for me. Sometimes when I'm settling dinner alone I don't really go for the taste and just blanch some veggies and fill up on some protein. But then again I love the taste of plain boiled vegetables over stir fry. I can eat a whole head (or two!) of plain broccoli. You ask me to add some oyster sauce I might not want to eat.
So today is one of those days where you just want to get dinner over and done with. I decided to flake some airfried salmon and cook sambal fried rice for Jason. And then after that I can quickly lie down and see #ChuaBeeBee do her jelly dance! She is now VERY active and my tummy is constantly vibrating. Sometimes her kicks and crazy wriggles actually feel painful. But move all you want ok CBB. You can do whatever you want as long as you are healthy and keep moving.
I love this recipe because dinner can be ready in 15 minutes. It helps if you have an airfryer, if not, you can pan fry the salmon till 80% done, then flake with a fork – the same you do if you airfry. Jason polished off the whole plate and kept saying it's delicious. The sambal chilli I used is Taho Sambal Belacan, which I got from the provision store opposite my place. I've seen it in wet market stalls and Giant.. it's one of the best, if not the best bottled sambal belacan available. I love their entire range of chilli.. their extra hot chilli sauce with lemon is powwwwwww!
If time is a constraint for you when it comes to meal-planning, try this! One dish settled with no lack of nutrition.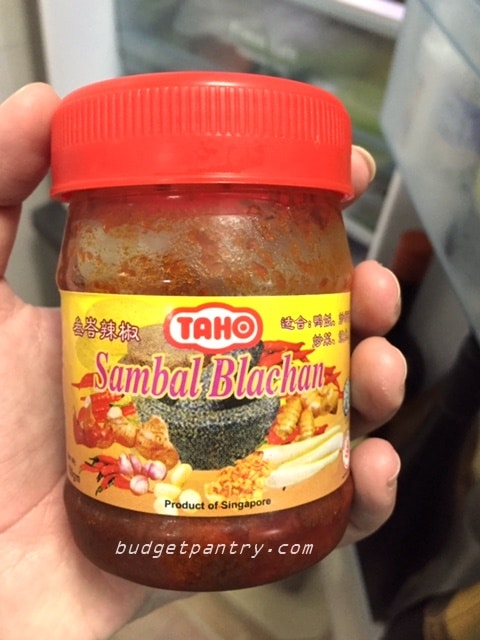 Salmon Sambal Fried Rice
(budgetpantry.com)
Serves: 2
Total cost per serving: $2.10
What you need:
200g salmon fillet
2 servings cooked rice, best if overnight (if not, scoop out on a plate and refrigerate till ready to use)
2 eggs, beaten
2 tablespoons olive oil
2 teaspoons minced garlic
2 tablespoons edamame beans/frozen mixed vegetables
1 sprig spring onions, chopped
1.5 teaspoons Taho sambal belacan (or more to taste – it's spicy!)
1 tablespoon light soy sauce
Steak seasoning/cajun powder/old bay seasoning and 1 teaspoon sugar (to season salmon)
Steps:
Preheat airfryer to 180C. When orange light disappears, airfry seasoned salmon fillet skin side up for 6 minutes till 80% done. Flake with a fork and cut skin into smaller pieces. Set aside for later use.
Heat up your wok on high flame, add the oil, wait for a few minutes and fry garlic till fragrant. Add the beans/mixed vegetables. Fry for a minute then add the salmon flakes. Cook till just turning firm.
Add all the rice and stir fry quickly to combine. Follow with the light soy sauce and sambal chilli. Mix well. Make some space in the middle of the wok and crack the eggs. Allow to set for 30 seconds then combine with all the rice. Keep tossing to keep things going. Add the chopped spring onions.
Continue frying on high heat till rice grains dance inside the wok. Off the flame and eat immediately.
How much I spent:
$3.60 for salmon fillet (I used frozen)
$0.60 for eggs
Everything else from my pantry