Low-carb lunch idea: Mesclun Salad with Sriracha Mayo Dressing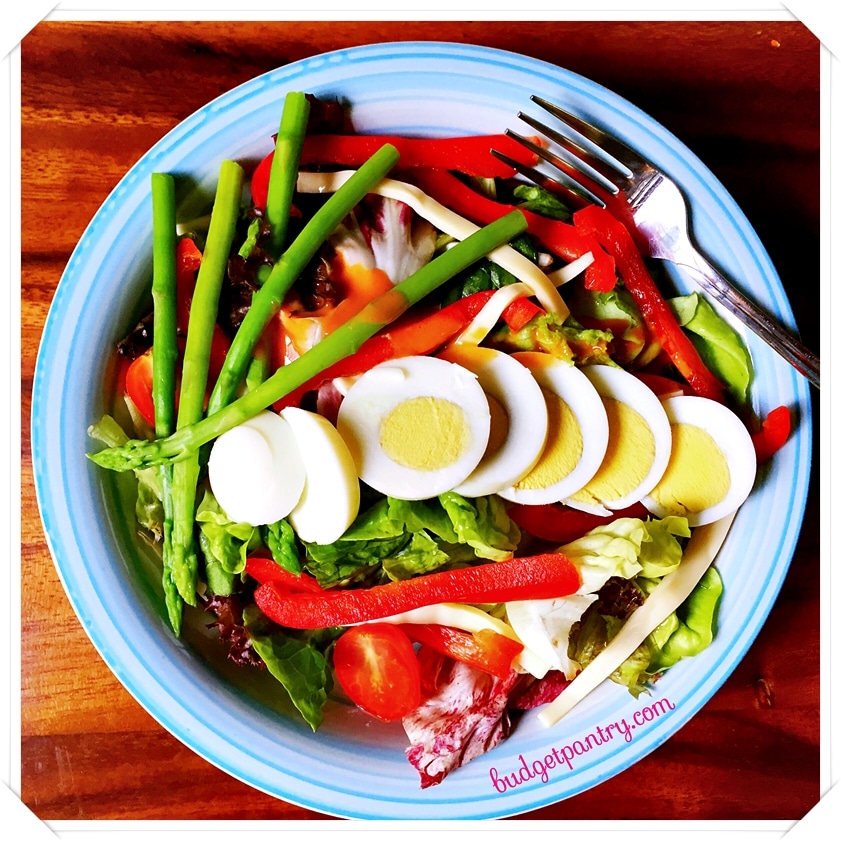 I got to know about Sriracha sauce a few months ago while browsing foodgawker, the ultimate site for drool-worthy food photos. I was looking for inspiration on making lobster rolls and came across a recipe using Sriracha mayo. That lobster roll looked divine. I eventually made a version with fresh shrimps which tasted very good with the hot sauce.

Sriracha is basically a type of chilli sauce made with peppers, vinegar, garlic, sugar and salt. I have tried it with chicken chop, fries, seafood and as salad dressing, and my favourite way to eat it has got to be sriracha + mayo either as a dip for seafood, or drizzled loosely on top of salads.
It isn't like the garlic chilli sauce that most of us are familiar with. It tastes garlicky yes, but the combination of garlic + vinegar is what does it for me. Food writer Tan Hsueh Yun from The Straits Times wrote about Lingham's Sriracha Sauce, and this is the brand I use too. I got it from Giant for $3+.
I like to use it to dress up my salads. Mix it up with some mayo, mustard and lemon juice, then squeeze a little on top of lunch. I don't usually drown my salads in sauce.. just a small squirt on top is enough for me. I'd rather have a small amount of mayo-based dressing than spoonfuls of vinaigrette. I'm not a big fan of vinegar and oil and would rather skip it than have my salads turn limp in it.
I used to buy Kewpie Hot and Spicy Dressing but I don't do it anymore. Now I can make even tastier dressing for less half the price! p/s- that's the amount of dressing I drizzle on top of my salad (about half a tablespoon), but of course you can add more.
When I make a batch of salad, I usually make enough for 3 breakfasts (for Jason) and 3 lunches (for me).. so the recipe below is for 6 servings.
Mesclun Salad with Sriracha Mayo Dressing: One of my favourite lunches to pack to work!
Low-carb meal idea: Mesclun Salad with Sriracha Mayo Dressing

(budgetpantry.com)
Serves: 6
Total cost per serving: $2.14
What you need:
1 packet Mesclun Salad Mix (or you can use any types of lettuces and leaves that you like)
6 hard boiled eggs
1 red bell pepper, deseeded and chopped into strips
A large handful of cherry tomatoes, halved
3 slices cheddar cheese, cut into strips
150g thin asparagus, blanched
For the dressing
3 tablespoons mayonnaise
1.5 tablespoon Lingham's Sriracha sauce
1 teaspoon honey or Dijon mustard
1 teaspoon lemon juice
Steps:
Toss all salad ingredients (except egg) in a large mixing bowl. Divide into 6 servings, then arrange sliced egg onto each bowl or lunch box.
Combine dressing ingredients, then drizzle on top of salad before serving.
(I also frequently add airfried firm tofu – tau kwa – and shredded airfried chicken fillet to my salads for an extra boost.)
How much I spent:
$8 for Mesclun Salad Mix
$0.79 for red bell pepper
$1.50 for thin asparagus
$0.90 for sliced cheese
$1 for cherry tomato
$0.65 for eggs
Everything else from my pantry