Apple Baileys Bread Pudding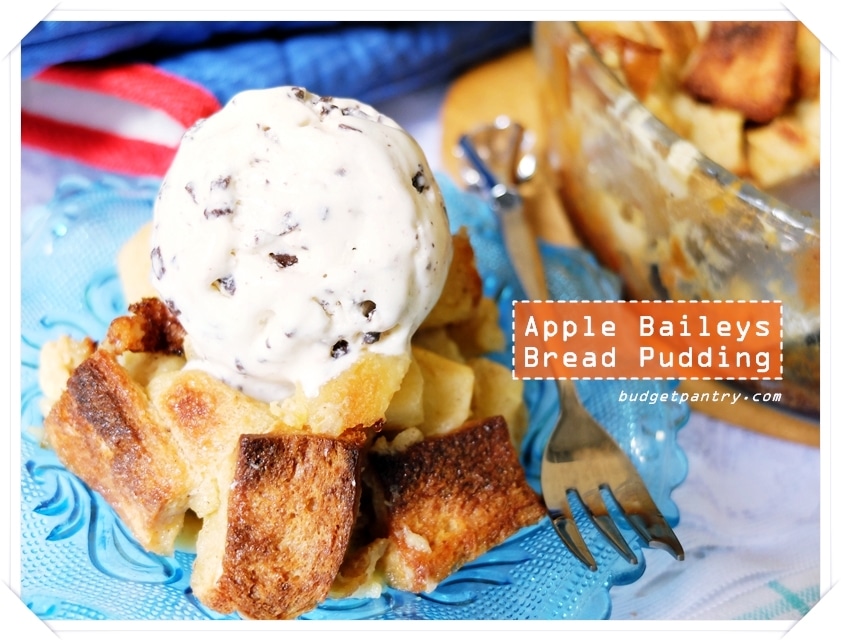 Bread pudding is one of the easiest desserts to make. Anyone can do it! I remember baking this a few years ago for the two old ladies at home. They love their liquor in rum cakes and fruit cakes, so it wasn't a surprise to me that they love this.
While watching a Taiwanese programme a few days ago, Ah-mm saw the host introducing bread pudding at a cafe and asked me if this was what I baked for them before. Yeah, I got her hint. She is quite good at this. Sometimes she will see on tv that KFC came up with something new, then she will ask, "Hmm.. don't know nice or not?" Then the next day I will go and buy. Or she will see the Go-Chef commercial and comment how good it looks, then she will miraculously receive it as Mother's Day gift the following week.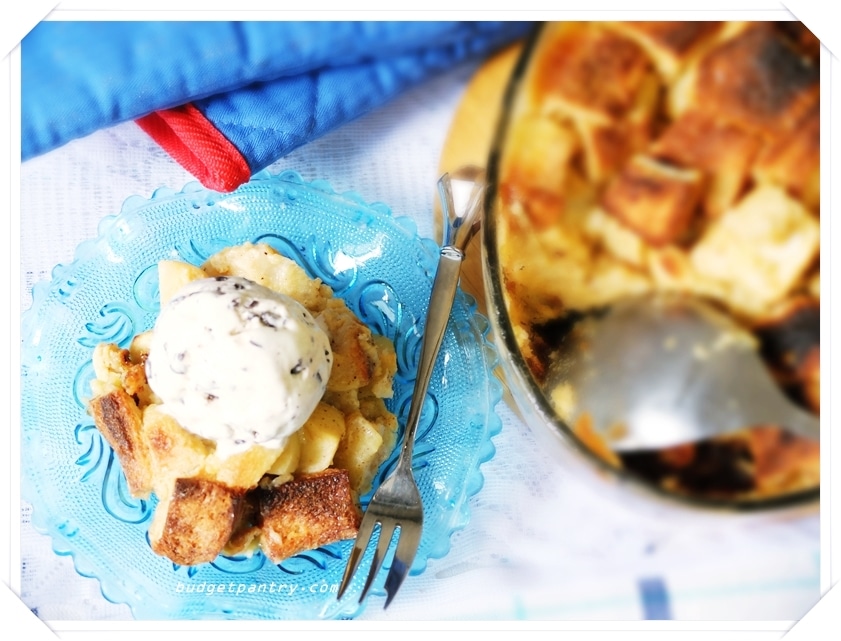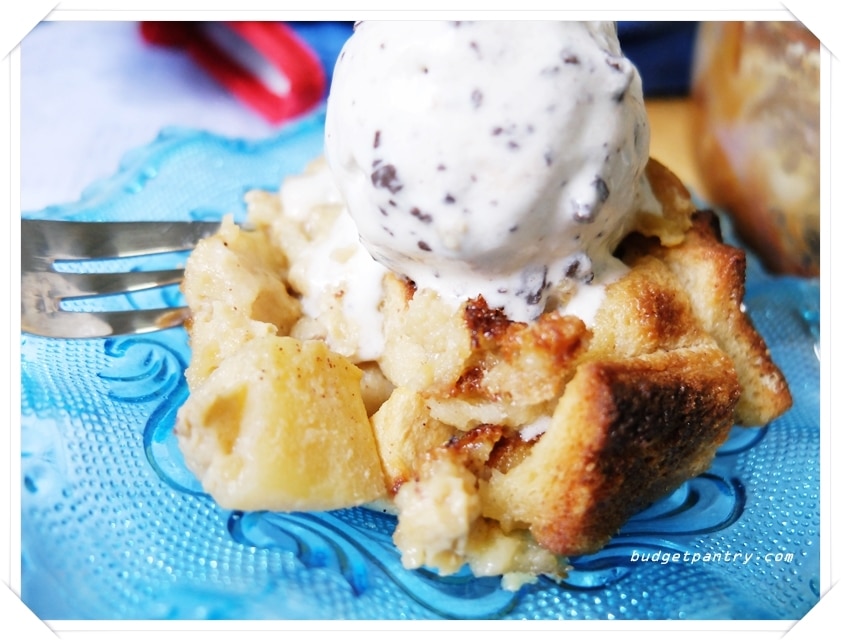 Bread pudding is basically bread baked with custard. Eggs, butter, sugar and milk combined in liquid form and baked til set. Most people also normally add raisins to bread pudding, but I'm not a fan of dehydrated fruits. For this recipe, I added Fuji apples and hazelnut Baileys. I always have Baileys and wine in the fridge.. I like a drink or two at home, and Baileys is really good for cakes and pudding-type desserts.
If you like, you can also use sliced bananas instead of apples, or add chopped pecans to the apples. Because I was making a Bailey's version today, I left out the pecans as it would have been a very confused pudding, I think. You can leave out the Baileys of course, and if you do, replace it with the equivalent amount of fresh milk (i.e., instead of 350ml fresh milk and 150ml Baileys, use 500ml fresh milk). Add those pecans if not using Baileys!
I made a short video just for fun to show you how easy it is to put this together:
First, layer the bread, then top with apples, then bread, then pour in the liquid mixture, and bake. Easy or what? You can use any kind of bread.. regular white bread, thick cut bread, or even baguette.
Many bread pudding recipes call for a butter sauce to drizzle on top after the pudding is done. I skipped that because it would mean an additional one stick of butter and even more milk and sugar, and I cannot do this. The next best thing? Chocolate chip ice cream! A small scoop is better, calories wise, than all that butter.
Bread pudding ranks right up there as one of the most budget-friendly desserts ever. Whenever I make a cake, I end up spending close to $10 to buy all the butter, fruits and nuts. I spent about $4 for this entire dish of bread pudding enough to feed the whole family. This recipe is totally fuss-free and the entire thing is so quick to put together, you have to try it!
Apple Baileys Bread Pudding

(budgetpantry.com)
Serves: 6 (I used a 10″ x 7″ oval pyrex baking dish)
Total cost per serving: $0.69
What you need:
6 slices thick cut bread (I used Gardenia thick slice. You can use 8 slices regular bread.)
2 medium Fuji apples
4 eggs
30g butter, melted and cooled
115g caster sugar (about half cup)
25g brown sugar (about 2 tablespoons)
350ml full cream milk (Magnolia or Farmhouse from the chiller. Not low fat)
150ml Baileys Irish Cream (I used Hazelnut Baileys)
2 teaspoon vanilla extract
1 teaspoon ground cinnamon powder
Steps:
Preheat oven to 175C.
Using a pair of scissors, cut the bread into cubes. Peel and cube apples. Set aside.
Whisk together (by hand) eggs, melted butter and sugar in a large bowl or measuring jug. Add in the milk, Baileys, vanilla extract and cinnamon. Mix well to combine.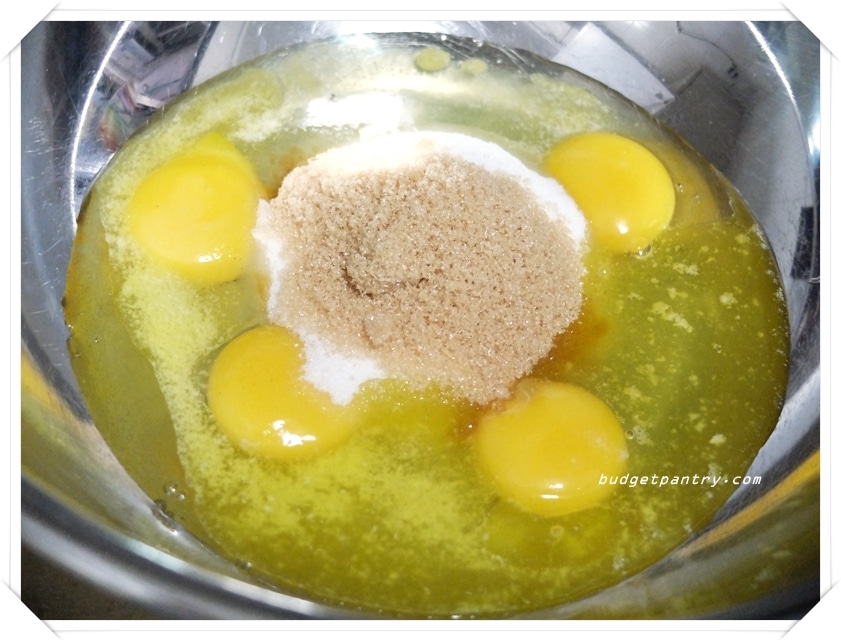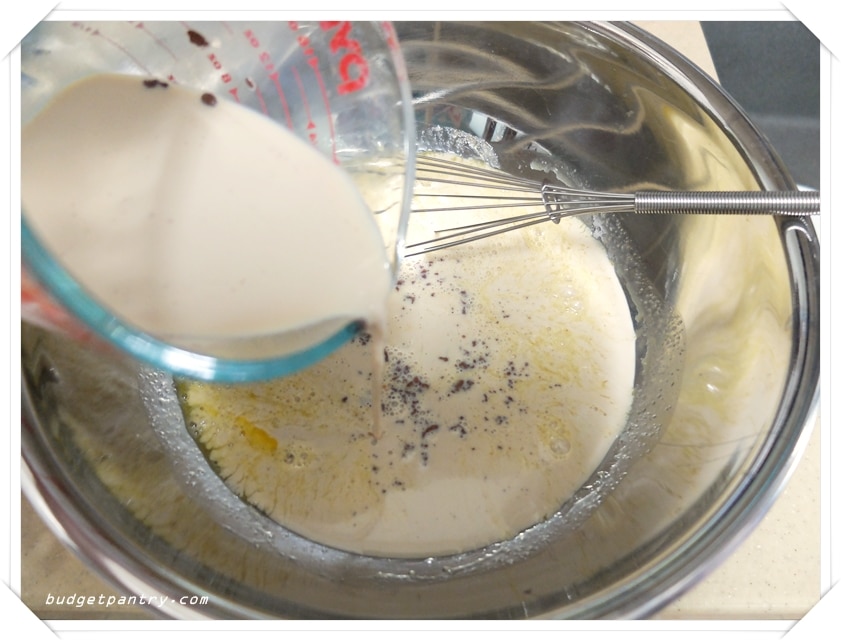 Assemble: Line a pyrex or oven-safe dish with a layer of bread cubes. Top with apples, then finish with a layer of bread.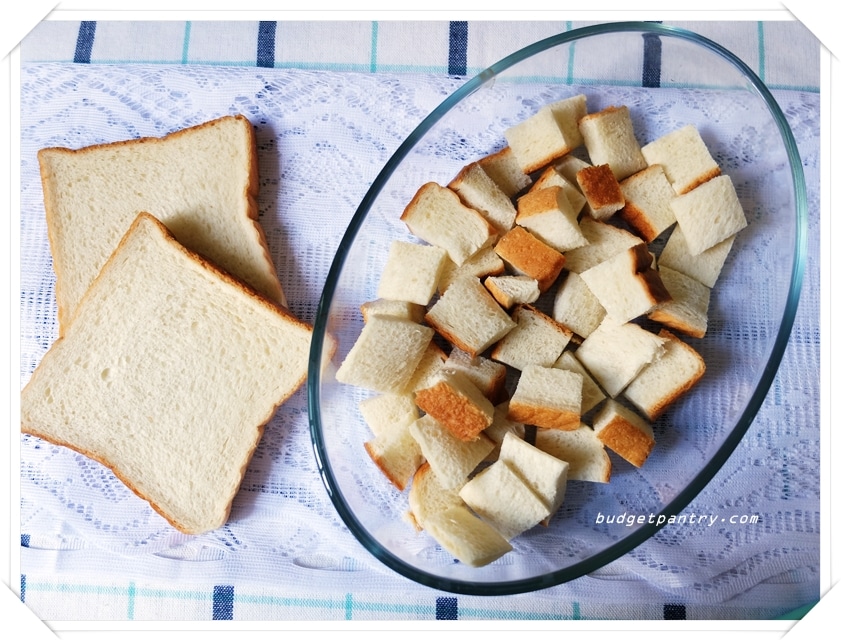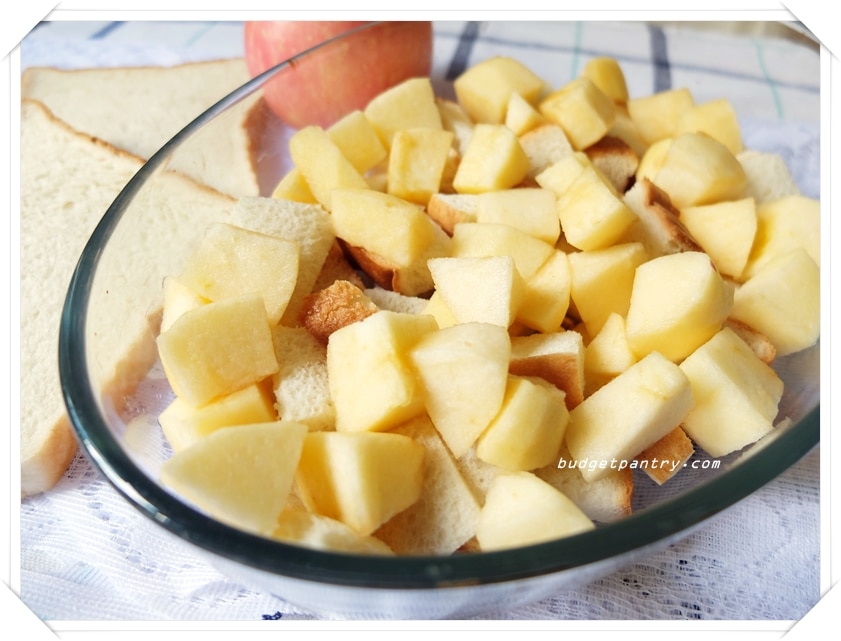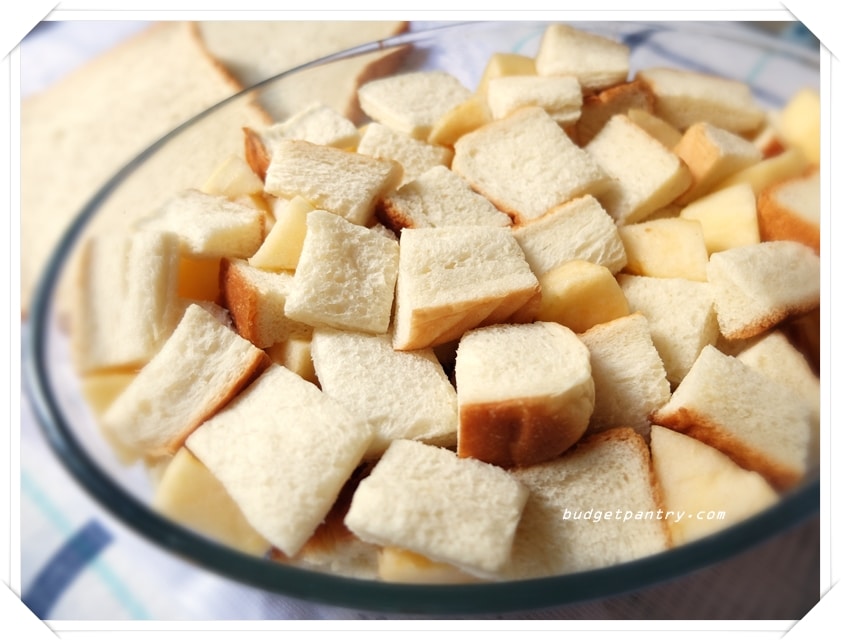 Pour in the liquid as above. Use a fork to gently press down the bread so it soaks up the mixture.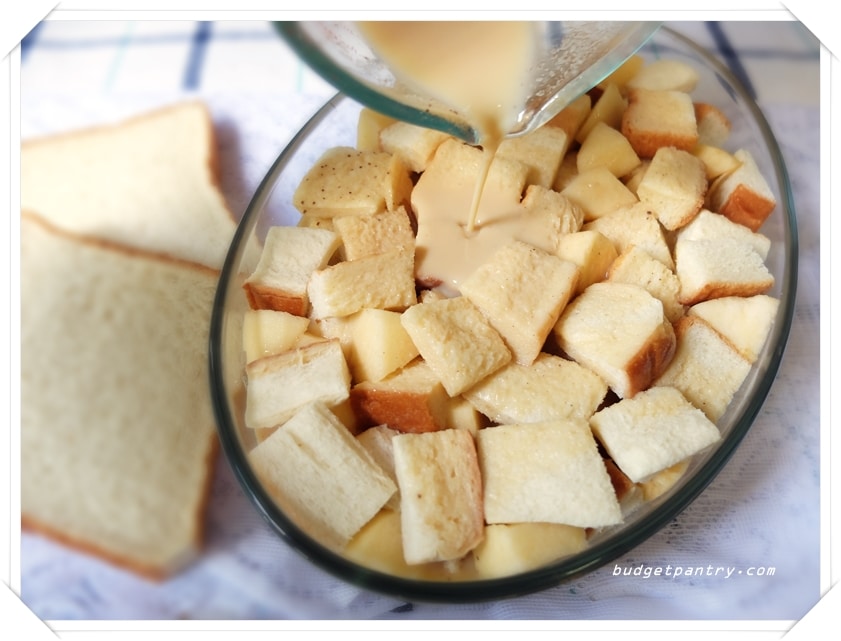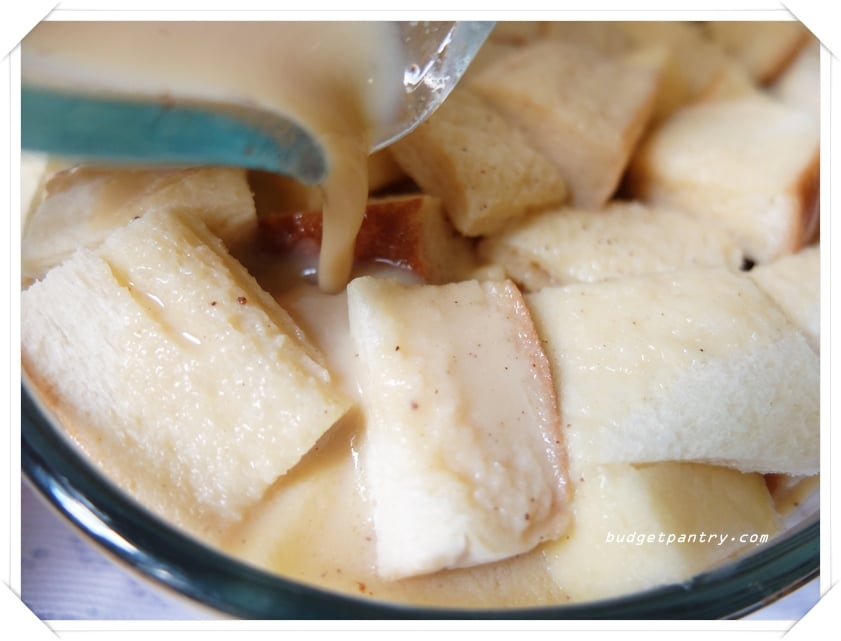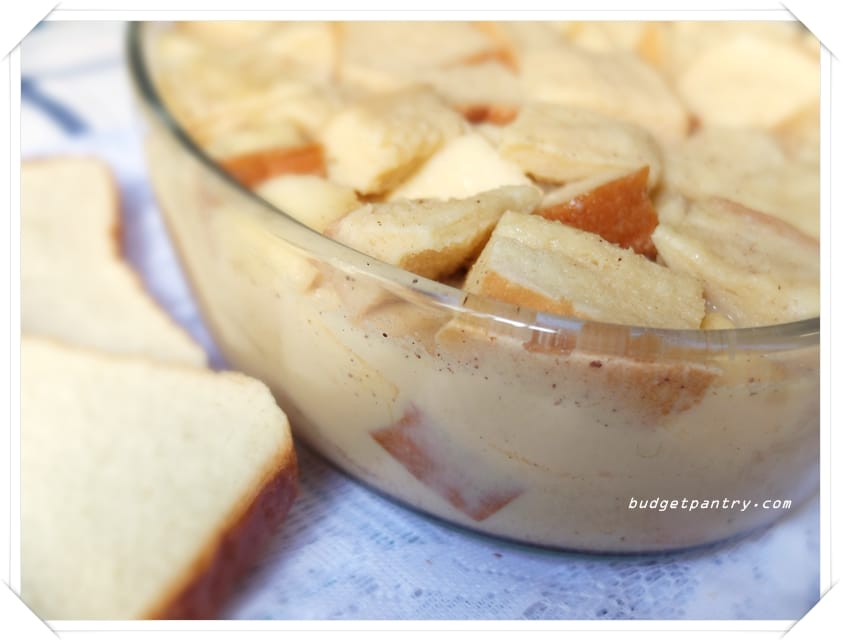 Bake for 45 minutes or til golden brown and top of the pudding springs back lightly when prodded.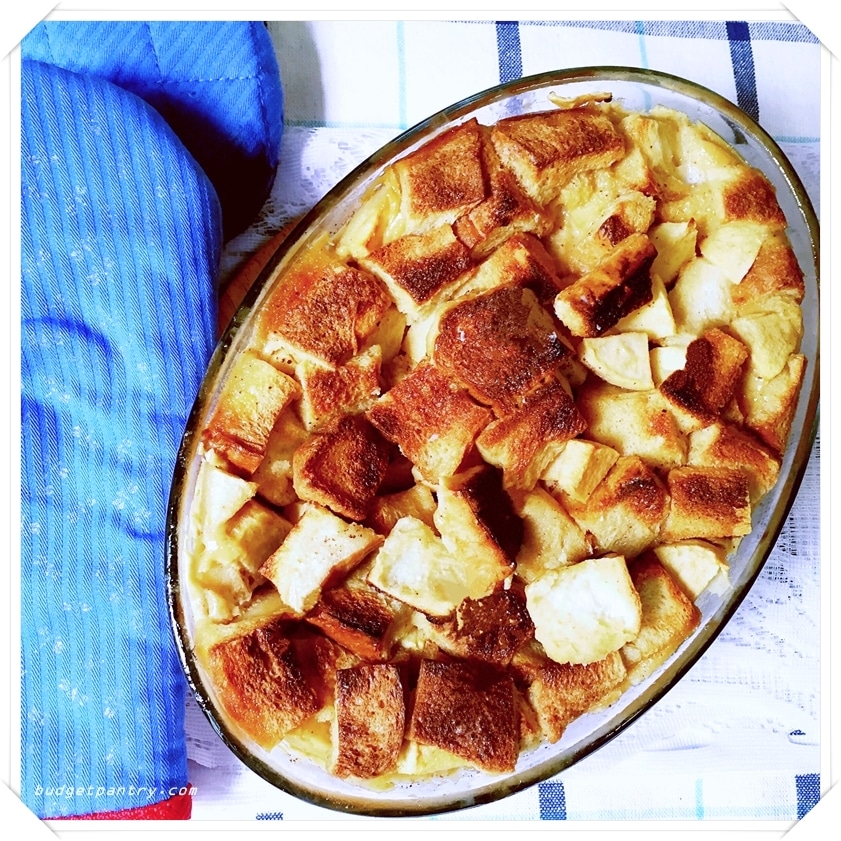 Serve warm with vanilla ice cream or custard.
How much I spent:
$1.05 for bread
$2.10 for apples
$0.45 for eggs (I bought 30 eggs/tray for $3.25 from Giant)
$0.50 for butter
Everything else from my pantry