Creamy Homestyle Chicken Stew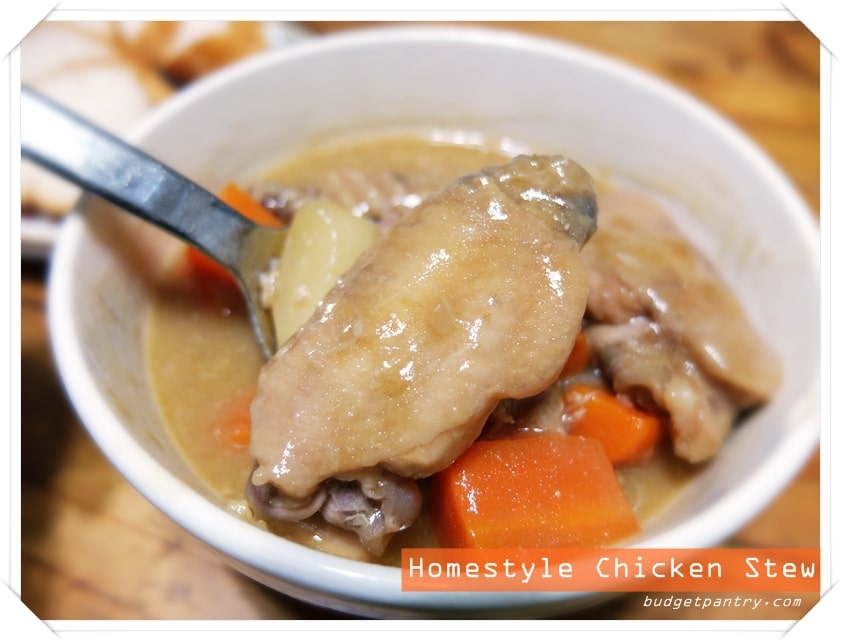 If you've read Munch Ministry's interview with me on Homecooks Spotlight, you'll know that I grew up eating "a creamy chicken stew cooked using roux, red onions, potatoes and carrots". You're in luck, because I'm gonna share this family recipe today!

This is my favourite childhood dish. My aunt used to cook this often. I loved it because it is creamy and hearty.. the gravy is just perfect ladled over a plate of steaming hot rice. Years later, this dish also became Cheng Wu's favourite (he is my little-st brother. We have a 14-year age gap) and he gets heart palpitations every time he sees this on the dinner table.
I have a funny story to tell about this dish. The siblings and I have known it as "goy see tu" since we were toddlers cos that's what Ah-mm says it is, and you never question the cook. One day when we were all grown up, we sat around in the living room talking about random things, and the topic came to "goy see tu". "Why the *** is it 'goy see tu'?" We pondered, trying to solve the most mind-boggling mystery of the universe. We could understand "goy" cos obviously it means "chicken", but "see tu"? See tu see tu see tu….. OMG S-T-E-W! "Goy see tu" is CHICKEN STEW! Eureka moment. I still rank this as one of the greatest discoveries of our lives.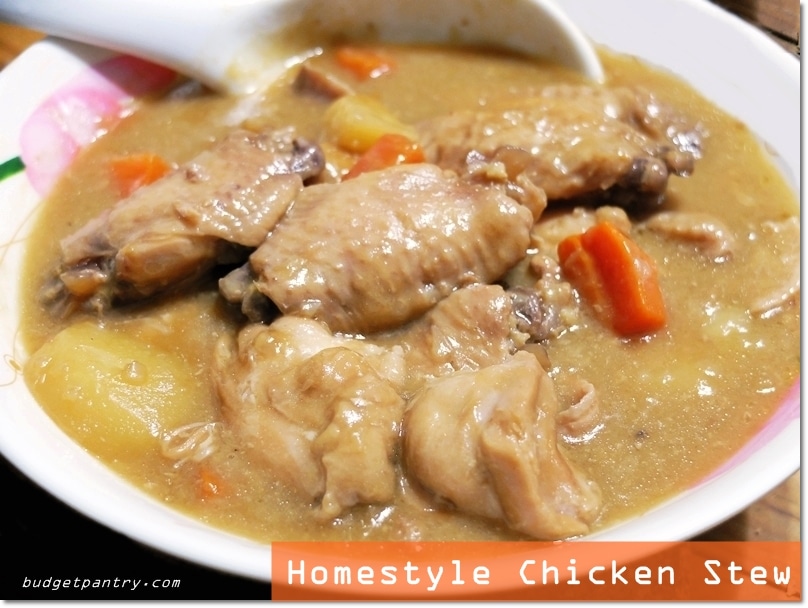 (not the prettiest picture, but trust me it's yummy!)
Ah-mm used to cook this over the stove top. It took constant stirring because of the roux, and because she has a bad knee, she no longer cooks this anymore. My sister-in-law has mastered the dish – she cooks her version in the slow cooker for at least four hours. The gravy of the stew comes from the onions which are cooked till soft, melted and savoury.
This dish can be cooked in the pressure cooker, slow cooker and over the stove top. I like using the Philips All-in-One Cooker. It took me only 30 minutes to achieve the same rich, creamy and tender results (note that actual cooking time may vary due to model, heat source, size and quantity of food. you will need to add more water if your pressure cooker has a bigger capacity).
Homestyle Chicken Stew

(budgetpantry.com)
Serves: 6-8
Total cost per serving: $1.89
What you need:
4 chicken drumsticks
1 kg mid-joint wings
10 medium red onions, peeled and chopped into small chunks
4 tablespoons cooking oil
4 heaped tablespoons plain flour
4 medium-large potatoes, peeled and cut into large chunks
1 carrot, peeled and cut into large chunks
3 tablespoons oyster sauce
3 tablespoons light soy sauce
375ml water
Steps:
1. Blanch drumsticks and mid-joint wings in hot water. Remove and drain.
2. Heat up oil in your pressure cooker, slow cooker or pot over the stove, then add onions. Fry over low-medium heat til soft, about 4-5 minutes.
3. Add 2 tablespoons of flour to the onion. Mix well, then pour in 125ml water. Add in the rest of the flour. Stir to combine and add another 125ml water. Mix well till it is like a smooth sticky paste.
4. Add in the potatoes and carrots, then oyster sauce and light soya sauce. Add the chicken pieces and mix well to distribute the ingredients and seasonings.
5. Finally, pour in the remaining 125ml water.
6. Pressure cook for 30 mins/Slow cook on high for 4 hours/Cook over the stove on low flame, covered, for 1.5 hours. For stove top, you need to constantly stir it to prevent the flour from burning and watch the water level. Add more water if needed.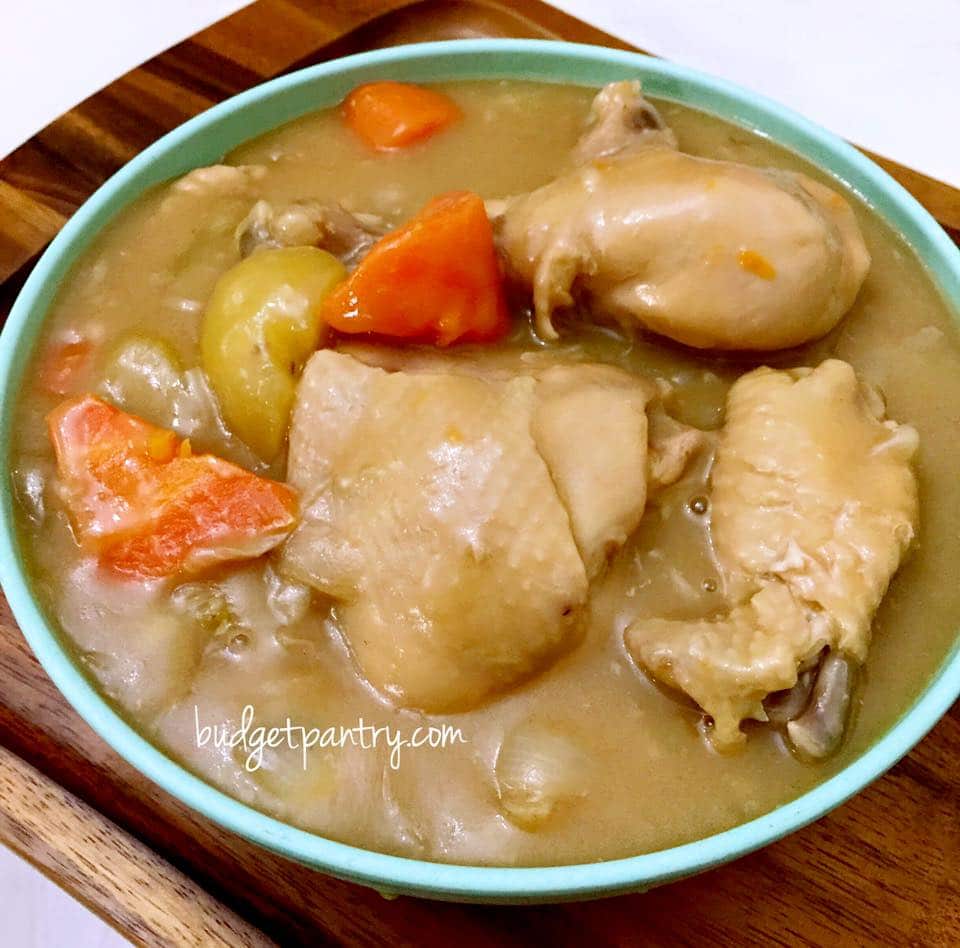 How much I spent:
$3 for drumsticks
$8.20 for mid-joint wings
$1.20 for potatoes
$0.30 for carrot
$2.40 for onions
Everything else from my pantry