Low-carb meal idea: Mediterranean Fish Soup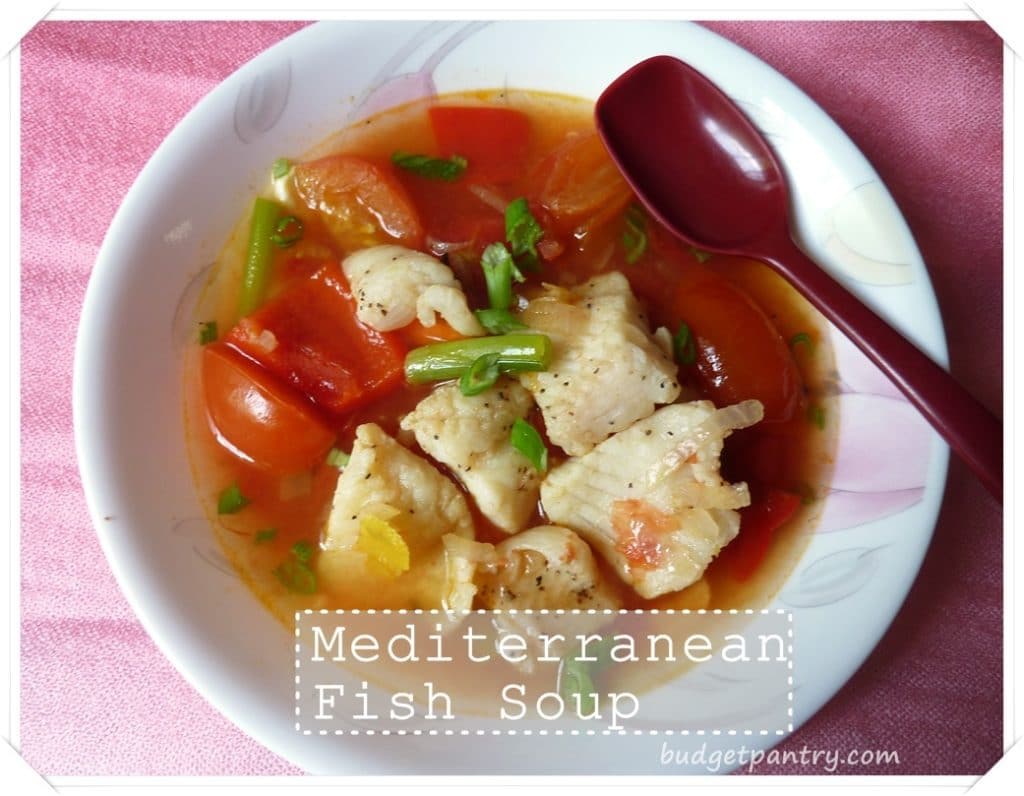 I saw this healthy recipe for Mediterranean Fish Soup in a recipe book while holidaying and just knew I had to give it a try. I like cooking with white fish and most of the time just grill or bake them as a whole fillet, served with lemon, side veggies and potatoes. Having "graduated" to buying better quality fish nowadays, I thought it'll be a good time to try cooking some chunky fish in soup. I'm not talking about Fish Soup Bee Hoon, although I love cooking it too!
Check out the picture below. Can you believe I actually used sutchi fish? Price really does make a difference when it comes to fish texture, even for sutchi fish. Although these were not particularly expensive ($6.90 for a pack of 4), they're considered quite gourmet when you compare them to some versions selling for $3.25 for a packet of 5.  I once bought a packet of 4 fillets for $2.10 from NTUC (they were on promotion) and I'll never buy them again, I swear.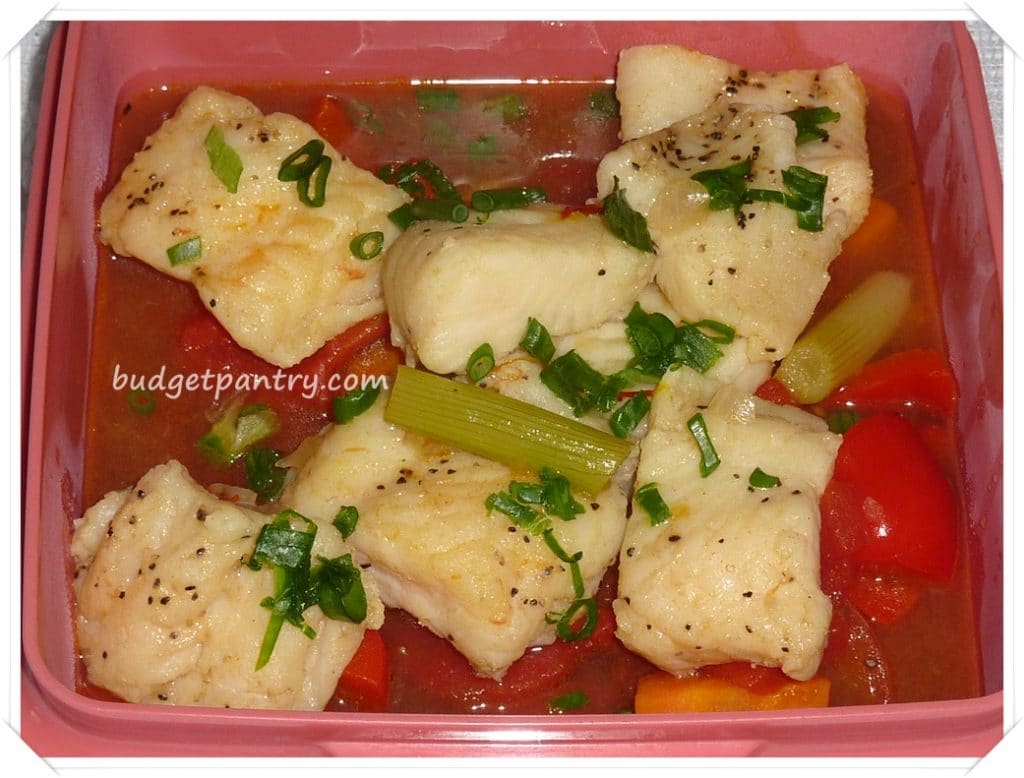 Don't they look firm and quite decent? You can even see the ridges and circle patterns on the fish. They also had no muddy or frozen taste, and most importantly, did not turn mushy after cooking. I'll share a picture of the packaging next time because I used up my last two pieces for this dish. Of course, you can use other types of white fish. I've cooked this with halibut before but personally I don't really like its texture. Too soft and flaky to be cooked in soup.
This recipe uses saffron. I can't really remember why I got some in my fridge but I think I tried to cook risotto with it and hated the taste. I couldn't understand why people would ruin a dish with an expensive spice that tasted like plastic, but strangely, the "plasticky" taste was nowhere to be detected in this soup. I added it just because the original recipe called for it and I had some in the fridge. I'm not sure if the saffron really made a huge difference. I'm sure that if you left it out, the soup would just be as delicious.. just look at all the other ingredients that go into this dish! Try this, and use snapper, sea bass, or cod in place of sutchi if you're not a fan.
Low-carb meal idea: Mediterranean Fish Soup

(budgetpantry.com)
Serves: 3
Total cost per serving: $2.10
What you need:
2 large sutchi fillets, clean and pat dry with paper towel, sprinkle with salt and pepper, and cut into chunks (you can use any other white fish)
1 red onion, sliced
4 cloves garlic, peeled and crushed
3 fresh tomatoes, wedged
1 carrot, cut into smaller pieces
1 red capsicum, seeds removed, cut into half-inch pieces
1 can Hunt's stewed tomatoes
1 fish stock cube dissolved in 650ml water
A pinch of saffron threads (optional)
2 lemon rinds (size about an inch)
1 tablespoon lemon juice
2 tablespoons white wine
A handful of parsley (I didn't have any, so I used spring onions. You should preferably, use parsley!)
1 tablespoon olive oil
Steps:
Heat up a dutch oven or pot and add the olive oil. Fry the sliced onions til translucent, then add the garlic followed by fresh tomatoes, carrots and capsicums.
Empty the can of stewed tomatoes, stir well to combine, then add the fish stock, saffron, lemon rind, white wine and lemon juice.
Bring to boil then reduce heat to low. Simmer for 20 minutes until soup thickens slightly.
Slide the fish chunks in and cook for 5-7 minutes until fish turns firm white and cooked.
Ladle gently into a soup plate, top with parsley or shredded spring onions and serve with some crusty bread.
How much I spent:
$2.80 for fish
$0.60 for tomatoes
$1.70 for canned tomatoes
$0.90 for capsicum
$0.30 for carrot
Everything else from my pantry