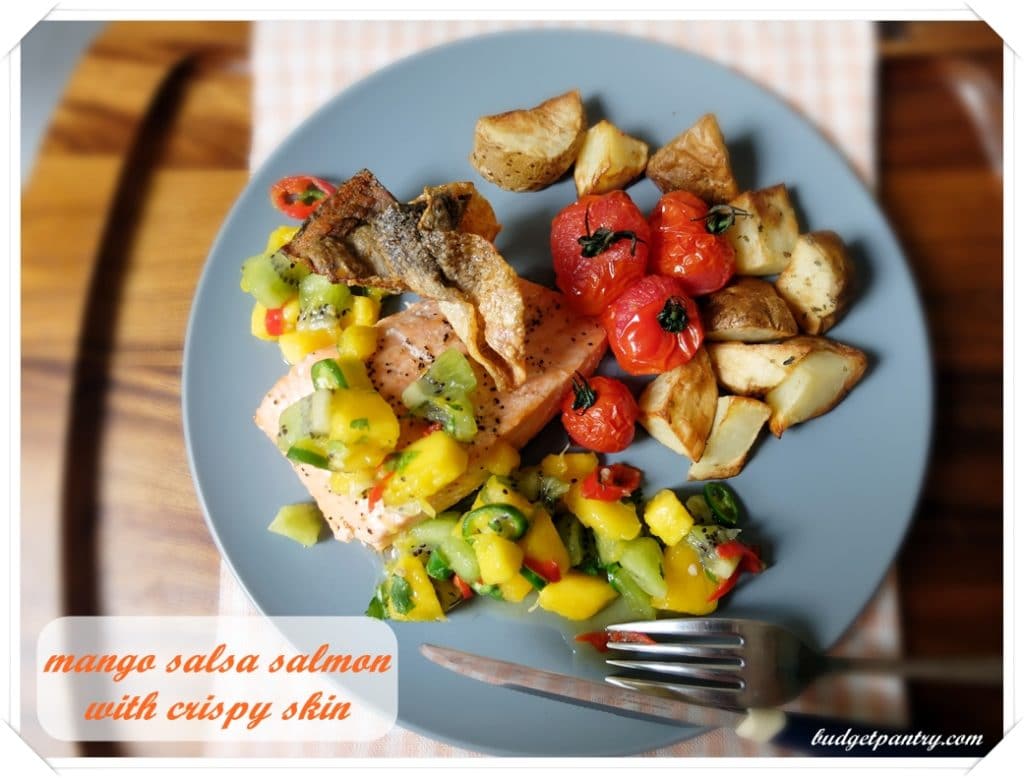 Mango Salsa Salmon with Crispy Skin- Airfried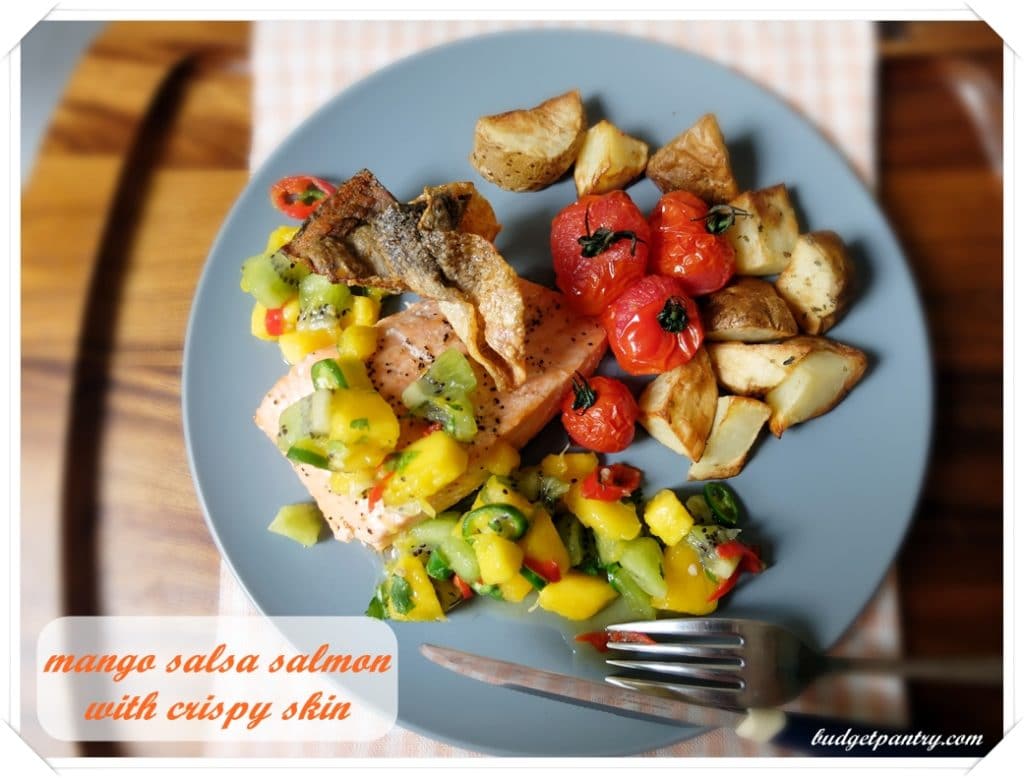 (Except the salad, everything else on this plate is airfried.)
We recently bought a large amount of fish from our favourite fishery, Song Fish Dealer because they are moving out from their Jurong Point outlet. The Jurong Point location was always meant to be a temporary one, and their permanent address is at 19, Fishery Port Road. Where? Looks like I'll be shopping from their online store from now on. They offer free delivery for orders over $150, otherwise delivery charge is $20 per trip.
Their salmon fillets come in a pack of 6 for $20. We also got saba fillets ($13 per pack of 7), sea bass fillets ($10 for 3 large pieces), batang steaks ($10 per pack of 6-7), some pre-cooked tempura fish and chicken cutlets.
I love eating fish but I don't like handling them, so these gutted, cleanly-cut fillets are a God-send. I don't need to do anything else other than rinse and pat them dry, then season accordingly. When it comes to cooking them, I don't need to struggle with splattering oil nor worry that the skin will stick to the skillet, nor have to bother wiping the kitchen floor after cooking. I pop them into my Airfryer for 7 minutes, prepare some sides, and a meal is on the table.
Today, I decided to something a little bit different with the salmon. I wasn't just going to cook it in the airfryer. I was going to cook it in the airfryer AND top it with its own crispy skin. The kind of crispy skin that go "cruuuuuunch" reallyyy loudly when you bite into it. Yes, this kind.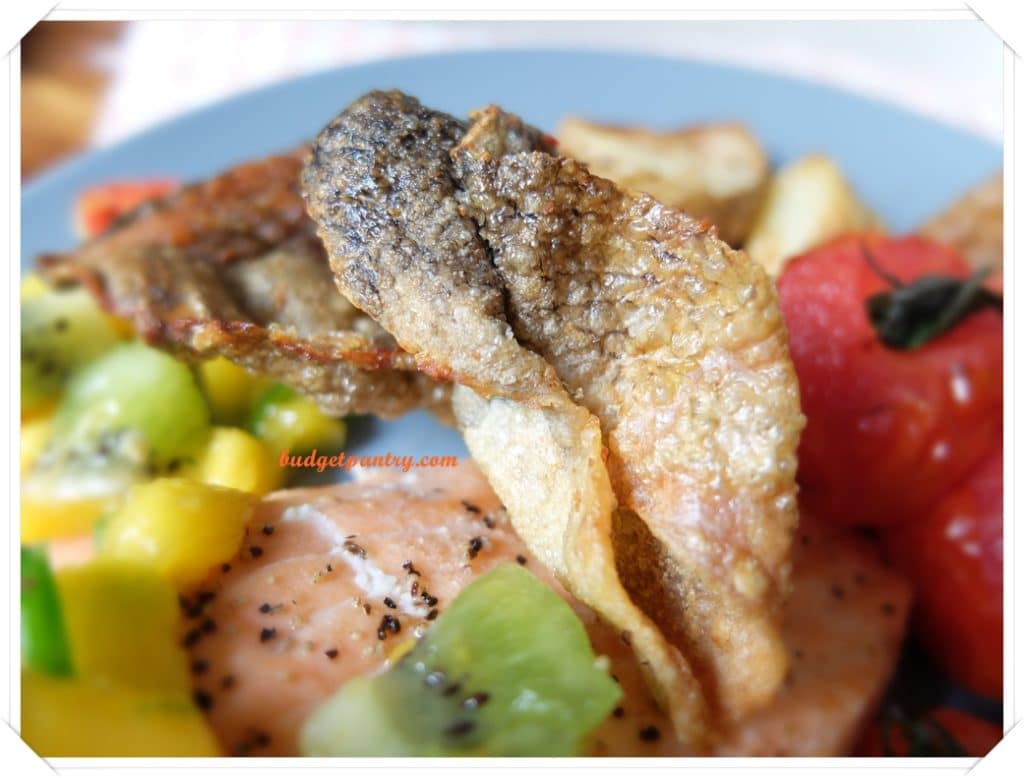 I didnt really like the mango salsa because I am after all, a hollandaise sauce kinda girl, but Jason adored the refreshing, citrusy, sweet, sour and slighty spicy salsa.
I coated some baked potatoes and cherry tomatoes with a little olive oil and airfried them for 15 and 3 minutes respectively.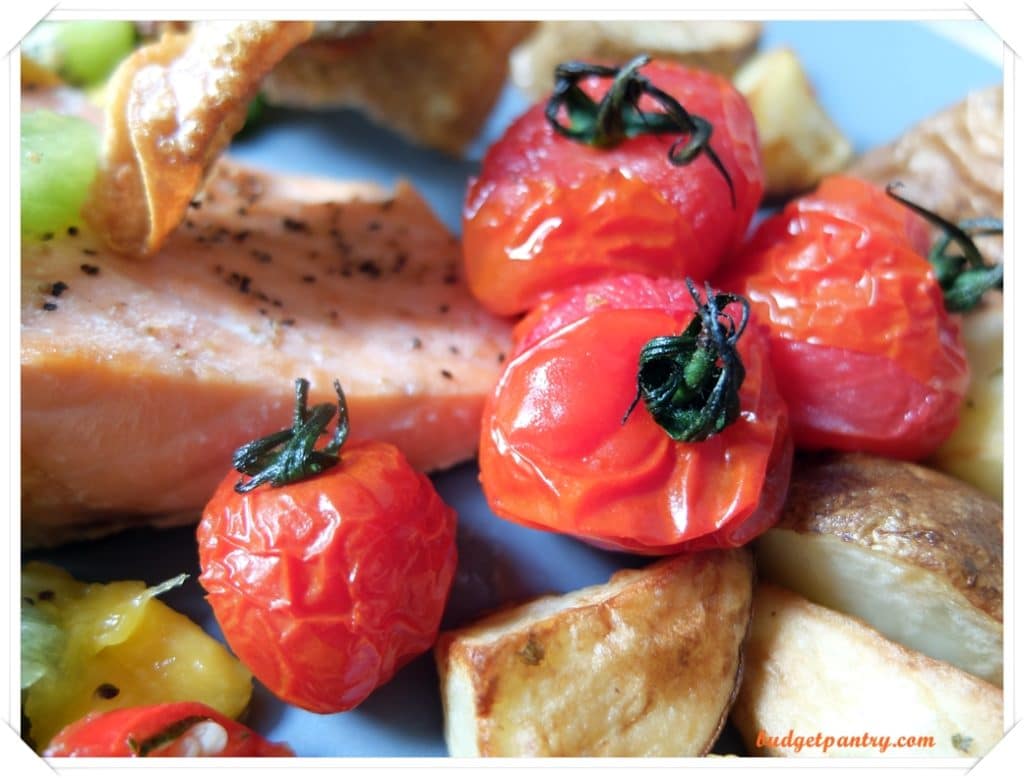 The dish turned out beautifully. All I used was two teaspoons of oil for 2 serving plates like this.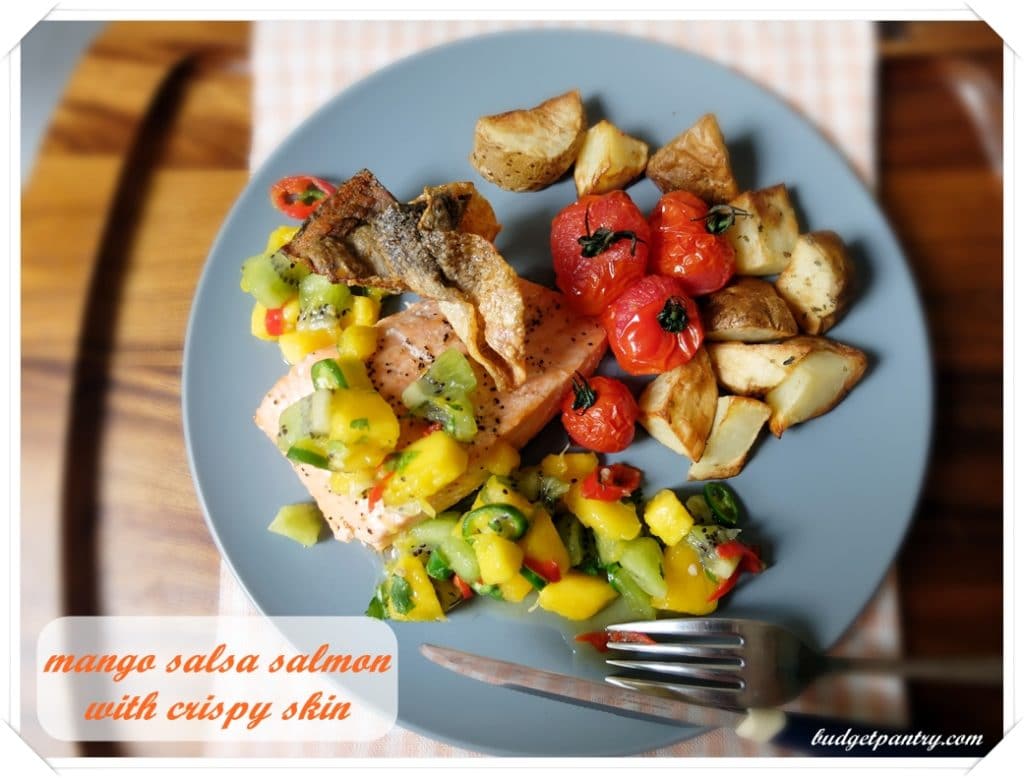 I've come to realise that the airfryer made me healthier not because I'm consuming less oil, but because I'm eating more fish! The salmon was just perfect. Wouldn't have it any other way.
Mango Salsa Salmon with Crispy Skin
Serves: 2
Total cost: $12.50
Total cost per serving: $6.25
What I used:
2 salmon fillets, rinsed and pat dry
8 cherry tomatoes
1 potato, scrubbed clean and cubed
2 teaspoons olive oil
For the mango salsa:

1 mango, cubed
2 kiwis, scooped and cubed
1 tablespoon lime juice (about 2 limes)
1 green chilli, chopped into circles
1 red chilli (not chilli padi), chopped into circles
A handful parsley leaves, chopped
Steps:
1. Coat potatoes with a little olive oil and salt, and airfry at 180 degrees for 12 minutes. Coat the cherry tomatoes with a little olive oil and add them in together with the potatoes. Airfry together for 3-5 minutes until done. Set aside.
2. Combine all ingredients for mango salsa and set aside.
3. Salt and pepper salmon front and back. Using aluminium foil as base, lightly oil foil and place salmon skin side UP. Brush the skin with some olive oil and airfry at 180 degrees for about 8 minutes til flesh is done.
4. Remove from airfryer. Using a butter knife, CAREFULLY SCRAPE skin away from flesh so that it becomes a standalone piece. It is really quite easy to do. The skin separates from the flesh beautifully once cooked.
5. Set the salmon flesh aside. Place the two pieces of skin in the airfryer and use a steamer rack to hold them down so that they don't fly all over the place. It is perfectly fine not to use a rack to hold them down. They will just curl up like mine did.
6. Airfry at 200 degrees for a few minutes (I can't remember how long, sorry!) til crispy.
7. Arrange salmon on plate, spoon mango salsa over, and serve with potatoes, cherry tomatoes + top with crispy skin.
How much I spent:
$6.70 for salmon fillets (frozen from Song Fish)
$2.95 for mango
$1.65 for kiwi
$1.20 for tomatoes, chillis and parsley from the wet market
Everything else from my pantry