[Airfried]: Eggs en Cocotte.. on toast!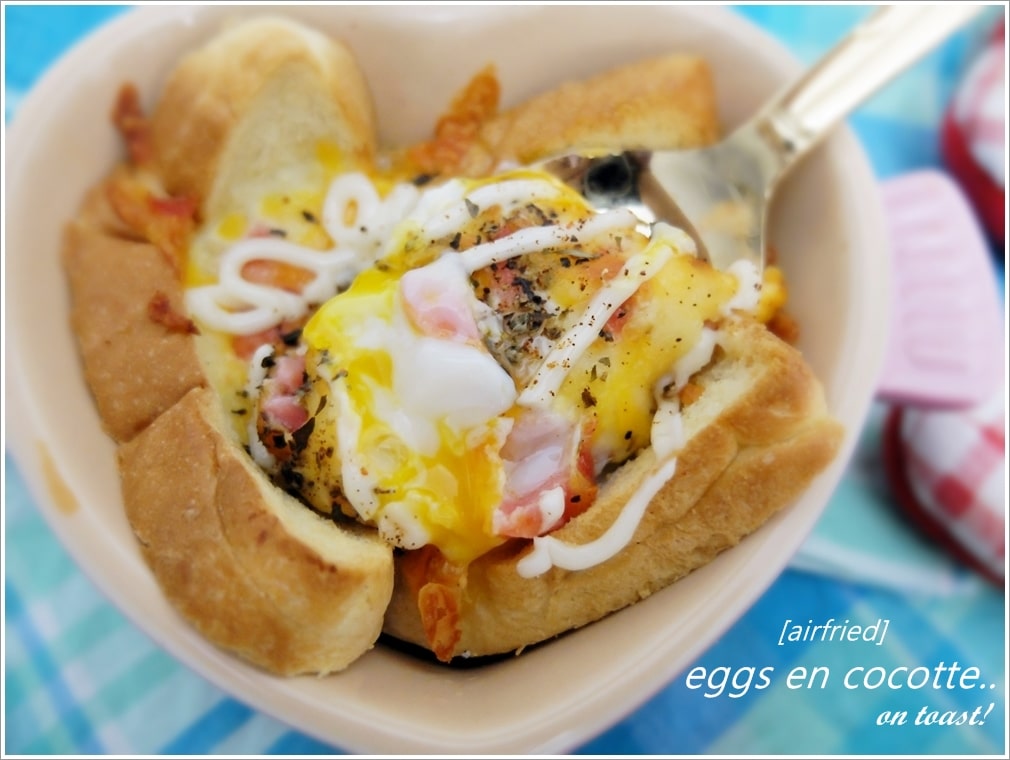 I opened my eggs eyes this morning and went, "I gotta blog!"
I have been pretty much missing in action the past week, and to me.. that is a looooong time. I have been busy erm, travelling. albeit to Batam (what? it is overseas ok?). I did a super stupid thing on our Batam trip which you will read about in my next post! Don't get too excited. For tonight, I'm gonna show you how easy it is to make baked eggs (use up allll your leftovers!) in the airfryer. Now you can get excited!
"Oeufs en cocotte" basically means "eggs in pots" in French. I was laying in bed today wondering what to cook for dinner, and thought about the ingredients in my fridge. I have lots of fish in the freezer- salmon, batang, saba and sea bass- dying to be defrosted, but I wasn't in the mood to whip up a full meal. I wanted something easy and effortless. Apart from the fish, I also had shredded cheese, tomatoes, a lonely taiwan sausage and.. bread. I was going to make pizza!
Or so I thought. Pizza bread is toooo boring. Any idiot can make it. Ok, any idiot can make baked eggs too, but at least they look interesting and very pretty. I remember a cooking tip from French chef Nicolas Joanny, chef-owner of Nicolas le Restaurant, that will immediately produce a flavour bomb in Eggs 'a la Coque' (soft boiled eggs). Add a few drops of balsamic vinegar, and balance that out with a drop of maple syrup. I wonder if this would work for baked eggs?
I was going to find out!
[Airfried]: Eggs en Cocotte.. on toast!
Serves: 1
What I used:
A slice of bread (you can overlap 2 slices the way I did for the red ramekin)
An egg
A drop or two of balsamic vinegar
A drop or two of maple syrup
Shredded Mozzarella or Cheddar cheese
Small pieces of taiwan sausage (you can use ham, sausage, bacon..)
A sprinkling of italian herbs, black pepper and just a little salt
1-2 tomato slices (optional)
Mayonnaise (optional)
Butter or olive oil to oil the ramekin
Steps:
1. Lightly oil the ramekin or baking dish with a piece of kitchen paper. You don't have a overdo it. A light coating will do.
2. Line the dish with a slice of bread, the top with the sausage, tomato and cheese.
3. Crack an egg (or two! so the entire ramekin is covered) on top, then add the vinegar and maple syrup before sprinkling the herbs, pepper and salt.
4. Top with more cheese if you're so inclined.
5. Bake at 160 degrees in a preheated airfryer for 10 minutes. Squeeze a little mayo over it before serving (as I didn't use cream or any dairy in the "filling").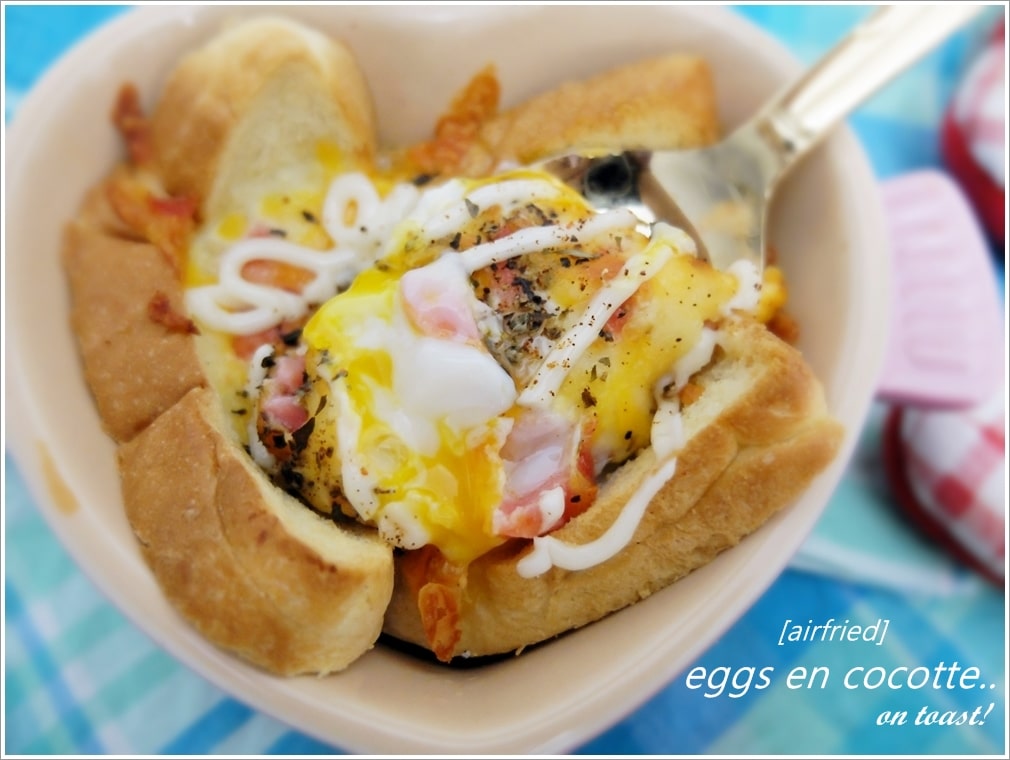 The little Le Creuset ramekins were wedding gifts from a lovely girl from Taiwan. Aren't they pretty!
This was also the first time I was cooking eggs in the airfryer, and the eggs took longer to cook then I imagined. I started out with 4 minutes at 160 degrees but the eggs were raw. I then increased the timing for another 4 minutes and they were just beginning to set. They finally became soft-boiled at around the 10 minute mark, but I suggest you keep your eyes on them and check every 2-3 minutes to make sure they weren't overdone. I love mine at this consistency. I don't advise increasing the temperature beyond 160 degrees.. your toast would burn before the eggs are cooked. You may also choose to cook this without the bread.
I made my 79 year-old aunt try two versions- one with the vinegar and maple syrup and one without. Her verdict? She loved the one with the vinegar + syrup and couldn't get enough of it! A little goes a long way.. you really only need 1-2 drops of each, just to lift the dish, not overwhelm it.
Happy egg-frying!