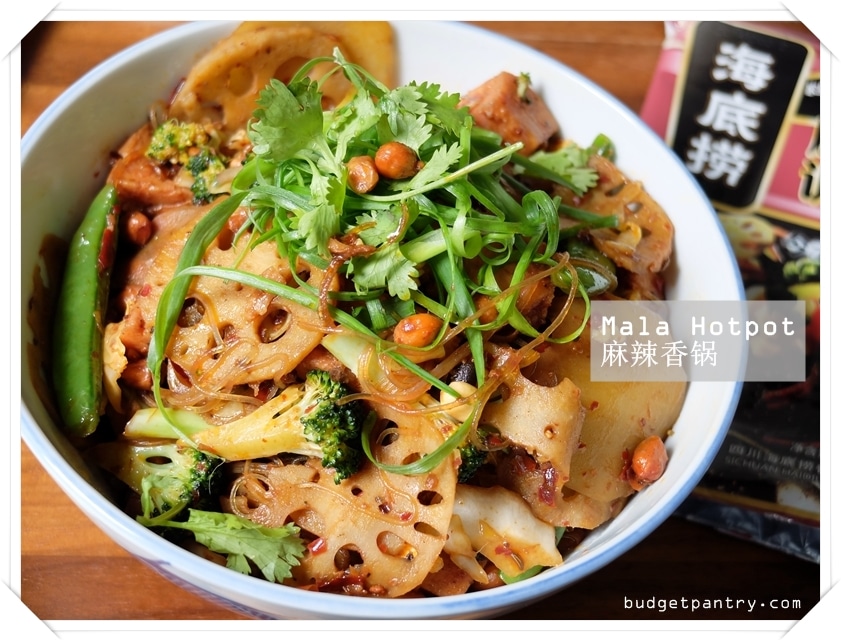 I remember the first time Jason and I went to try Mala hotpot, it was at West Mall's foodcourt. That was close to two years ago, I think. I had never tried Mala hotpot before but it was starting to hype then.
Having that meal was against my principles. It was really expensive! A few thin slices of lotus root and potatoes, some cabbage, korean vermicelli, broccoli, a slice of luncheon meat plus two bowls of rice came up to $16.05. Yes, I still remember the exact price because I was beyond shocked! The cost price must have been something like $3? I quite liked it though, quite yums (and OILY), but it'll be hard for me to pay for overpriced vegetables a second time.

I forgot about Mala hotpot until last Saturday. We were doing our favourite thing – grocery browsing, this time at Yue Hwa – when I saw this "Hai Di Lao" Mala hotpot mix. I don't think it is the same "Hai Di Lao" as the famous steamboat chain, probably just the same name (edit: Apparently, it IS from Hai Di Lao. Thank you Yi Hui for pointing it out. I don't recognise the logo!) I decided to get one packet to try. It cost $6.50 and is good for two servings. (edit: my heart sank yesterday when I saw the same thing at Giant for $5.40, and I needed to be resuscitated when I saw Sheng Siong selling it at $5.05 today). But ok la, $6.50 is still cheaper than $16.05. This is the packaging and what it looks like inside:
One packet contains two pouches of chilli oil. Looks reallyyy spicy but actually, not that bad. I used whatever vegetables I had in my fridge.. I have ALL SORTS of vegetables in my fridge, you can't even imagine. I have them delivered bi-weekly straight to my home (the delivery is a God-send especially now since I can't carry heavy stuff after my surgery), so with the myriad of vegetables that I have, this dish is really perfect for me.
I used lotus root, potato, broccoli, sweet peas, bean vermicelli, napa cabbage, luncheon meat and peanuts, but of course you can toss in any ingredients you like. My verdict? It is fuss-free but honestly the taste is just so-so. The mix is spicy but it also has this strange, slightly bitter after taste and both of us hate biting into the little tiny black peppercorns which is impossible to filter out in advance. So every mouthful is "check, remove, then eat".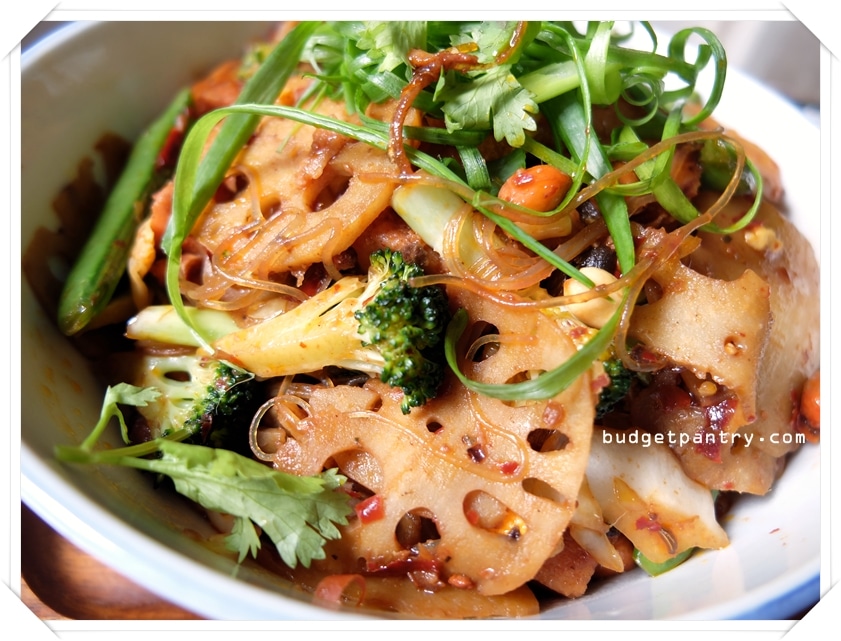 Thinking back, I realise the dish is missing one thing: sugar. I think could have made it taste better with a bit of sugar. I suspect that the Mala hotpot you get at food courts or hawker stalls have been modified to suit local taste buds, and everyone knows that Singaporeans love their dishes to taste sweet, even if just a little.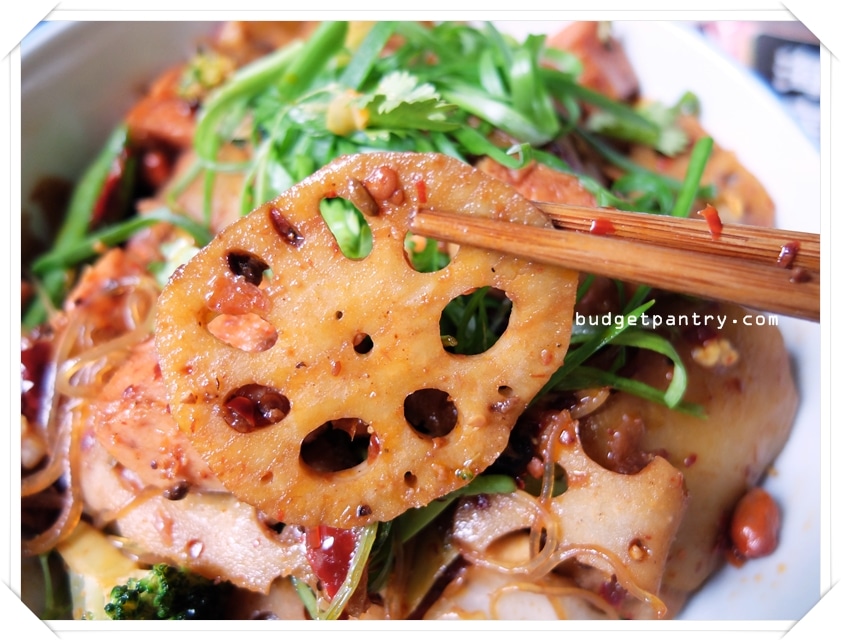 I'm gonna have to tweak the taste when I use the second pack. Surprisingly, the 80-year-old aunt liked it. 'Not too spicy?' I asked her. 'Very nice leh!!' she said, and proceeded to gobble down a huge bowl, just like that. Mind-boggling. Overall verdict: not bad but not fantastic. If you try it, let me know if you like it!
Mala Hotpot 麻辣香锅

(budgetpantry.com)
Serves: 3-4
Total cost per serving: $1.60
What you need:
1 packet Hai Di Lao Mala hotpot spice
1 teaspoon sugar
1 tablespoon minced garlic
100g lotus root, sliced thinly
1 potato, sliced thinly
2 slices luncheon meat, cut into cubes
1 bunch bean vermicelli, soaked til soft, then drained
1 small snack packet ready-to-eat roasted peanuts (you can buy Camel brand peanuts with ikan bilis)
A handful of broccoli florets
A handful of napa cabbage, chopped
8-10 sweet peas, both ends removed
4-5 baby corn, chopped into sections
Spring onion (shredded) and parsley for garnish
Steps:
In a hot wok, fry the hotpot spice together with the minced garlic. Add lotus root and potato and fry for 3-4 minutes on high heat.
Add the sweet peas, baby corn, cabbage, broccoli and sugar. Stir fry for two minutes before adding luncheon meat, bean vermicelli and peanuts.
Give it a stir, then switch off flame, dish up, and top with spring onions and parsley before serving.
How much I spent:
$3.25 for hotpot spice
$0.70 for lotus root
$0.30 for potato
$0.60 for luncheon meat
$0.30 for bean vermicelli
$0.80 for peanuts and ikan bilis
$0.50 for peas and corn
Everything else from my pantry