Homemade Tomato and Bacon Cream Soup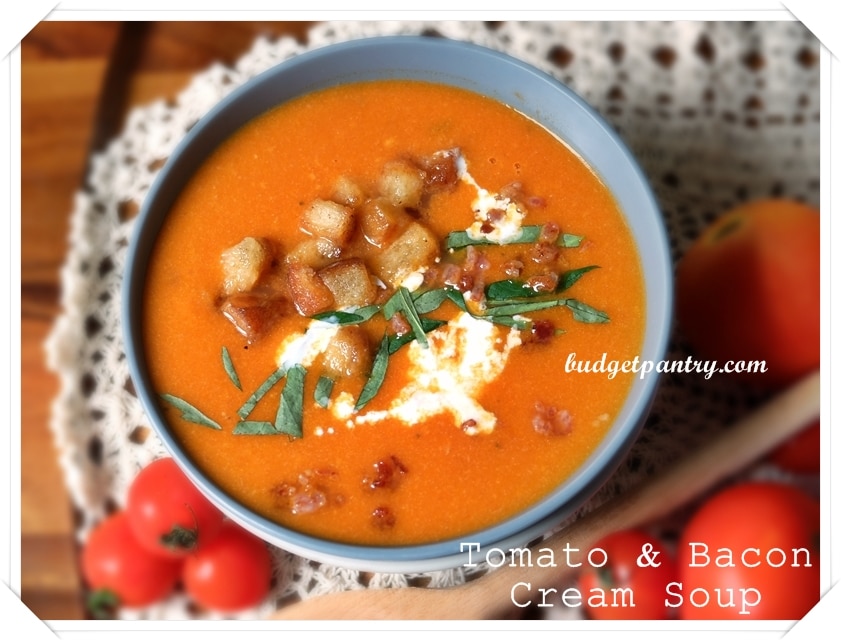 We were at Ellenborough Market Café, Merchant Court, for dinner buffet early last month. The dinner spread was great! Apart from the black pepper crayfish, the dish that knocked our socks off was the Tomato Basil Soup. I had two bowls, I think. Quite incredible, the creamy soup was tangy without being overpowering, and it was the best soup I've had in a long time.

I decided to try and see if I could make something similar myself! I'm not a fancy kinda person. I don't like to involve more than one kitchen apparatus if I can help it, especially when Jason isn't home to help me with the washing up ("Thanks, dear husband!"). But this soup is worth it.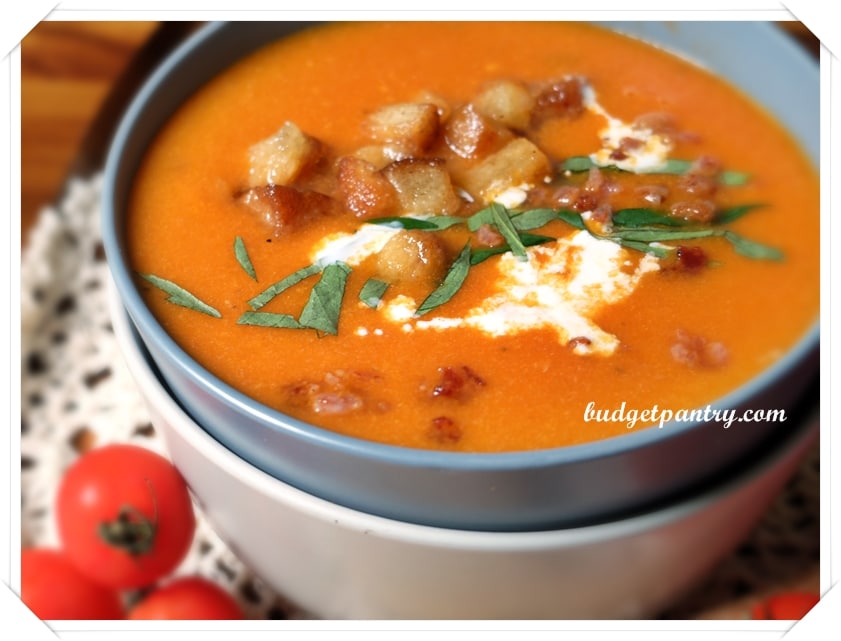 You could choose not to puree it if you like a chunkier texture. I used a Tefal mini blender. The ingredients are simple enough: bacon, carrot, butter, onion, tomato paste, tomato, chicken stock, cooking cream. The carrot is needed for sweetness and colour. There was no way you can achieve the deep orange colour if you leave out the carrot, so don't. You could add a bay leaf if you have it on hand, otherwise it is fine to leave it out. I didn't have basil, so I used bacon in place. I know, what a substitute, but you work with what you have, and I had bacon.
I chopped up some curry leaves from my garden corridor, fried some croutons, crisped up some bacon, and drizzled some cooking cream for garnish before serving. Jason had 2 large bowls and wanted everything else in the pot. I had to ban him from the kitchen for thirds and fourths.
And the recipe goes like this.
Homemade Tomato and Bacon Soup
Serves: 2-3 heartily
Total cost per serving: $2.50
What I used:
1 teaspoon olive oil
150g back bacon (about 5 slices. you could use streaky bacon, if so omit the olive oil)
1 medium red onion, chopped finely
8 shallots, chopped finely
30g butter
1 medium carrot, peeled and chopped finely
4 tablespoons tomato paste (I used Hunts)
1 can stewed tomatos (I used Hunts)
2 small tomatoes, wedged
1 litre chicken stock (I used Woh Hup concentrated chicken stock dissolved in water)
1 tablespoon plain flour
100ml cooking cream
1 bay leaf, optional
Salt and pepper, to taste
Steps:
1. In a large pot, heat up the olive oil and cook the bacon for about 4 minutes. Add the butter, onion, shallots and carrot and cook til soft, about 8 minutes. Add some chicken stock if it is a bit dry.
2. Add the fresh tomatoes and cook for 2 minutes, then stir in the tomato paste and flour. Keep stirring to combine.
3. Empty the canned tomatoes, chicken stock and bay leaf (optional) and bring to boil. Reduce flame to medium-low and simmer for 25 minutes til thick. No need to cover.
4. With a ladle, transfer the soup to your blender and puree til smooth. You could choose to run it through a sieve but I didn't. Alternatively, puree directly in the pot with a hand blender.
5. Return the soup to the pot and stir in the cream. Do a taste test and add salt and black pepper if needed.
6. Garnish with croutons (I airfried them), bacon bits and chopped curry leaves.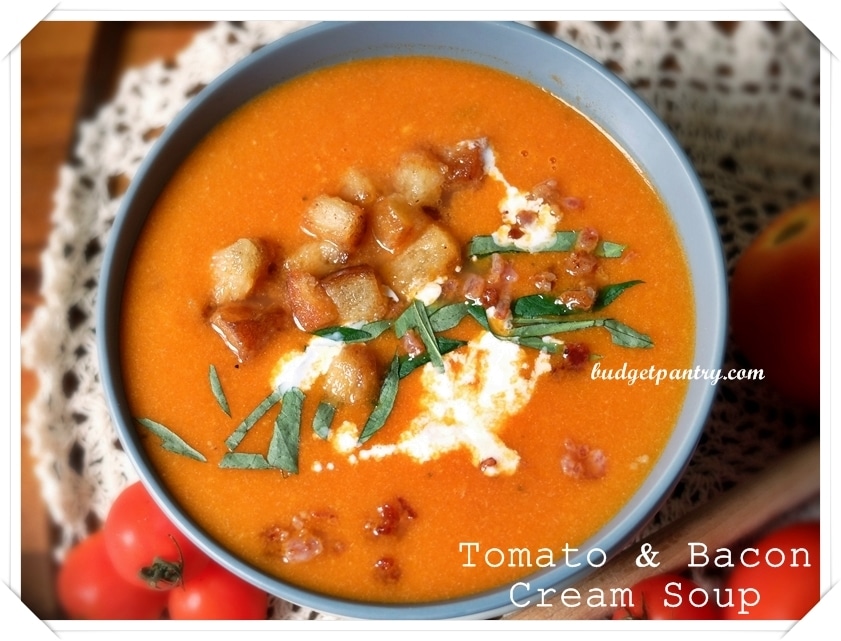 How much I spent:
$2 for bacon
$1.05 for tomato paste
$2.40 for canned tomatoes
$0.40 for tomatoes
$1.65 for cooking cream
Everything else from my pantry