Travel: 金華冰廳 Kam Wah Cafe, Prince Edward, Hong Kong
I don't know if the fact that I'm starting my new job on Monday has anything to do with it, but the withdrawal symptoms are really bad this time round.
I miss Hong Kong. I miss being there. I miss the solitude, I miss taking the bus. I miss sharing tables. I miss the familiarity and unfamiliarity. I miss the quietness as I read my book after all the whatsapp updates. I miss all my days there.
And I also miss Polo Yau. Polo Yau is essentially a butter bun with sugar cookie topping sandwiched with a slab of butter in between. It is also called "Pineapple Bun" because the cookie topping resembles the outside of a pineapple. There are many versions of "Pineapple Bun"- plain, with charsiew, with butter (like this), with custard, and I have even seen some places selling it with red bean filling, although I don't think it is very common. To me, you eat a butter bun to taste the butter, or there is no point.
I have eaten quite a few Polo Yau in Hong Kong and in Singapore, but nothing quite beats the one at Kam Wah Cafe. The Polo Yau at Honolulu Cafe in Central is quite delicious, but I enjoyed the one at Kam Wah more as it has more cookie topping, is crispier and more buttery.
I ordered the Polo Yau (HK$8 ~ SG$1.35) with a 檸樂 (lemon coke- HK$20 ~ SG$3.35) for an early dinner that day. Yes, dinner. I had a D&D to come back home to and I had nothing to wear if I couldn't fit in that one dress. Drinks are pretty pricey in Hong Kong compared to Singapore. I usually wouldn't spend $3 on coke, but I figured 4 cups of 凍奶茶 (iced milk tea) in a day was kinda stretching it.
On reaching the cha chan teng (Hong Kong tea house), I was prompty ushered to share a table with another local couple. I love sharing tables because I like listening to stories. That day, the couple was discussing in-law problems. I could understand most parts of the conversation because my brain can process it silently albeit slowly, but I can't do it if you were to ask me to speak the language without first translating the sentence in my head and remembering how to phrase it in colloquial. So although I could speak it if I had to, I cannot converse. I hope it makes sense.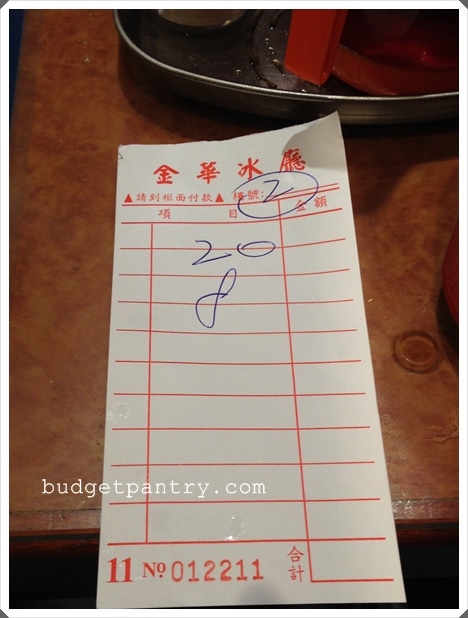 Service was quick. The Polo Yau was served in 5 minutes, warm, crispy, fluffy and huge. I like it that the bun was warm but the butter was still solid. Some people like to spread the butter around (why would you?) but I love biting straight into the slab of butter. Like when I had warm rolls with chunky COLD unsalted butter EVERYDAY for breakfast in Europe, I stared at Boon when she used a butter knife to spread the butter thinly on the bread. What was wrong with this girl?
I don't really like to describe food but it was the second most delicious thing I had in Hong Kong. Eat a few when you're there.
金華冰廳 Kam Wah Cafe
Address: G/F, 47 Bute Street, Prince Edward, Hong Kong (Take the MTR to Prince Edward and use Exit B2, or you could explore Mong Kok and use google maps)
Opening Hours: 0630-0000