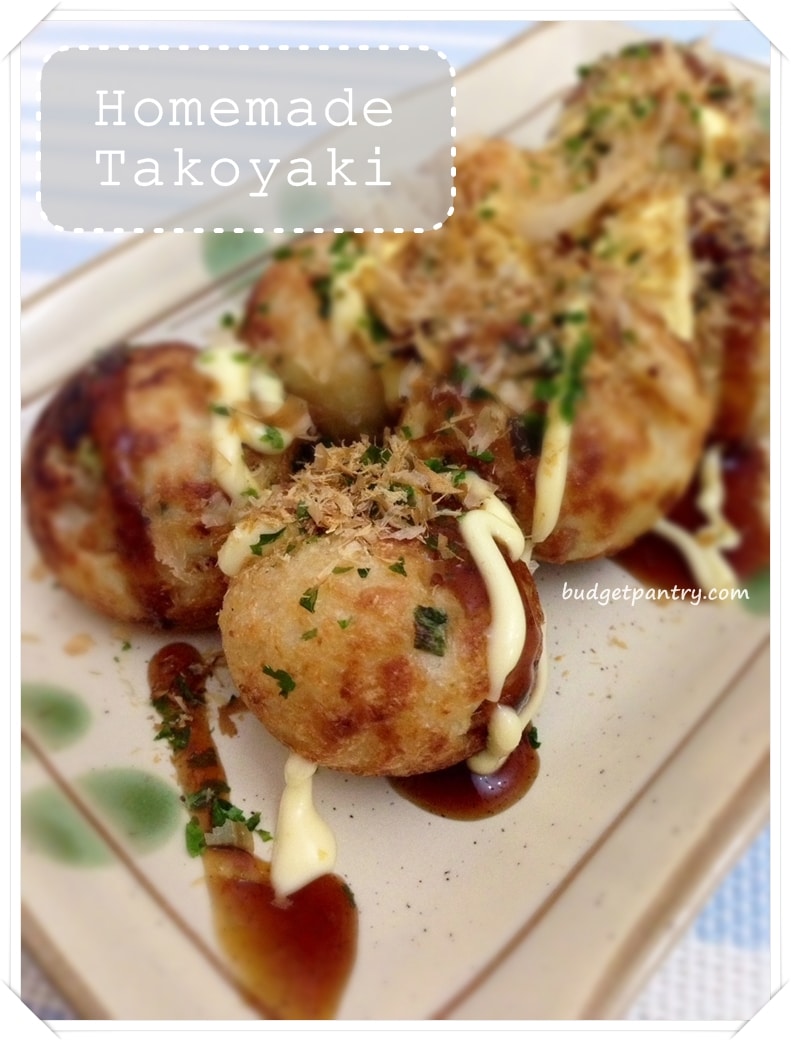 I love Takoyaki and have been thinking of making it at home, so when my sister-in-law gave me a Takoyaki pan (along with a packet of Takoyaki mix) for Christmas, I was over the moon!
"Takoyaki" is "Octopus Balls".. essentially flour batter filled with octopus pieces and tempura scraps then grilled in a Takoyaki pan til slightly crispy. When done right, the result is a piping hot, slightly crispy ball with a gooey, cheesy interior (I always add cheese!).  I don't particularly like octopus, so the filling I use include shrimp, bacon, ham, sausage and lots of cheese! You can use whatever other ingredients you like. And because I don't have tempura scraps, I substituted with Calbee prawn crackers. It works!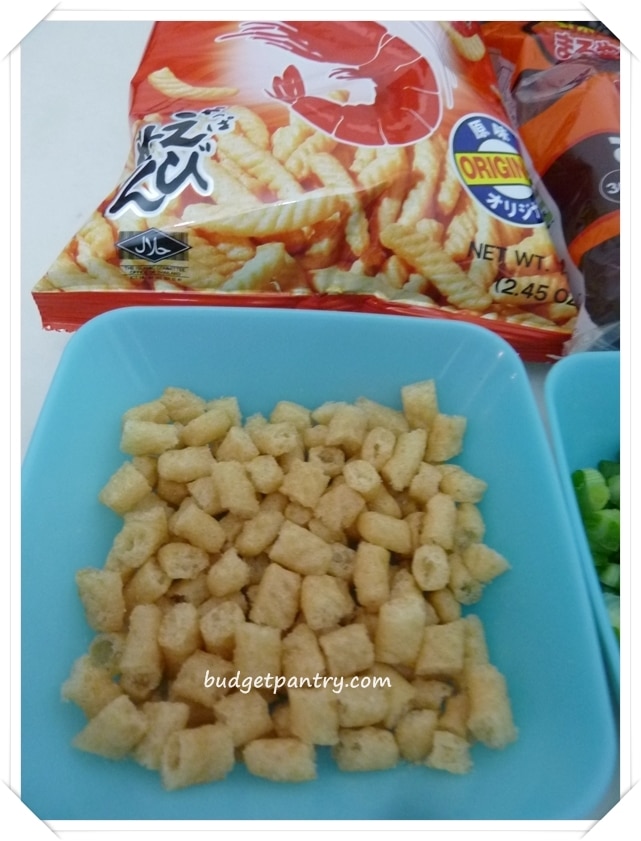 We can get Takoyaki easily in Singapore.. but they are nowhere near the ones I've had in Osaka. I like "Takopachi" at Bugis and Takashimaya basement, but am not a fan of "Wow Tako" at PS and various other locations. What to do but to make my own? :)
Homemade Takoyaki (with garlic sausage and cheese)
Makes 50-54 balls. Total cost per serving: $1.10 for 4 balls
What I used: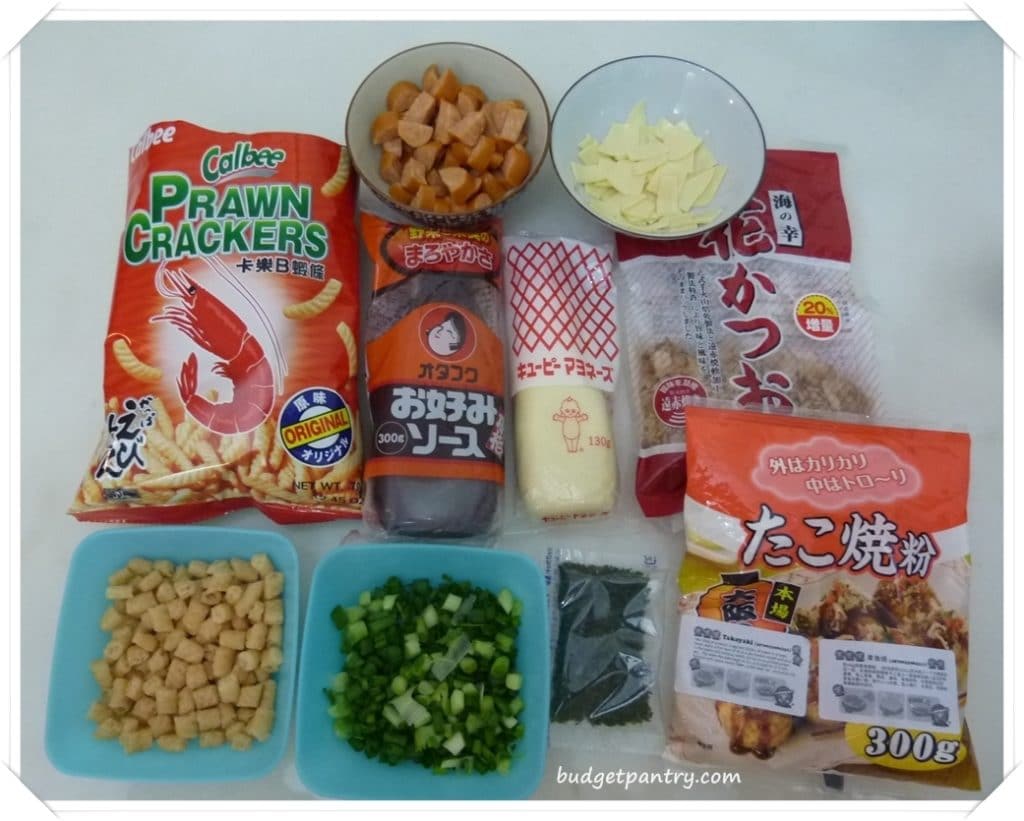 1 packet Takoyaki mix from Daiso (you can easily google and make your own batter using plain flour, dashi/ chicken stock powder, egg and water!)
1 egg
1000ml water
4 sausages, cut into small pieces (I used NTUC garlic and cheese sausage- 4 pcs for $3)
4 slices cheese singles, cut into small squares
Calbee prawn crackers, cut into small pieces (used in place of tempura scraps)
Spring onion, cut with a pair of scissors into small rings
Takoyaki or Okonomiyaki Sauce (available at Fairprice Finest)
Japanese mayonnaise
Dried seaweed flakes (from Daiso)
Bonito flakes (from Daiso)
Olive oil
Steps:
1. Empty the packet mix into a large bowl, crack the egg and add water. Whisk til batter is smooth.


2. Heat up your Takoyaki pan (medium flame) and grease well with olive oil. Be sure to grease both the insides and flat areas with either a brush or paper towels. It is ok to slightly over grease it.. I placed 2-3 drops of oil into each hole. When the pan is hot enough (about 3-4 minutes), pour in the batter.. do not be afraid that it will overflow! Let it flow to the surface of the pan! You need the batter to form the other side of the ball.


3. Drop in 1-2 piece of sausage, a piece of cheese and scatter spring onions and the calbee crackers all over. Fill the pan with a bit more batter so that the surface is covered.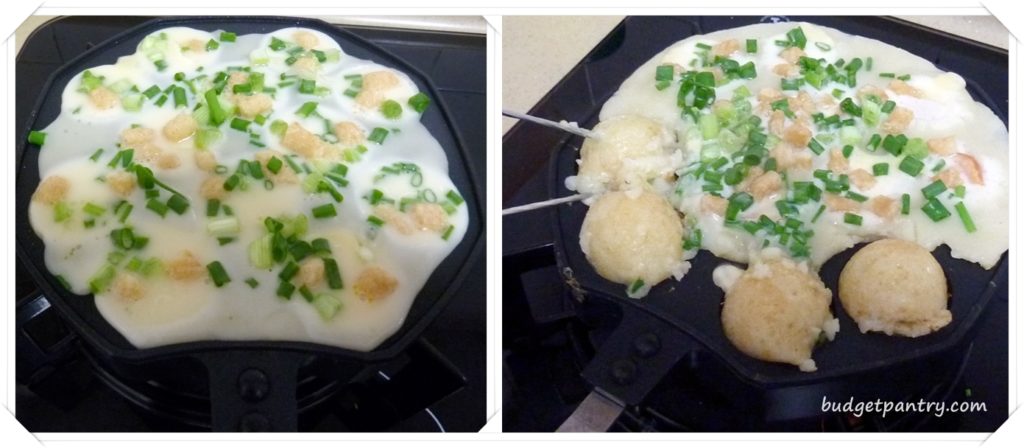 4. Let it cook for 4 minutes without turning.. don't worry they won't get burnt that easily. Using skewers, break the connected flour batter start tucking in the excess batter into each ball as you turn it in. It'll look pretty messy at first but it'll all work out. Drizzle 1-2 drops of oil at this stage, after turning, so that the ball fries in the oil and creates the crispy shell.


5. Let it set for a minute, then rotate the balls to brown them evenly. They should turn easily by now. Keep flipping constantly to shape them. When the balls are evenly browned, transfer to plate and garnish with takoyaki sauce, mayo, dried seaweed flakes and bonito flakes.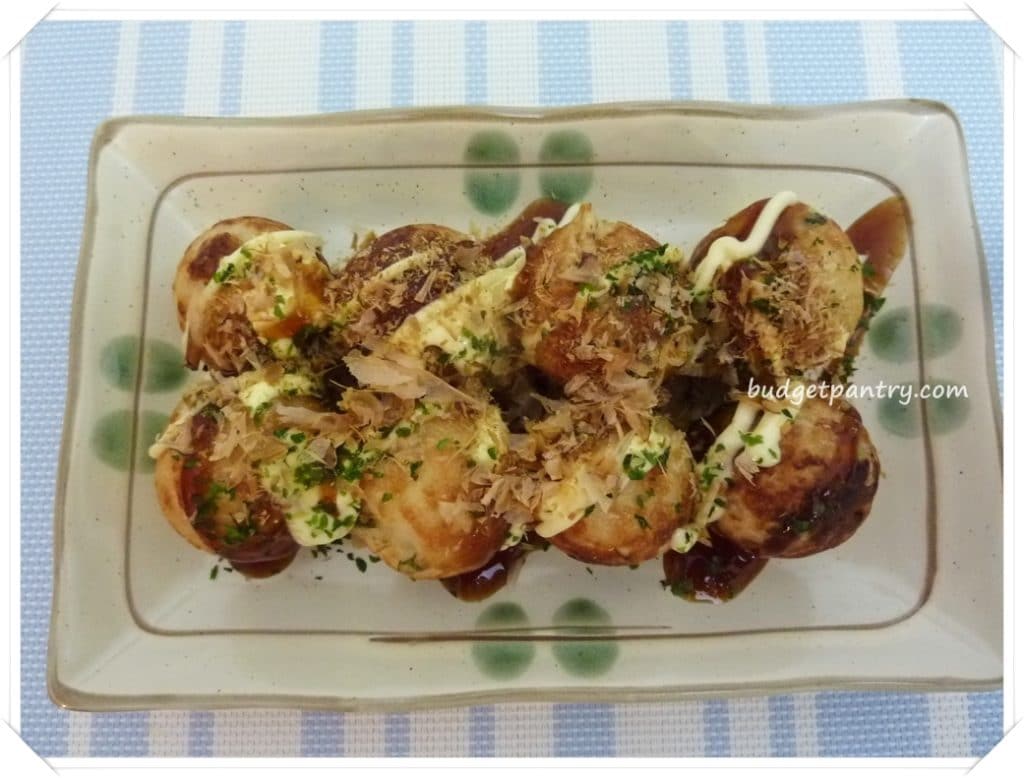 How much I spent:
$2 for Takoyaki mix
$3 for sausage
$1.20 for cheese
$1.20 for Calbee prawn crackers
$0.50 for spring onions
$0.40 for dried seaweed (there are 5 little packs in a large Daiso pack)
$5.80 for Takoyaki Sauce (from NTUC Finest)
Everything else from my pantry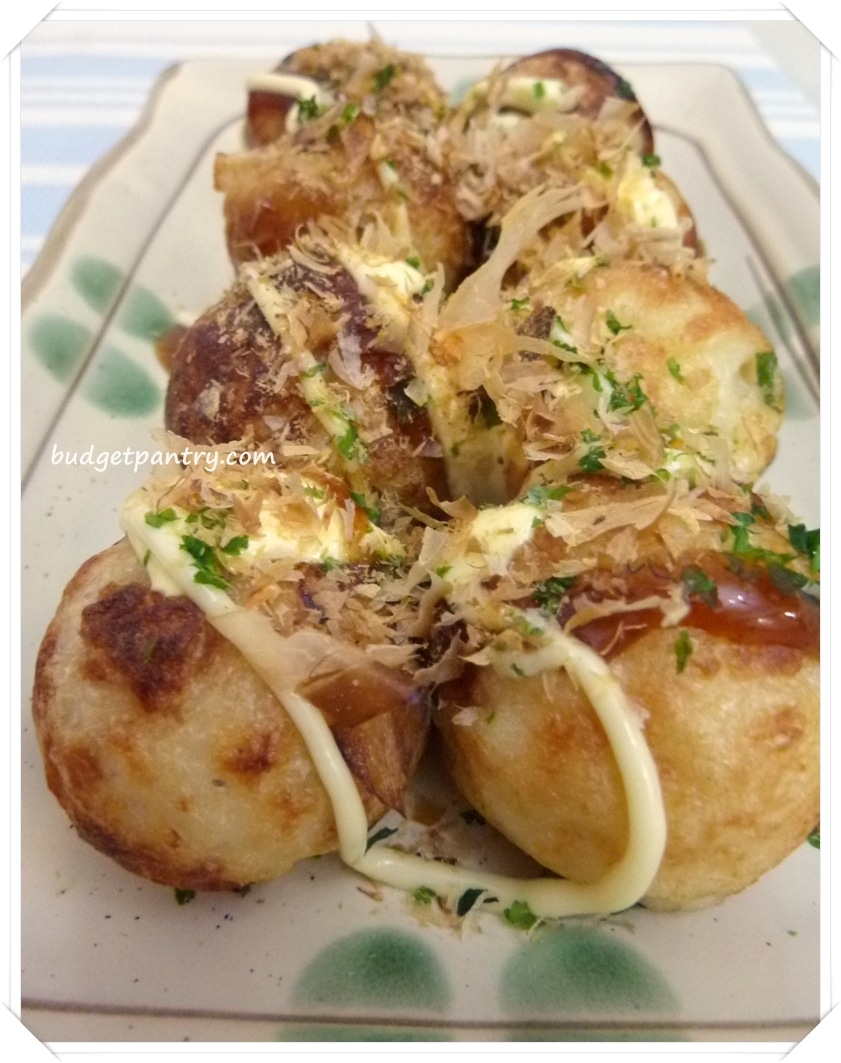 The batter will look runny and is nowhere near the consistency of your cake batter and it is normal. It will separate easily and that is normal too. Just whisk the mixture again just before cooking. The key thing is to practise and don't be afraid of pouring "too much batter".. my first batch of takoyaki was adorably small because I poured the batter only within the holes!
I asked my sister-in-law where she got the pan and she said she ordered it online from Qoo10 for less than $30 and received it in 2-3 days.
I have a Takoyaki party planned for Chinese New Year. Can't wait!