#cbbturnsone: A bespoke dessert table for your baby's birthday party?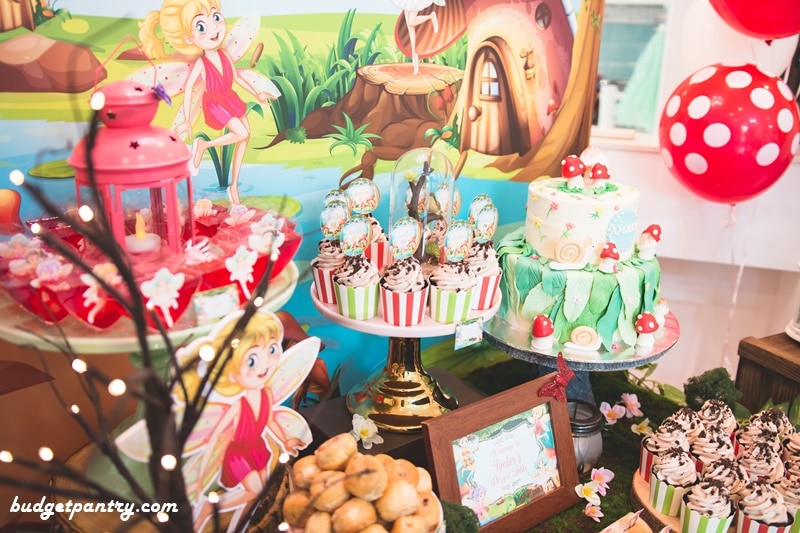 Dessert table by Hokey Pokey!
Cbb turned one on 12 May, and her 1st birthday celebration was held over two days as our new place is too small to accommodate 60+ pax. What to do, tiny BTO!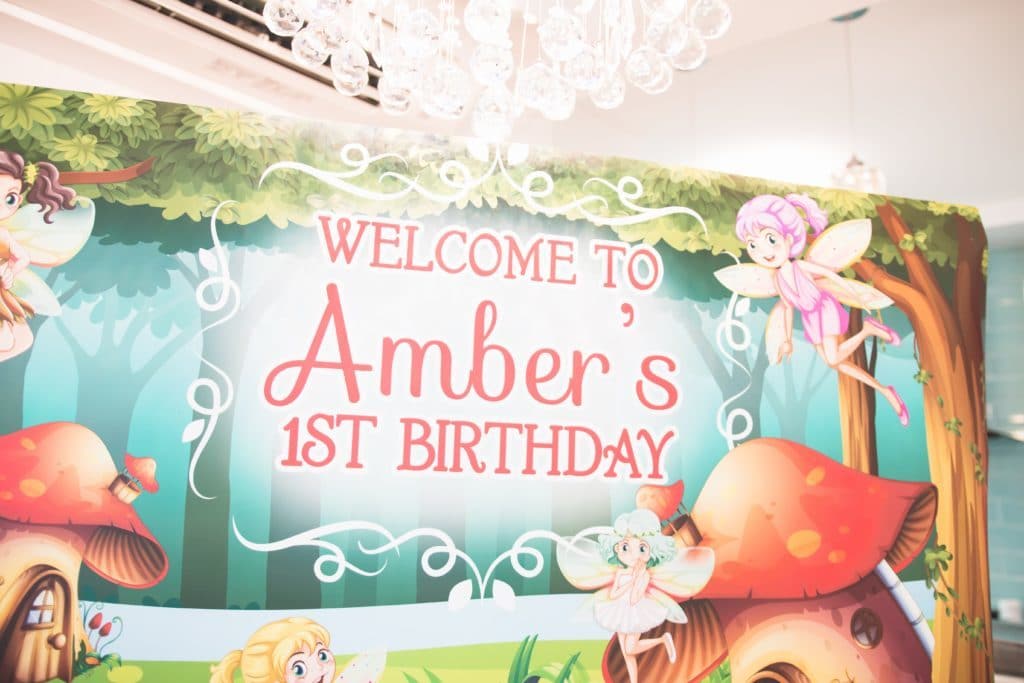 On the first day, we got the go-to people for dessert tables in SG, Hokey Pokey, to come help us out! Looking at the details, you won't believe that the set-up took less than an hour to complete. The theme of the day was 'enchanted forest'… isn't the decor just magical? This was quite the highlight of the party!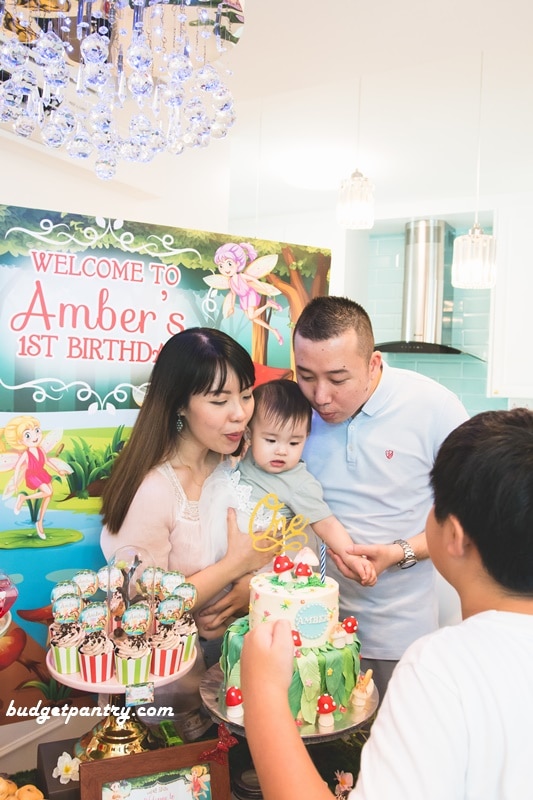 About Hokey Pokey's dessert table packages
Hokey Pokey offers two types of dessert tables: full table and petite table. You can find out more about them here. Ours was the petite table (0.9m long) due to space constraints, but it was amazing how the Hokey Pokey team worked around the tiny space and set up the dessert table at the area in front of our bar counter with room to spare.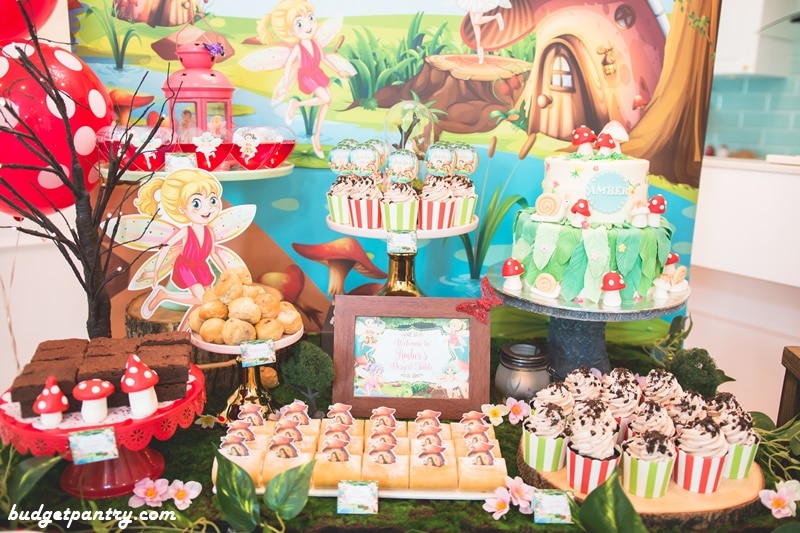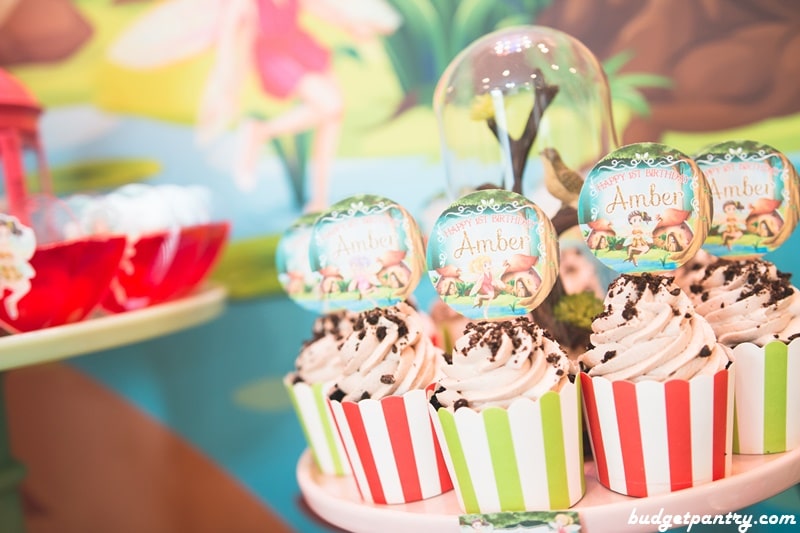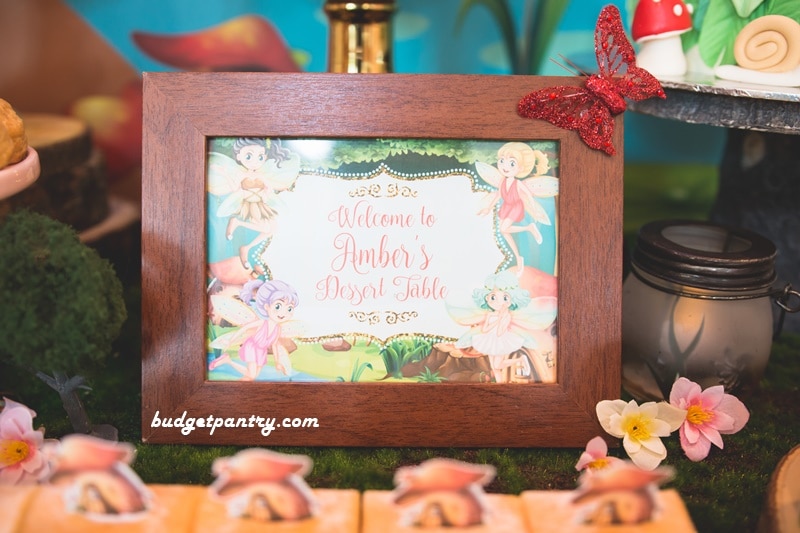 EVERYTHING WAS CUSTOMISED! I was very impressed by the effort and detail that went into this. How did our text discussion manifest into something so beautiful and… surreal? It is obvious that the Hokey Pokey team is truly passionate about what they do and it REALLY shows in their work.
The dessert table includes a single tier 6″ cake, but we had already ordered our two-tier cake separately from another baker, Corine and Cake way before, so we didn't get the cake from them. More details about cbb's birthday cake will be shared soon! If you need more than a 6″ cake, top up options are available. Go to Hokey Pokey's website for info if you want a 2-tier cake or one with an even more complex design. Here are the yummy treats that came with our dessert table:
24 cupcakes
32 Valrhona brownies
21 pillow swiss rolls
25 profiteroles
15 cup dessert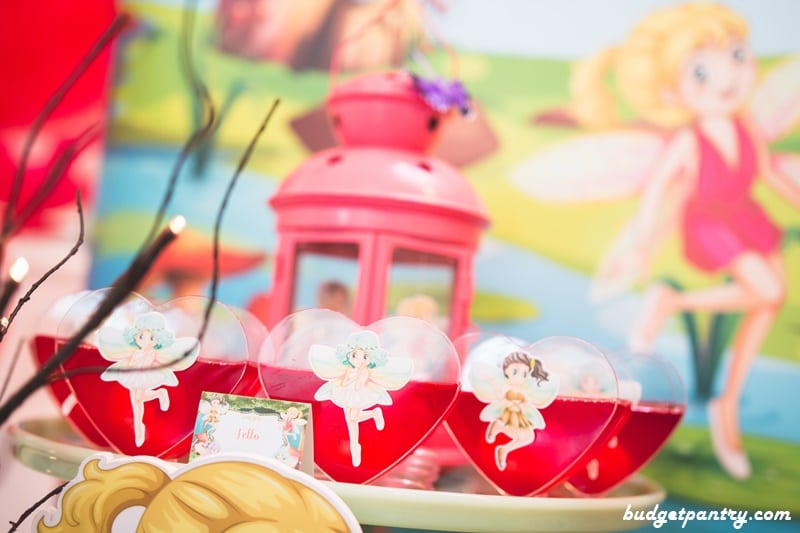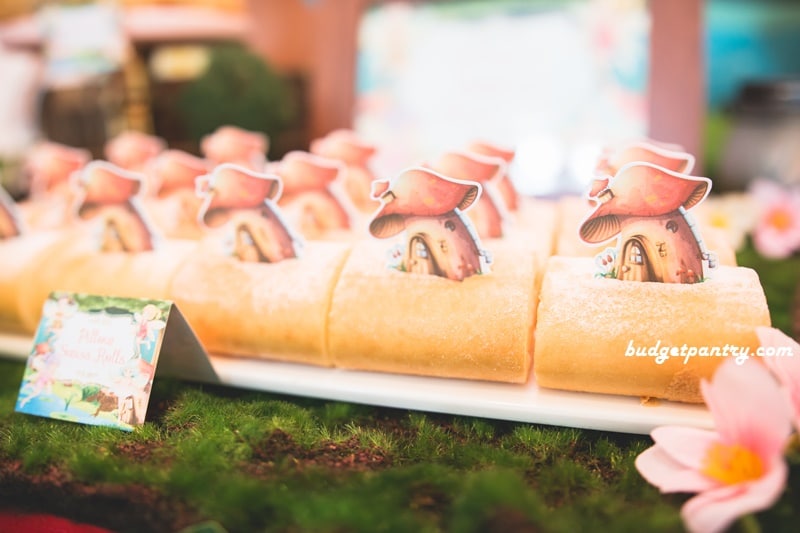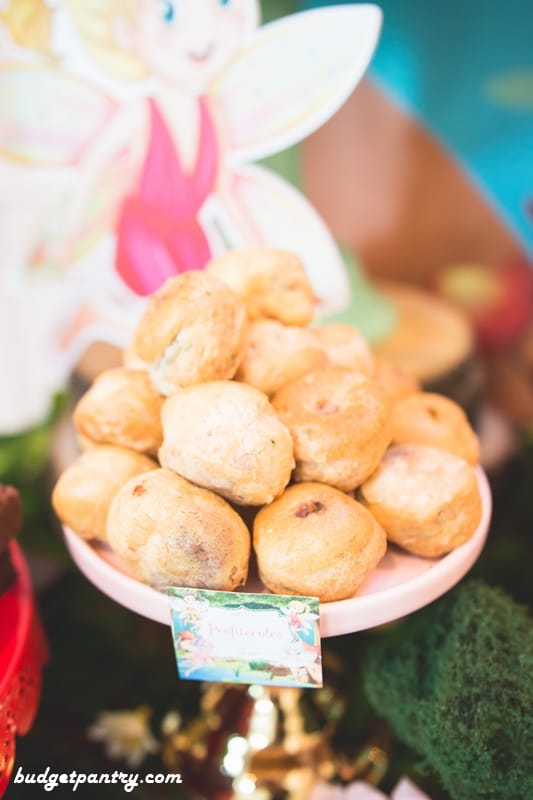 Click here for details about their dessert table packages and choose one that's right for you.
My experience
Once the order was confirmed, Hokey Pokey promptly whatsapp-ed me to liaise directly. One of the first things they asked was if I had any theme in mind. I didn't have concrete specifications of what I wanted, but I knew I wanted something magical and fairytale-like, and the first thing that came to mind was 'enchanted forest'. The theme reminded me of the cherished Enid Blyton's books I loved as a child, and I pictured mushrooms, mushroom houses, deers, fairies, wands, and make-believe.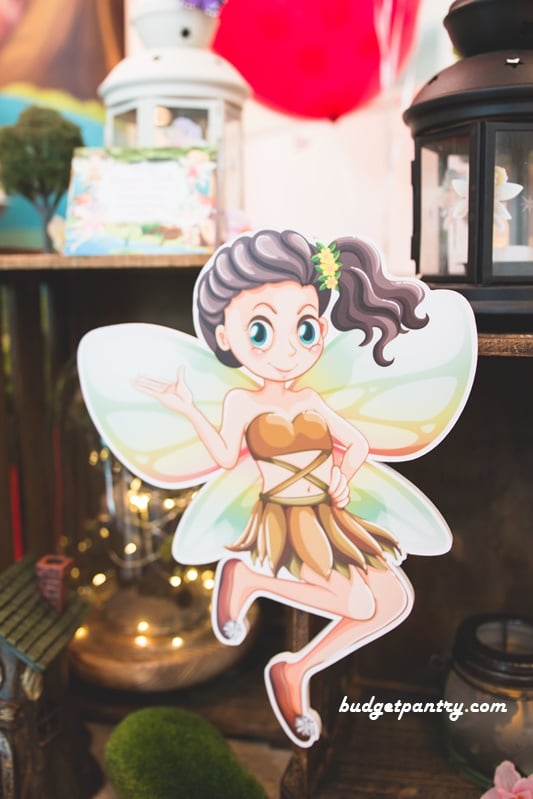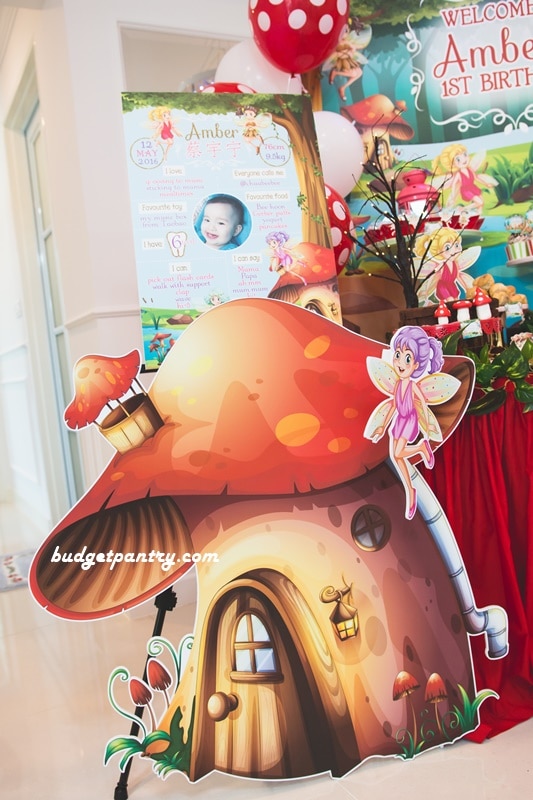 Then it was down to specifics. I was asked what kind of fairies I was looking at: silhouette or cartoon? They sent me sample pics to help me decide what I wanted… then it was up to their creativity! And in no time at all, I received the themed digital invitation card for sending to our guests. So glad I left the design and decor to them… just look at the end result. It's breathtaking! I also topped up for cbb's milestone card. I love it!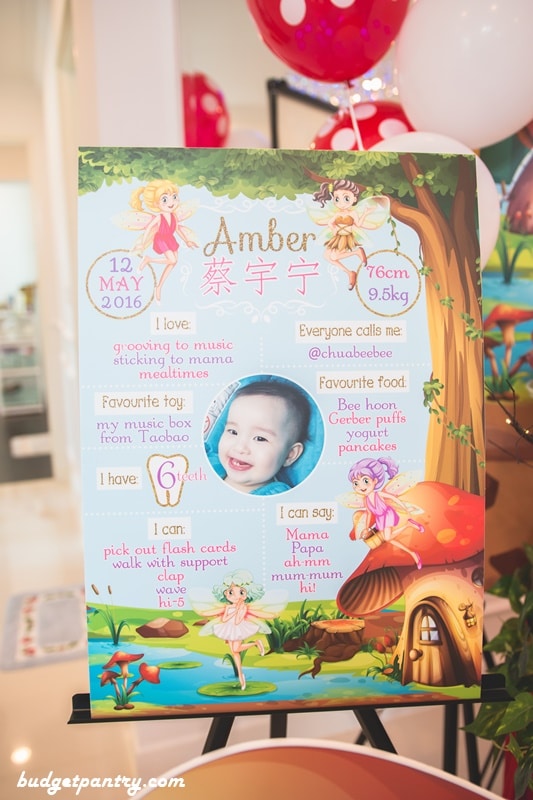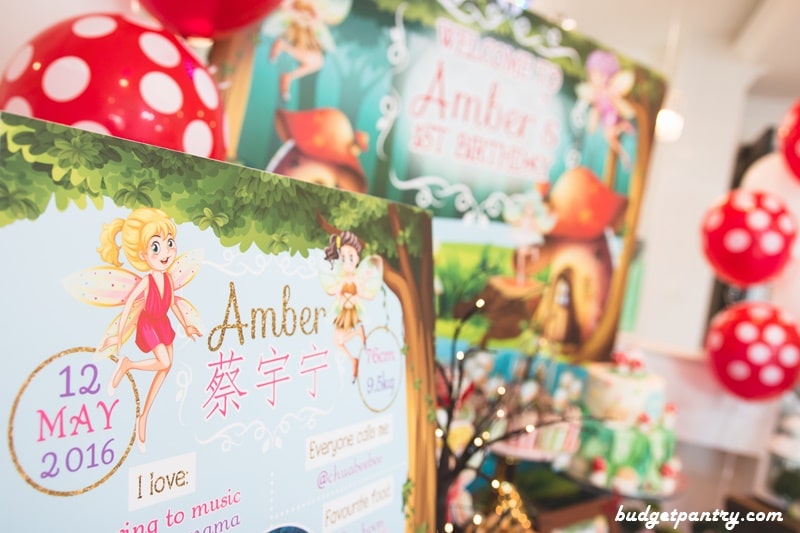 So if you're looking to hold a unique birthday party for your kid, consider getting a dessert table from Hokey Pokey. Not only were we super happy with what they came up with, we also thoroughly enjoyed the experience of seeing an idea come to life! Thank you Hokey Pokey for putting what I can only dream off right in front of our eyes. I can't wait to see what other magic you'll create for other children (and their parents)!
Other themes they have done before
Go on over to their Facebook page to marvel at the other themes they have created in the past: Alice in Wonderland, Tiffany & Co. inspired, Little Twin Stars, The Little Prince, Tokidoki featuring Donutella, AND MORE! You really have to see to believe, that's all I can say.
Contact
Hokey Pokey
Website: http://hokeypokey.com.sg/
Dessert table: http://hokeypokey.com.sg/home/outstation-dessert-table/
Facebook: https://www.facebook.com/sghokeypokey/
Instagram: @hokeypokeysg
Email: enquiries@hokeypokey.com.sg
Whatspp only: 98512131 (Jaclyn)
Special mention: All the pictures here are from Without Words Pictures. I don't think his website shows how good he really is! I highly recommend him. Thanks Jing, for capturing our memories and for showcasing how much work went into the dessert table. I wouldn't have been able to take these pictures myself!
————————————-
Thank you Hokey Pokey for creating this magic for cbb! If you like my posts and updates, or would like to be informed of baby/cooking-related giveaways and promos from time to time…..
Like my Facebook page or follow @budgetpantry or @chuabeebee on Instagram! Yes, I just started an Insta account for CBB too!