Baby & family menu: Moroccan-inspired minced meat over rice
I love cooking this dish because it's an all-in-one. Cbb can have it for dinner and so can we! The best thing: everything goes in one pan so there's minimal washing up to do.
When preparing food for the family, I increasingly find myself looking for quick-fixes. I mean, you can't blame me – I'm really pressed for time after work. So it's best that whatever I cook can be eaten by the whole world, you know. Like if I cook crab or prawns, then it's damn leh-ceh to feed cbb with so on those days I heat up the frozen food cubes I prepared for her at the start of the week.

But it's nice to cook dishes like this cos cbb gets to eat fresh too. It's like bolognese! I just start off everything together but hold the seasoning. Onions, meat, garlic, carrots, peppers, tomatoes, cumin, cinnamon… all these cbb can eat so I simmer the meat in these, and when it's done, I scoop up whatever I need for her and THEN season our portion. Since the vegetables are chunky, I cut them up into smaller pieces for her with food scissors.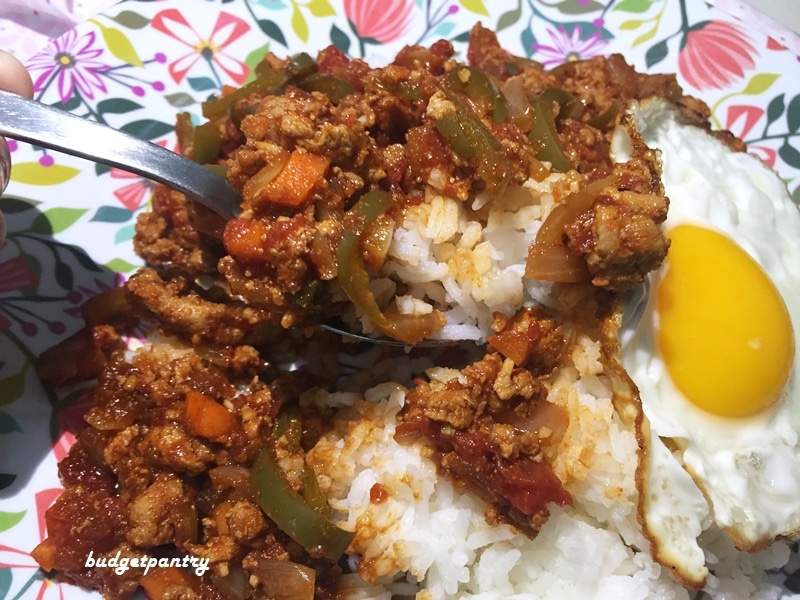 I like ours with lots of paprika flakes! I think this will taste good with a bit of curry powder actually so next time I will add it and let cbb try. You can use chicken, pork or beef for this so it's a really versatile dish packed full of nutritious, yummy vegetables too.
Try it for your baby… cbb loves this over noodles and pasta! (sorry for the lousy pics. I hate them too)
Moroccan-inspired minced meat over rice
(budgetpantry.com)
Serves 2 adults and 1 baby
What you need:
300g minced meat (either chicken, pork or beef)
1 can peeled or diced tomatoes
1 medium yellow onion, chopped
2 teaspoon minced garlic
1 medium carrot, chopped into cubes
1 green pepper, chopped into strips
1 tablespoon light soy sauce
Half tablespoon dark soy sauce
1 teaspoon paprika or chilli powder
Half teaspoon cumin
1 teaspoon cinnamon powder or 2 cinnamon sticks
1 teaspoon brown sugar
2 tablespoons olive oil
Steps:
Heat the oil in a pan and add chopped onions. Fry for 3-4 minutes until soft.
Add the minced meat and break it up with your spatula. Follow with the garlic. Stir fry for 2 minutes, then add the carrots, green pepper and canned tomatoes (with juice). Mix well and add the cinnamon and cumin.
Simmer under medium-low flame until carrots are soft, about 15 minutes. Add some water if necessary.
At this point, scoop out what you need for your baby, then proceed to season the rest with light soy sauce, dark soy sauce, brown sugar and paprika.
Cook for a few more minutes till reduced. Scoop over rice and serve with a sunny side up.
If you like my posts and updates, or would like to be informed of baby/cooking-related giveaways and promos from time to time…..
Like my Facebook page or follow @budgetpantry or @chuabeebee on Instagram! Yes, I just started an Insta account for CBB too!