Pan-grilled Eggplant with Chilli Tuna and Cheese

Low carb pizza, anyone?
I spotted some fresh, beautiful eggplants for sale at my local market and couldn't resist picking some up. Large, firm, and vibrant with a deep, seductive hue, they were going for a song at 3 for a dollar.

I love eggplant but they're quite tricky to deal with. I tried airfrying them on their own but because of no oil or moisture, the were not cooked enough and dried out. The thing about eggplants is that they have to be thoroughly cooked.. you just cannot undercook them. I also added them to fish curries, and although they're quite awesome like that, I don't think they've reached their full potential, flavour wise, when boiled, even if in curry. The best way to cook them, I feel, is by drizzling them with some olive oil, then pan-grilling over low heat on the stove top, til the flesh caramelises into a creamy, luxurious mash while still retaining some bite.
That day, I decided to make eggplant "pizza". I pan-grilled the eggplant (steps below), topped them with tuna sponsored by the very generous Ayam Brand, sprinkled mozzarella + cheddar cheese, then airfried them for 3 minutes in my Phillips Airfryer, til the cheese had melted and became bubbling hot. For the tuna, I used Ayam Brand's Spicy Tuna Flakes in Olive Oil:

I added some chilli sauce, chilli paste and chopped shallots and garlic to make it "spreadable" and for extra flavour. I hear they also have "Chilli Tuna Light" so the next time I make this dish, I can just reach straight for the can.
Makes 4 servings (2 pieces each)
What I used:
2 eggplants (= 8 pieces. see preparation notes below)
1 can Ayam Brand Spicy Tuna Flakes in Olive Oil
1 teaspoon chilli sauce
Half teaspoon chilli paste (you can use any sambal-type paste)
1 clove garlic, chopped
1 clove shallot, chopped
Shredded mozzarella or cheddar cheese, or you can use a combination of both
Olive oil for brushing
1. To prepare eggplant, wash them, slice off the top and bottom, peel in intervals and slice into half length wise, then half again to make 4 pieces per eggplant. Make some deep cuts diagonally across and sprinkle some salt all over. Let them sit for 15 minutes. The salt will draw out the excessive water and the eggplant will absorb less oil when cooking.
2. In the meantime, combine the tuna, chilli sauce, chilli paste, garlic and shallots and set aside.
3. When the 15 minutes are up, pat the eggplants dry with paper towels and brush with olive oil all over.
4. Heat up a flat frying pan using medium heat, then place eggplant face-down to grill. Drizzle a few drops of olive oil if the pan gets too hot. Remove from pan after about 10 minutes but watch the fire. When you notice the purple skin turning light purple and a bit see-through, it's almost done.
5. Remove eggplant and spoon prepared tuna over. Sprinkle with shredded cheese and airfry for 3 minutes at 180 degrees. Alternatively, bake in oven til cheese melts.
6. Enjoy your piece of heaven!
How much I spent:
$0.65 for eggplant
$0 for tuna as they're sponsored (retails $2.45 regular price)
$1.50 for cheese
Everything else from my pantry!
Total cost per serving: $1.12
——————————————————————
Some photos to help you:
I prefer to peel in intervals instead of removing all the skin. This way, the eggplant maintains its shape and holds together better.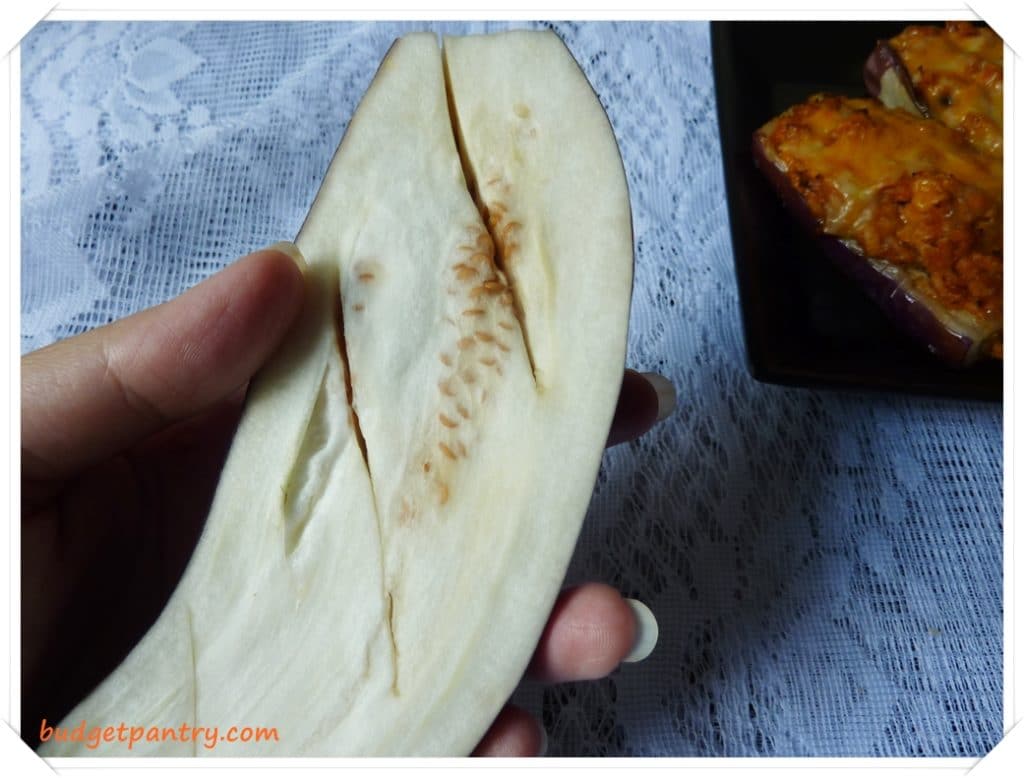 Make deep cuts before sprinkling salt. Be careful not to cut all the way through.
Some photos to tempt you: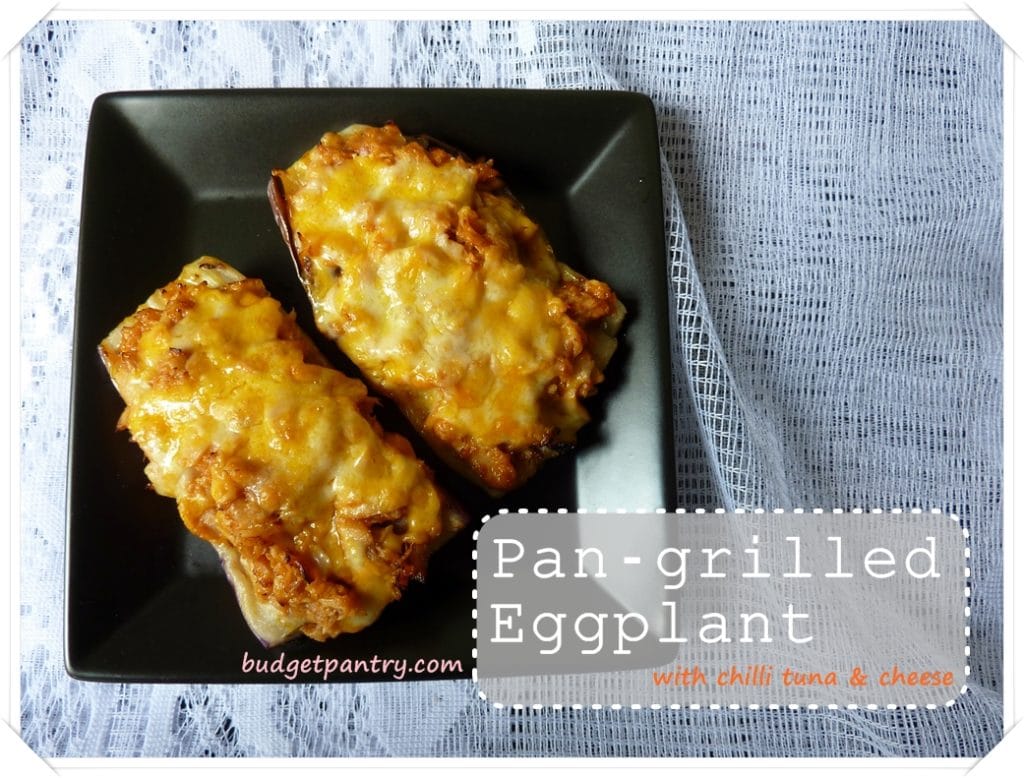 These are really good.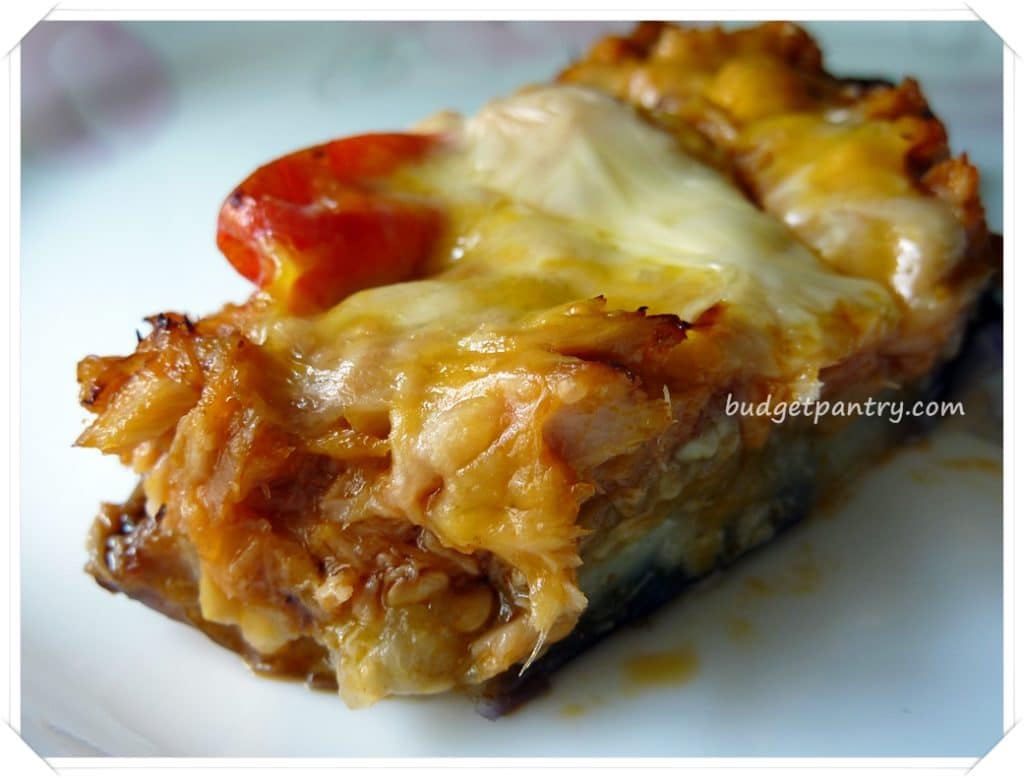 See the beautiful layers and how the eggplant is sooo soft and creamy. (I combined sliced cheese with shredded cheese for this piece. I ran out!)
I really, really hope you try this recipe. They taste sooo good and are a much better option than pizza!