Tofu Canapé (Steamed Tofu Parcels with Pork and Prawns)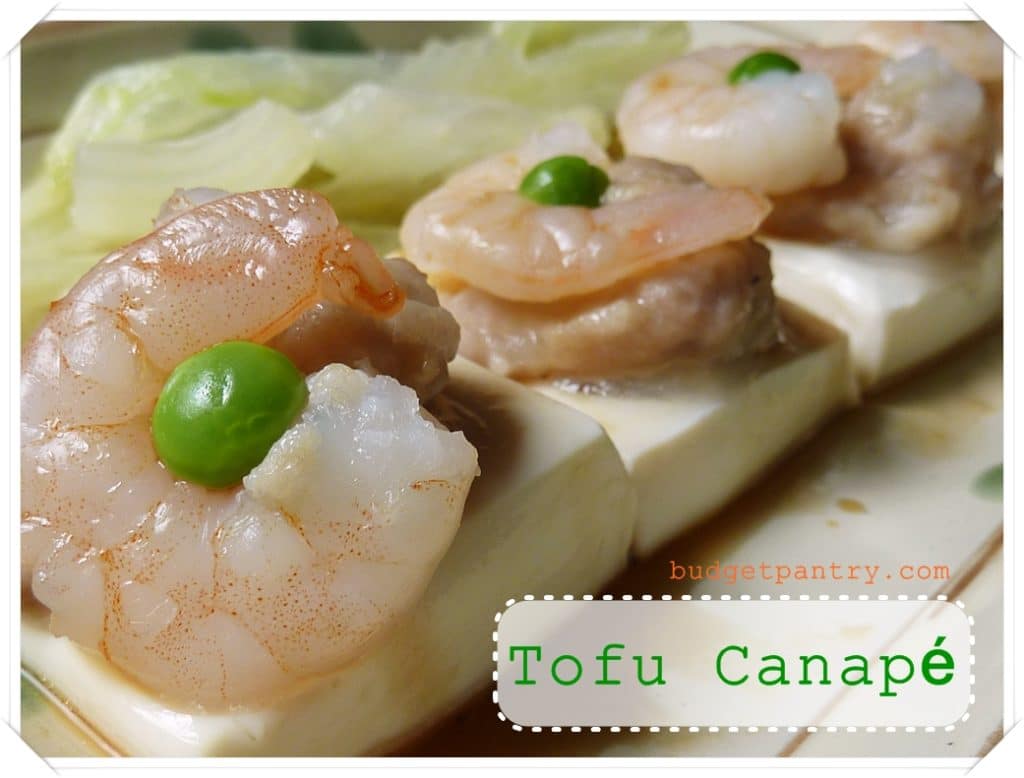 "Tofu Canapé" is a name invented by Jason and I like it! I was going to name this erm "Steamed Tofu with Minced Pork and Shrimp" yeah so original I know. But of course, unlike a real canapé, you can't hold this with your fingers although you can probably eat this in one bite (or two)!
I was thinking of what else to do with tofu. I've made claypot tofu (look out for my recipe!), Mapo Tofu, cooked them with tau cheo, used them in soups.. I love Agedashi Tofu but I don't do deep fry. So I thought of 方太 (haha!) and remembered those tofu parcels with meat topping that I watched her make on television, and these Tofu Canapés were created! For those not in Singapore, 方太 is a popular cook in the 1980's to early 1990's who had her own cooking show. Every mother in Singapore knows 方太! ("这就是我为你们准备的鲜虾肉圆蒸豆腐,你也可以在家试一试。" Haha!)
For steaming, I used my Zojirushi rice cooker which came with the steaming pan: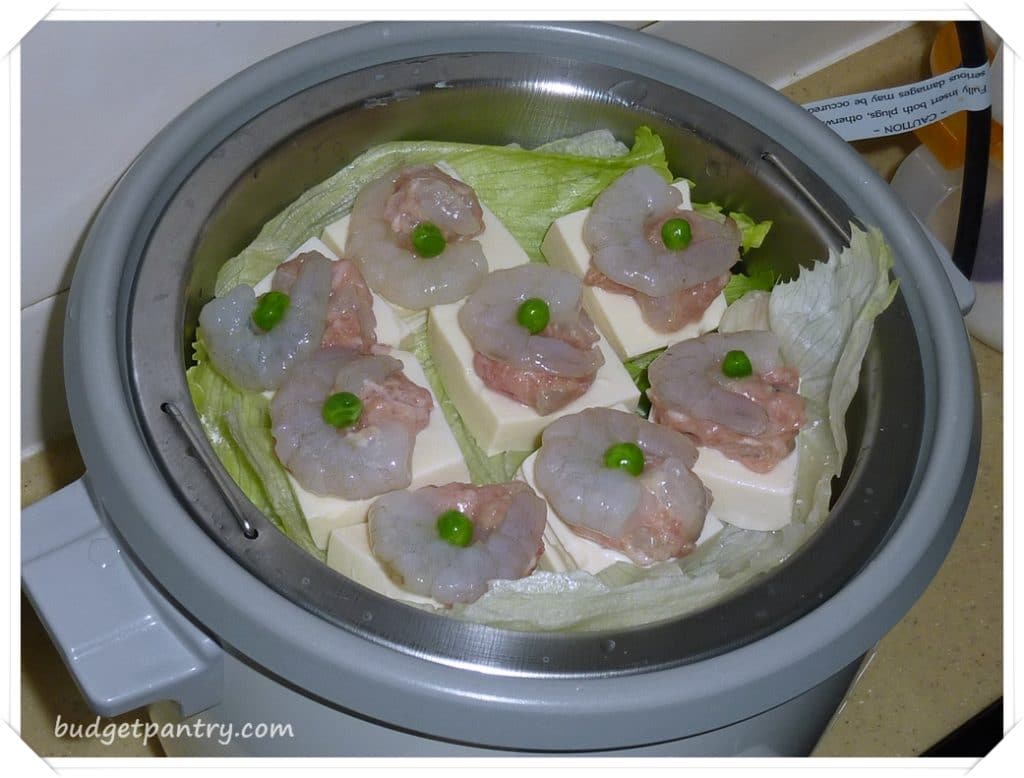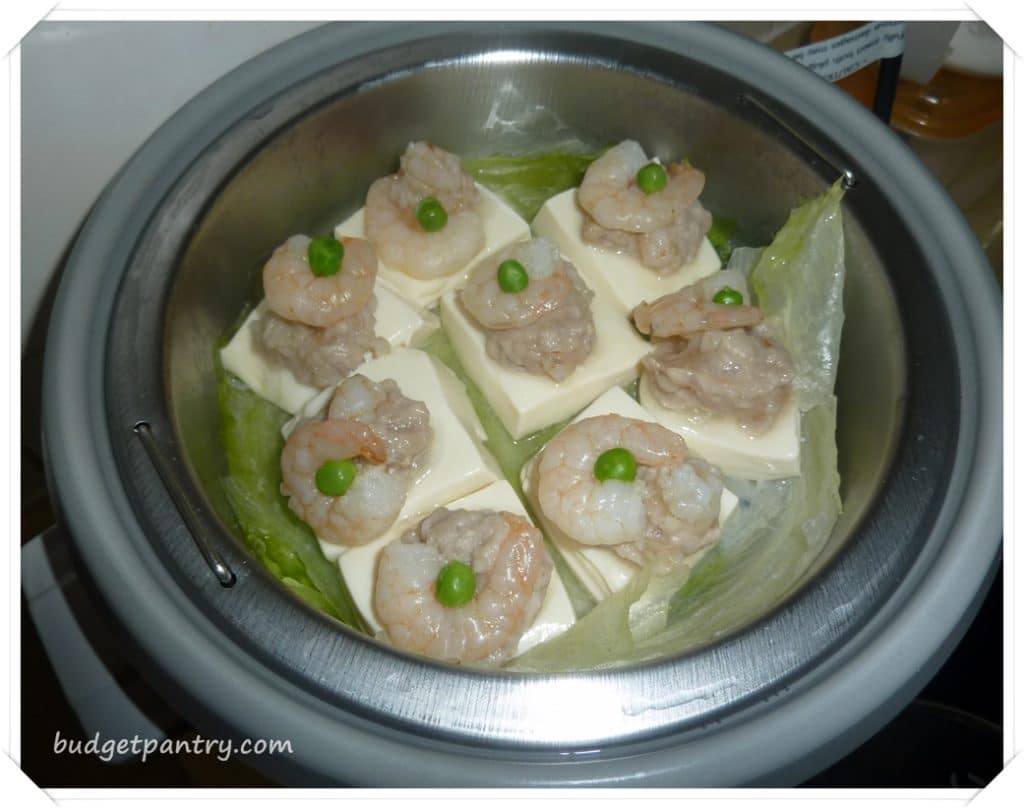 Of course you can steam them in a wok or stacked steamer. The water chestnuts lend a nice sweet crunch to the minced pork. I get those pre-peeled ones from Sheng Siong at $2 a packet. Please use fresh ones if you can! Leftovers can be used to brew a waterchestnut drink or my Wintermelon Soup with Pork Balls. I hope you try making the Tofu Canapés.. I had fun cooking these little parcels!
Steamed Tofu Canapé
(budgetpantry.com)
Serves 2-3 as part of a Chinese meal
Cost per serving: $0.95
What you need:
1 block tofu, halved lengthwise, then cut into 10 pieces
10 medium prawns
10 frozen green peas
50g minced pork
5 pieces water chestnuts, chopped
Half tablespoon cornstarch
1 teaspoon light soy sauce
Dash of white pepper
For sauce:
2 tablespoons light soy sauce
1 tablespoon Chinese cooking wine
Drizzle of sesame oil
Steps:
Combine minced pork, water chestnuts, cornstarch, 1 tablespoon light soy sauce and pepper. Mix well.
Spoon pork mixture onto tofu square and top with one prawn and one green pea.
Steam for 15 minutes until done. In the meantime, heat up the seasoning sauce and gently simmer in a small saucepan.
Drizzle the sauce over the tofu parcels and serve immediately.
How much I spent:
$0.75 for tofu
$1.50 for prawns
$0.50 for pork
Everything else from my pantry!