Stir fried Garlic Nai Bai with Dried Shrimps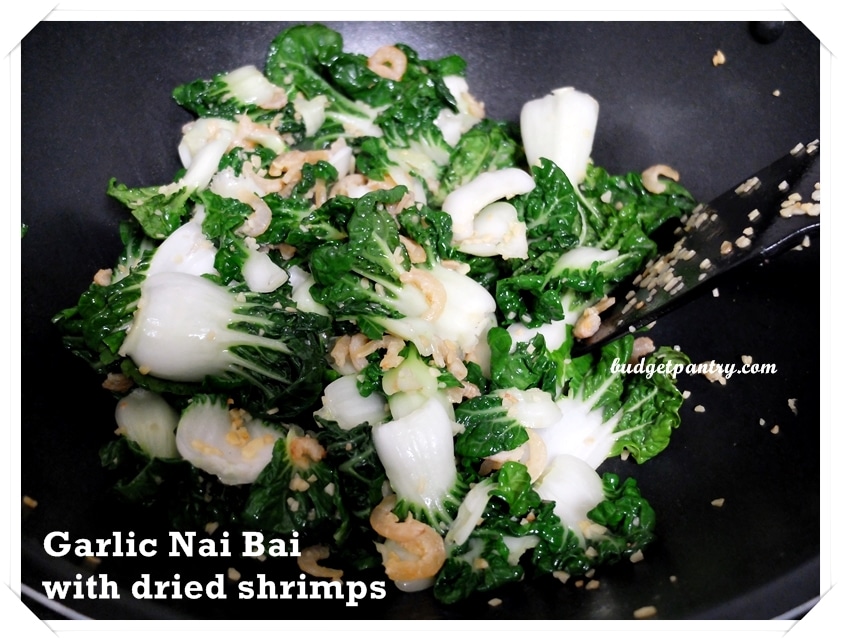 One of my favourite dishes at Chinese restaurants is 'Dried shrimp with long beans'. The long beans are deep fried before being tossed further in oil with the dried shrimps. Together with the 'wok-hei' (smokey, charred flavour due to ridiculously high heat), the dish is simply addictive and calorific!
I don't usually like to stir fry vegetables because many leafy types don't turn out very well at home as I don't use a lot of oil. Home cooks also can't achieve the wok-hei, ever! What to do when I feel like having leafy vegetables but am sick of having them in soup? Choose the gloriously crunchy types that stay crunchy! And tonight I chose nai bai, a variation of bok choy. I never seem to know what these are called in English.

I decided to do an easy stir fry with dried shrimps and garlic, plus very simple seasonings. When doing a stir-fry, be sure that the oil is hot. If you attempt to cook vegetables in oil that is not hot enough, the vegetables will start to absorb oil once they come into contact and you end up with a sad plate of soggy vegetables. I also tend to pat dry my vegetables as much as I can as wet vegetables will just end up giving off steam in the wok and again, end up sad and soggy.
This is really easy to do. The trick is to start with hot oil to fry the garlic and dried shrimp, best if you could pound them both together in a mortar and pestle. Then add the vegetables and toss everything quickly before adding the reserved liquid from the dried shrimps along with some seasonings. The entire dish is done in less than five minutes.
I also make it a point to wash the vegetables really thoroughly. I peel each leaf from the stem instead of having them 'whole' like what you get in zi-char stalls or restaurants. There's always bound to be dirt trapped in between, and nobody likes eating dirt.
Serve these with steaming white rice.. vegetables never tasted so good!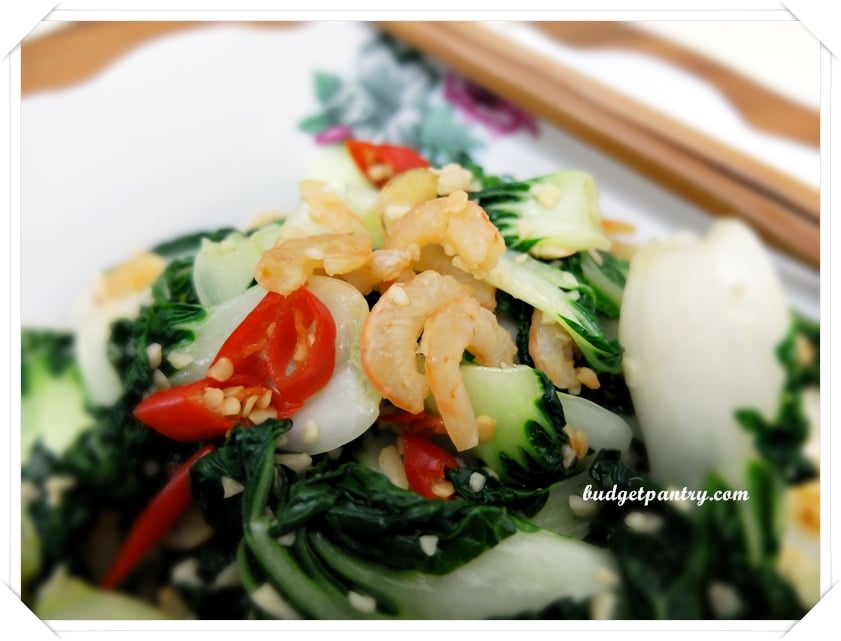 Garlic Nai Bai with Dried Shrimps (budgetpantry.com)
Serves: 2-3 as part of a Chinese meal
Total cost per serving: $1.19
What you need:
1 packet nai bai (300g, cleaned)
25g dried shrimps
2 tablespoons minced garlic
100ml hot water
1 teaspoon light soy sauce
1 teaspoon sesame oil
1 teaspoon oyster sauce
A dash of white pepper
A sprinkle of Chinese cooking wine (hua diao jiu)
1 tablespoon oil
Steps:
Rinse dried shrimps and soak in hot water for 15 minutes. Reserve the soaking liquid. Pat dry the dried shrimps using kitchen paper. Mix shrimps with the minced garlic.
Heat the oil in a wok. When oil is hot (test with a small dot of minced garlic. if it sizzles immediately, then the oil is hot enough), add the garlic and dried shrimps and fry for a few minutes til garlic is just turning light brown.
Add the vegetables. Toss well with the garlic and dried shrimps and cook for 2-3 minutes.. keep tossing! Add the reserved soaking liquid, light soy sauce, sesame oil, oyster sauce and pepper and mix well to combine.
Allow to cook for 1-2 minutes. Drizzle Chinese cooking wine just before turning off the flame. Garnish with cut red chilli if you wish. Dish up and serve immediately.
How much I spent:
$1.90 for vegetables
$1.65 for dried shrimps
Everything else from my pantry