Airfried Cod Fish with Crispy Skin, HK Style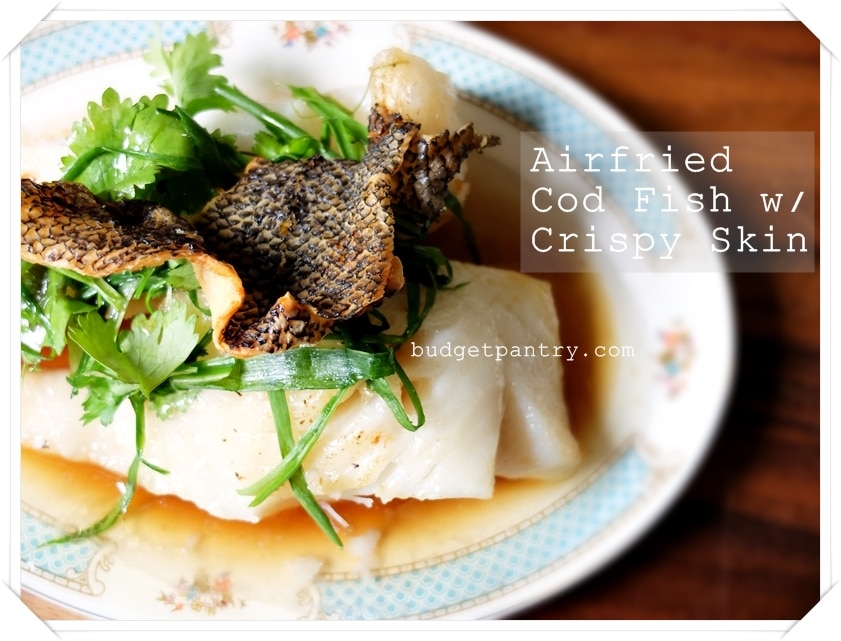 My mum and I live apart and we're not that close, but we like to talk recipes together. My mum is a great cook. If Ah-mm's cooking is comfort food, mum's dishes are restaurant quality.
When we visit every Chinese New Year, my mum will be in the kitchen cooking away. I love many of her creations.. mixed vegetables with shitake mushrooms, roasted leg of lamb, stewed oxtail, roast beef.. and of course, that HK style fish.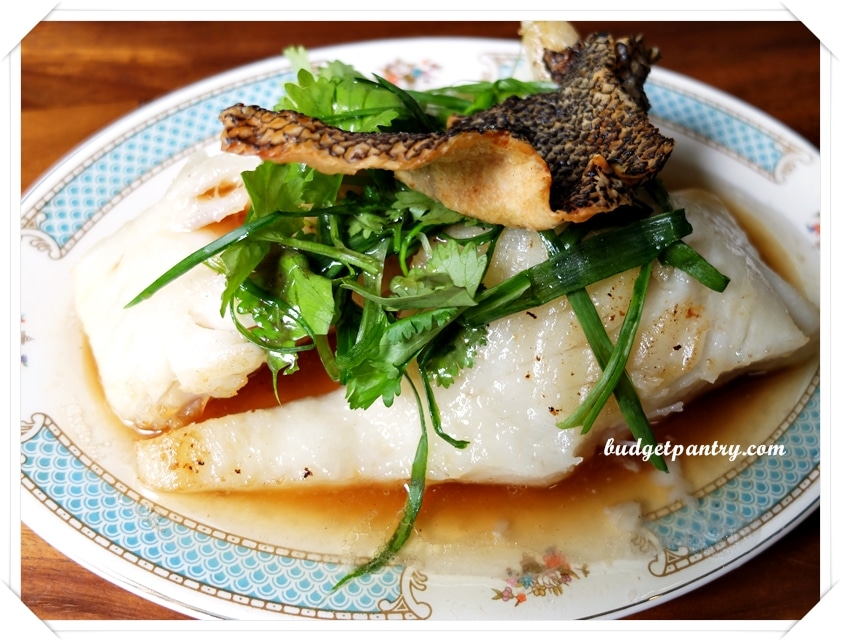 I remember her telling me the secret to really good fish (apart from its freshness), is boiling oil. You can steam, pan fry, or cook your fish in whichever way you want, but if you want to eat a restaurant-style fish, you need boiling oil. Pour the sizzling oil over the fish after it is done, and spoon your seasoning sauce over. Eat it immediately. (of course I didn't. I had to take 162738129 photos, but the dish was still good.)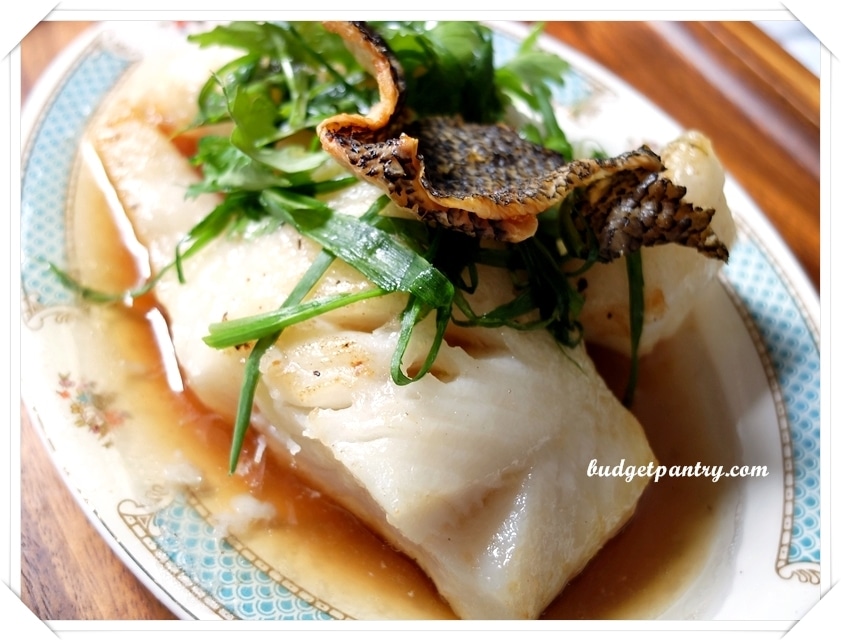 If you follow my blog, you would know that I don't cook fish any other way except air fry them. I cannot deal with uneven cooking and splattering oil, wait, actually I can, about the splattering oil, but why make things difficult for yourself when you can air fry? The fish turns out juicy, creamy and moist every time if you get the timing right. I don't usually steam my food because you'll need a wok, steamer rack, boiling water, plate and lid when you steam, and knowing me, two steps extra is two steps too many.
So I always air fry. I've always air fried salmon and saba, and since I'm cooking cod today, why should it be any different? My salmon cooks in six minutes after a three-minute preheat, so I thought to try this timing with cod. The cod took longer to cook than salmon in the AF, about 10-12 minutes as these steaks were quite thick, but the meat was flaky, tender, moist and quite simply, darn delicious.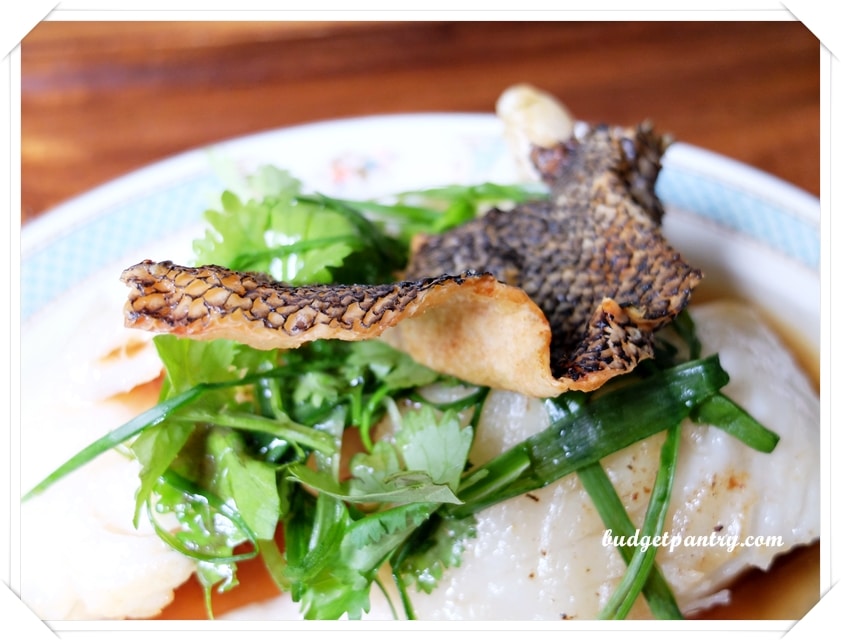 You know how I like to do the crispy skin thing. I don't like eating fish skin but it is good for you. Instead of leaving them untouched on the plate, I air fry them til crispy. How to do that? As your fish is air frying for the first four minutes, open up the air fryer tray and using a pair of tongs, gently lift the fish skin away from the meat. It will be easy to do once the fish starts to cook. The naturally-released fish oil makes it easy for the skin and meat to separate. Place the skin beside the fish and AF til fish is done. Sometimes, you might need to remove the fish first (don't overcook it!), then continue to air fry the skin til it is crispy. Check every 1-2 minutes to ensure the skin doesn't burn.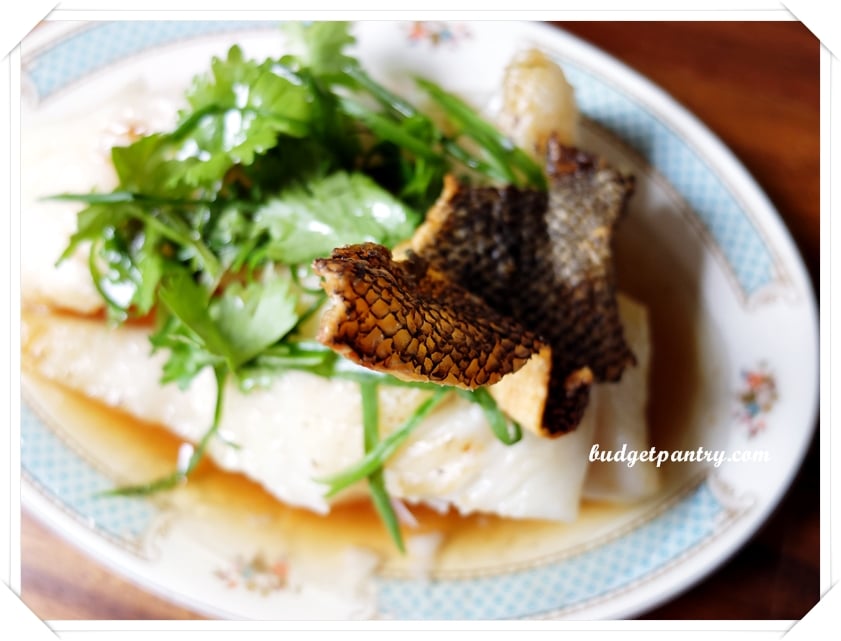 Some readers ask me why we must remove the skin first. If you leave the skin on and AF both skin and meat together, your skin will almost never get crispy and even if it does, your fish would have been airfried to death. So.. some things come together but not meant to stay together, you know? Separate them, and enjoy your crispy skin.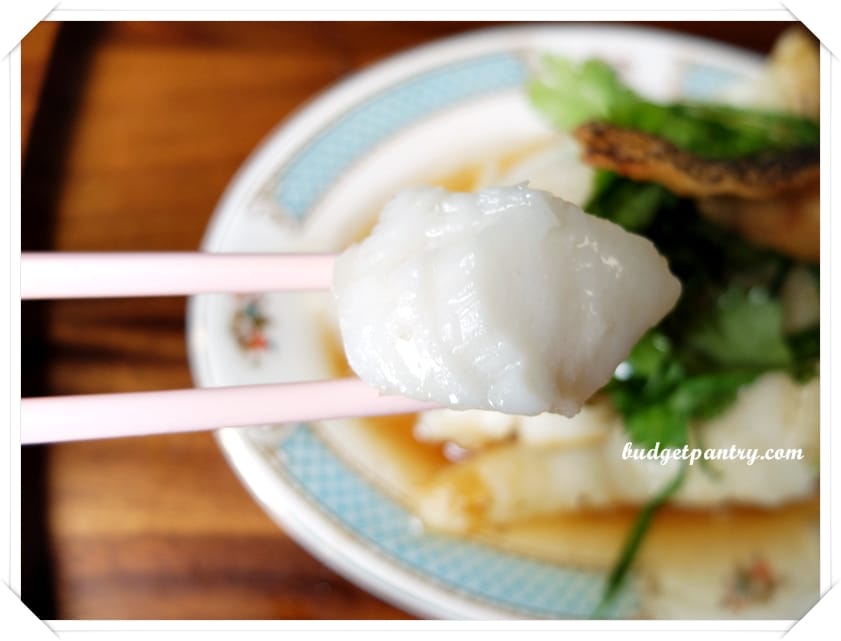 Jason and I were blown away by how good this dish turned out. You could also substitute cod with more cost-friendly types of fish or fish fillets and it'll also be good. And another tip: please make sure that you tear/shred the spring onion instead of just chopping or snipping with a pair of scissors. Don't leave out the garnish! And if you try this (you have to!), please let me know if you like it!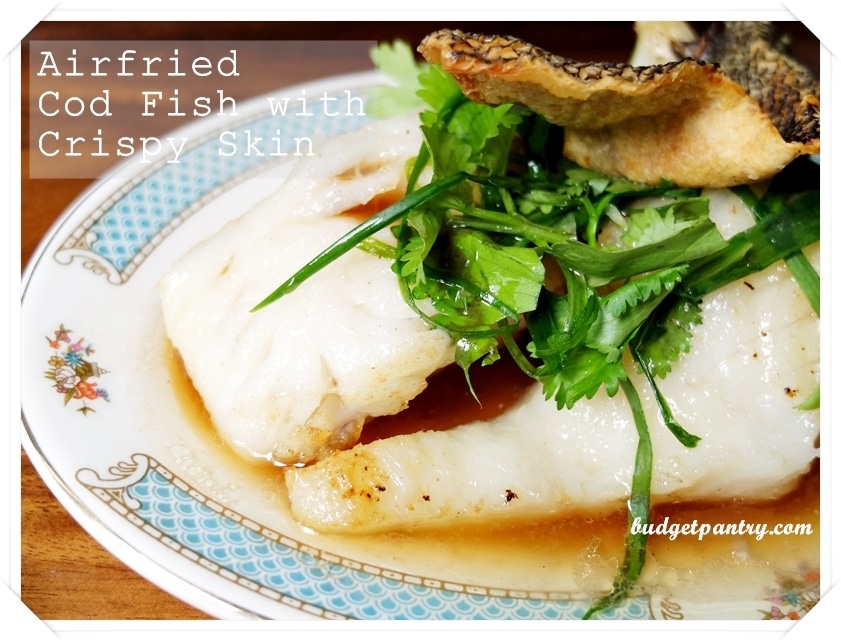 Aifried HK Style Cod Fish with Crispy Skin (budgetpantry.com)
Serves: 4 as part of a Chinese meal
Total cost per serving: $7.90
What you need:
2 x 200g cod fish
A sprinkle of salt and sugar (about half teaspoon each)
A dash of sesame oil
250ml water
5 tablespoons light soy sauce
1 teaspoon Lee Kum Kee superior dark soy sauce
5 little squares of rock sugar (about 1 cm x 1 cm x 0.5 cm each)
3 tablespoons oil
5 slices ginger
White part of spring onions (about 4 one-inch sections)
Green part of spring onions to garnish (a handful, shredded)
Corriander to garnish (a handful)
Steps:
Wash and pat dry cod fish. Season with salt and sugar plus a dash of sesame oil. Set aside for 15 minutes.
Preheat your AF for 3 minutes at 180C. If you have an oil spray, give the skin a quick spray. If not, you may skip the step – not a big deal as fish has natural oils. AF cod fish for 12 minutes. (if you want crispy skin, follow my method in the text above)
In the mean time, prepare the seasoning sauce. Pour 250ml water into a pan and bring to boil. Add light soy sauce, dark soy sauce and rock sugar and stir til sugar melts.
Prepare the hot oil: Heat up the oil in a small pan and add ginger and white part of spring onion. Fry til ginger turns brown. Remove ginger and spring onion sections.
Remove cod fish from AF and place in a dish. Top with garnish (don't omit!). Pour the boiling oil over the fish. Spoon seasoning sauce over the serve immediately.
How much I spent:
$31.60 for cod fish (you can buy frozen for less cost!)
Everything else from my pantry