Jason has been talking about French Onion Soup for the longest time. He had wanted to attempt it for our anniversary dinner but realised it's a tad too complicated for a 'simple' clear soup. It's not exactly complicated, but it is time-consuming.

To make a good French Onion Soup, the onions have to be caramelised well. The caramelisation takes 30-45 minutes to achieve, and after that the broth is left to simmer for another hour or so before serving. I topped my soup bowl with a slice of crusty toasted baguette with melted swiss cheese (you can use Gruyère, plus I added a bit of mozzarella in the mix).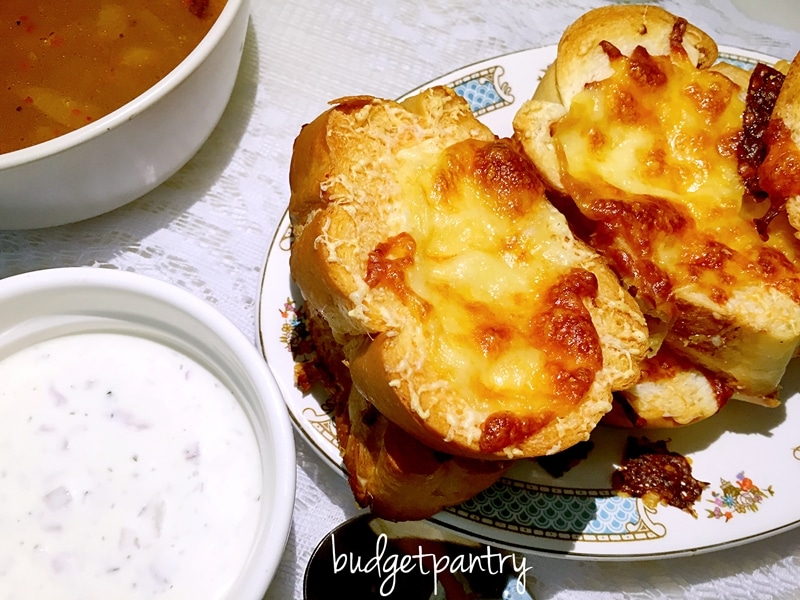 Some recipes call for the soup to be ladled in a ramekin, then you top it with a baguette and loads of grated Gruyère before finally baking or broiling it in the oven till bubbling.
This soup is great for the rainy November/December season. With its strong and rich flavour, you would do well with a lighter-tasting fish dish as your mains. Enjoy!
Easy French Onion Soup

(budgetpantry.com)
Serves: 4
Total cost per serving: $1.45
What you need:
4 medium yellow onions, peeled and sliced
1 litre beef stock (I use Campbell's beef stock in a carton)
45g unsalted butter
1 tablespoon olive oil
200ml white wine
Half teaspoon coarse black pepper
Half teaspoon sugar
2 bay leaves
1 clove garlic, crushed
Sliced baguette and grated Swiss cheese to serve
Steps:
Heat the butter and oil in a casserole or large pot. Add the sliced onions and cook on medium heat for 10 minutes, stirring occasionally.
Add the black pepper and sugar, and continue cooking for another 30 minutes on the lowest setting till onions are nicely caramelised.
Add the white wine now and deglaze the pot, making sure you get all the good brown bits into your soup. Follow by the broth and bay leaves, and simmer for an hour.
In the mean time, preheat your oven to 190C, grate some swiss cheese on top of your baguette and toast for 3-4 minutes till crusty. When soup is ready, place one bread slice into each bowl and serve hot.
How much I spent:
$1.20 for onions
$3.50 for beef stock
$1.20 for cheese (I spent $7.15 for a block and used about 1/6)
Everything else from my pantry