Creamy Bacon & Portobello Penne in 10-min White Sauce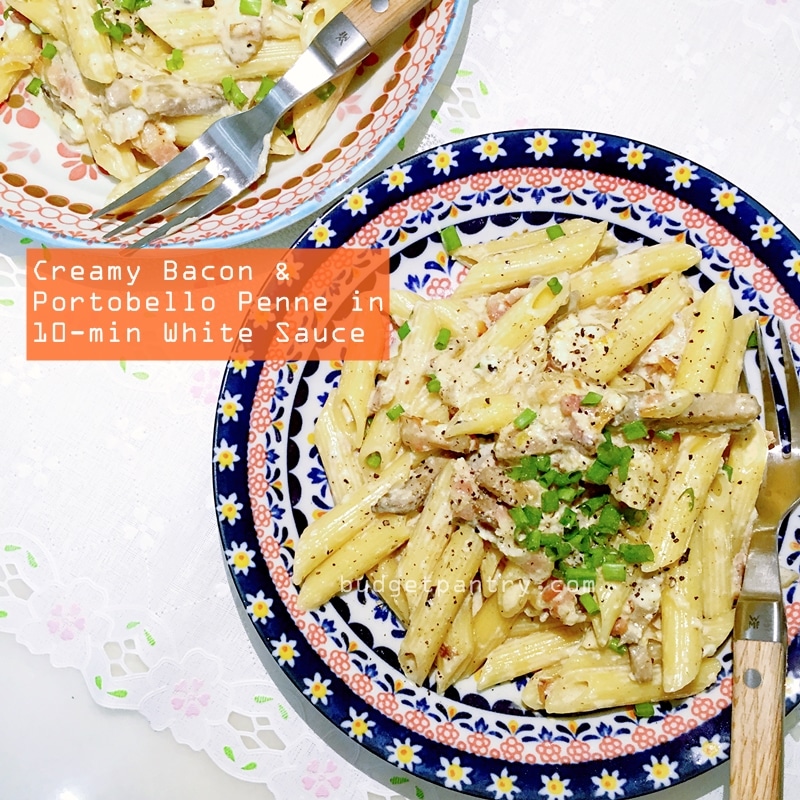 Back from Malacca, still on leave and didn't feel like cooking up a storm today – I'm leaving that for tomorrow (I'm making fall-off-the-bone ribs in a lip-smacking cantonese bbq + plum sauce)! Lunch for today was a simple pasta with bacon and Portobello. Jason loves his pasta in cream sauce, while I'm a fan of tomato based sauces or ragù. But since I have some cooking cream in the fridge, I was going to make his day!
How many of you love delicious white sauce but are quite done with using bottled sauces? I'm never happy with bottled cream sauces as they either taste watered down, too salty or very heavy on the palette with no real aroma. Plus you don't know what really goes into the bottles. You won't get any of these if you make your own sauce. It's not as difficult as you think!

I like to thicken my sauce with eggs. It's not quite carbonara because no cooking cream is used in carbonara, and cheese is added. I'm not crazy about cheese in my pasta, so when cooking white cream sauce, I leave it out. The husband sometimes sprinkles his own separately but most of the time the dish is already so flavourful that he forgets about the parmesan! The trick to getting loads of flavour and body in the sauce is to sweat some chopped onions in butter and oil – it lends a subtly sweet and savoury taste that ups the flavour up many notches.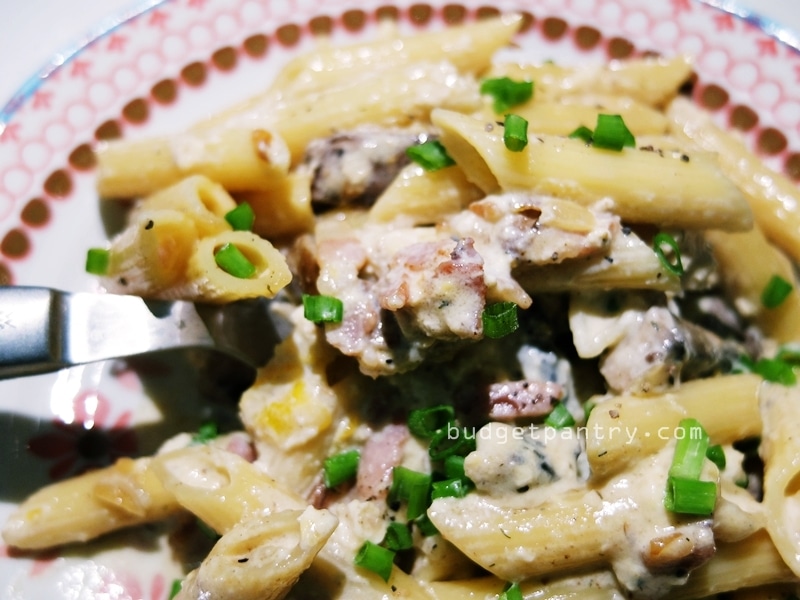 This creamy white sauce will also be great with spaghetti or fettuccine. The 80-year-old aunt has always like white sauce (she's a big fan of the Alfredo from Rocky's Pizza!) and polished off the entire plate today. Looks like I will be making this again sooner than I think!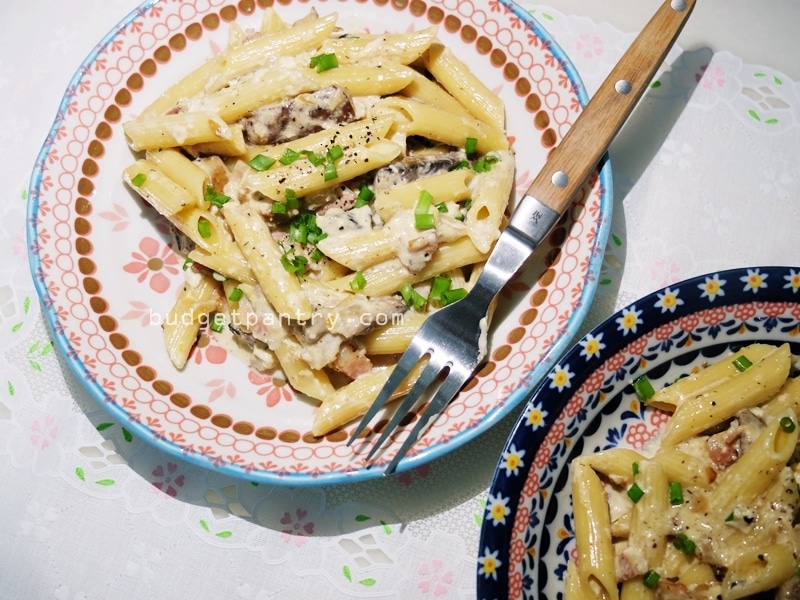 Creamy Bacon & Portobello Penne in 10-min White Sauce

(budgetpantry.com)
Serves: 3
Total cost per serving: $3.85
What you need:
3 servings penne pasta
1 medium yellow onion, chopped finely
5 slices streaky bacon, sliced
2 Portobello mushrooms, sliced
1 tablespoon salted butter
1 tablespoon olive oil
300ml thickened cream or cooking cream
2 pasteurised eggs
Coarse black pepper
A pinch of salt
A light sprinkling of dried dill
Spring onions, chopped finely
Steps:
Cook the penne according to package instructions. Reserve about 5 tablespoons of the pasta water. Set aside.
In a pan, heat butter and oil and cook onions and bacon till fragrant and the bacon is turning crispy. Add the Portobello and cook till wilted.
Add the cooking cream, dill, black pepper and salt on low heat. Follow with the reserved pasta water. Continue cooking the white sauce till slightly reduced.
Crack in the eggs and combine with the sauce. The heat from the cream should cook the eggs just so. Toss in the pasta and swirl to coat. Finish with a sprinkling of spring onions before serving.
How much I spent:
$2.90 for penne
$3 for Portobello mushrooms
$1.85 for streaky bacon
$3.75 for thickened cream (I used Dairy Farm)
Everything else from my pantry