#cbbturnsone: Customised buttercream cake for your baby's first birthday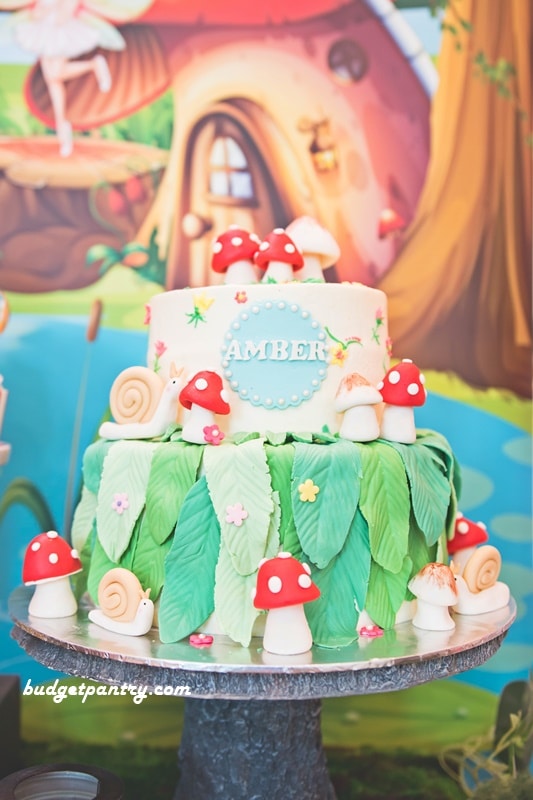 When we were deciding where to get cbb's birthday cake, we had a major headache. There are so many bakers around, how do we even start shortlisting?
My criteria:
It had to look good
The base cake must be buttercream, not fondant!
bonus if there are lots of flavours to choose from
So imagine my excitedness when Corine and Cake told us they would bake cbb her very first birthday cake! They're known for their customised cakes that taste AND look amazing. Check them out on Facebook and Instagram too!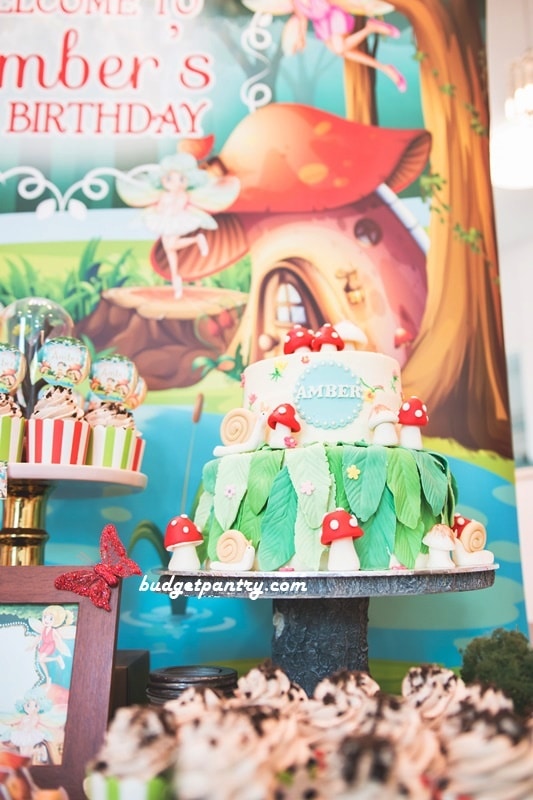 Corine and Cake creates beautiful customised cakes for birthdays, weddings, full month celebrations, bridal showers and many other occasions. If you're looking for a more simple cake (that is also very pretty!), they also offer non-customised and standard options.
Look at the detail! I love the mushrooms and snails the most… the entire design turned out better than expected. All I did was tell them my theme, and this was what they came up with. It's mindbogglingly beautiful, intricate and magical, and fit into cbb's 'enchanted forest' party theme perfectly.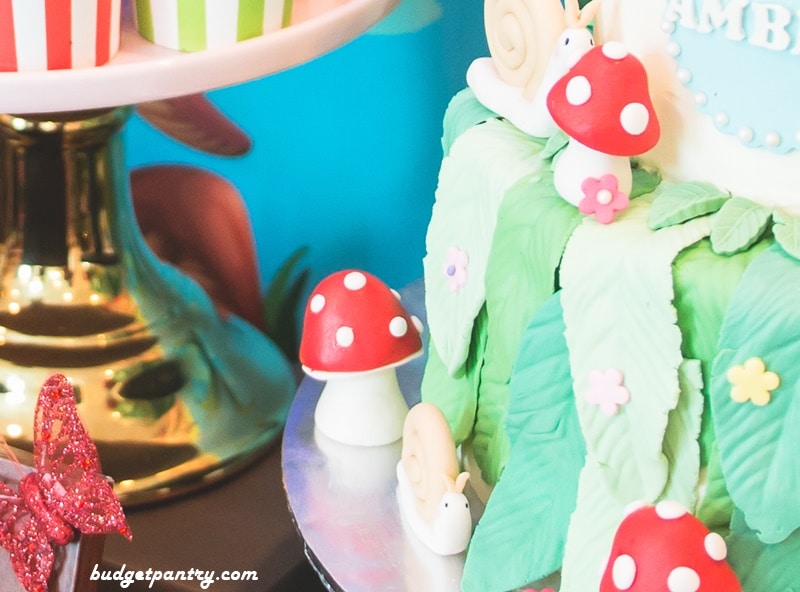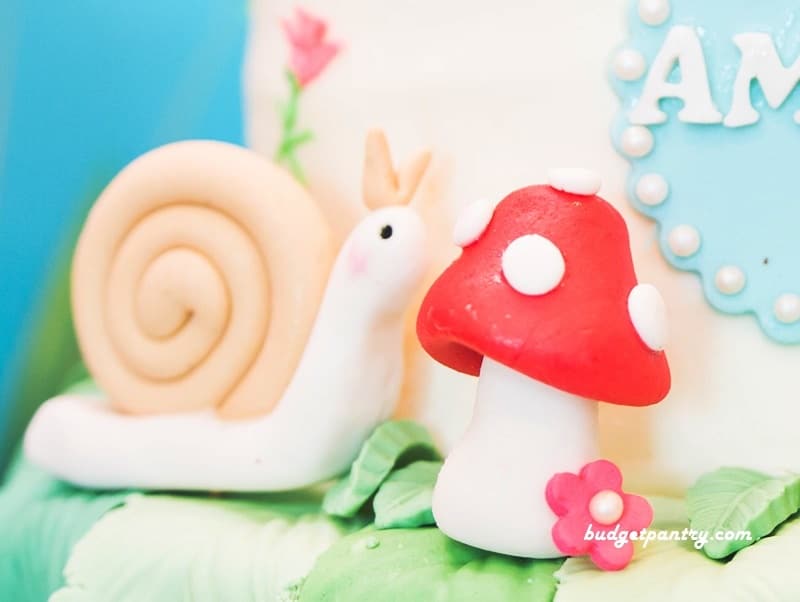 One thing I wanted to highlight about Corine and Cake's buttercream cakes is that they only use Meringue Buttercream so that the cakes can withstand the hot and humid Singapore weather. Swiss buttercreams are made up of whipped meringue and butter, which contributes to a smoother and more luxurious mouthfeel. This photo was taken 3.5 hours after I removed the cake from the fridge: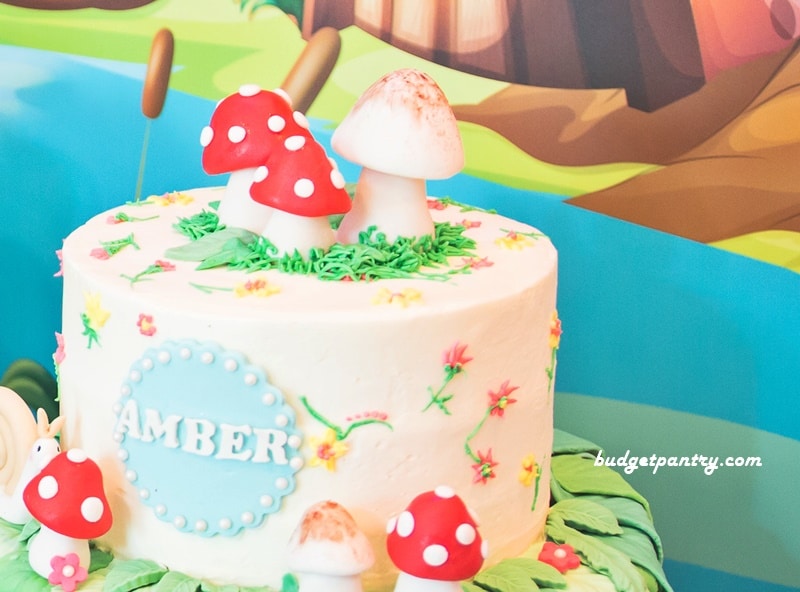 You may think I'm mad, but I was genuinely worried that something would happen to the cake and that the celebration would turn out to be a disaster. I had nothing to worry about! Cbb's cake was delivered the evening before, on time, in a sturdy, clear and tall plastic cake box which protected the cake from knocks and kinks. I really appreciated that they gave me constant updates about the order and delivery! If your delivery is the night before like me, remember to store the cake in the fridge and serve the cake at room temperature the next day.
ANOTHER thing I loved about the experience was the fact that I could choose from a crazy variety of delicious cake flavours! Here's what they offer:
Chocolate Sea Salt Caramel
Chocolate Berries
Chocolate Strawberry
Cookie & Cream
Chocolate Vanilla
Vanilla Strawberry Cake
Red Velvet
Dark Chocolate Bailey
Pandan Gula Melaka
Vanilla Cream Cheese
Coconut Passion Fruit
You can even ask for different flavours for each tier! Details and descriptions of the flavours can be found here: https://www.corineandcake.com/cake-flavour/
So if you're deciding where to order your baby's birthday cake from, get in touch with Corine and Cake. Who knows? Yours could be the next masterpiece they create!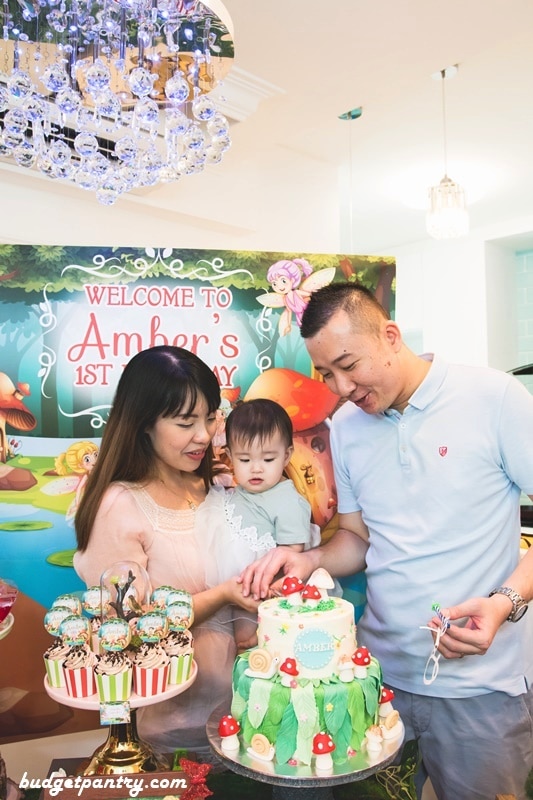 Contact
Corine and Cake
Website: http://www.corineandcake.com
Facebook: https://www.facebook.com/corineandcake/
Instagram: @corine_n_cake
Email: hello@corineandcake.com
Phone: +65 93858061
Special mention: All the pictures here are from Without Words Pictures. I don't think his website shows how good he really is! I highly recommend him. Thanks Jing, for capturing our memories and for showcasing how much work went into the gorgeous cake. I wouldn't have been able to take these pictures myself!
————————————-
Thank you Corine and Cake for creating this beautiful birthday cake for cbb! If you like my posts and updates, or would like to be informed of baby/cooking-related giveaways and promos from time to time…..
Like my Facebook page or follow @budgetpantry or @chuabeebee on Instagram! Yes, I just started an Insta account for CBB too!