Eat With Your Family Day 2017: Will you let your family have more of you?
Have you heard of 'Eat With Your Family Day'?
EWYFD is an initiative that encourages companies and schools to end all work-related events by 5pm on a designated day every year. This will allow all staff to return home in time for dinner with their families.
This year, EWYFD falls on 26 May. If you haven't made plans to have dinner with your loved ones, why not do so this Friday?

I am a full-time working mum who cooks every day. My job as an editor is demanding, but I'm very lucky that my company's official knock-off hour is 5pm daily. This gives me time to pick cbb from her infant care, get home, prepare her dinner, feed her and then cook for the family.
Since I have maybe 30-45 minutes to cook, before I have to shower myself and then cbb (before she goes mad at 8pm – her bedtime), I can't possibly prepare a feast every day.
Philips Avance Collection Digital Airfryer HD9643/11 (link)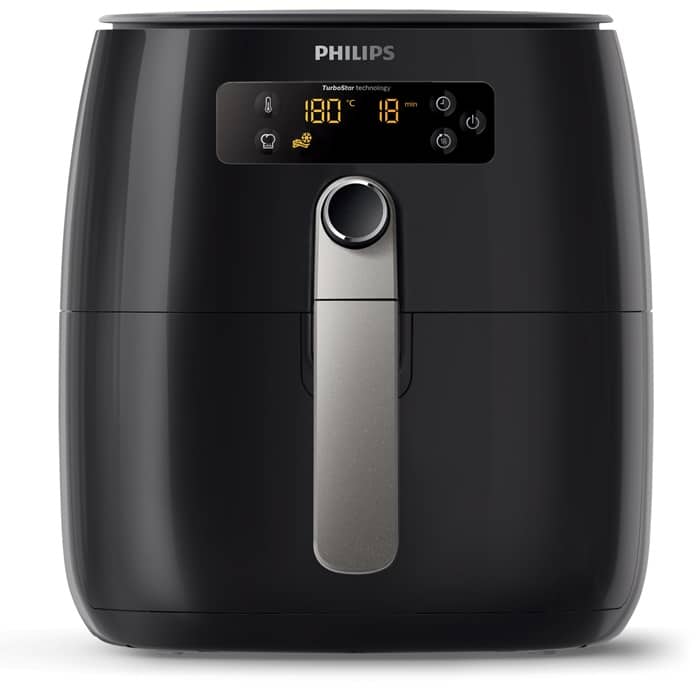 All of you know I rely a lot on my Philips Airfryer for quick and simple meals. I have been using the first generation analogue Philips Airfryer since it was first launched about 5 years ago. It is still working well!
Today, I am testing out the Philips Avance Digital Airfryer HD9643/11.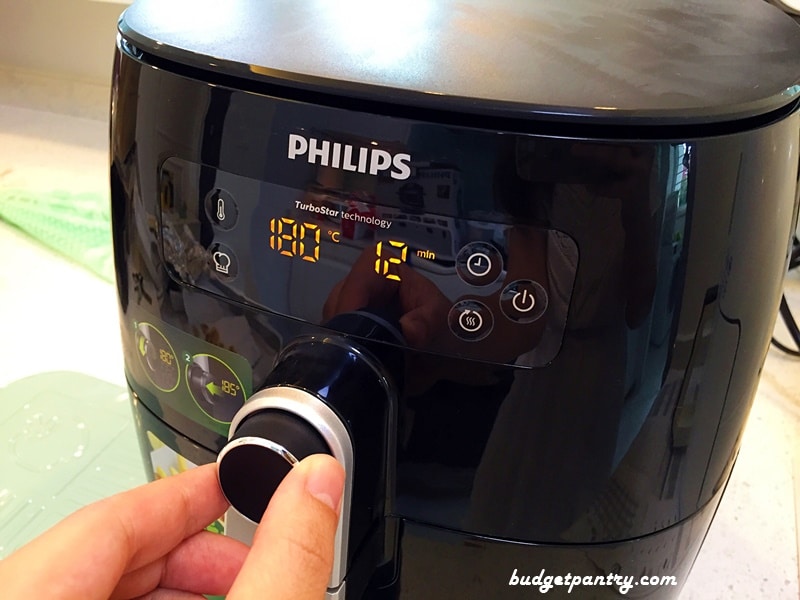 What I really like about this? The QuickClean basket. The non-stick mesh/net of the basket now isn't attached to the entire handle, and simply slides into and rests on top of the side catches. What this means that cleaning is now even easier.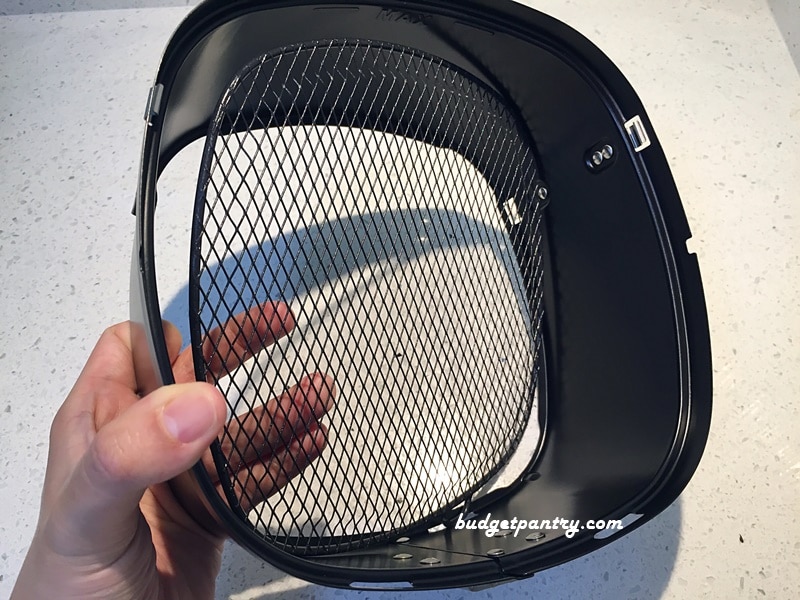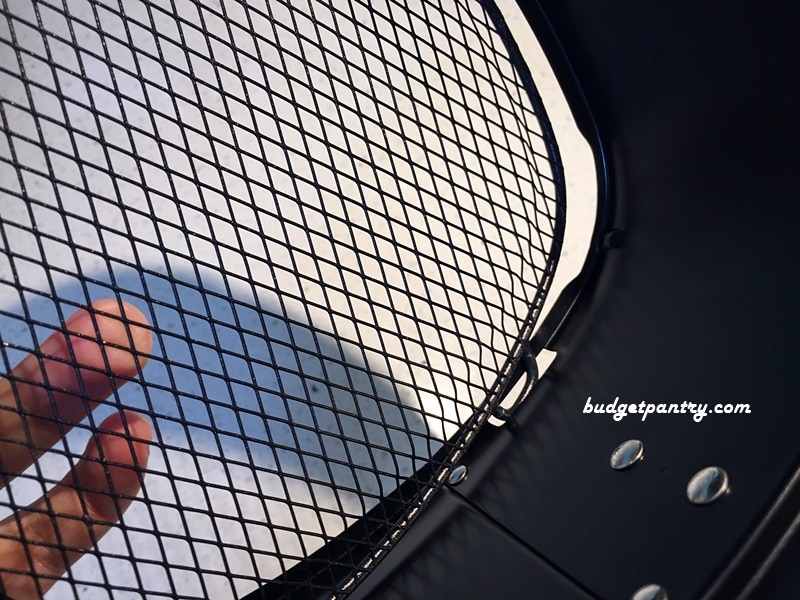 The HD9643/11 also comes with a grill pan that is interchangeable with the basket, so there's no need to buy a separate pan. I love cooking chicken chop with the grill pan: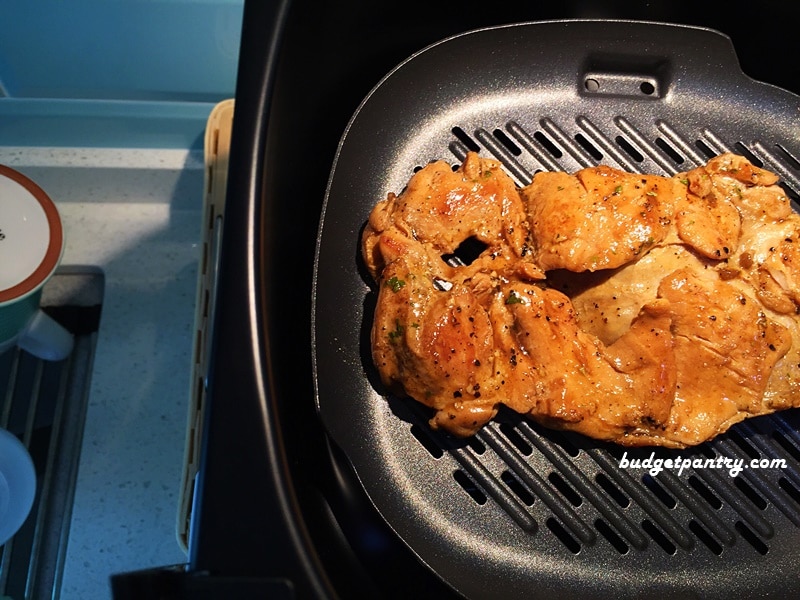 Other highlights:
Instant heat-up
The digital airfryer is ready to use immediately with a turn of the knob. At home, we use our AF to heat up anything from bread to otah, to curry puff and fried rice. I also like to add cheese on top of fried rice and transform a leftover dish instantly.
Grill, bake, roast fast and evenly
The general misconception is that an airfryer is only good for frying processed, frozen food. I mean, it is EXCELLENT when frying frozen food without a single drop of oil, but that is 10% of what it can really do. Isn't it the same as an oven then, skeptics ask. It's not. With constant, circulating hot air, an airfryer cooks food faster and more evenly than any oven ever could. I use it to cook fresh food from scratch, and also bake small cakes with it. I love my airfryer vehemently!
Super user-friendly
Just how easy-to-use is the Philips Airfryer? Let's just say that if my two aunts (they're 78 and 82 this year) can use it every day, ANYBODY can. Take a look at my Airfryer recipes. Everything you see in the link was made with a Philips Airfryer. My favourite things to prepare in the AF? Hands down chicken chop and grilled fish, which take 7-12 minutes max to cook from start to end.
Comes with over 200 recipes in app with free recipe book
I get it, cooking isn't second nature to everyone. That's why Philips has made available over 200 super simple recipes in their app and has provided a free physical recipe book with every airfryer purchase. With instructions to make potato gratin, roasted wings, sweet and sour shrimp and even brownies in just a few steps, you won't be running out of ideas anytime soon!
Click here to find out more about the Philips Avance Collection Digital Airfryer HD9643/11.
Philips Viva Collection All-in-One Cooker HD2137/62 (link)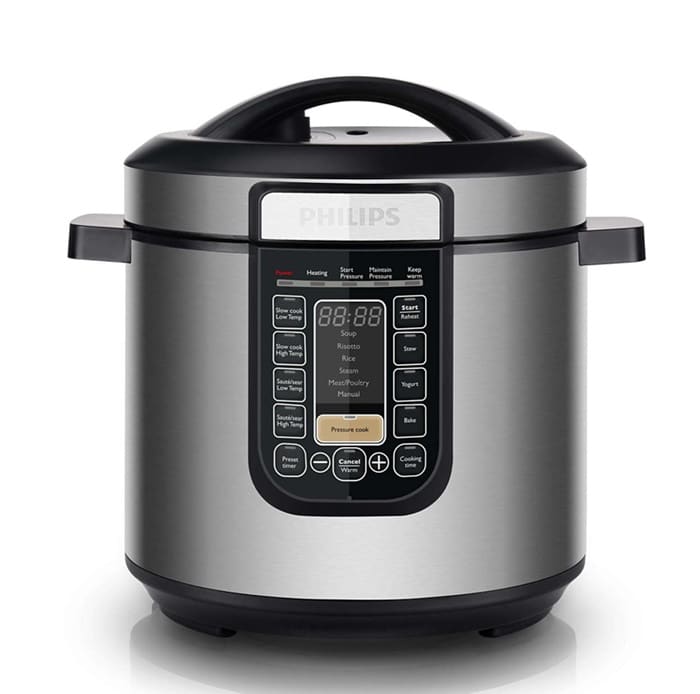 I have heard good things about this all-in-one cooker and it was time to test it out. This cooker allows you to slow cook, pressure cook and multi cook all in one machine. I have never used this before. My first dish was Radish and Soft Bone Soup, pressure cooked and ready in 20 minutes!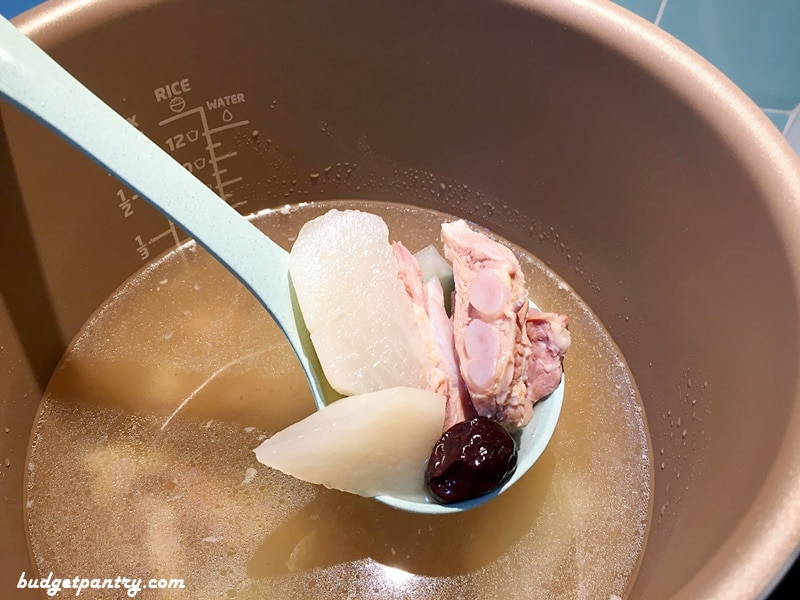 What I like about it:
Auto pressure release device – no waiting!
The pressure regulator valve automatically turns on to release pressure right after cooking. There's no need to release the pressure manually or wait for the pressure to drop naturally as the food cools – you can enjoy your meal immediately!
Various direct menu buttons
You can select direct menu buttons to multi-cook (yogurt, stew, bake) and pressure cook (soup, risotto, rice, steamed dishes, meat, etc). The preset recommended cooking times ensures your meals are cooked just right. My soup was ready in all of 20 minutes and the hubby said it tasted wonderful.
Slow cook with high and low temperature
The slow cook function allows you to select high and low temperature settings of up to 12 hours.
Automatic keep warm for up to 12 hours
You can automatically keep your food warm for up to 12 hours after cooking is completed. There's also a reheat function so you are guaranteed piping hot meals everytime.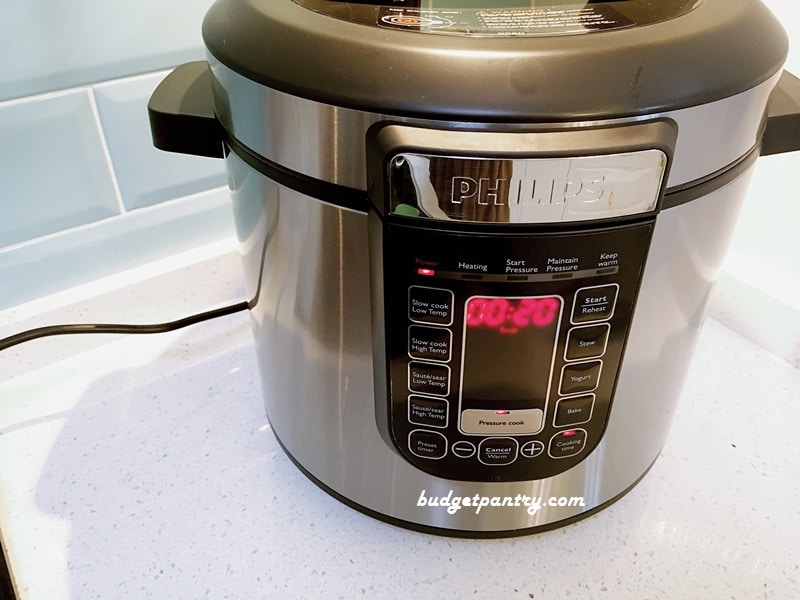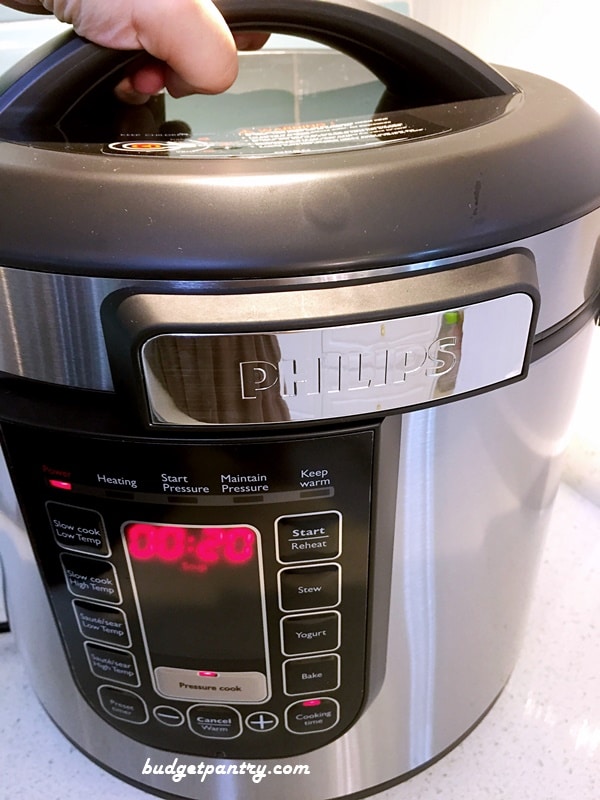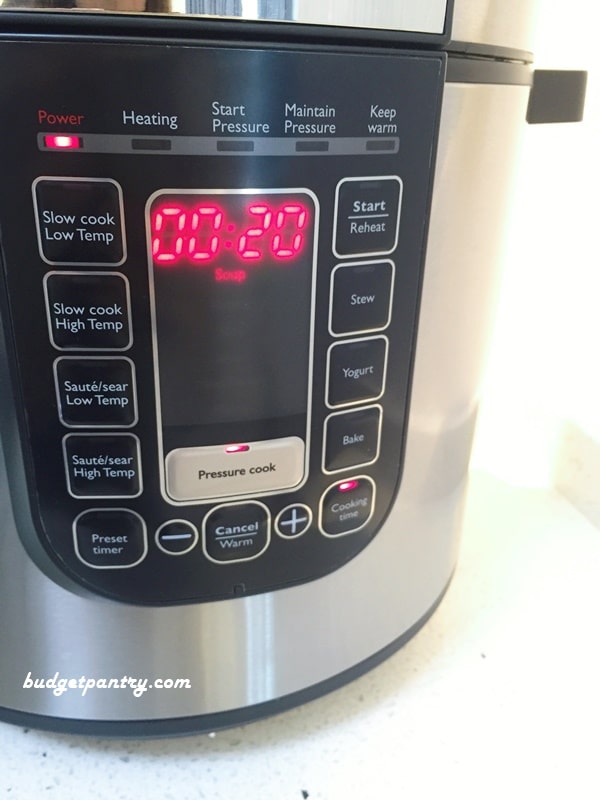 This is one item that every small kitchen needs! More information and specs about the All-in-One Cooker can be found here.
Using the airfryer and all-in-one cooker, I spent less than 45 minutes cooking these two dishes from start to end, including time needed to clean the meats and chop ingredients.
What better way to celebrate Eat With Your Family Day than cook a simple meal at home? Remember to knock off work early and spend time with your loved ones over home-cooked food this Friday!
Discover more about the Philips Avance Digital Airfryer and Viva Collection All-in-One Cooker and make your cooking lives easier today!
——————————————————–
*I received the Philips Avance Collection Digital Airfryer HD9643/11 and Viva Collection All-in-One Cooker HD2137/62 for the purpose of this blog post. All opinions are my own.
If you like my posts and updates, or would like to be informed of baby/cooking-related giveaways and promos from time to time…..
Like my Facebook page or follow @budgetpantry or @chuabeebee on Instagram! Yes, I just started an Insta account for CBB too!