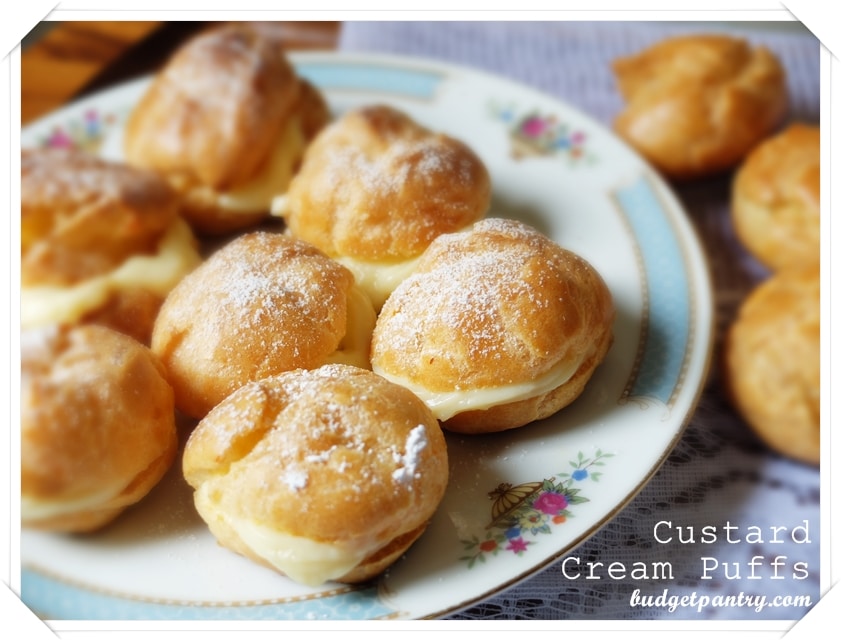 Ahhhh. Custard Cream Puffs. My childhood memories of custard cream puffs came from Balmoral Bakery, an old-school bakery now located at Sunset Way. Since I was 7 or 8, Balmoral Bakery has been my playground and obsession, for my aunts loved to buy chicken pies, samosas, sausage rolls, buttercream cakes, paper sponge cakes and yes, custard puffs from the 49-year-old establishment.
Balmoral Bakery is such a part of me that we even had our wedding shoot there when we got married :)
So when I made these cream puffs today, the first thing I thought of was their old-school version, in all its simplicity. Of course, I had to top mine with a dusting of icing sugar and dress them up on a pretty vintage plate.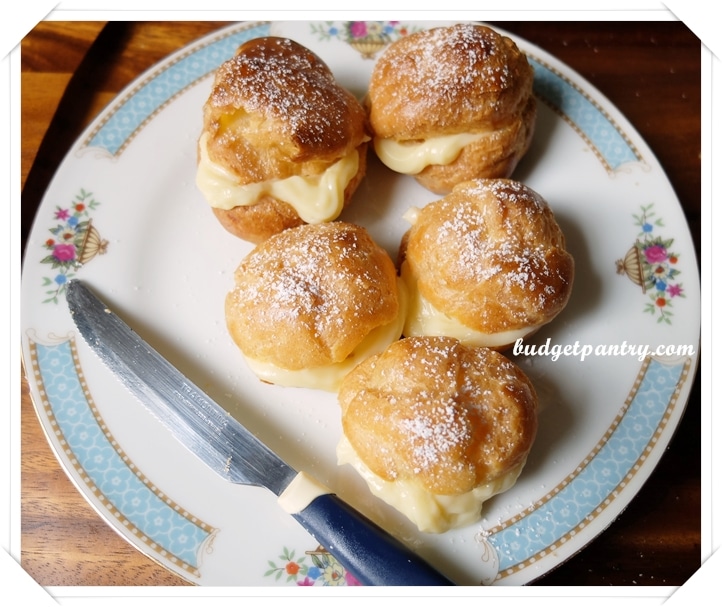 I was surprised how easy these were to make. Custard Puffs? Me? The idea seemed quite out-of-this-world. I have never made them before but was determined to succeed. Cream puffs are one of 88's favourite pastries, and today, I was gonna make her day.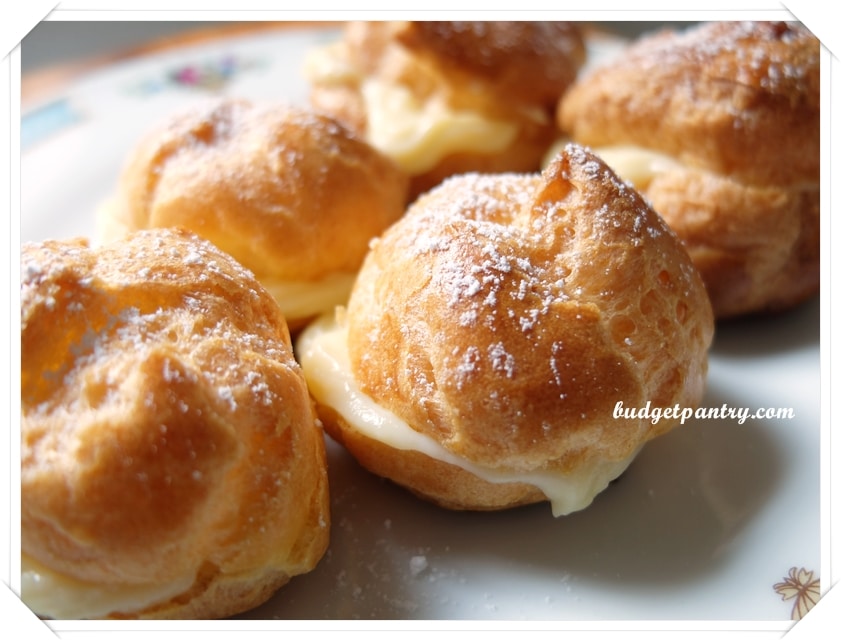 To make these cream puffs, we first need to make a choux pastry. We start off first by cooking the dough on a hot stove, then transfer it to the stand mixer to cool off a bit (the KitchenAid is excellent in doing this) before adding eggs to achieve the required consistency. Then it was spooning the batter onto your baking sheet and baking at a high temperature in order for them to puff up quickly, before lowering the temperature for the insides to cook perfectly.
I made my custard from scratch, but you could also use instant custard powder where you just add water. But make it from scratch. It isn't too difficult. Beware of the boiling custard though. Mine splattered out today and a drop landed nastily on the underside of my arm. I am nursing a blister which won't stop blistering. I poked it open with a needle but now water is forming inside again.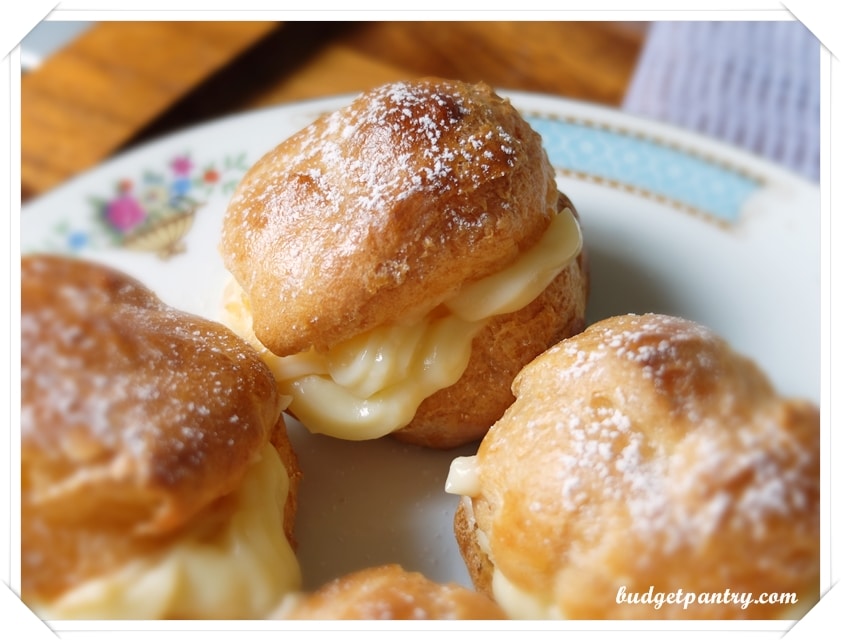 To make the custard, we simply mix egg yolks with sugar, then add milk and flour, and stir, stir and stir til the custard thickens. Cool it off in the refrigerator before piping your choux pastry shells with it. Let's take a look at my cream puff shells. They're a beautiful golden colour. Watch your oven. You don't want them too brown.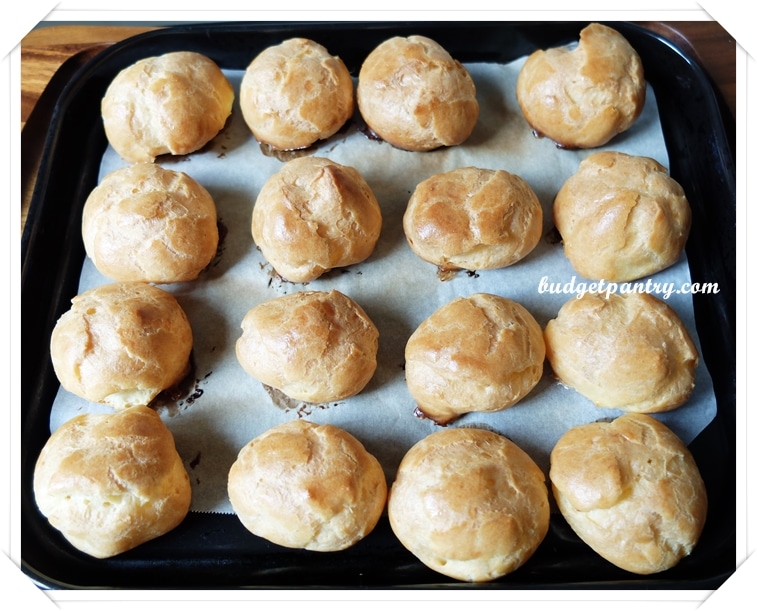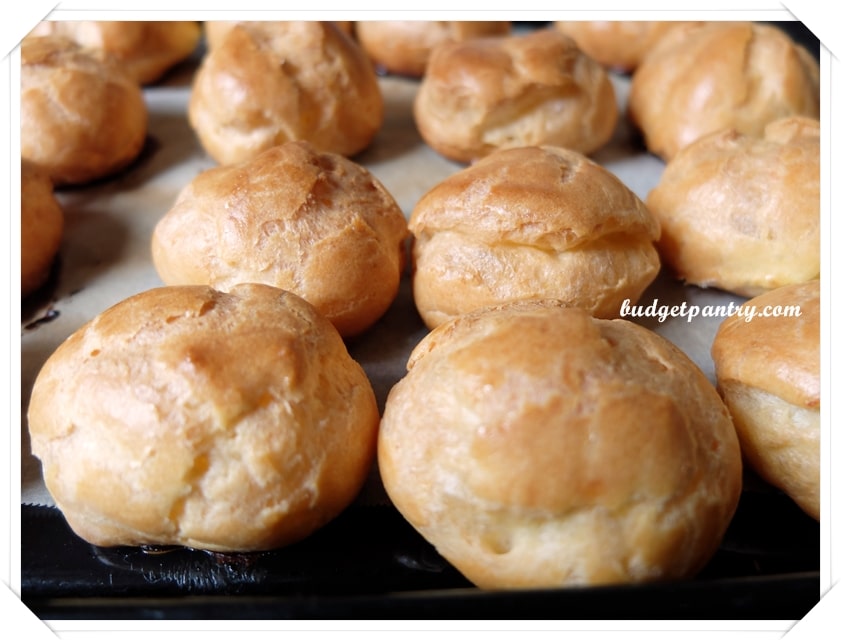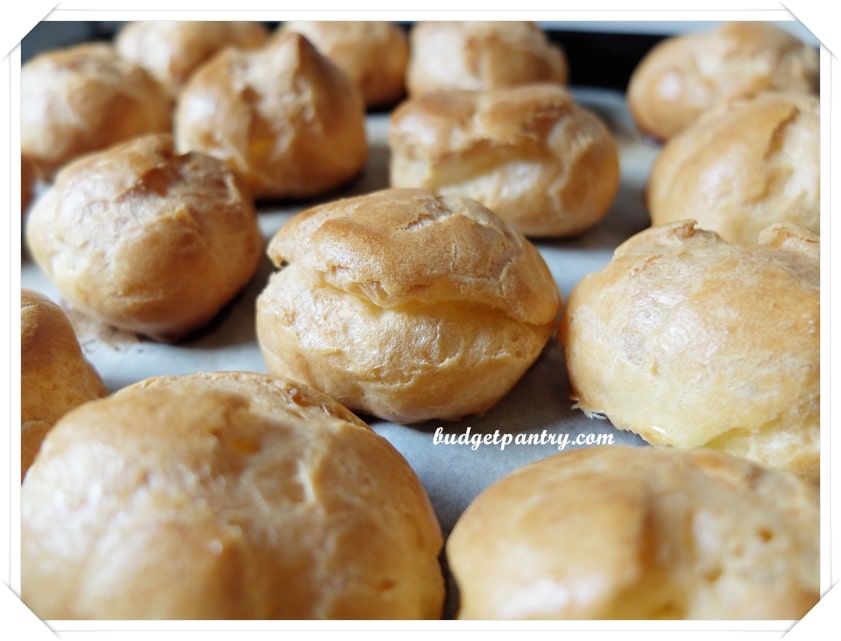 And I think we are ready for the recipe!
Custard Cream Puffs
Makes: 24 puffs
Total cost per serving: $0.20 per puff
What I used:
For the shells
100g salted butter
150g bread flour
1 teaspoon granulated sugar
250ml water
2 medium eggs + 1 medium egg (for brushing. I used pasteurised eggs)
For the custard (loosely adapted from Happy Homemaker)
2 large egg yolks
500ml full cream milk
160g granulated white sugar
20g corn flour
20g plain flour
1/2 teaspoon pure vanilla extract
Others
Icing sugar (optional), for dusting
Steps:
1. Preheat oven to 200C and line your baking sheet with baking paper.
2. Make the choux pastry: Sift together flour and sugar in a large bowl. In a saucepan on medium heat, combine water and butter (cut into small pieces) and bring to boil. Remove from heat. Add the flour and sugar all at a go and mix til dough looks like mash potato. Return to heat again and continue stirring for 2 minutes.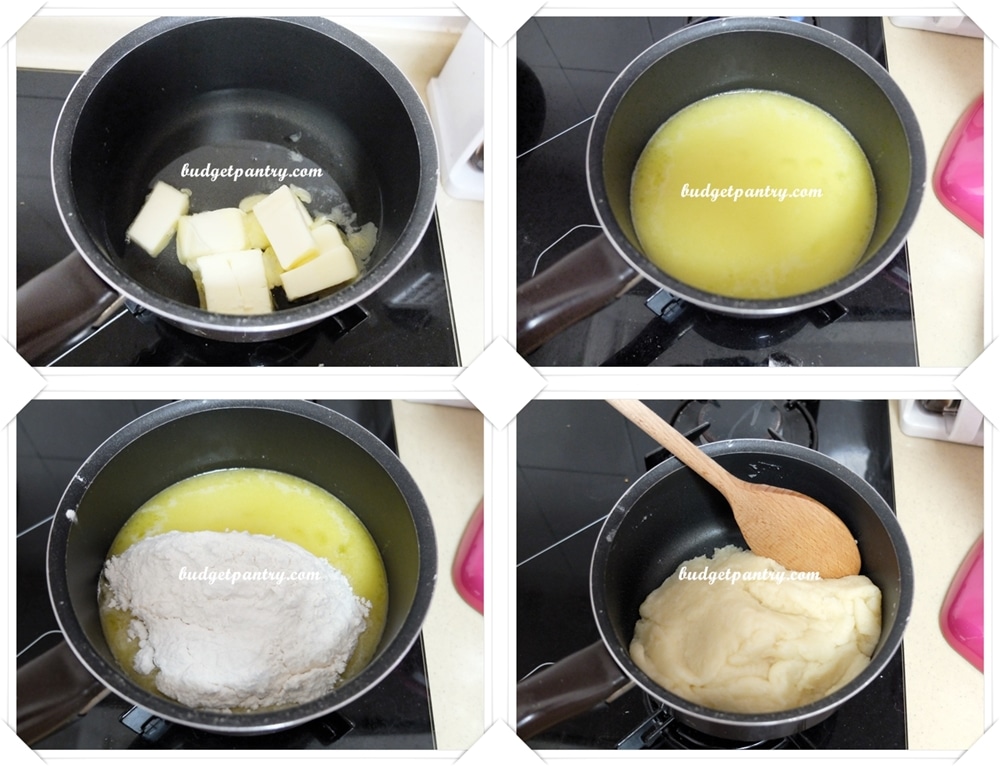 3. Transfer the dough to your electric mixer. With the paddle attachment, beat it on low speed for 2 minutes to cool it off. If you don't have a mixer with a paddle attachment, you could simply leave it out to cool. It is ok to stir. Add the eggs bit by bit til mixture resembles the 4th photo, not too thick, but has some resistance.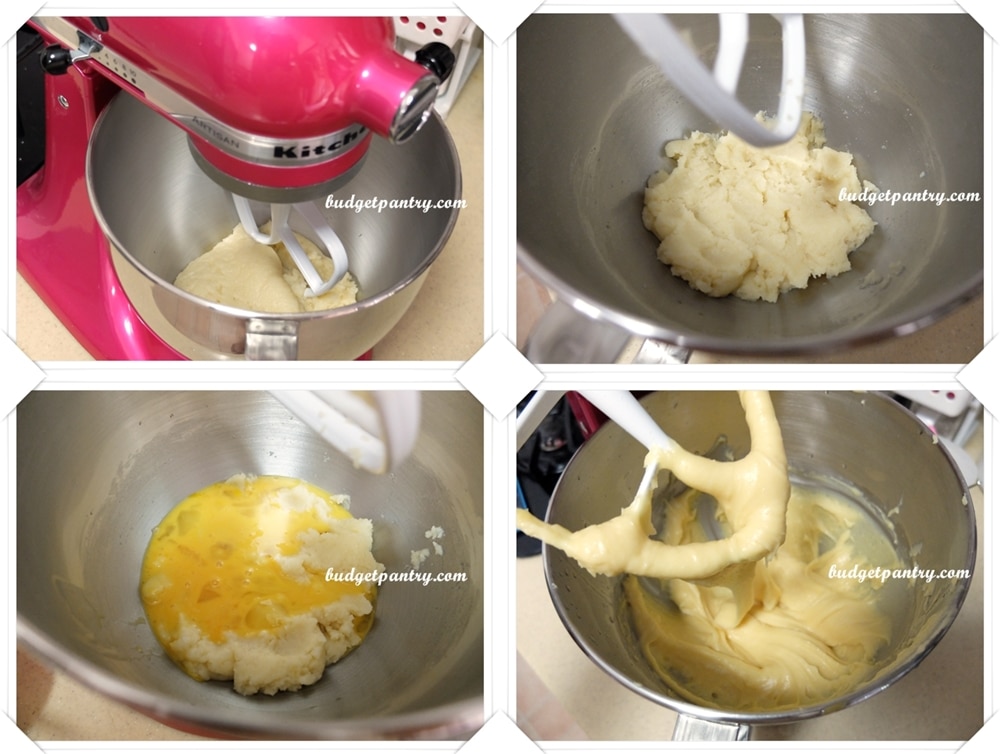 4. Spoon your batter into the prepare baking sheet. I used two spoons. There is no need pipe. Crack the one egg into a bowl and beat lightly. Dip a pastry brush into egg and lightly brush the top of each mound while taking the chance to smooth out the edges so that they look rounded instead of jagged.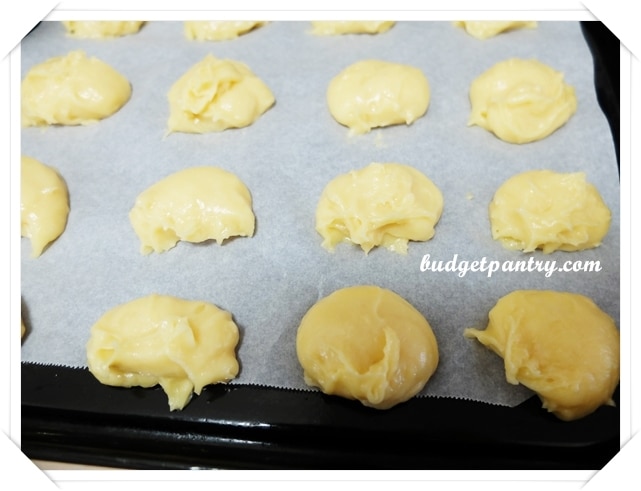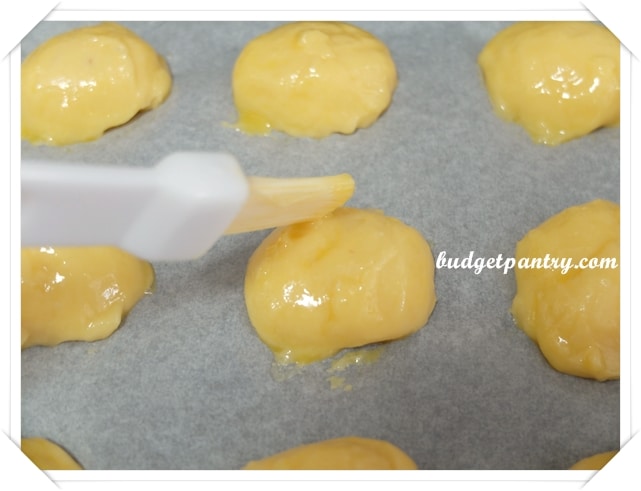 5. Bake at 200C for 10 minutes, then lower the temperature to 160C and continue to bake for another 20 minutes. Watch the oven closely as you don't want the shells to become too browned. When done, remove to cool and with a knife, slit along the bottom or the natural puffed up crack.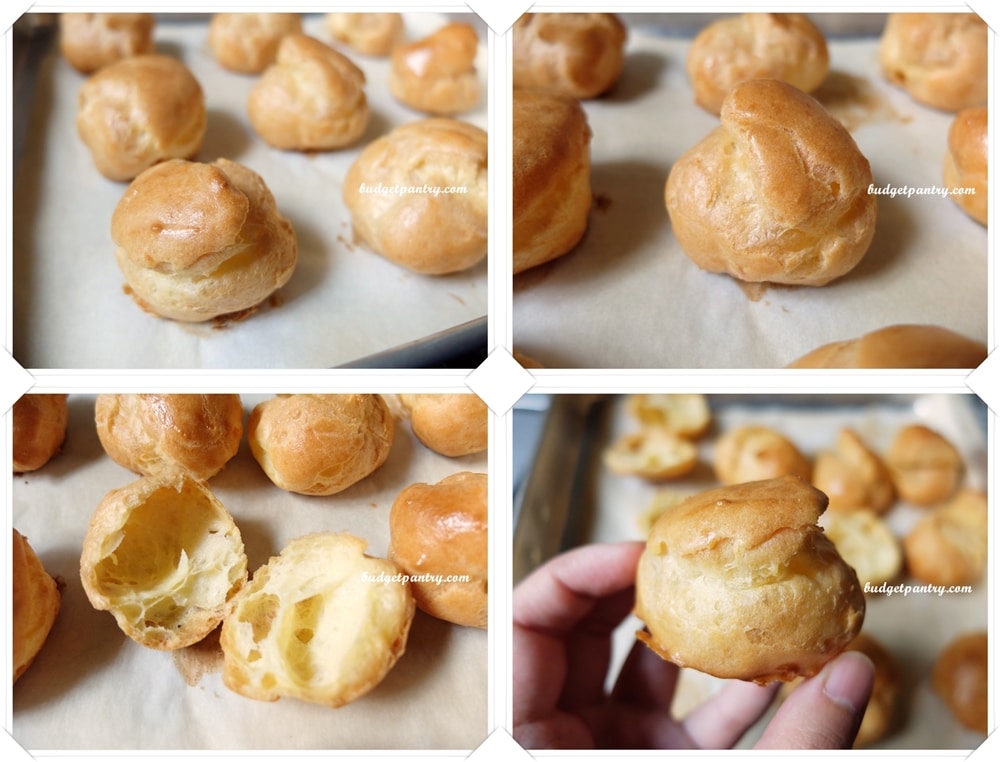 6. Prepare the custard: In an unheated saucepan (I'm trying to save washing up!), combine the egg yolks and sugar and whisk til lighter in colour. Add the milk and combine. Add the flour, cornflour and vanilla extract. Turn on the heat and bring to boil, stirring constantly til mixture is thick. When ready, cool in refrigerator before piping into the pastry shells. Dust with icing sugar when done.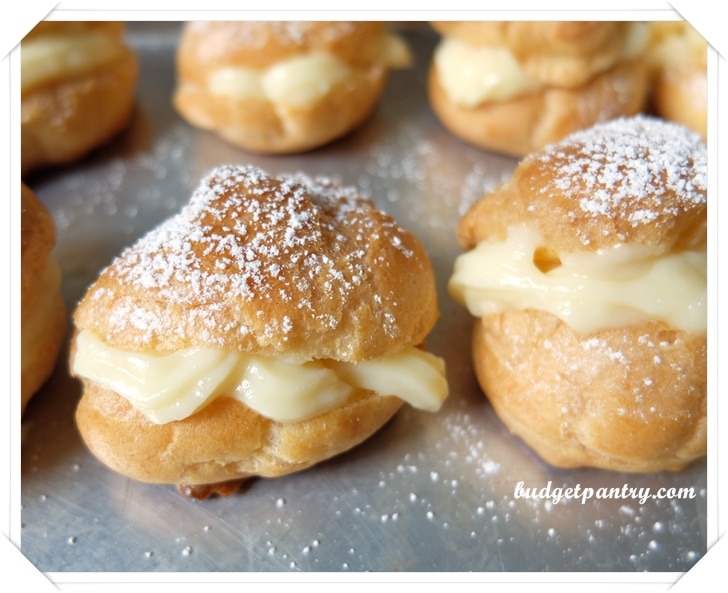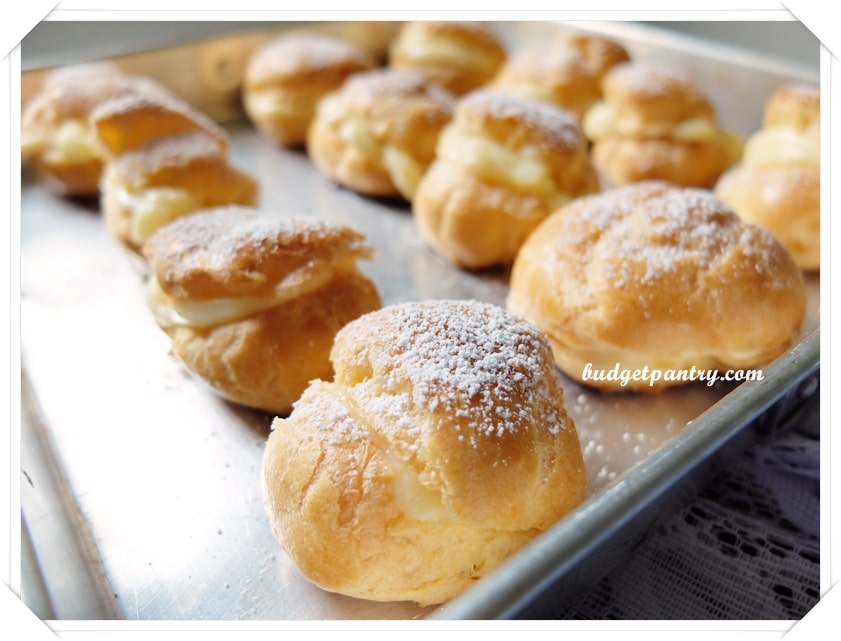 How much I spent:
$1.56 for butter
$1.65 for eggs
$1.10 for full cream milk (I used UHT)
$0.50 for bread flour
Everything else from my pantry