Bacon and Peas. They have a special place in my heart.
Whenever I'm in Florence, I make it a point to go to Trattoria da Rocco in Santa Croce for a quick but homely lunch. This little gem of a trattoria is located inside San Ambrogio Market (Address: Piazza Ghiberti | Mercato di Sant'Ambrogio, 50122 Florence, Italy), just a few minutes away from Piazza dei Ciompi flea market (you know I have a thing for thrifting).
Trattoria da Rocca's Primi Piatti (first courses) are €4.00, Secondi Piatti (seconds) €5.00, Contorni (sides) €3.50 and Frutta e Dolce (desserts) are just €2.50. Travellers to Italy would know you hardly come across these prices anywhere! There was a cover charge of €1.00 per person, very common in Italy. Some places charge €1.50 – €2.00, depending on how touristy or high-end they are. We ordered a lasagna, sausage and beans, and bacon and peas for our lunch that day on a November afternoon. We always gotta have them bacon and peas.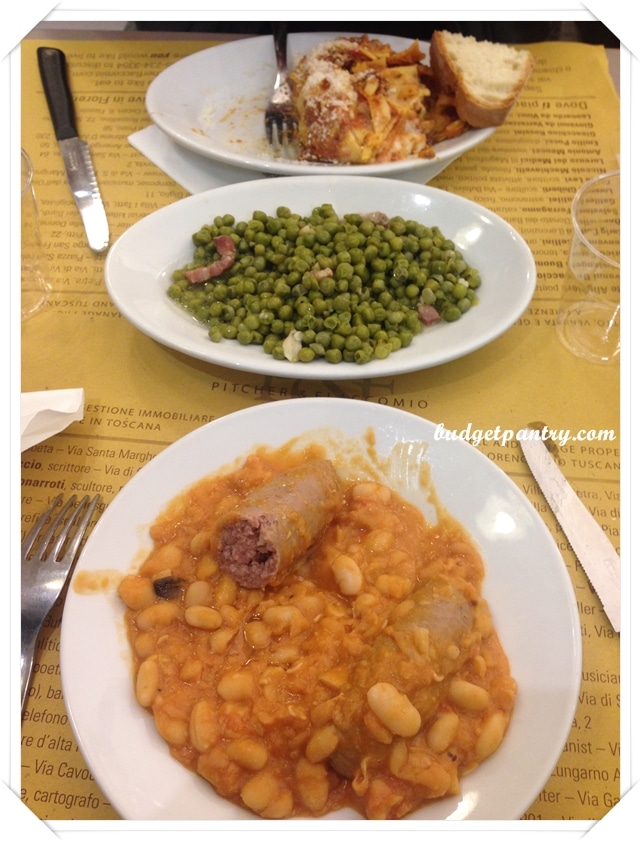 When we first approached the trattoria, we circled the eatery trying to look for an entrance. A door, perhaps? That was when we saw someone waving enthusiastically at us from inside the trattoria, signalling for us to pull open the cubicle doors. That's how you enter. You sit right next to the doors.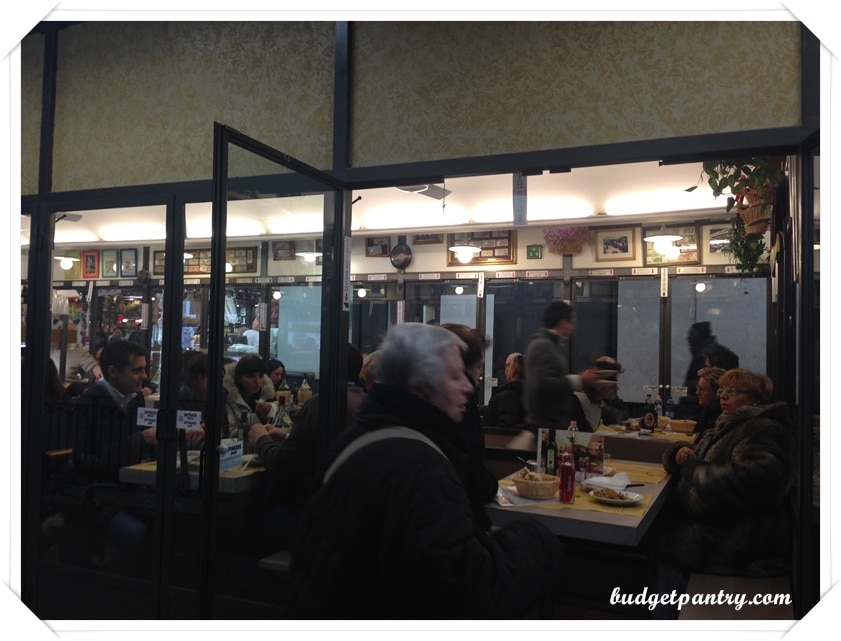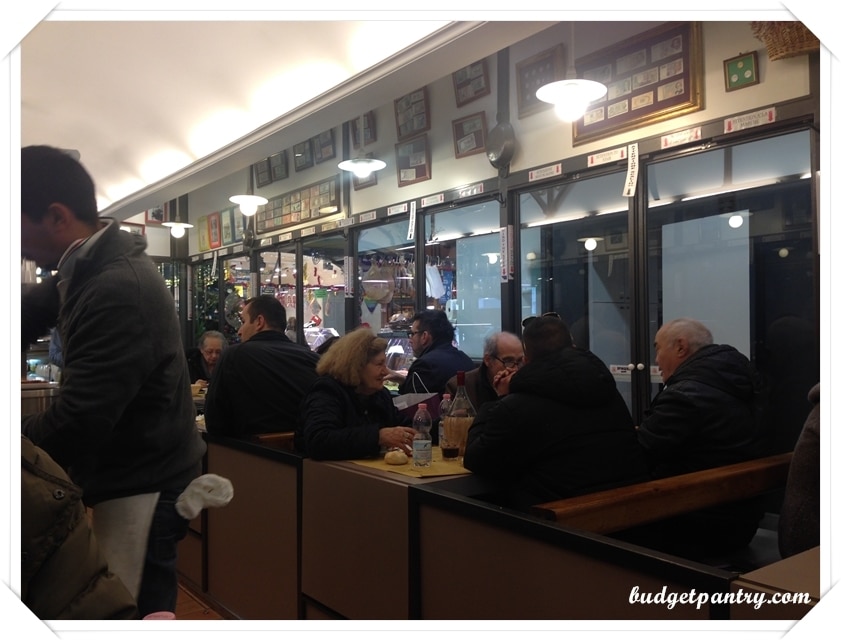 The servers weren't the least grumpy nor impatient despite me trying (very hard) to get by in my smattering Italian. They listened intently, answered my questions ("carne di maiale o manzo?" –> "pork or beef?") slowly because it was quite obvious I needed time for thought-processing, and tried to include some English ("porrrk!") to make my life easier. We were there on a weekday noon, and you can see how packed it was.
And so, after 3 weeks in Italy (which felt like 2 days), we came back to Singapore. Last month, the husband said he was craving the bacon and peas. Me? I was just craving Italy.
I made a minced meat lasagna with bacon and peas for his lunch the other day. Although I wasn't in Italy (or Rome. Don't get me started on Rome), my heart was still warm because I had an appreciative husband.
If you've never had bacon and peas before, or are just put off by frozen peas (they're very misunderstood), try this dish. I use S&W's canned Young Sweet Peas, and they're the closest you can get to peas-heaven. That didn't come across quite right. But they're delicious! My plea to you today is, "Give PEAS a chance!"
Bacon and Peas
Serves: 4 as a side dish or me as a meal
Total cost per serving: $0.82
What I used:
1 can S&W Young Sweet Peas
Half medium yellow onion, chopped finely
4 strips back bacon (you can use streaky)
Half teaspoon Worcestershire sauce
200ml chicken stock
A small knob of butter
Steps:
1. Melt butter and fry bacon for 3 minutes til almost crisp. Add yellow onion and cook in the butter and bacon fat til soft and transparent.
2. Empty the can of peas, add the chicken stock and Worcestershire sauce and cook, covered for about 2 minutes. You shouldn't need additional seasoning. The second time I cooked this, I added black pepper and I wished I hadn't.
How much I spent:
$1.90 canned peas
$1.38 for back bacon (I used 100g from a pack of 300g/$4.15 from Giant)
Everything else from my pantry