Easy Pineapple Fried Rice
My sister-in-law gave me a Meyer Fujimaru Evolution Chinese wok out of the blue just because she's awesome like that, and in my favourite shade of green too! What's the first dish that I should cook in it? Fried rice, I think!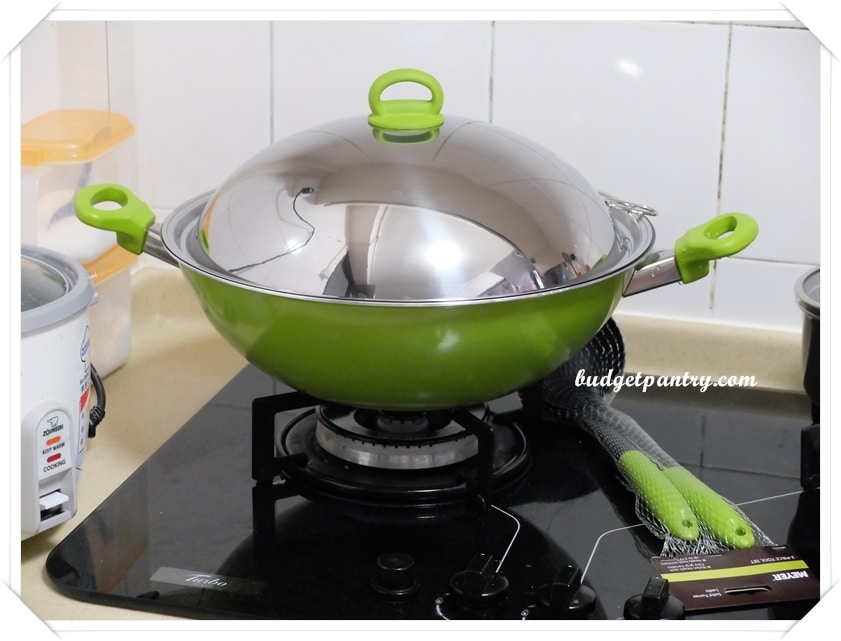 I don't usually eat rice but these days, I'm on a to-heck-with-the-diet mentality so until I decide to lose weight again (I'm starting Monday), I'm gonna cook alllll the carbo dishes I can think of. My ban-mian recipe is in desperate need of a photo-haul. I have a good mind to cook it again next week, erm, before Monday.
I cooked today's dish with Dancing Chef Pineapple Rice Paste. Quite a pleasant surprise as I didn't expect it to turn out this good. The paste coats the overnight rice easily, isn't overly sour, and has an addictive fragrance that I thought was the doings of MSG but I was wrong! The packaging says that the pineapple paste is made with real pineapples and doesn't contain MSG, preservatives nor artificial colourings. I like this pineapple paste over their shrimp paste. I'm stoked.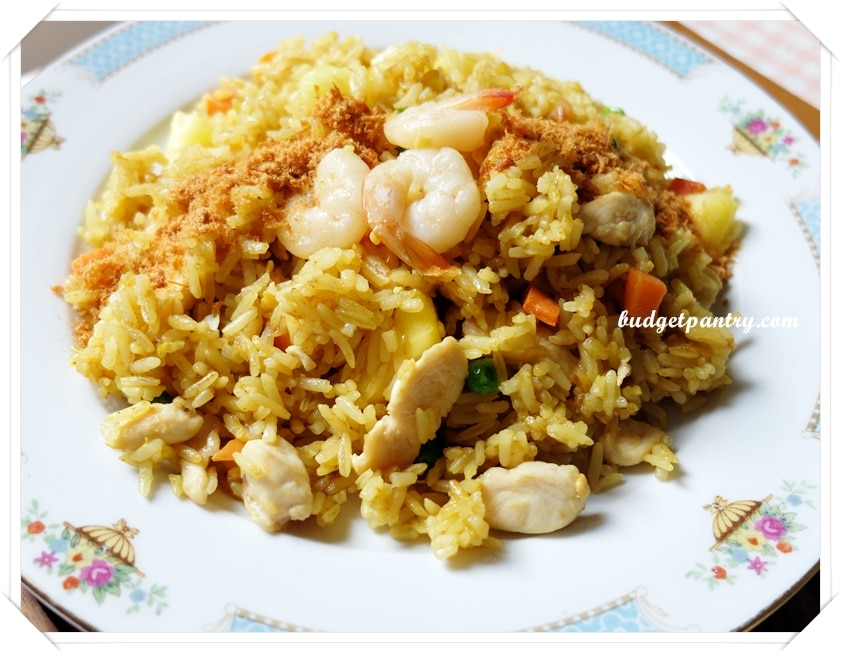 You must make this with overnight rice, or rice that has been cooled for hours before frying. This way, the rice will dance in your wok instead of turning soggy and soft. I literally jumped out of bed at 12am when I remembered I haven't cooked the rice yet. Ah-mm saw me washing rice in my sleepwear and went, "你肚子餓啊? 冰廚有炒飯咧。" ("You hungry? There's fried rice in the fridge.") 我就是要煮炒飯咯!
I added some chicken fillet, prawns and pineapple to the dish, and garnished with pork floss. Oh, and frozen vegetables too– I love frozen vegetables and think they're grossly misunderstood. You can top yours with some fried shallots if you like. Very easy and yummy lunch! Thank you Dancing Chef for the samples.
Classic Pineapple Rice
Serves: 2
Total cost per serving: $2.85
What I used:
1 packet Dancing Chef pineapple rice paste
3-4 small wedges pineapple (like in my first pic), cut into bite size
2 rice bowls overnight rice (about 550-600g)
1 tablespoon minced garlic
1 tablespoon minced shallots
1 tablespoon olive oil
2-3 tablespoons frozen vegetables
6 prawns (small, medium large– up to you)
3 pieces chicken inner fillet, cut into bite sized
1 tbs light soy sauce
1 tbs Chinese cooking wine
1 tbs corn starch
A dash of white pepper
Pork floss, for garnish
Steps:
1. Marinate the chicken pieces with the light soy sauce, Chinese cooking wine, corn starch and white pepper for 20 mins.
2. Heat up the oil and fry shallots and garlic til fragrant. Add the chicken and prawns and fry til cooked.
3. Add rice and pineapple paste and stir fry quickly to combine. Toss in the frozen vegetables.
4. Lastly, add the pineapple pieces, give it a quick stir and dish up. Garnish with pork floss.
How much I spent:
$2.50 for pineapple paste (mine was free but NTUC sells it at $2.50)
$1.20 for pineapple
$2 for chicken fillet and prawns (I use frozen)
Everything else from my pantry