Crispy Herb Butter Sutchi Fish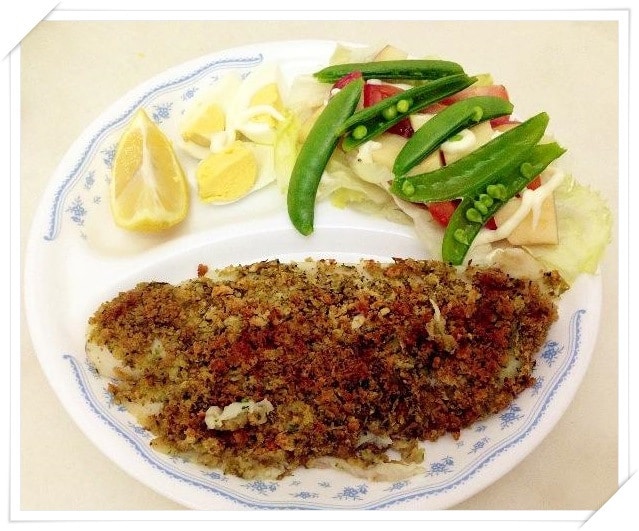 I cook alot of white fish because they're easy to eat and don't need to be gutted. I can clean chicken and pork but I hate to clean fish because they're yucky. About two weeks ago, I bought a packet of frozen saba fish, not knowing that they're not cleaned nor gutted and I have to get rid of the innards myself. There's still one fish in my freezer and I don't know when I'm gonna cook it!
Sutchi is much easier to handle but low quality ones tend to be soggy when cooked. I have bought different versions before, ranging from $2.30 a packet from NTUC (there are 3-4 pieces in there) to $8.95 a packet (also 3-4 pieces). The more expensive ones are larger, more firm and still have some bite, while the cheapest versions normally don't hold together quite well after baking or airfrying – the two ways I usually cook fish. Apart from sutchi, there are also different type of white fish like halibut and pollock "cod". I just bought two packets on promotion from Giant and can't wait to try them. Hopefully the texture is better and more acceptable to Jason, who (justifiably) came up with a nickname for sutchi fish, calling them "the fish version of luncheon meat", not in terms of preservatives and such but more on meat quality.  I'm going to steer clear of scarily cheap sutchi fish from now on!
This is my favourite recipe for sutchi fish, until I discovered a (super cheaterbug) sambal version with sliced onions and lime ala bbq stingray. I'll blog about that next week. This baked version is crispy but not greasy, and the blending of parsley together with the bread crumbs gives the dish such a fragrant lift that you cannot (and will not!) believe it is parsley. I was skeptical at first too. I mean, parsley? That yucky garnish which should remain as garnish forever and ever and ever and ever…..? But you won't regret it. I ran out of parsley once when making this and the dish fell flat. Serious. Try baking this crispy fish.. it'll only take 15 minutes of your time. Promise.
Makes 2 servings
(recipe adapted from atkokken.com)
What I used:
2 sutchi fish (or any 2 portions of white fish fillet)
1 handful parsley
25g melted salted butter
2 slices bread, toasted
1. Preheat oven to 200 degrees.
2. Clean fish, pat dry and lay on aluminium baking pan.
3. Pulse bread, parsley in food processor, combine with butter.
4. Pack breadcrumb mixture on top of fish, bake at 200 degrees for 18 mins.
5. Serve with salad and a wedge of lemon.
Tip: Great with mustard!
How much I spent:
$2.95 for fish
$0.25 for butter (I buy Greensfield butter from Phoon Huat)
$0.30 for bread
Everything else from my pantry
Total cost per serving: $1.75
——————————————————————-
I like eating this with an apple salad with hard boiled egg. This is very good with sutchi fillets.. the crispiness of the buttery crust compensates for the softness of the fish. I would imagine it being fantastic with flaky fish.. like a crumbed version of fish and chips without the grease. I have a good mind to try halving the fish and airfry it in my Philips Airfryer!