How to bake your own chunky chocolate lactation cookies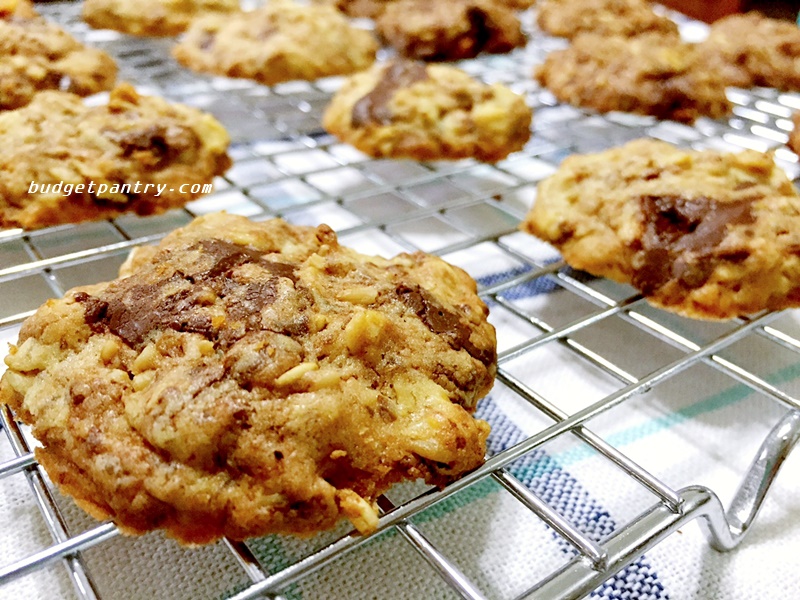 Have you seen the prices of lactation cookies? I don't know about you, but $78.90 for 30 cookies (usual price $107.70) seems out of this world to me. And the number of people snapping these up? Absolutely mind blowing. So in all budgetpantry fashion, I decided to bake my own!

According to the package, these are the ingredients in the cookies: Organic Rolled Oats, Organic Unbleached Enriched Wheat Flour (niacin, reduced iron, thiamin, mononitrate, riboflavin, folic acid), Organic Unsalted Butter (cream), Organic Brown Sugar, Organic Evaporated Cane Syrup, Chocolate Chips (sugar, chocolate liquor, cocoa butter, soy lecithin, vanilla extract), Eggs, Water, Brewer's Yeast, Organic Flaxseed Meal, Salt, Baking Soda, Vanilla Extract.
Nothing really special except Brewer's Yeast and probably flaxseed meal. I googled for places selling Brewer's Yeast in Singapore and didn't get a return result. I didn't go around stores looking for it though – there's always iHerb! I placed my order for Brewer's Yeast (there're a few brands – I've read better reviews for Solgar), along with flaxseed meal, rolled oats and steel cut oats. Within 4 days, my order arrived! And the best part? Shipping is FREE for orders over SG$55 or just SG$5 thereabouts for orders below that. OMG can't believe I've been shopping on iHerb since I was a teenager. That's about 15 years ago! (p/s- I've heard that you can also get Brewer's Yeast and flaxseed meal at Fairprice Finest at the organic section.)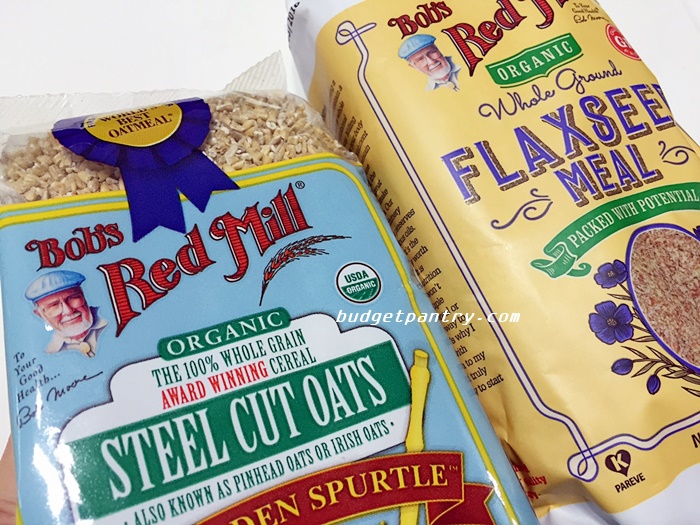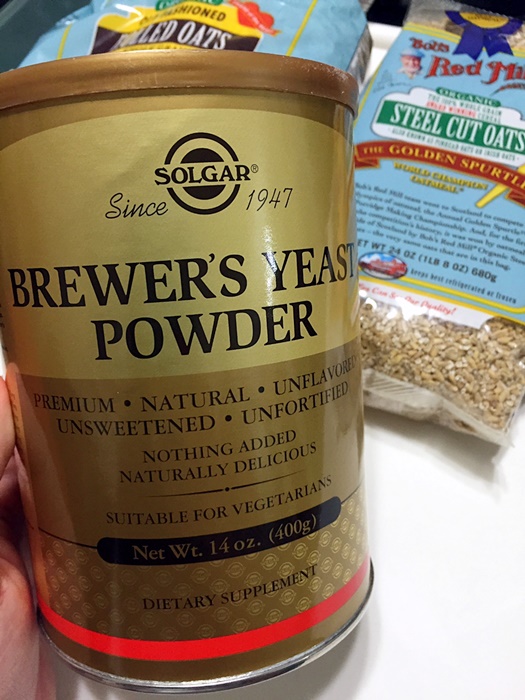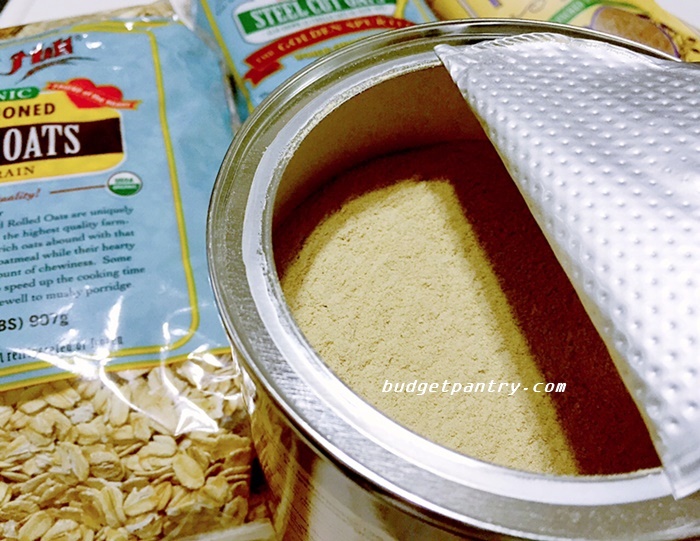 New to iHerb? Punch in my coupon code "IWE203" at check-out for up to $5.00 off your first order.
Ok back to the cookies. At 38 weeks, I'd better bake these cookies fast! I referred to the recipe from bellybelly but made quite a number of adjustments. If you love chia seeds like me, add them. Chia seeds are also said to be milk boosters! As I'm adding chocolate chunks, I reduced the sugar. For oats, I used a combination of rolled oats and steel cut oats for a crunchier texture. The important thing is to ensure the main ingredients: oatmeal (not instant oats), flaxseed meal and brewer's yeast are there.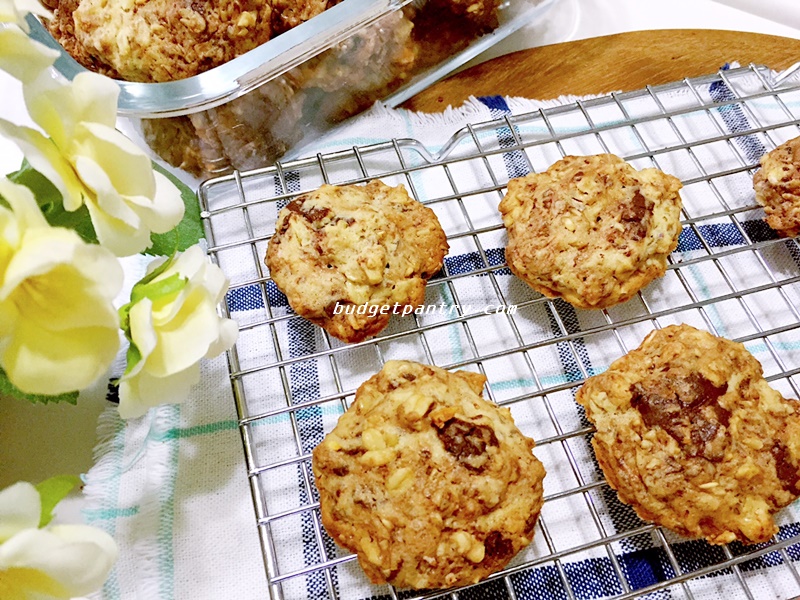 Some people say that Brewer's Yeast taste bitter, but I thought they tasted fine. Of course, you could always add more chocolate into your cookies! Other combinations include: dried cranberries & chocolate, macadamia white chocolate, raisins, desiccated coconut, banana, walnuts.. basically anything that goes into your favourite cookie!
This recipe below is in grams to make it easier for most people in SG. I doubled the recipe and was able to make about 90 one-inch sized cookies. You can shape them bigger if you like. I stole one to test. It's actually really yummy :) I hope this recipe helps you!
Have you tried lactation cookies before? Do they work for you? What are your other milk boosters? Tell me!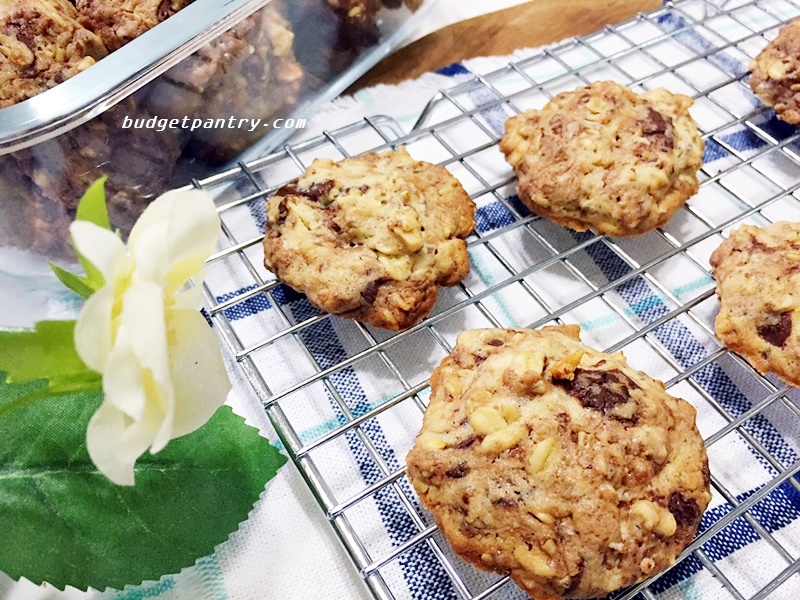 Chunky chocolate lactation cookies
(budgetpantry.com)
Makes about 90 one-inch sized cookies
What you need:
227g unsalted butter
180g caster sugar
1 teaspoon vanilla extract
2 eggs, beaten
280g plain flour or wheat flour, sifted
1 teaspoon salt
1 teaspoon baking powder
4 tablespoons brewer's yeast
4 tablespoons flaxseed meal mixed with 6 tablespoons water
2 tablespoons chia seeds
150g old fashioned rolled oats
150g steel cut oats
250g chocolate chips or chopped chocolate chunks
Steps:
Preheat oven to 170C. Grease your baking sheets/pans.
Cut butter into small cubes and place back in freezer while you prep the rest of the ingredients (they melt really fast in this weather!)
When prepping is complete, remove butter and allow to rest for 1-2 minutes. Place in mixing bowl along with the caster sugar. Cream on medium speed (speed 3 on the KitchenAid) for about 3 minutes till mixture becomes white and fluffy.
Add the eggs gradually and follow with the vanilla essence. Continue beating till combined. Add the flour, salt and baking powder and beat for 3 minutes. Scrape the sides of your mixing bowl with a spatula to ensure everything's well-mixed. Add in the brewer's yeast and flaxseed meal and beat till incorporated.
Stir in the oats, chia seeds and chocolate chips. Refrigerate for 15 minutes.
Drop teaspoonfuls of cookie mixture onto your baking sheets and bake for 12 minutes. Allow to cool completely on wire rack before storing.
Catch up on my other pregnancy posts:
Pregnancy: The big reveal!
Pregnancy: The first trimester scans… I saw an empty womb on my first scan
Pregnancy: The second trimester – harmony test and gender reveal!
Pregnancy: The second trimester – 20-week anomaly scan + gestational diabetes scare
Pregnancy: The third trimester 4D scan – I saw Chua Bee Bee's cute little face!
Pregnancy: Mount Alvernia Hospital – Maternity Tour & Estimated Bill Size 2016
Pregnancy: Bellybuds! Playing music for your baby in the womb
FY2016 Budget: Is the government giving us an extra $3K into the Child Development Account?
Pregnancy: Why I'm choosing GAIA Natural Baby Organic Skincare for #ChuaBeeBee
Pregnancy: Tips for changing your gynae at Week 35
Pregnancy: When you wrist hurts like nobody's business (All about De Quervain's Tenosynovitis)
Pregnancy: Week 39 – Low amniotic fluid and an eviction notice!
Plus, 10% off all GAIA Natural Baby products + free gift still ongoing. Click here for details. Use my code at checkout: