The Easiest One-Pot Creamy Penne Alfredo
Today I'm sharing a really easy recipe all done in one pot. Although the husband volunteers to clean the heavier stuff like pots and pans, I sometimes feel bad that he has to do the washing up after a long day at work. So this recipe is just perfect with only one pot to wash.

In case you guys think I'm a lazy bum, I clean as I cook la ok – so the chopping board, knife, bowls, cutlery and what-nots are all washed when I finish cooking! I just leave the final pot for him to wash hehe. Love his "service" especially when I use the slow cooker. So heavy!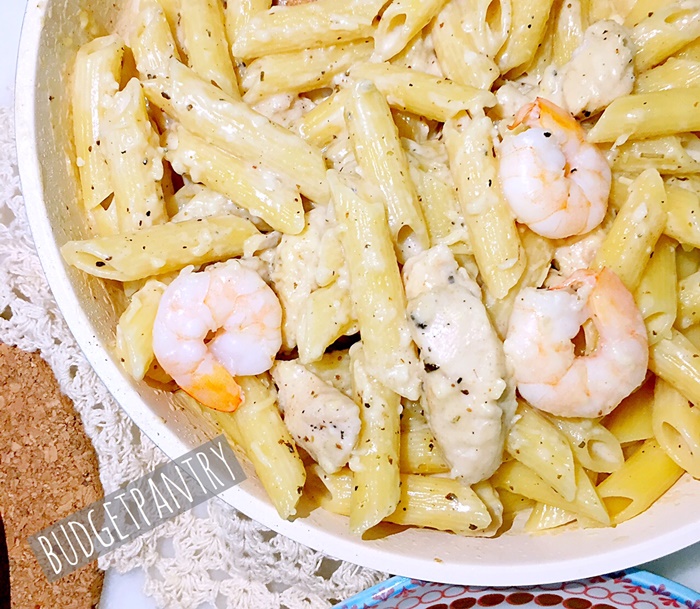 This recipe basically needs just a few things: cooking cream, your choice of short pasta, meat/seafood to your liking and Parmesan cheese. If you don't like cheese, I have another version of 10-min White Sauce here, which uses egg instead. To add some protein, I used chicken fillet and prawns. You could also add sliced shitake mushrooms, and of course, bacon would bring the flavour up a notch!
For chicken stock, I tend to avoid boxed/packaged chicken stock cos there's no way I can control the flavour and I don't like it – I find them too salty and overpowering. I like using Woh Hup's concentrated chicken stock . Just remember the ratio of 1 teaspoon concentrated stock to 180ml water. I also use this in stir fries and soups.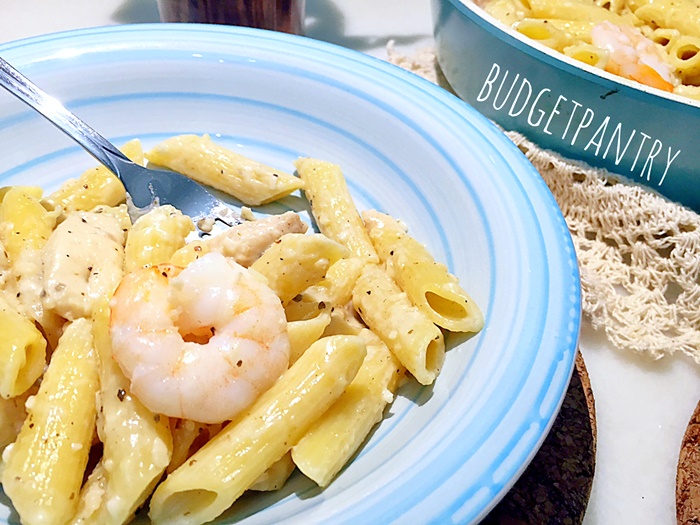 I cooked for Ah-mm and Jason and they both commented (at different times) that dinner was delicious! Looks like this recipe is a keeper. I hope you try it!
One-Pot Creamy Penne Alfredo
(budgetpantry.com)
Serves 2 heartily
Cost per serving: $4.00
What you need:
250g uncooked penne
5 pieces chicken inner fillet, sliced
6 pieces prawns/shrimps
2 teaspoons minced garlic
200ml cooking cream
600ml water
3 teaspoons Woh Hup concentrated chicken stock
5 tablespoons grated Parmesan cheese
1 teaspoon Old Bay or Cajun seasoning (optional)
Sprinkle of Italian herbs seasoning (optional)
Salt and coarse black pepper
2 tablespoons olive oil/knob of butter
Steps:
Marinate the chicken pieces with a light sprinkle of salt and pepper. Set aside.
Heat up the olive oil or butter and fry prawns, garlic and chicken till prawns are done. Remove prawns from pan and let the chicken continue to cook.
Add the hot water, concentrated chicken stock, cooking cream and pasta. Bring to boil and lower flame. Simmer, covered, for 20 minutes or till pasta is al dente.
Add the Old Bay or Cajun seasoning if using. Sprinkle in some black pepper. Combine well and switch off the flame. Stir in the Parmesan cheese and Italian herbs. Don't forget to return the prawns to the dish. Serve immediately.
How much I spent:
$1.20 for pasta
$1.50 for chicken
$2 for prawns
$3.25 for cooking cream
Everything else from my pantry