Braised Pork Ribs and Pumpkin in Chu Hou Paste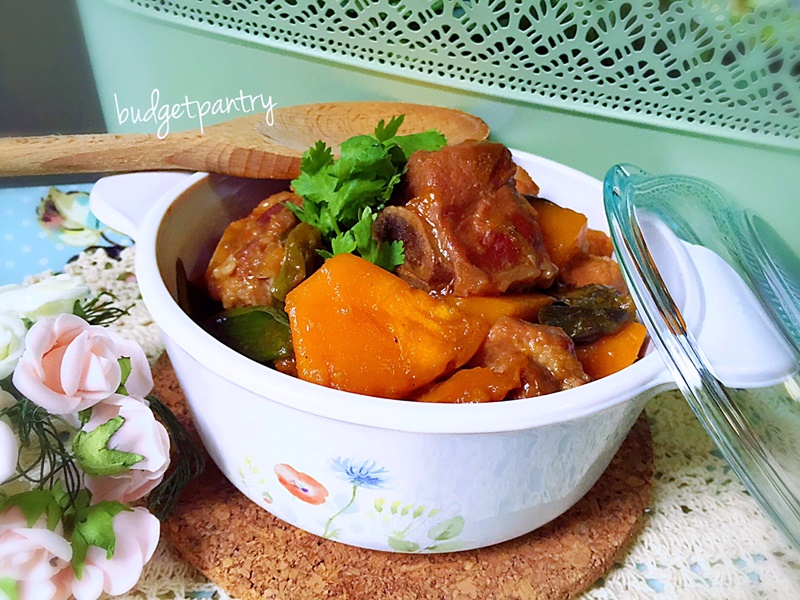 Whenever I feel like having fall-apart ribs, I think of braising. I usually braise meats with 1-2 types of root vegetables (like potatoes and radish) and make a thick gravy to ladle on rice. Sooo good!
I bought a quarter of a pumpkin over the weekend thinking to make Pumpkin Rice with it. But a bit boring, I better try cooking new dishes before the baby comes out if not dunno will have the xian qing to think of new ideas or not! I also had a packet of pork ribs and some leeks.. I'm gonna cook them together in a hearty braise! Who knew pork ribs, pumpkins and leeks went so well together?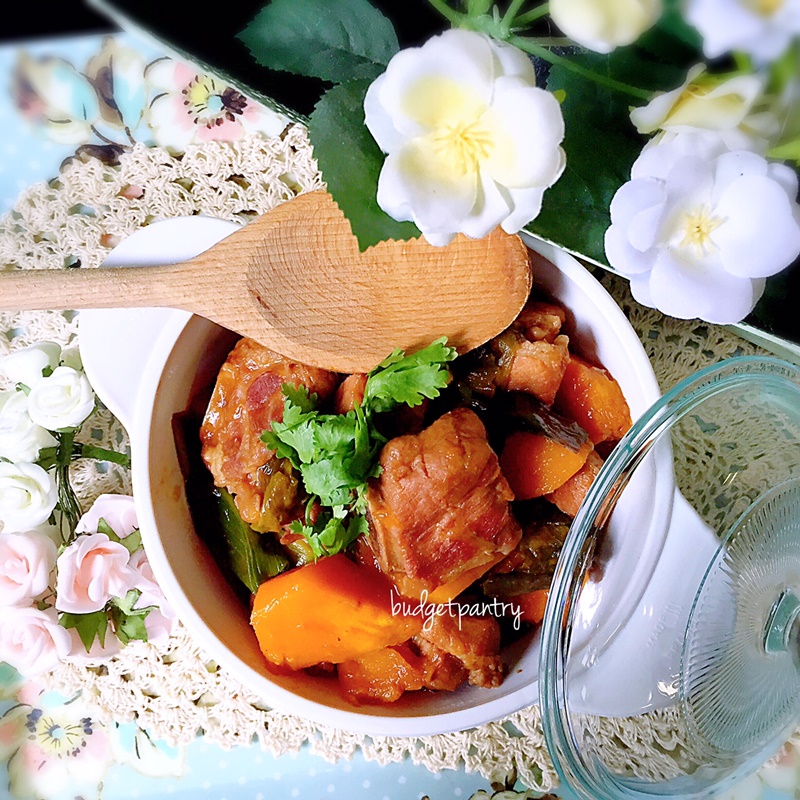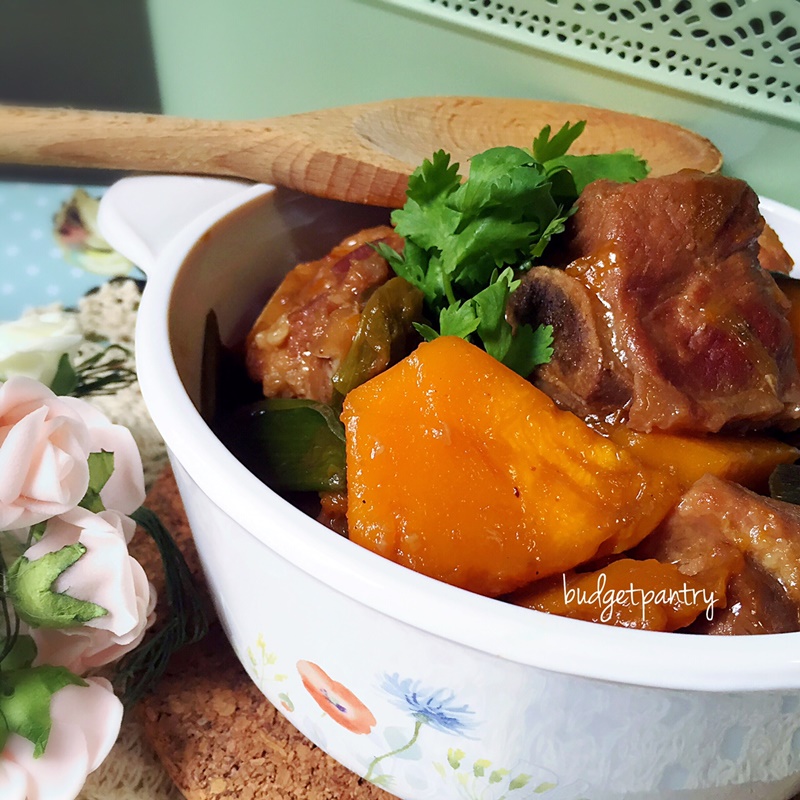 Isn't this Corningware Daisy Field casserole just beautiful?
For this recipe, I used Chu Hou paste as the meat marinade. It's a wonderful paste made of garlic, ginger, soybeans, sesame and other spices and is perfect for braises and stews. If you don't have Chu Hou paste, you may also use char siew sauce, black bean garlic sauce or even black pepper sauce if heat is your thing.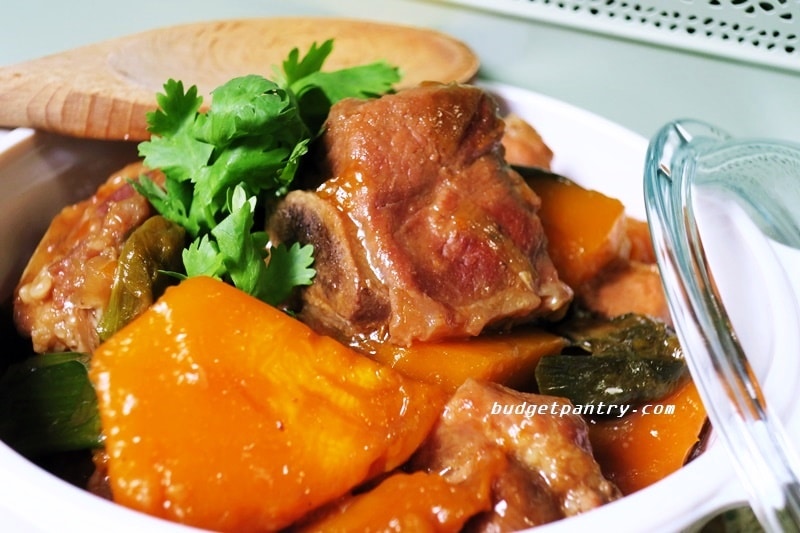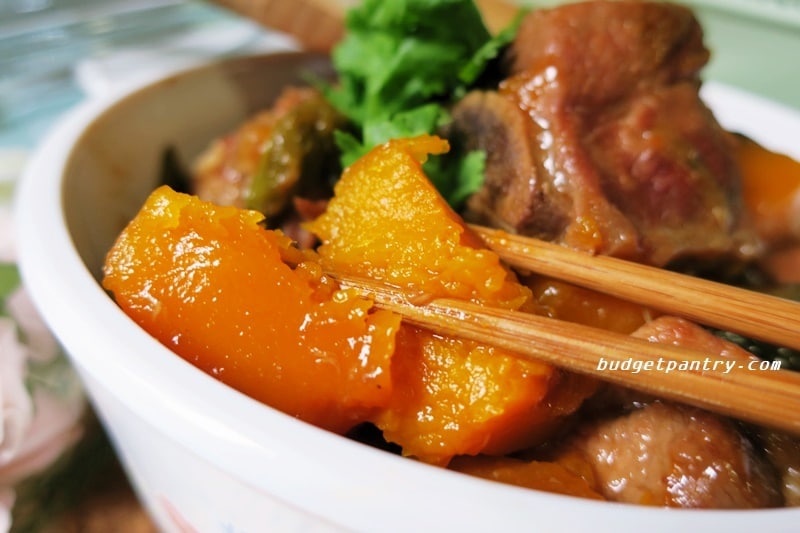 This dish will cook perfectly in Corningware casserole, which retains heat well and is best used for dishes with liquid as a cooking medium. I have so many of these at home, most of which were passed down from my 80-year-old aunt. Corningware cookware can also be taken from freezer to the stove top, microwave, oven, anywhere – no matter how hot or cold the dish is. Loving the pretty Daisy Field range! They even have an entire Corelle collection to match! Thank you World Kitchen for prettifying my kitchen!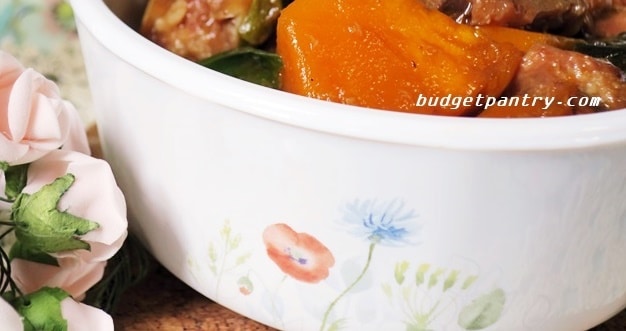 Braised Pork Ribs and Pumpkin in Chu Hou Paste
(budgetpantry.com)
Serves 4
Cost per serving: $3.50
What you need:
500g pork ribs
4 tablespoons Chu Hou paste
300g pumpkin
250 Chinese leeks (about 3 full stalks), sectioned
2 cloves garlic, crushed
2 slices ginger
Enough hot water for braising (cover meat partially)
2 tablespoons oil
1 tablespoon corn starch dissolved in 2 tablespoons water
Steps:
In a ziplock bag, marinate the cleaned pork ribs in chu hou paste, preferably overnight or minimum 2 hours.
In a casserole or small pot, heat up the oil and fry the garlic, ginger and white section of leeks for 1-2 minutes. Add the pork ribs (and the marinade) and briefly brown all sides.
Add half of the green leeks, stir fry to combine. Add hot water till it comes up to just covering the pork ribs. Bring to boil, then lower flame to simmer, covered (leave a small gap), for 1.5 hours. Watch the water level periodically – you may need to top up with more hot water during the cooking process.
When 1.5 hours is up, add the pumpkin and remaining leeks. Simmer uncovered for another 20 minutes till pumpkin is soft. Thicken with cornstarch solution, mix well and serve hot with rice.
How much I spent:
$9 for pork ribs
$3 for pumpkin
$2 for leeks
Everything else from my pantry