Black Sweet Vinegar Braised Chicken 鸡腿醋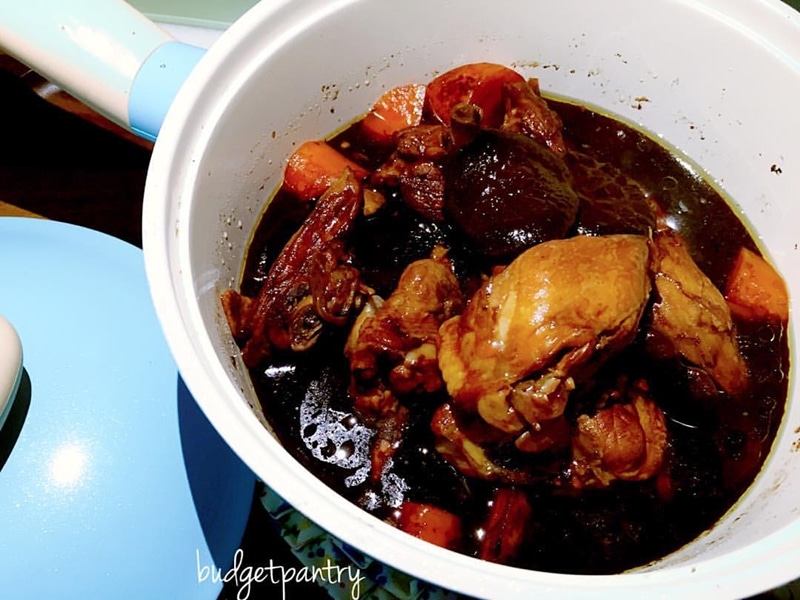 Quick post! I have been craving for this dish since forever and finally cooked it tonight. It is super easy to cook and everything is done in one pot, so washing up is a breeze. I thoroughly recommend this for weeknight dinners!
You should be familiar with the confinement dish 猪脚醋? This is similar except I used chicken thigh pieces instead and way less ginger. I say chicken goes really well with the gravy. I prefer it actually. I didn't add hard boiled eggs but you totally could to make this dish even more complete.

I used Chan Kong Thye Black Sweet Rice Vinegar which is available in major supermarkets.
Too bad I can't eat an entire pot of rice (fat issues blah), but this vinegary dish still satisfied and warmed my tummy on a rainy night. The husband prefers oyster sauce chicken aiya but what does he know. You should cook this, this week!
Black Sweet Vinegar Braised Chicken

(budgetpantry.com)
Serves: 2-3
Total cost per serving: $2.90
What you need:
3 whole chicken thighs with bone, chopped into chunks
1 large carrot, chopped
10 dried shitake mushrooms, soaked till soft and stems removed
Half tablespoon olive oil
5 slices ginger
3 tablespoons black vinegar
1 tablespoon dark soy sauce
1 tablespoon oyster sauce
1 teaspoon sesame oil
1 teaspoon brown sugar
2 tablespoons cornstarch solution (1 tablespoon cornstarch dissolved in 2 tablespoons water)
Enough water to barely cover all your ingredients
Steps:
Heat up the olive oil and fry ginger slices till fragrant. Add in the whole shitake mushrooms. Stir fry for a minute.
Add the chicken and carrots, followed by both the vinegar, dark soy sauce, oyster sauce, sesame oil, brown sugar and water. Allow to boil then lower the flame. Simmer, covered, for 20-25 minutes till chicken is tender.
Add the cornstarch solution to thicken. Serve hot with rice.
*Note: you can add some hard boiled eggs in the last ten minutes of simmering.
How much I spent:
$5.40 for chicken thighs
$0.30 for carrots
$3 for mushrooms
Everything else from my pantry