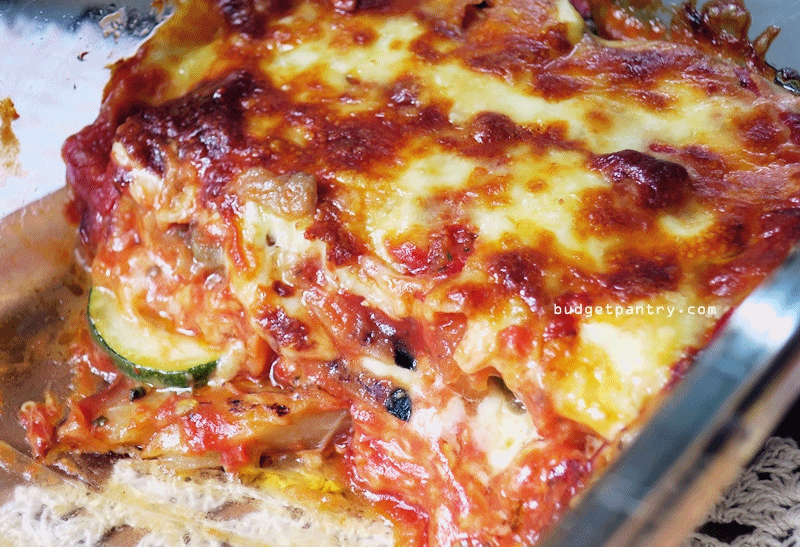 Low-carb lunch idea: Eggplant Lasagna with Apple Marinara
One of my favourite comfort food is lasagna, but since I need to watch my weight, I can't have it too often! I pack on the pounds faster than you can say, "Fat!" whenever I start eating more carbs than usual. But that's ok, I think I have found a great substitute with my no-pasta vegetarian lasagna recipe!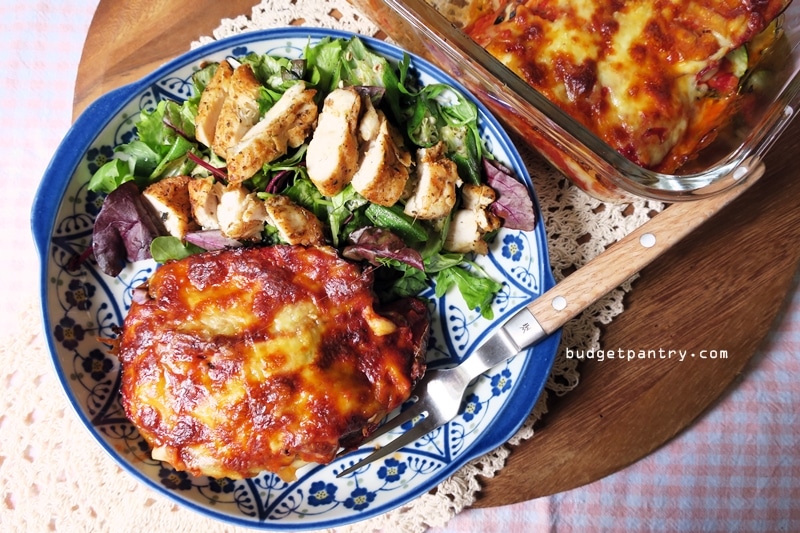 I'm a little obsessed with eggplants – I could eat it every day. I love them stir fried in spicy sauce or dark sauce, in curry fish head, grilled till melty and topped with tuna, and like in this dish, as a substitute for pasta sheets. They work wonderfully with zucchinis, marinara sauce and stretchy mozzarella cheese.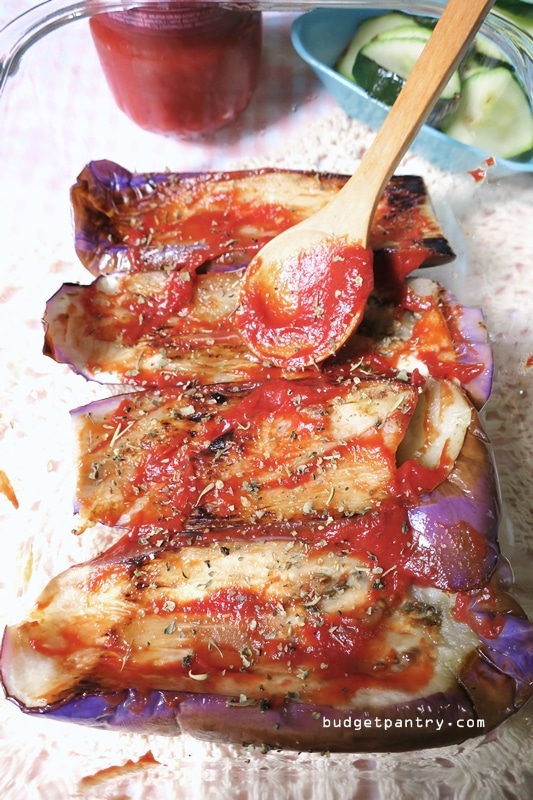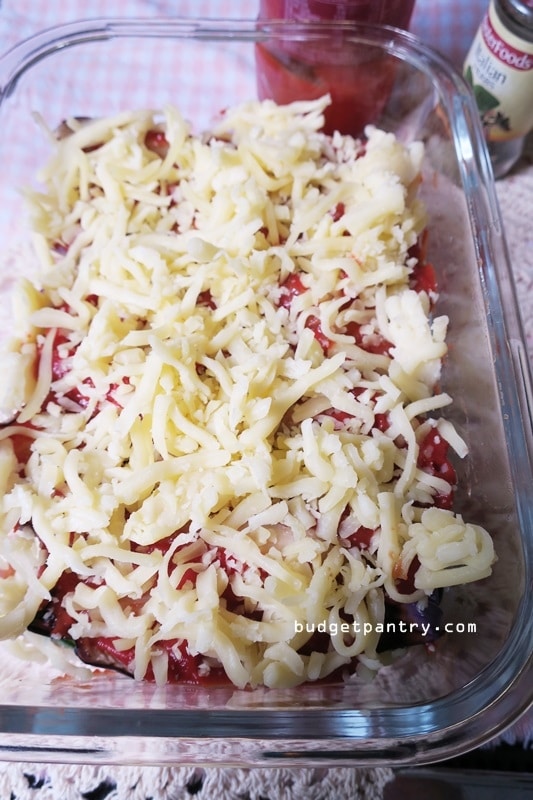 The key thing is to get them melty and tender before popping the baking dish into the oven or airfryer. I've seen recipes calling for the eggplant to be steamed, but eggplant always tastes better when in contact with direct heat, where the flesh breaks down into melty heaven. What I do is grilled them under low heat on a frying pan. The flavour burst and texture is phenomenal. You can never achieve this by steaming.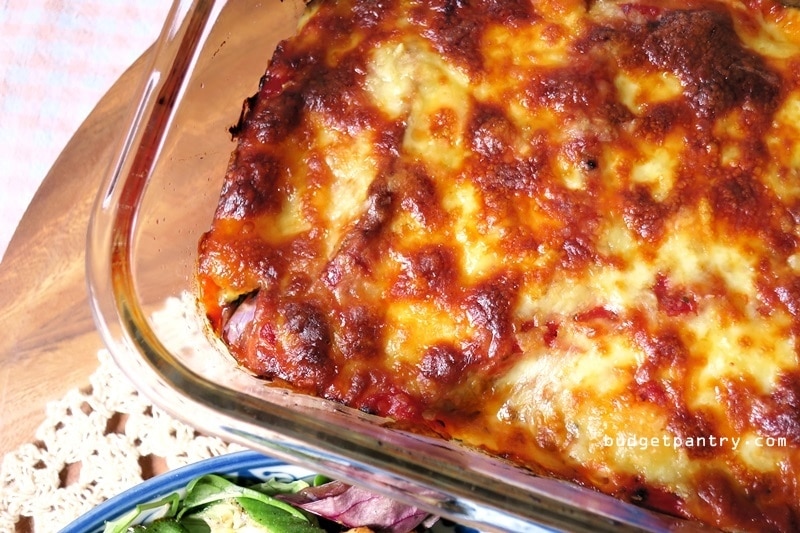 This recipe is vegetarian, but if you prefer, you can add some minced meat, like chicken or beef between the layers to add more flavour and protein. After grilling the eggplants, use the same pan to fry the minced meat, salt and pepper to taste, then add the marinara sauce or tomato paste. There is no need to preheat the sauce if you don't use meat – just spoon it directly on top of the eggplants in your baking dish.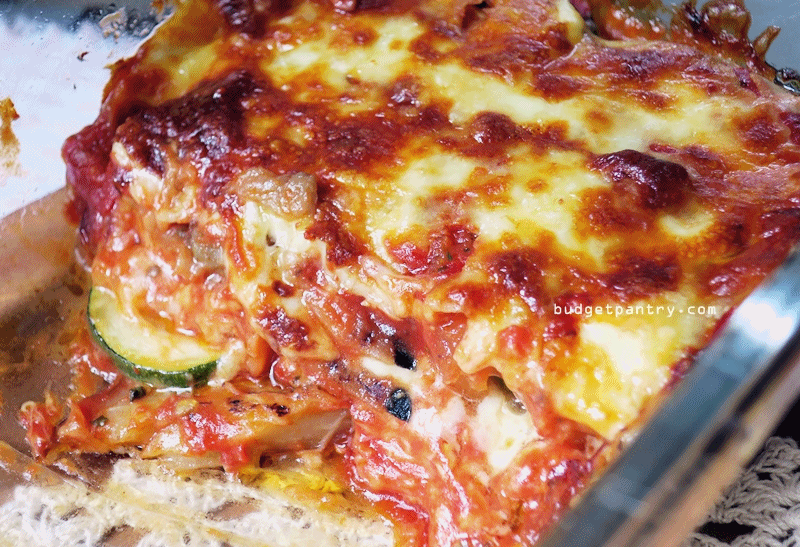 One secret ingredient that I added is… chopped apples. I find that adding apples lifts the taste of the lasagna and reduces the richness of the dish, making it less tomato-ey and more appetising. I really like it! I served this together with a fresh salad and airfried chicken fillets which I seasoned lightly with Old Bay seasoning. The result? Something I would make again and again!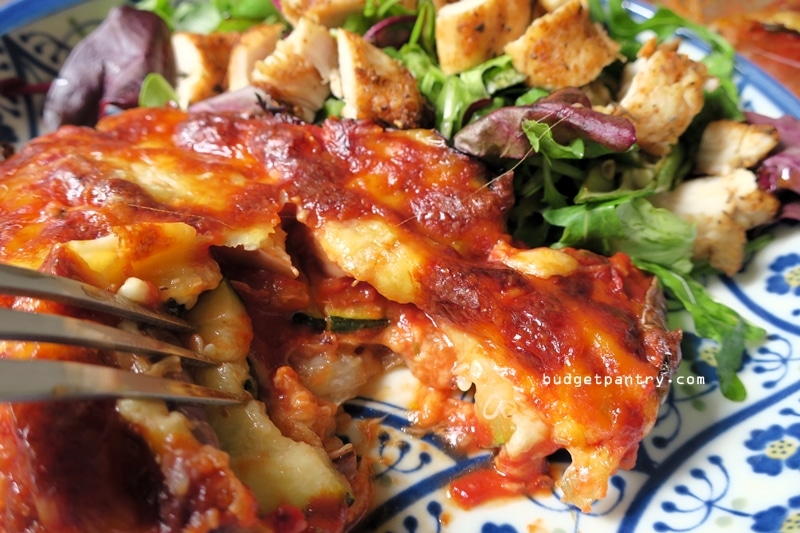 Low-carb meal idea: Eggplant Lasagna with Apple Marinara

(budgetpantry.com)
Serves: 2 (I baked this in a 6.8″ x 9.2″
IKEA glass dish
)
Total cost per serving: $2.60
What you need:
1 large eggplant (about 300 g), sliced diagonally into 8
Half a zucchini, sliced
8 tablespoons marinara sauce or tomato paste
Optional but recommended: 1 small red apple, chopped
Optional: 200 g minced beef
Sprinkle of salt and black pepper if using beef
2 tablespoons oil
Mozzarella cheese
Steps:
Preheat oven to 200C. (I used the oven because of a the size of my baking dish, but you could use the airfryer.)
Submerge the sliced eggplants in a bowl of salted water and leave to stand for 10 minutes. Drain and discard water. Rinse and pat dry.
In a frying pan, heat up the oil and fry eggplant slices on both sides till tender but not mushy. Remove set aside.
If adding meat, fry in a little oil till it changes colour. Add salt and black pepper to taste, then mix in the marinara sauce or tomato paste. If not using meat, go on to the next step.
In a baking dish, assemble the lasagna in this order: eggplant, marinara sauce, apples, mozzarella cheese, zucchini, marinara sauce, apple, mozzarella cheese, eggplant, marinara sauce, apples, mozzarella cheese.
Bake till cheese has melted and top is golden brown, approximately 20 minutes. Serve with a fresh salad.
How much I spent:
$0.90 for eggplant
$0.40 for zucchini
$1 for marinara sauce
$0.40 for apple
$2.99 for mozzarella cheese
Everything else from my pantry