Bittergourd pork ribs in black bean soy sauce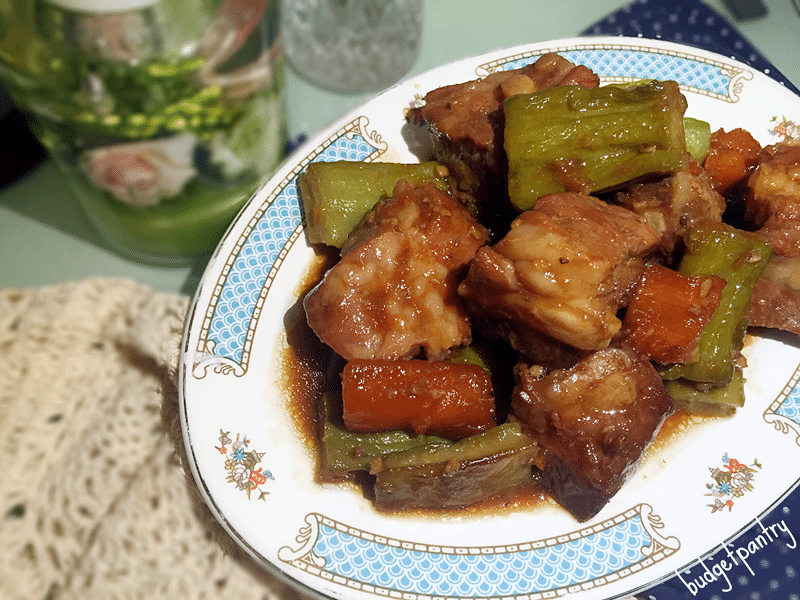 Ok so this recipe doesn't use actual black beans because I don't have them in my kitchen, but it's a yummy way to cook bittergourd and pork ribs! I would have preferred it if I had soft bones, but all I had were 500g of ribs which I had intended to cook in a soup. Works anyway!


Don't be afraid of fat. The ribs look fatty here, but you do need some fat in a stew. Don't use pork loin or lean meat in this unless you love tough cuts! Don't be afraid of the liquid too. It might look like a lot before simmering, but by the time the dish is done, it would have reduced beautifully. And you can see that the sugar we added to the liquid has caramelised the ribs perfectly.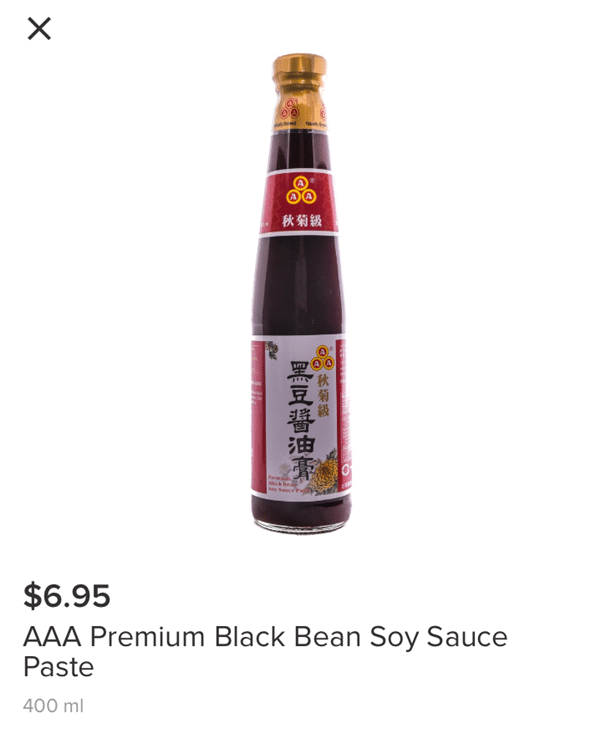 The essential ingredient in this black bean dish without actual black beans is this black bean soy sauce paste that my mum introduced to me. We were at her home for lunch one day and the sauce that she coated her salmon cubes in was sooo delicious. She mixed some of this sauce with kewpie sesame sauce. Yes, the sesame sauce we often use in salads! The combination is amazingg. Who would have thought this would work! I got this from Fairprice extra. AAA Premium Black Bean Soy Sauce Paste 黑豆酱油膏 $6.95. It's super versatile. I use it to marinate chicken wings, or use a bit in vegetable stir fry, or in gravy for steamed fish. If you can't get this, I guess you could substitute with normal black bean paste + dark soy sauce.
Bittergourd Pork Ribs in Black Bean Soy Sauce 黑豆酱油苦瓜排骨
(budgetpantry.com)
Serves 2

What you need:
500g pork ribs with some fat or pork soft bones
1 medium bittergourd, deseeded and sliced lengthwise into 1.5″ pieces
1 small carrot (optional)
1 tablespoon minced garlic
1 teaspoon minced ginger
2 tablespoons black bean dark soy sauce paste (get from Fairprice)
2 tablespoons light soy sauce (I use Hand Flower Brand)
1 teaspoon sugar
Enough water to just about cover the ribs
2 tablespoons oil
Steps:
Heat the oil in a pan and fry ginger and garlic for a minute.
Add the pork ribs and brown all sides. Follow with black bean sauce, light soy sauce and sugar. Combine everything well.
Add the carrots and water. Bring to boil. Using a spoon, remove surface scum. Then lower to small flame and cook, covered, for 1 hour 15 minutes. Check periodically to ensure water has not dried out. You may need to refill some water halfway.
When 1 hour 15 minutes is up, add the bittergourd and continue cooking for 15 minutes. The sauce should have reduced beautifully by now. If not, remove lid and cook until desired gravy consistency.
Serve hot with rice.
If you like my posts and updates, or would like to be informed of baby/cooking-related giveaways and promos from time to time…..
Like my Facebook page or follow @budgetpantry or @chuabeebee on Instagram! Yes, I just started an Insta account for CBB too!