Basic Bread Loaf with Panasonic SD-P104 Breadmaker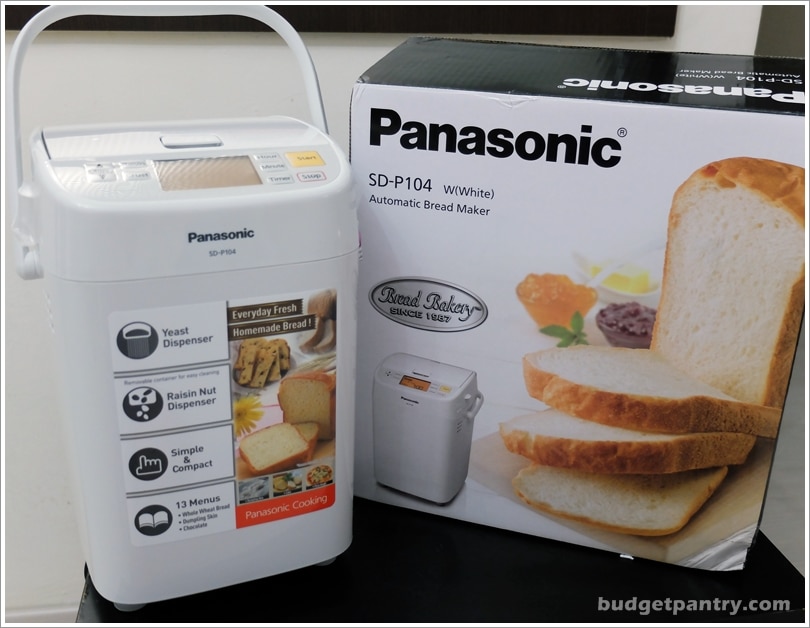 Amateur post! I was given the chance to review Panasonic's latest SD-P104 Breadmaker yesterday, and being extremely excited to try out a breadmaker for the first time, I set off to bake basic white bread almost immediately.
I followed the instructions almost to a T (I suck at reading instruction manuals)– and some combination of ingredients, a push of a few buttons plus four hours later, I have a crusty soft loaf of bread just in time for the world cup finals.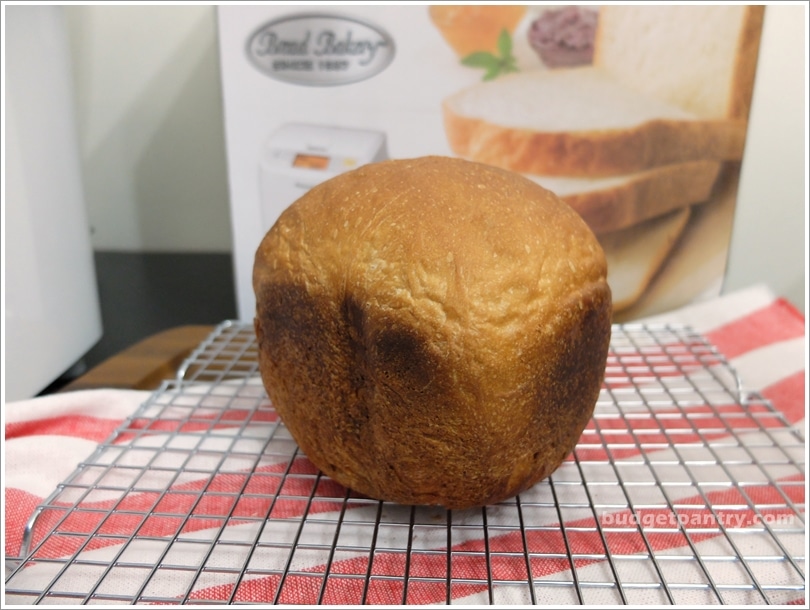 It even looks like a football! The recipe called for only 250g flour. I thought it strange but followed it anyway. Maybe it meant for me to bake a mini loaf?
Ok so how does this work? I have never handled one of these in my life, and I have to say it is pretty easy to use. I fumbled a bit when setting the timer- it kinda confused me- but most timers on all kitchen appliances confuse me. But once I got it going, I was ready to bake bread!
This is the bread pan with blade attached: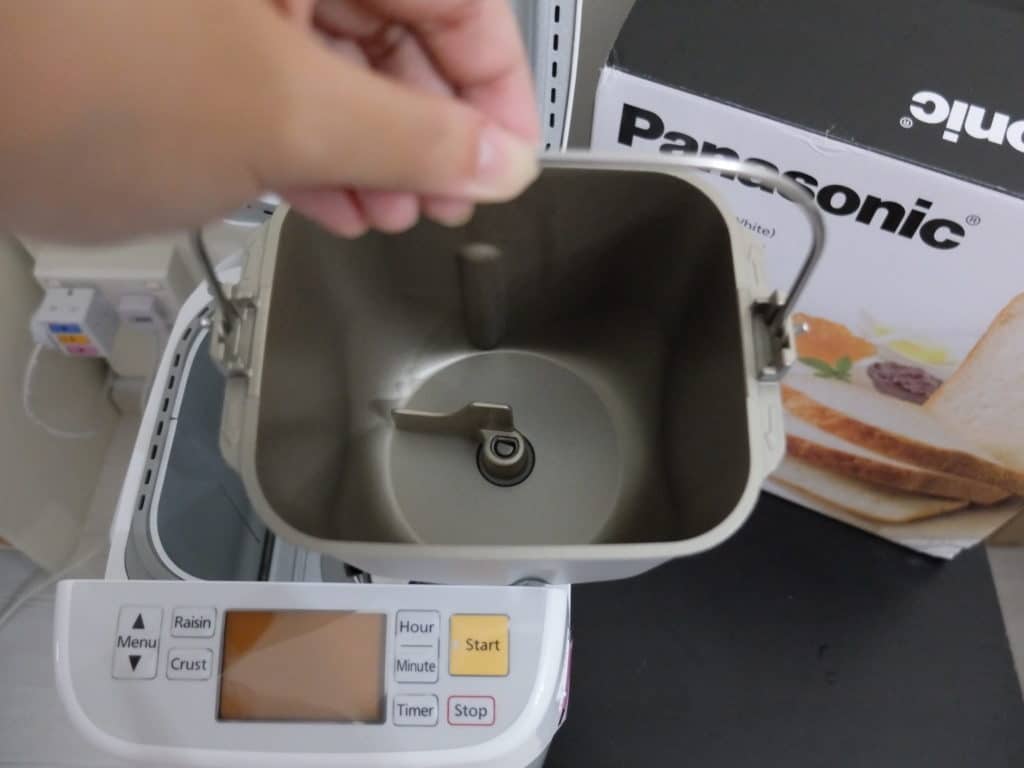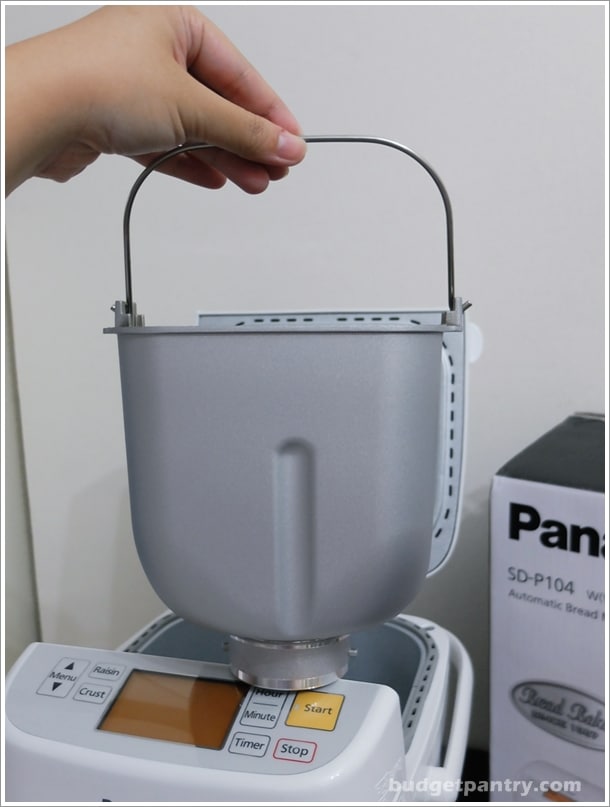 I used 250g bread flour, 10g unsalted butter, 2 tablespoons sugar, 1 teaspoon salt, 1 tablespoon milkpowder, 190ml water + 1 teaspoon yeast. What you do is basically empty all ingredients except the yeast into the pan: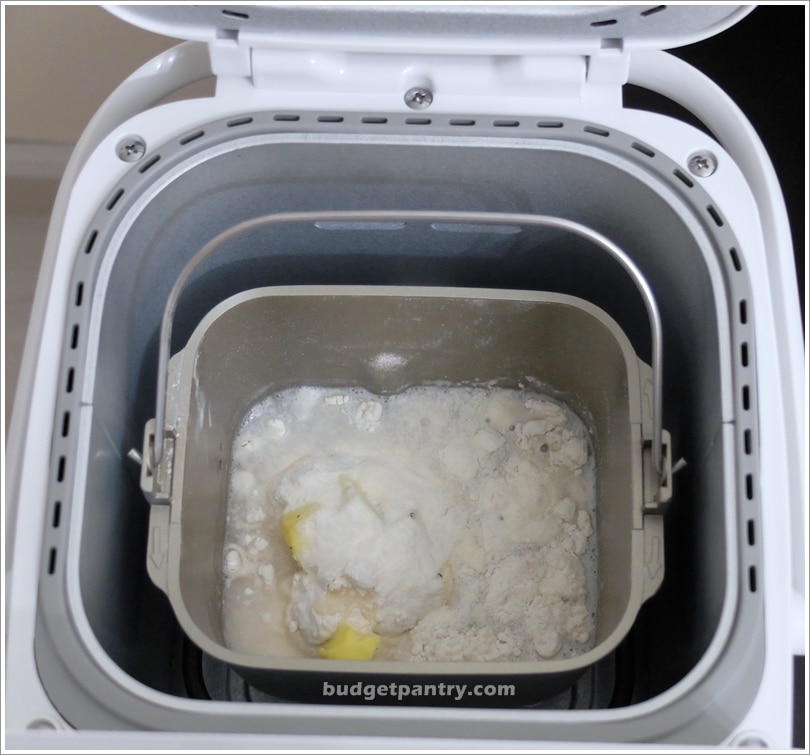 There's a separate yeast dispenser for this model- apparently the dough rises better because yeast is only added at an appropriate time instead of all together with the rest of the ingredients: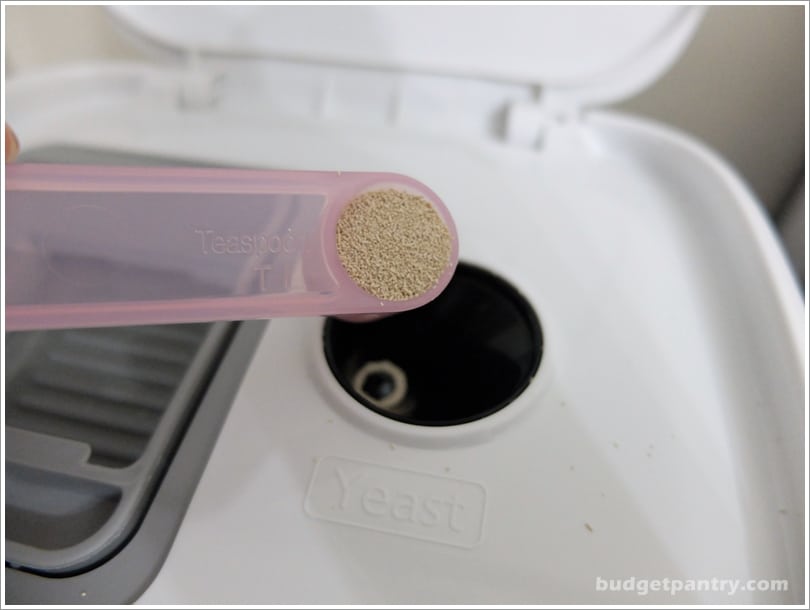 Select Menu option 1 (I simply followed the step-by-step in the recipe book. Menu 1 is for basic bread), indicate if you want to add raisins or not, and let the machine know your preference for "Light" or "Medium" crust. And then you press "Start":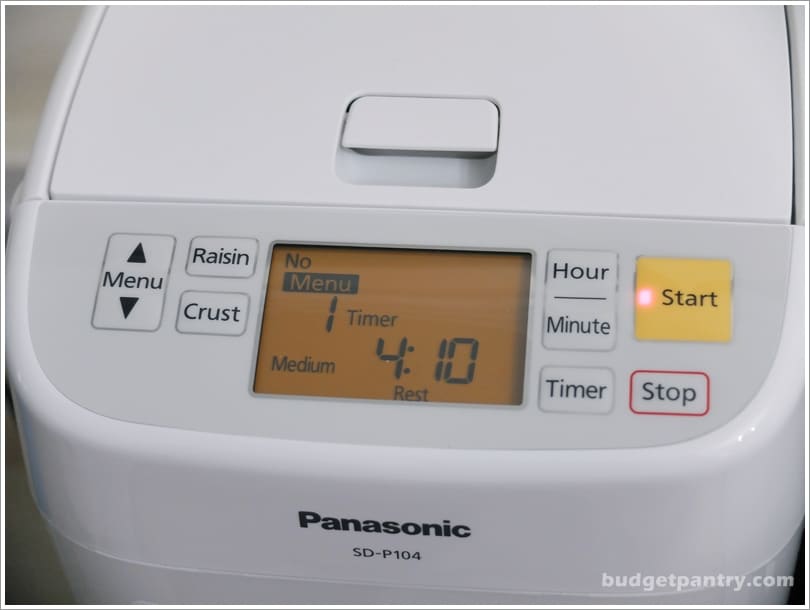 AND DON'T TOUCH IT ANYMORE UNTIL IT BEEPS FOR YOU! The modes will change during the process, i.e., when you first press start, it will show "Knead", followed by "Rest", then "Rise", then "Knead" and "Rise" again.. then finally "BAKE". And when it beeps, it's done!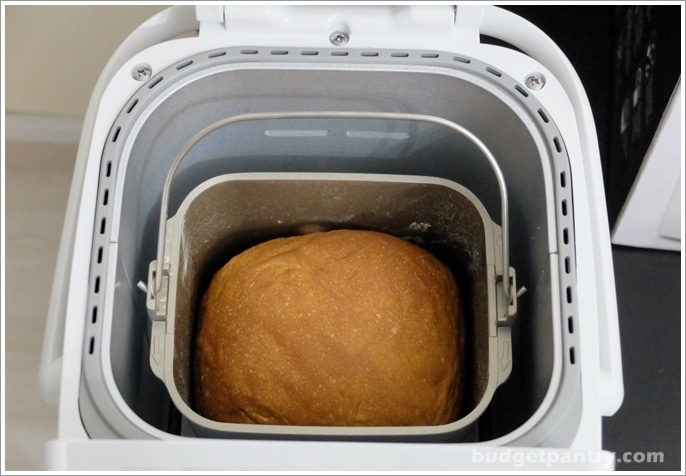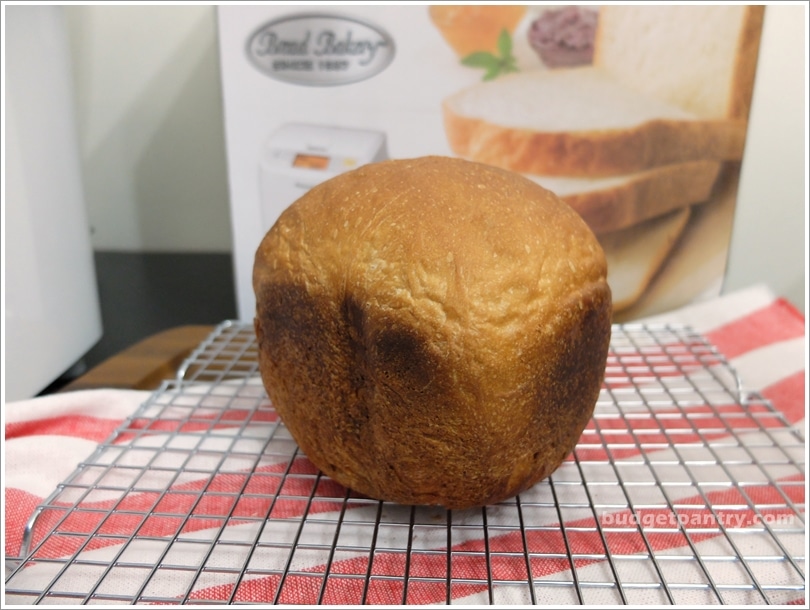 Super soft when lightly pressed, but bounces back immediately: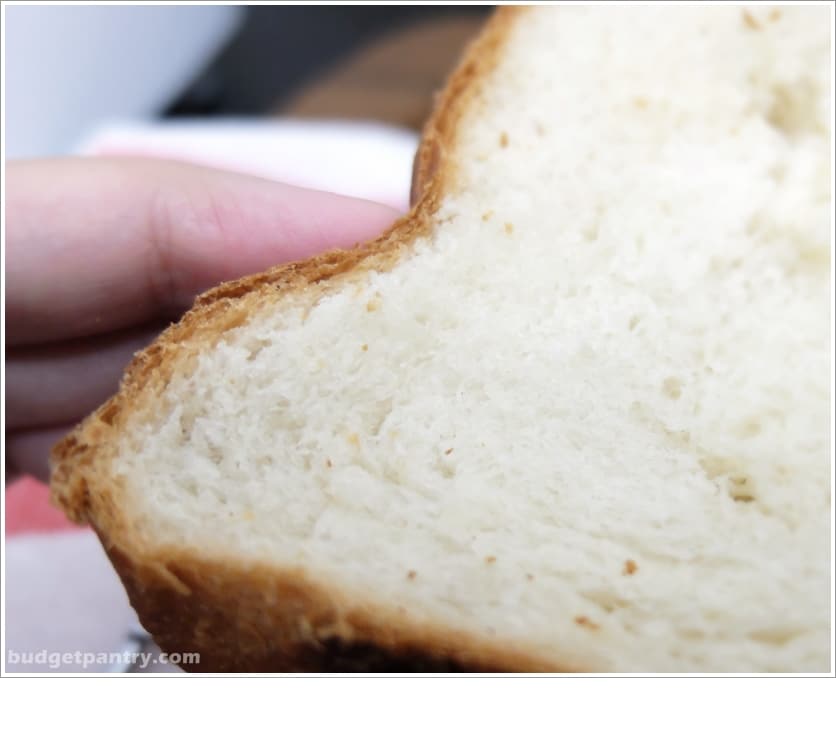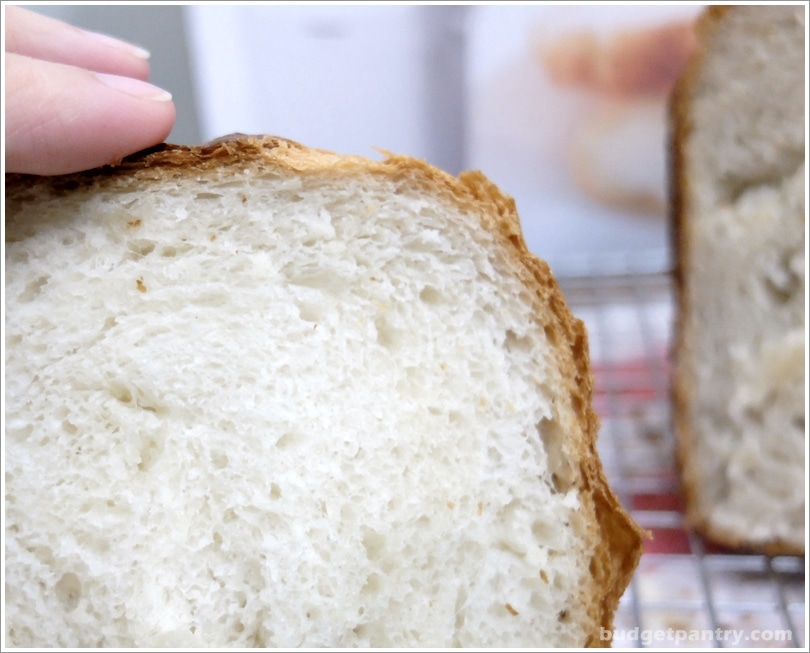 I used super basic ingredients and a non-fancy method.. just dump and go. Imagine if I become the super-bread-maker-woman who uses all the chim methods 还得了? But I would probably double the flour next time. There are lots of different methods and recipes in the recipe book- you can even make cake, pizza dough and chocolate in this.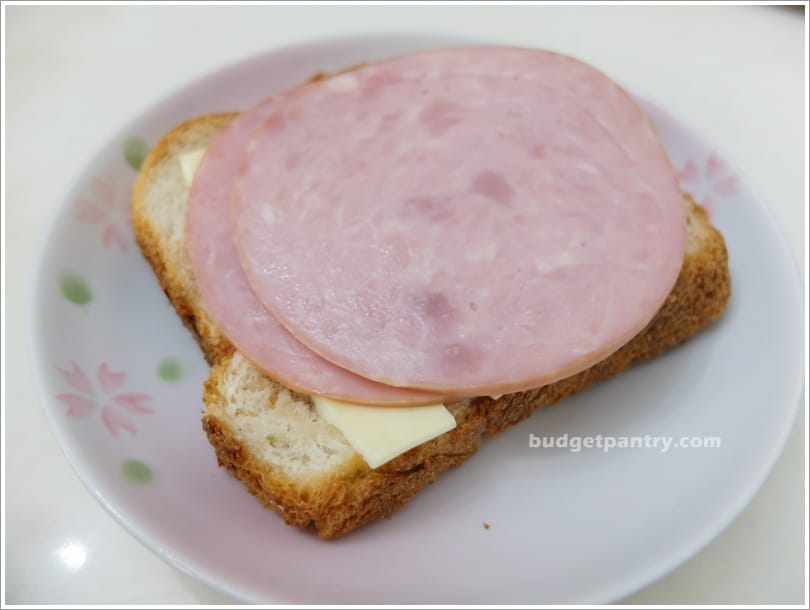 Jason immediately whipped up a ham and cheese bread the way mum used to make it. I have a beaming husband. Goodnight!