Taiwan Trip: Pineapple Cake & Sun Biscuits–> Chia Te or Li Yi?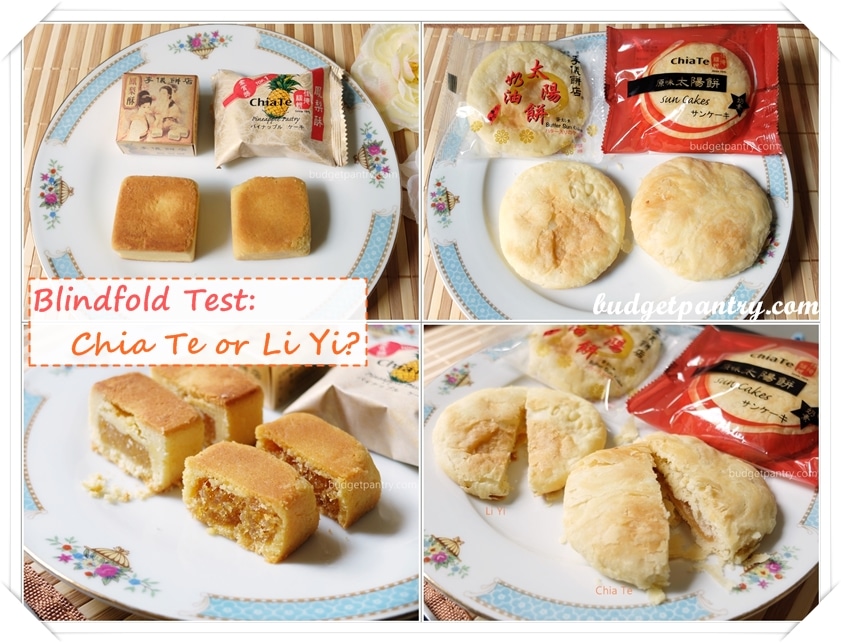 When it comes to Pineapple Cake and Sun Biscuits, Chia Te and Li Yi are two of the most famous names in the business. During our previous trips to Taiwan, we always bought Chia Te because they *are* delicious, and there's lots of variety in their store at Nanjing East Road. This time round, we decided to try Li Yi, another brand name which originated from Jiufen, with an outlet at Taipei Main Station.
I'll get to the stores and directions later (or in another Taiwan Trip post. I wanna talk about the pastries already)! I'll start with the pineapple cakes.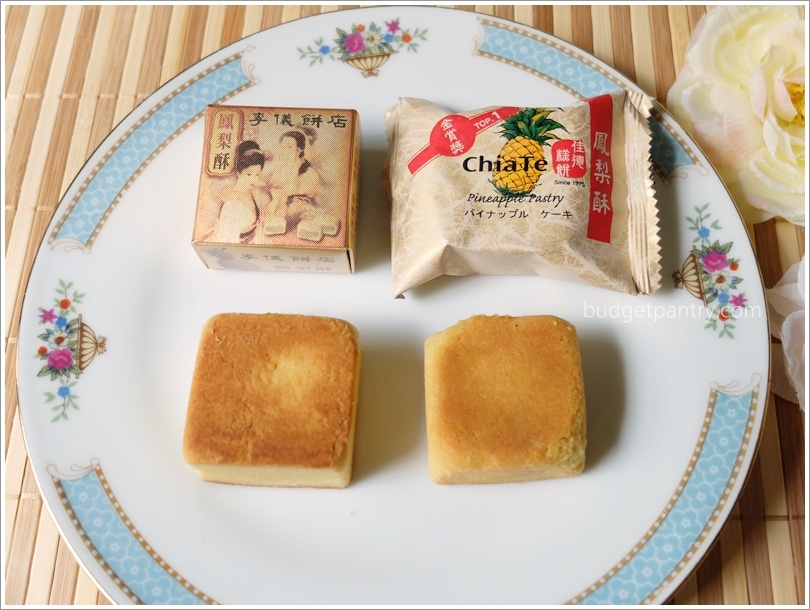 Li Yi's pineapple cakes are NT$25 each (about SG$1.08), while Chia Te's are NT$27 each (SG$1.16). I prefer Li Yi's packaging, obviously! When we were at Li Yi's outlet, we were given samples by the shop assistant. Warm, crumbly and not too sweet, we were quite blown away by how delicious the little morsels tasted.
Li Yi's pineapple cakes look prettier than Chia Te's. They are a taller, more uniform around the edges, had a nicer colour, and looked more "stable" and structured.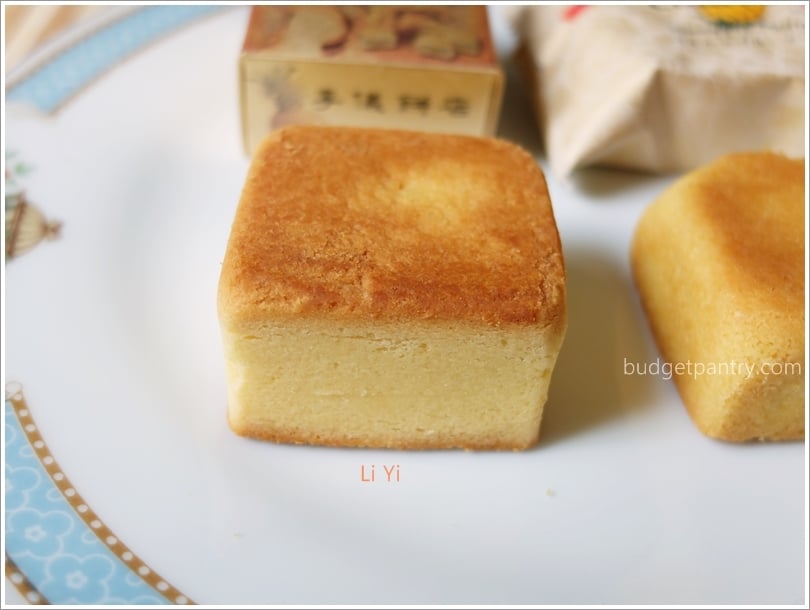 Chia Te's, on the other hand, are uglier, smaller, darker and the colour looked uneven.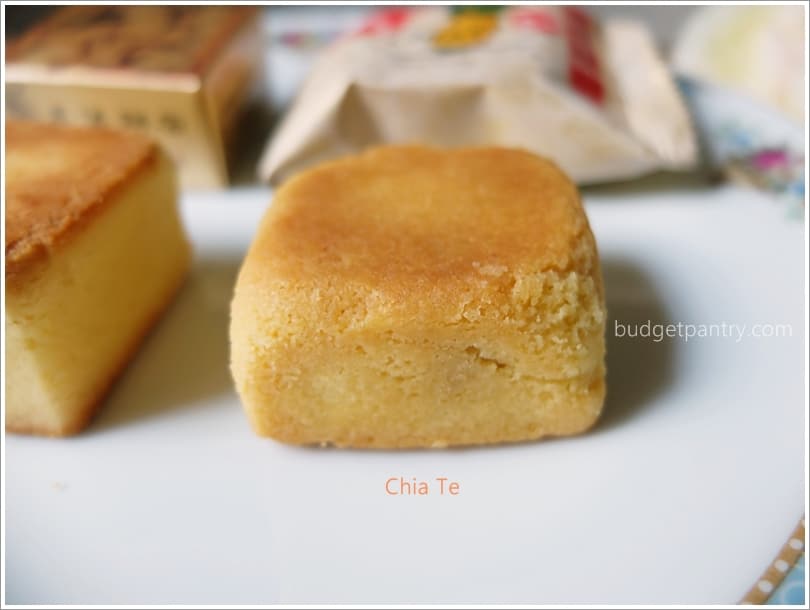 What about the inside? Have a peek!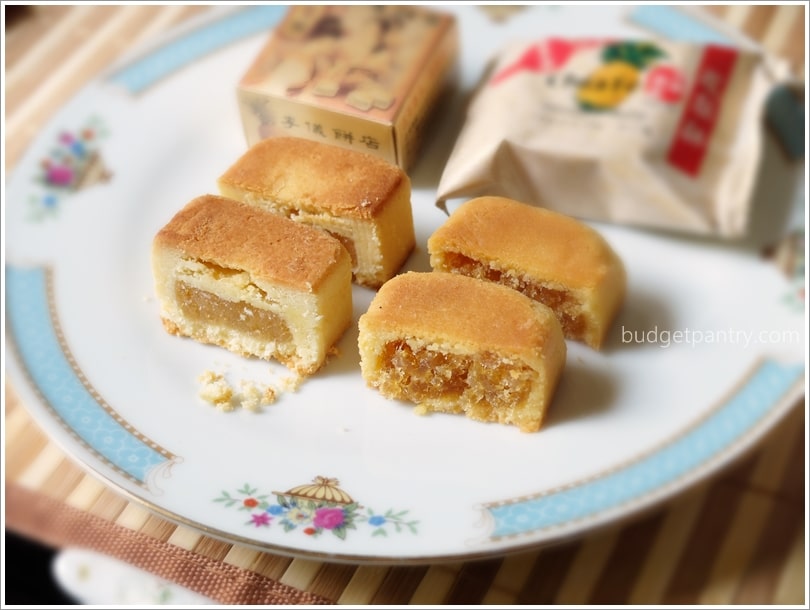 Li Yi's version has more pastry and less filling. Its filling also looked more sticky than Chia Te's.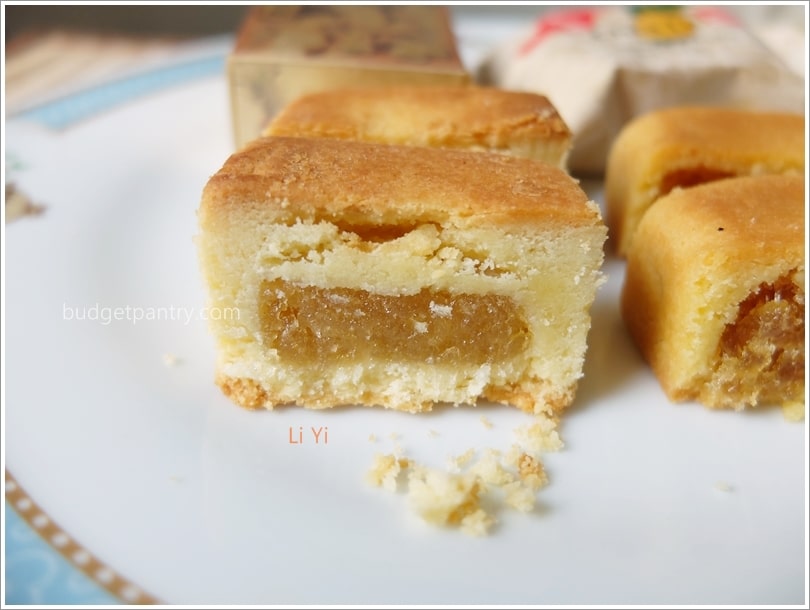 Chia Te's version honestly looked more promising on the inside with a good pastry to filling ratio. Even when I was cutting the cakes into two, Chia Te's pineapple cake was soft and cut through easily. The filling looks "looser" and more texturised.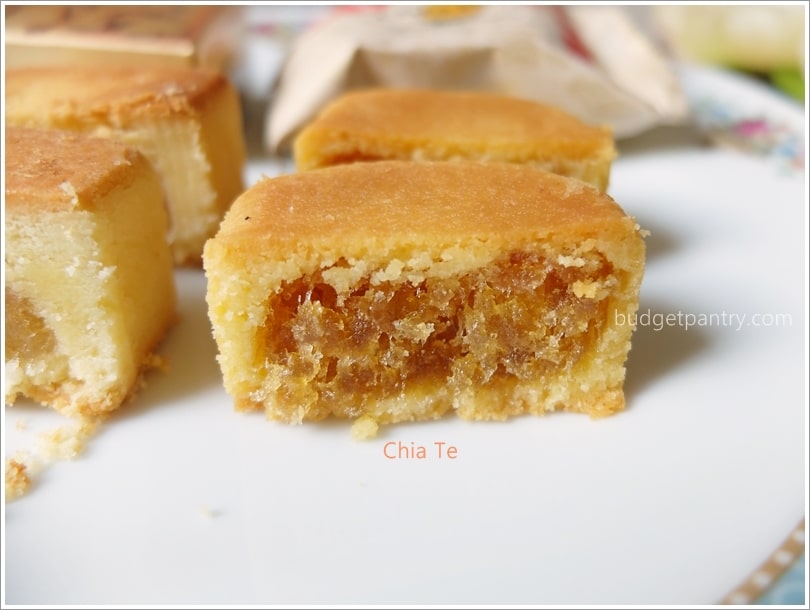 And we did our blindfold test. I warmed the cakes in the microwave for about 15 seconds, and then asked Jason to close his eyes and popped in half a cake each without telling him which was which. He cleared his tastebuds with a drink of plain water in between. "The second one is nicer." His verdict: Chia Te.
And it was my turn. I ate the first version and then tried the second. The moment I took the second bite, I told the husband, "This one, hands down." My verdict: Chia Te. There is no comparison. The ratio of pastry to filling is just right. The pastry is buttery heaven but not too rich. The filling kinda comes alive in your mouth as it breaks down and reaches all your different tastebuds instead of staying put in one piece. It may not be beautiful to look at but it is a very, very good pineapple cake. I felt that Li Yi's pastry was a little thicker than I would have liked and more butter would have been nice.
And let's go on to the Sun Biscuits.
I have heard reviews that say Li Yi's Sun Biscuits (NT$30 each) taste better than Chia Te's (NT$33 thereabouts). I was about to find out! Li Yi's Sun Biscuits look just about the right size, 45g compared to Chia Te's 60g. Both look pretty but I was concerned that Chia Te's might be too heavy and thick.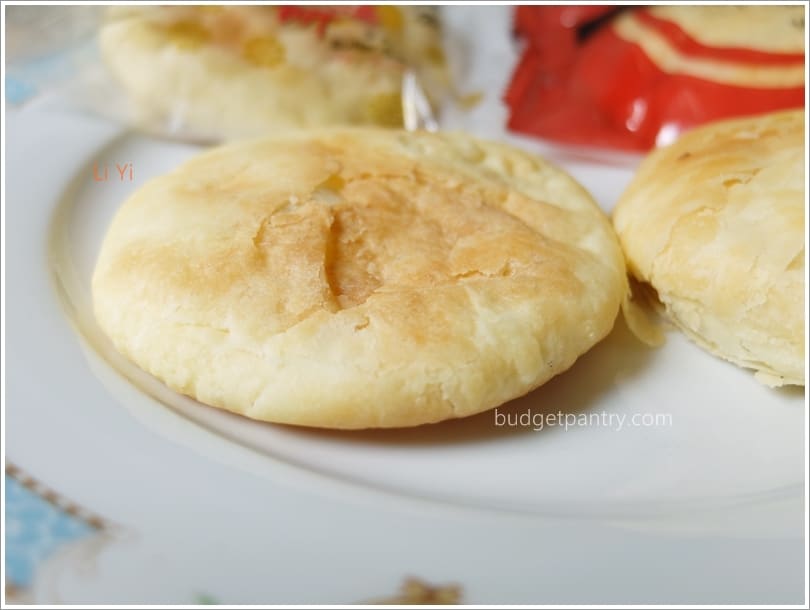 Let's take a look at the flake factor when cutting: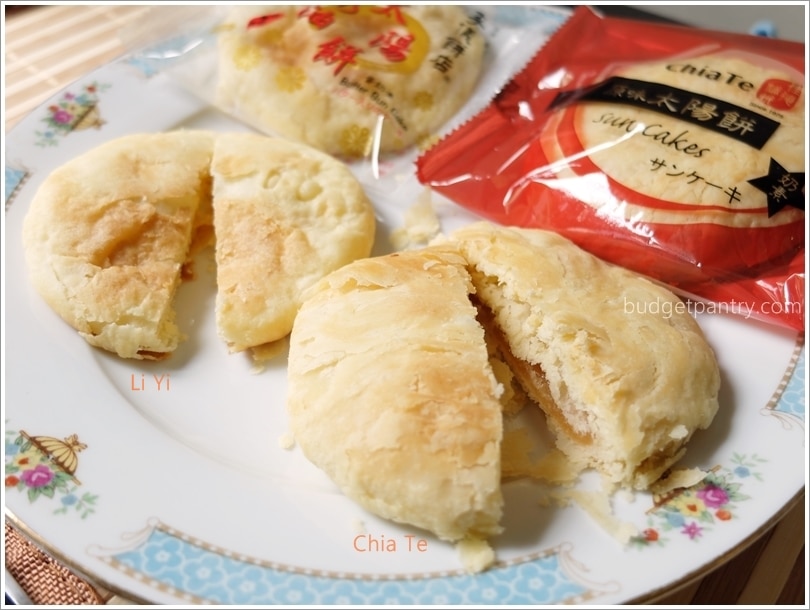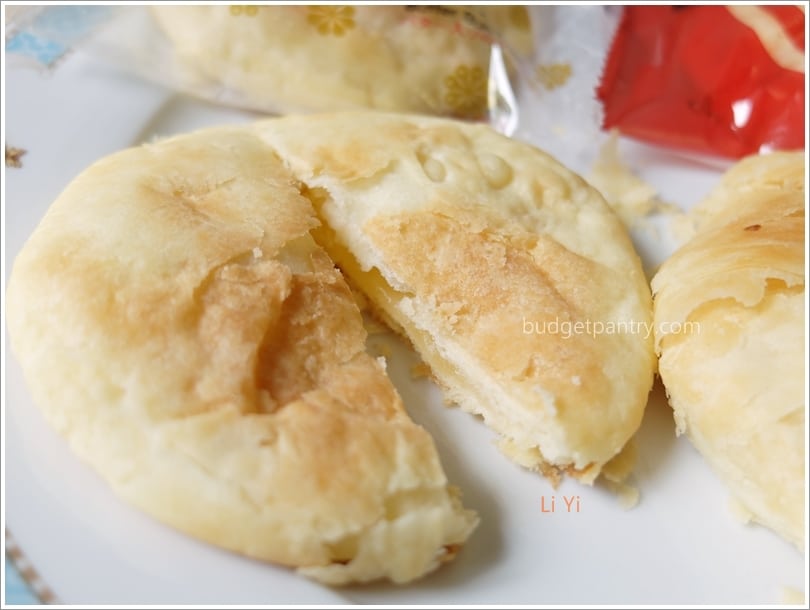 From the packaging, I would expect Li Yi's to be very buttery as its smaller size actually yields more calories than Chia Te's!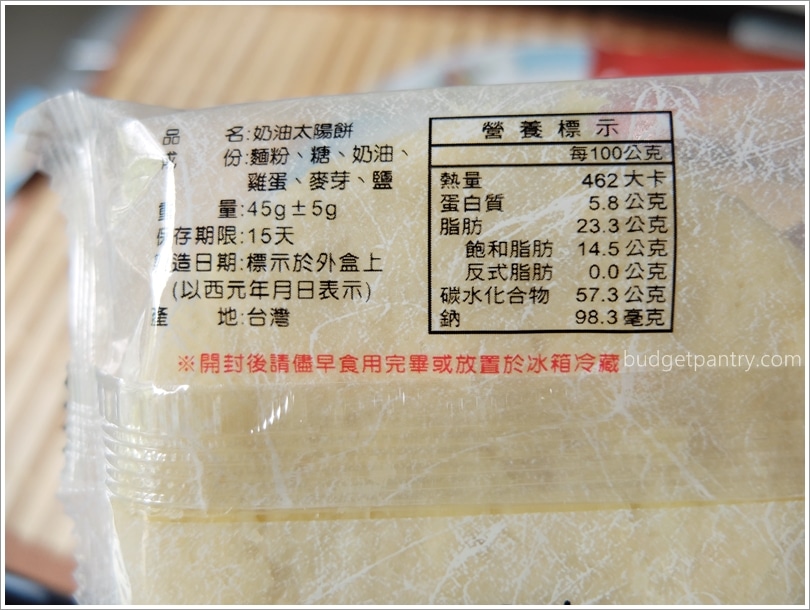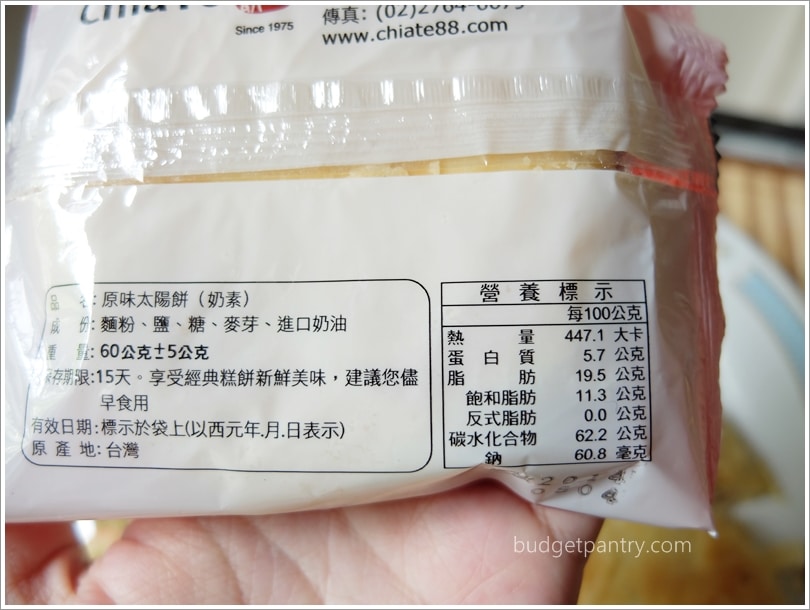 Here's a close up of the inside:
We did the same blindfold test, and again both of us preferred Chia Te's, which came as quite a surprise because I am very biased towards butter. On another note, between Chia Te's Sun Biscuits and Chia Te's Milk Biscuits (not reviewed here because I only bought one to try and I ate it on the plane), I prefer the Milk Biscuits. I found Li Yi's malt filling a little too sweet, and I enjoyed the flaky pastry of Chia Te's version. My 75 year old aunt prefers Li Yi's version though, much much more than Chia Te's, because it is softer. Quite comparable these two.
I hope this helps you decide which brand to buy (or buy more of!) when you go to Taipei the next time!
Store locations:
Chia Te Bakery
Website: http://www.chiate88.com/
Address: No. 88, Section 5, Nanjing East Rd, Taiwan 105 (105台北市南京東路5段88號)
Li Yi Cake Shop (Taipei Outlet)
Website: http://www.lecake.com.tw/
Address: Taipei Main Station, Underground Mall, Unit 11-2B, near Z3 and Z6 exit (台北站站前地下街11-2B)