Giveaway + Recipe! Teriyaki Chicken Skewers with Lee Kum Kee Teriyaki Marinade
[Giveaway below!]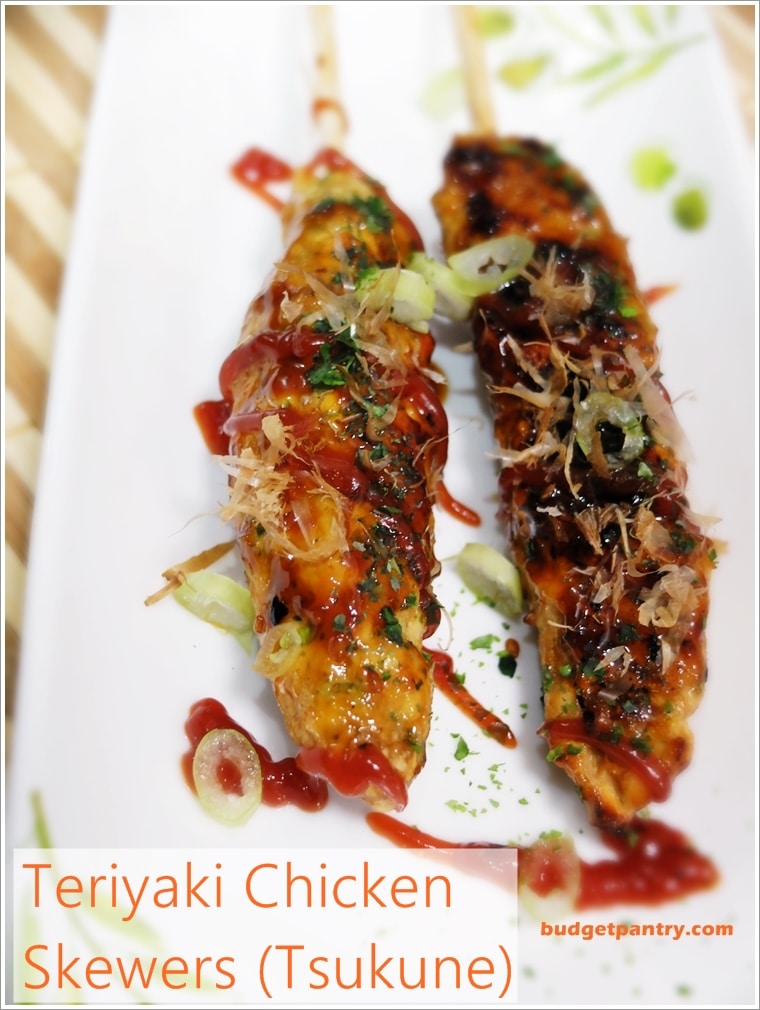 Quick dinner! These chicken skewers were done in all of 20 minutes including preparation.
The husband works on shift, so he comes home at weird timings all through the day (and night). I kinda prefer it if he comes home around 8+ so that I have time to cook, but I kinda not prefer it because it means less time spent together, so I'd say I kinda prefer it only when I'm in the mood to cook.

Today's one of those days. I haven't cooked anything different for a while now. My original plan was to use up my last few strips of chicken fillet in a claypot ee mee, but I opened my refrigerator and saw the NEW Teriyaki Marinade Lee Kum Kee sent over a few days ago. I want to make something with this sauce!
Using it as a glaze over roasted chicken fillet sounds a bit boring. so I decided to make chicken skewers, Japanese style. Kaypoh Aegon popped into the kitchen while I was laying the skewers on the Airfryer grill pan:
Aegon: "Whacha doin' Yayaya?"
Me: "Fixing dinner! What do you think I'm making?"
Aegon: "Hmm.. SATAYS!"
Then he skipped off to the living room and continued watching his TV while calling out for "Yayaya!" every three seconds. I love that kid.
Because I only had chicken fillets, I minced them by slicing and chopping repeatedly with the knife. You don't even need a food processor. Of course, you don't have to do this if you already have minced meat to begin with. And now I'm gonna tell you how to make this!
Teriyaki Chicken Skewers with Lee Kum Kee Teriyaki Marinade
Serves 2 as part of a meal: Makes about 6 skewers
Total cost per serving: $0.90
What I used:
240g minced chicken
1 tablespoon Lee Kum Kee Teriyaki Marinade
1 tablespoon light soy sauce
1 teaspoon garlic
3 pieces plain cream crackers, any brand, crushed
1 small egg
Chopped spring onions
You'll also need food-grade skewers or better quality disposable chopsticks x 6
For garnish: dried seaweed flakes, tomato ketchup, bonito flakes
For the glaze (combine together):
2 tablespoons Lee Kum Kee Teriyaki Marinade
2 tablespoons Mirin
Steps:
1. Soak your skewers in tap water.
2. Combine all ingredients except glaze and mix well.
3. Portion out the minced meat mixture and wrap around each skewer.
4. Brush on glaze, airfry at 180C for 3 minutes, turn over, brush on glaze generously, then continue to airfry for another 4 minutes til cooked. Brush with more glaze in between cooking if necessary. Alternatively, you can cook these in a frying pan or oven.
5. Garnish with a squeeze of tomato ketchup, a sprinkle of dried seaweed, chopped spring onions and bonito flakes.
How much I spent:
$1.80 for chicken fillets (I get about 20 fillets for $5.90)
Everything else from my pantry

And now for the 3-DAYS-ONLY-GIVEAWAY! Lee Kum Kee has prepared 3 mini hampers for budgetpantry's readers which includes their brand new Teriyaki Marinade, LKK's XO Sauce, and tomato ketchup in a cutesy, squeezable bottle.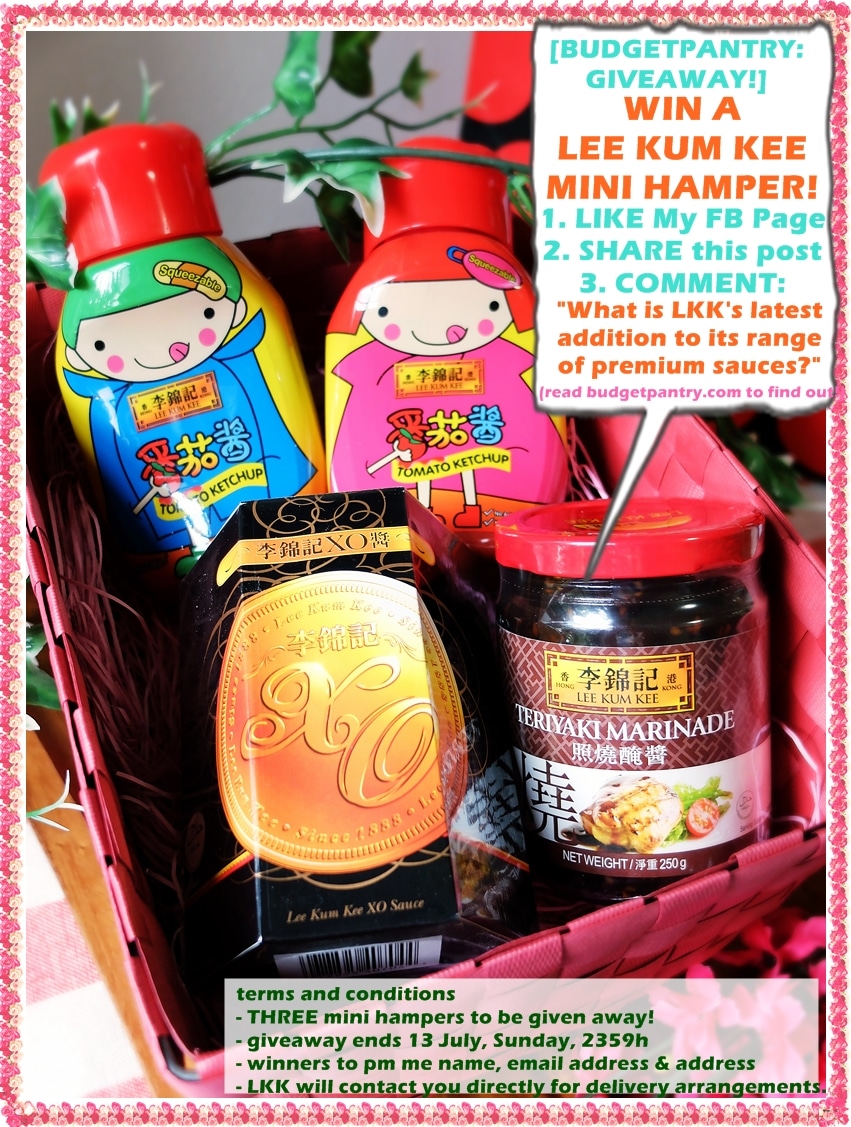 All you need to do is:
1. "LIKE" my Facebook page at: https://www.facebook.com/budgetpantry
2. "SHARE" the Facebook GIVEAWAY post and be sure your SHARE settings are set to "PUBLIC"
3. "COMMENT" in the Facebook post with your answer to this question: "What is Lee Kum Kee's latest addition to its range of premium sauces?"
General terms and conditions:
Open to readers with a SG address. For other t&cs please refer to what's stated on the picture above.
GOOD LUCK!