Typical meals for my 11-month old: basic preparation tips and menu ideas for baby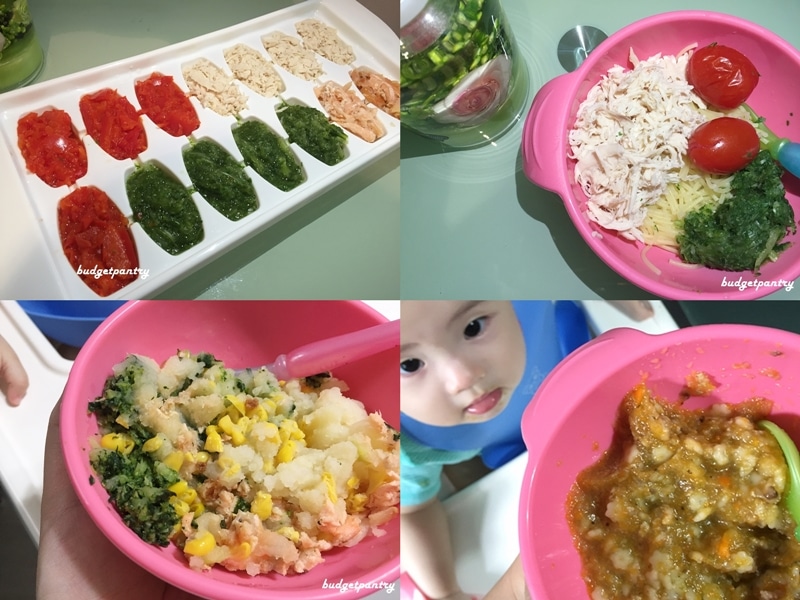 Question: As a full-time working mom with no helper, how do you ensure that cbb gets a nutrient-packed dinner every day?
Answer: I prepare her food in advance and freeze them.
Are you surprised that I don't cook from scratch? It's perfectly fine to freeze certain cooked baby food as long as you defrost and handle it properly. It's really impossible for me to cook fresh every day after getting off work, picking her up from school and reaching home at 6+. I have 1.5 hours to get everything settled before her bedtime! And by 'everything' I mean feed her dinner, cook dinner for the family, shower (myself), wipe her down and prepare her milk before she conks out at 8pm SHARP every day.

So I do my best. I would rather give her a variety of things to eat than none at all (or worse, give her plain cereal everyday). She really loves to eat! Snack time at The Coffee Bean the other day: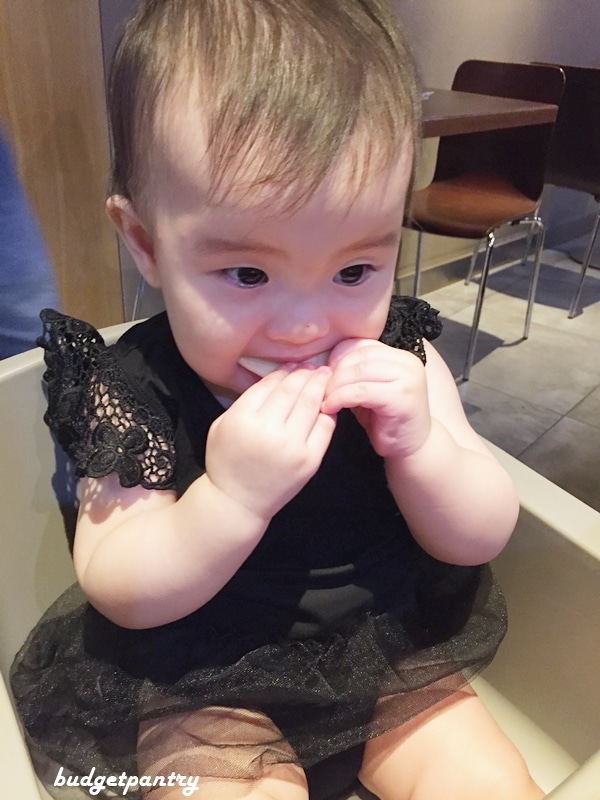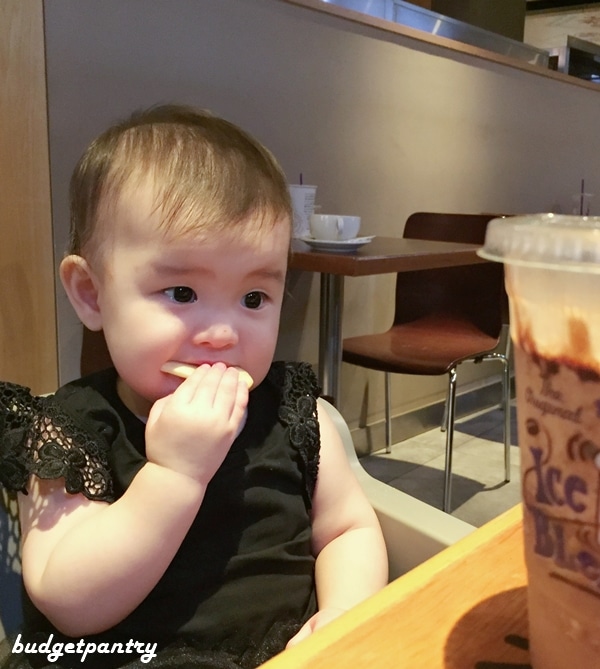 Sometimes when she can take the family dinner I prepare (like old cucumber chicken soup, pork rib soup, etc), then she eats fresh. Or like last night, fried bee hoon was on the menu for Jason, so after soaking the brown rice bee hoon, I took a portion to cook for cbb first before settling Jason's dinner. The bee hoon makes up the 'carb' portion of her dinner. Cbb loves char bee hoon!
Typical meals for my 11-month old
Her meals are usually made up of: A carb + a vegetable base + a vegetable + a protein
What do I mean? Some examples:
A carb: mashed potato, barley cereal, oatmeal, porridge, sweet potato, pasta, brown rice bee hoon. I give her approximately 2 ice cubes worth of this but most of these like cereal, oatmeal, porridge, pasta, bee hoon shouldn't be frozen. It's really quick to prepare them fresh. You can freeze potatoes no prob.
A vegetable base: puréed pumpkin, carrots, butternut, peas, eggplant, zucchini, onion. 1 ice cube worth.
A vegetable: broccoli, cauliflower, spinach, peppers, corn, chye sim – steamed and pulsed once or twice/chopped roughly for texture. 1 ice cube worth.
A protein: chicken, fish, pork, beans, tofu. 1-2 ice cubes worth. Or an egg.
Mashed potato, salmon, corn and spinach: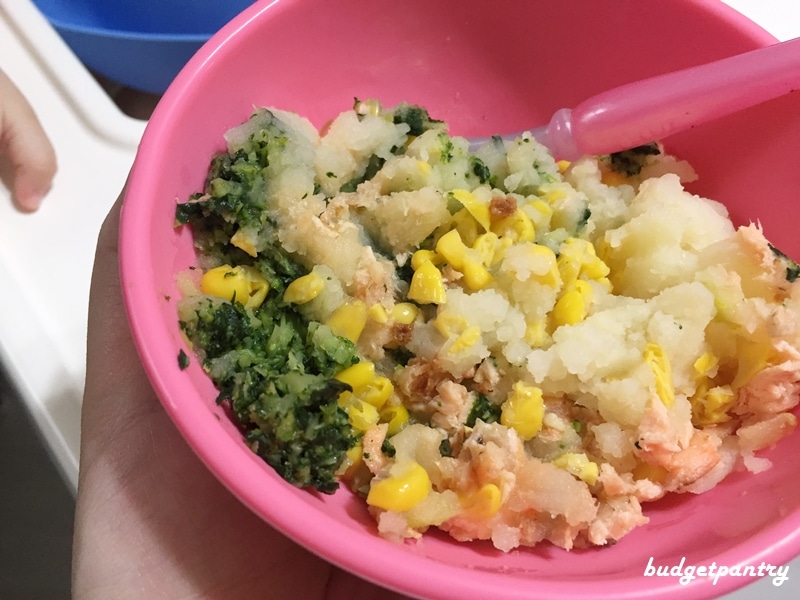 Pasta, minced meat, pumpkin & carrot sauce: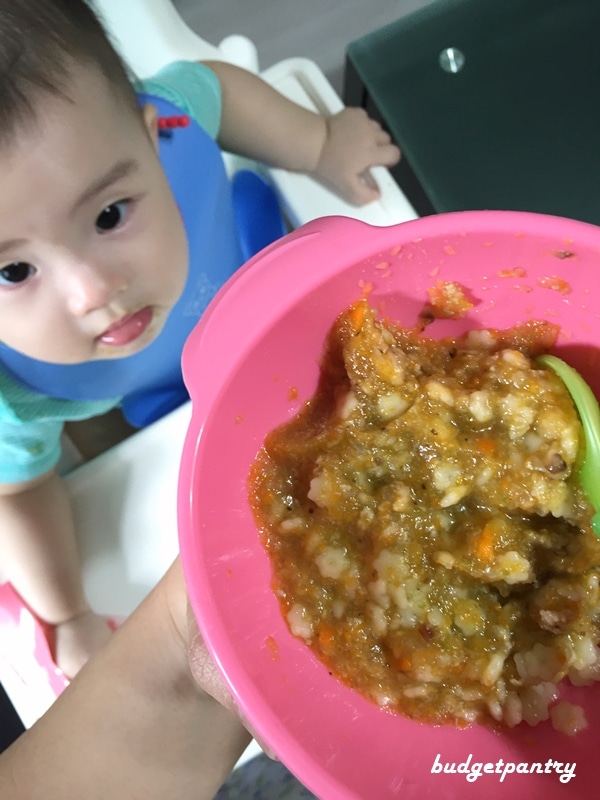 Porridge, salmon, purple cabbage, yellow capsicum, carrot: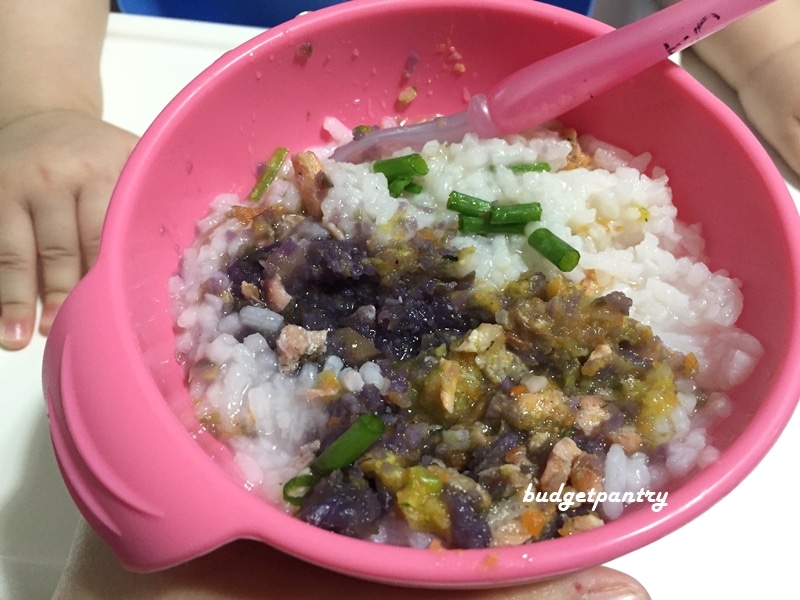 Angel hair pasta, shredded chicken, tomato and xiao bai cai (I added some water to this):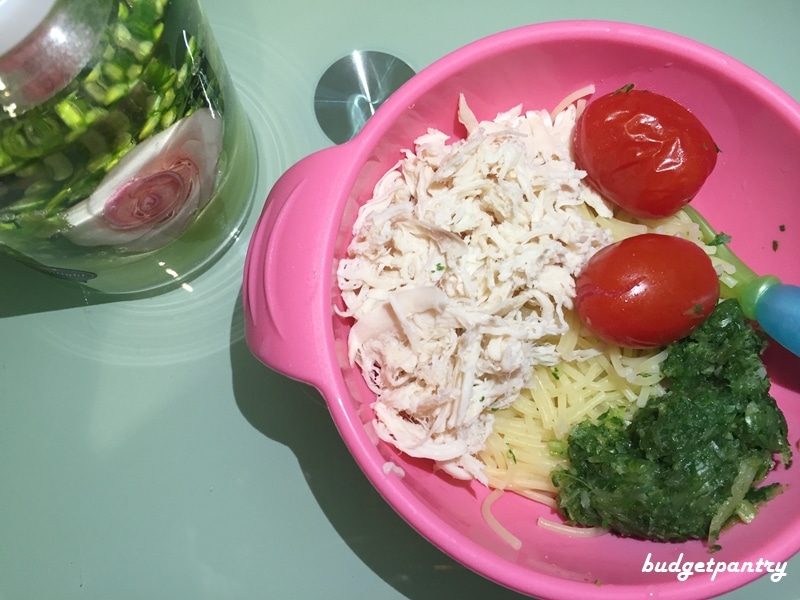 The serving size is approximate. For cbb who's 11 months old, all the ingredients end up filling about 3/4 of or 4/5 of her bowl. But it really depends on your baby. You can adjust these ideas and textures to suit your baby. See what it was like for cbb when she just started on solids. Just smooth and puréed fruits and vegetables.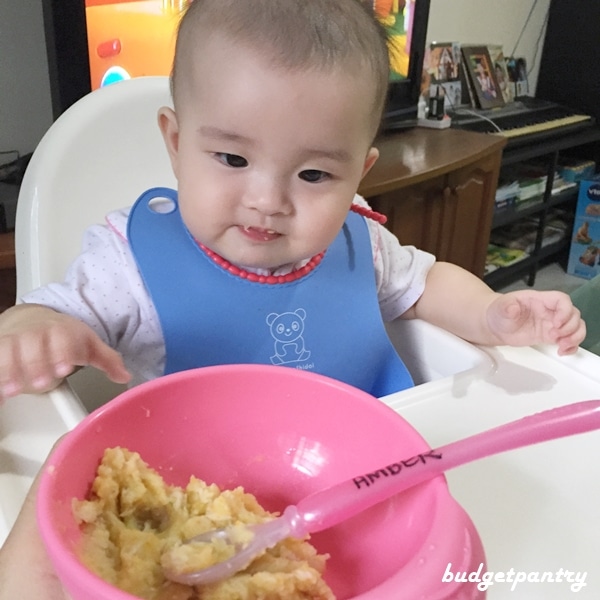 Their appetites can vary at different times of the day. Some can take food with more texture, some can't or don't like them. Some babies just don't like to eat. So this is what I'm feeding cbb, it doesn't mean it will be the best for you. So just take this as a guideline!
Ok so you freeze these, then how do you defrost?
This is a basic question but I was looking for the answer too when I first started. After preparing the different food (I make a variety each time using my Phillips Avent 4-in-1 baby food maker), I freeze them in baby food trays or mini containers.
The night before, I remove 1 cube of vegetable base, 1 cube of vegetable and 1-2 cubes of meat and transfer them to a lidded container. I then leave this in the normal section of the fridge and it will be defrosted by the time I come home. At cbb's meal time, all I need to do is heat it up by steaming or on the stove top. If potato/sweet potato is in the menu that day, you don't even need to prepare her carb separately that night. If serving pasta, bee hoon, cereal etc, I prepare them fresh in 5 minutes, then mix in the ready (and heated) ingredients.
Other types of food
One important thing to mention: there's no need for 'special' baby food. Everything that she eats, we eat. So there's no food wastage.
I do give cbb other formats of food. I say 'formats' because the ingredients are essentially the same. It's just presented differently so it's more interesting for her. Isn't that the case for us adults too? :) Some examples:
Salmon patties – potato (carb), peas and carrots (vegetables), salmon (protein). I airfry these.
Pancakes (usually for breakfast) – banana, blueberries, oats, egg. Make a batter and pan fry.
Pasta bolognese – spirals/macaroni, tomato puree, minced meat with garlic and crushed herbs.
Scrambled eggs and toast – egg, chopped spring onions, multi-grain bread
I love it that at this stage, she's quite experimental in her food. She loves trying new things. Even if she doesn't like the texture or taste of something at the first taste, she picks it up again later on to give it another chance. You should have seen her face when she self-fed herself blueberries (cut them!) this morning. And she picked them up again halfway through her scrambled eggs.
About self-feeding
The patties and pancakes are torn into baby-sized pieces for her to self-feed. And she's really good at it. See her feed herself banana and oatmeal pancakes for breakfast:
She started with traditional weaning, so up to 9 months, she has only ever eaten with a spoon. When I was doing an advertorial for Gerber puffs, I realised that she cannot associate things that she picks up as 'food'. She pincer grasps a Gerber puff and started banging it on her tray. Or she will open her mouth and expect me to feed her. And she got frustrated when she can see but cannot eat. Haha.
I got around it by quickly bringing her hands to her mouth once she has grasped the puff. This makes her realise that, 'oh, I can actually taste this food if I do this.' It took a few practices, but she quickly learnt how to self-feed. So her self-feeding journey began with Gerber puffs. #TrueStory. Even though it is a lower-in-sugar product, I still limit her intake. You can use plain baby rice crackers if you prefer. All these things don't have much nutrients but they make good practice food.
For me it was easier that the first thing she fed herself with was dry (so it doesn't stick to her hands and mission fail) and dissolved readily in her mouth. And I encouraged her a lot! Once she managed to feed herself the first time, I clapped and encouraged her to do it again. She beamed at me when she succeeded again. And I told her she was awesome over and over.
And so…
Preparing food for your baby doesn't have to be a chore! What has really helped me: a nifty food maker that allows me to steam and blend/pulse all in one machine. Control the blending time so you can use it in different stages of your baby's growth – pureed at the start, and chunkier later on. I just have to wash one thing, and being a ftwm who cooks everyday, I'd do ANYTHING to save any little bit of effort. You want me to wash a wok, the lid, the plate, the steamer rack, the blender parts on top of doing the other 163678120 things a mom does? No thanks man I cannot.
Read more about the food maker that I've been using since she was 6 months old. I also use it to make food for adults too (mashed potato, potato salad, steamed vegetables for my lunchbox….)
What about you? How are you managing meal times for your baby? (this is NOT a sponsored post!)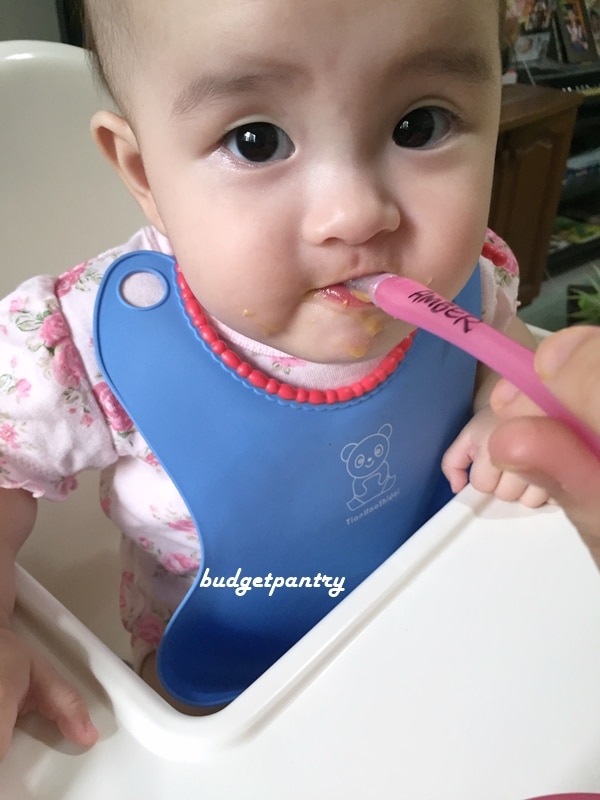 If you like my posts and updates, or would like to be informed of baby/cooking-related giveaways and promos from time to time…..
Like my Facebook page or follow @budgetpantry or @chuabeebee on Instagram! Yes, I just started an Insta account for CBB too!