Chinese New Year Cookies: Hougang Nonya Kueh :)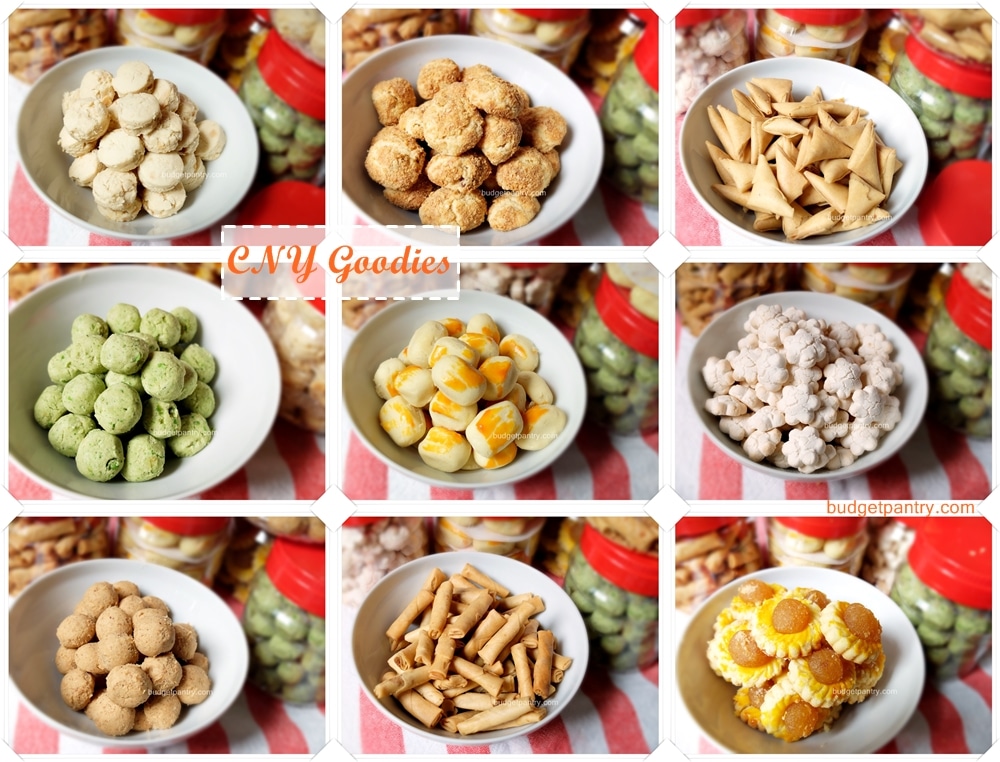 Disclaimer: Not a sponsored advertorial. I'm writing this because I love Hougang Nonya Kueh's yummy bakes, the people behind them, their 30-year tradition and the passion they have in continuing their family business!
One of my friends offered me a pineapple tart on Wednesday, and after popping one in my mouth, I demanded that she show me the box! The box was nothing fancy.. just a regular old-school plastic container with red lid (no printing of shop name, even!), but the pineapple tart was something else.

The pastry was buttery and crumbly and the pineapple paste was neither too sweet nor too tart. It is one of the best pineapple tarts I have eaten.. and boy do I love pineapple tarts! I later got to know that the tarts (actually 'rolls', as they have another type of pineapple tart which is open-faced) are from Hougang Nonya Kueh, a local family business that has been around for over 30 years. I have to be honest and say that as a 'Westerner' (I am a Clementi kid who now live in Bukit Batok, hang out in Jurong, and work in Boon Lay), I have never heard of them before. What have I been missing out! Hougang folks must surely know about them! And again I am convinced that all good things happen in Hougang ;)
A little bit of history on Hougang Nonya Kueh…..
Hougang Nonya Kueh is actually quite a well-known name in Singapore, having been featured in the papers and by MediaCorp recently in 2014. They used to be located in this industrial factory in Ang Mo Kio before the government decided to relocate them. They moved to Hougang Ave 8 Blk 678 which their retail shop still stands now. In 2009, they set up Full House Confectionery to cater to the online crowd. Full House Confectionery serves mainly baby full month packages, mini buffet catering and wedding 'Guo Da Li' customers. Watch the interview with MediaCorp below to know more about them!
Now into their 3rd generation, the young bosses still make it a point to go hands-on and bake and pack their items on the very morning before sale or delivery. All their food items do not contain any preservatives so they make them on the day itself. Stephanie shares with me that their day starts at 2-3 am in the morning and their working hours can end at 5-6 pm. It is at least 16 hours of work every day, and during peak season, sometimes they have to be on the ground 24 hours a day. Now this is what I call dedication! And on a sidenote, Stephanie also answers emails really quick, like she is on standby to provide the best customer service and answer your questions. She makes me wonder if she is superwoman in disguise?!
And now, I know you want to know more about their bakes. Let me highlight the nine popular types of Chinese New Year goodies they are selling in their store (p/s- Read til the end of the post to get a 2-for-1 promo!):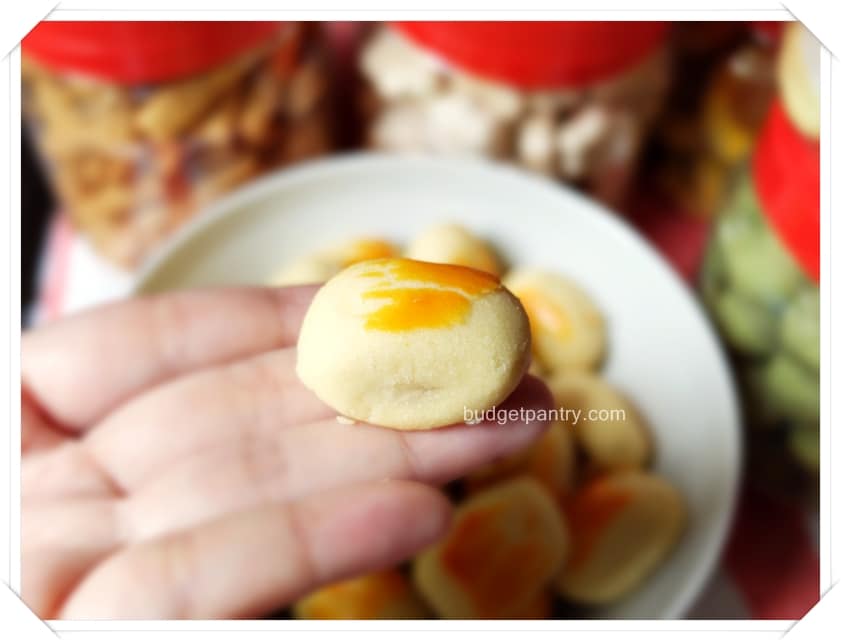 These melt-in-the-mouth pineapple rolls are made small so that you can pop the whole thing into your mouth and savour and fine, buttery goodness together with the pineapple filling. They make their pineapple paste by cooking fresh pineapple from scratch, never using premix. Very soft and almost ethereal! This was what blew me away!
2.Pineapple Tarts, $15.80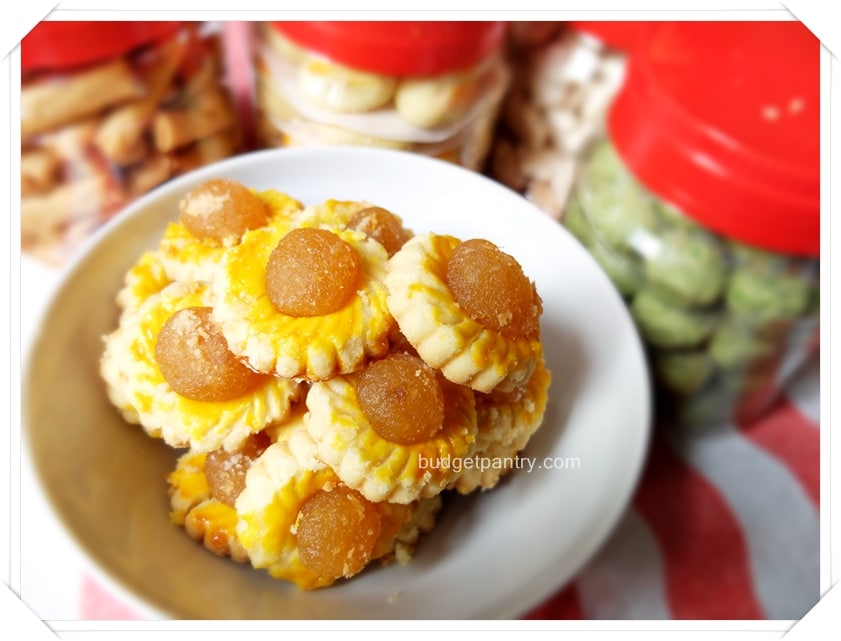 These are almost the same as the pineapple rolls, but less melty. The pastry is made from pure SCS butter. That explains the buttery fragrance and crumbly texture.
3. Cashew Nut Cookies, $15.80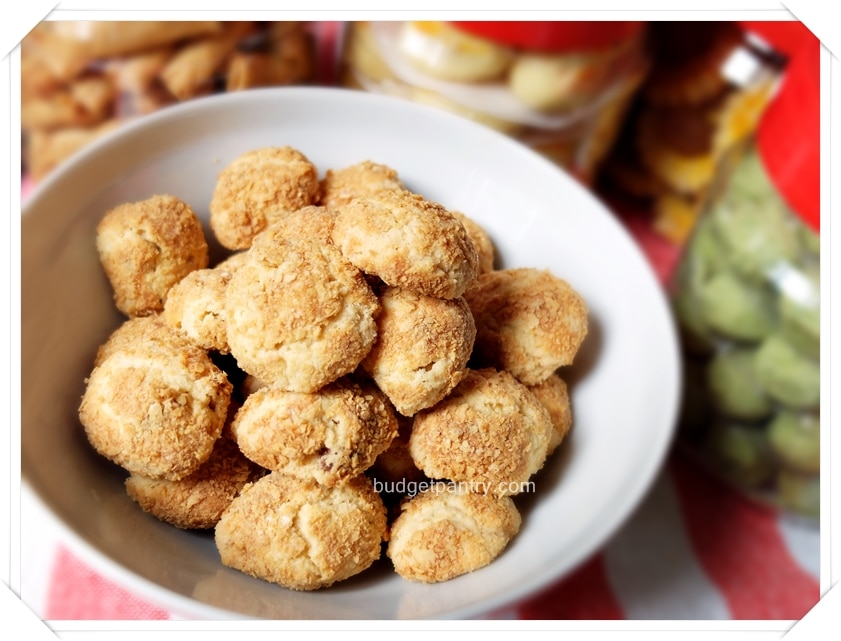 You know the old-school cashew cookie with a cashew nut (or half a cashew nut?!) pressed on top? I love those! Stephanie says that the traditional cookies are made a little different this year. The cashew nuts are crushed and mixed into the batter before shaping. The result: crispier cookies with a whole new look. Quite yummy!
4. Melting Almond cookies, $16.80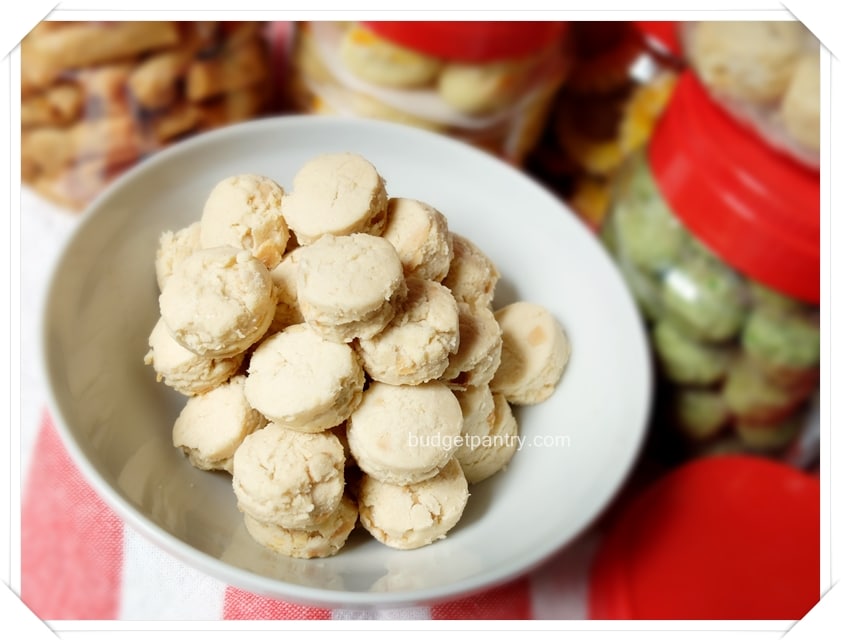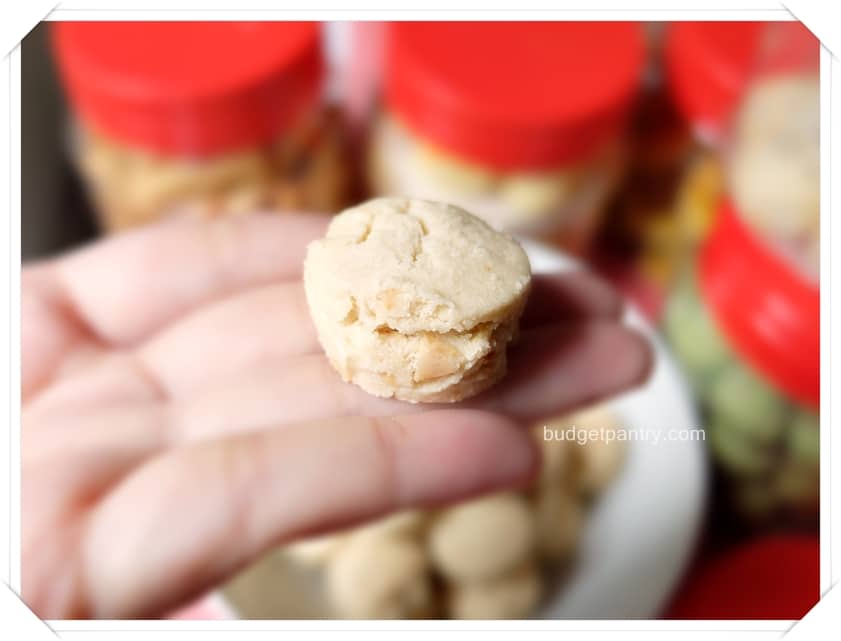 As the name implies, these almond cookies melt in your mouth.. I can testify! Many, many, MANY of them have melted in my mouth! LOL! The almond nuts are imported from the US to make these little cookies.
5. Peanut Cookies, $15.80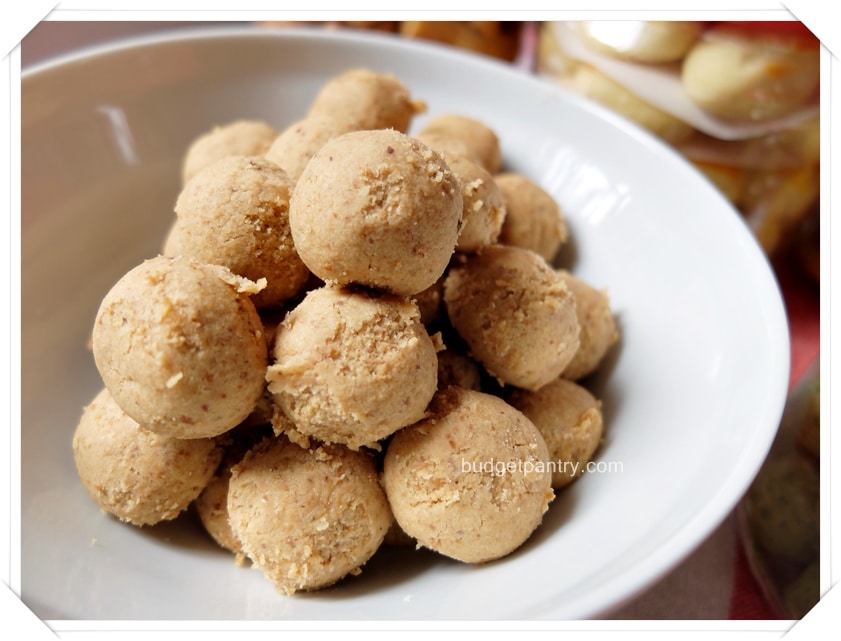 Quite simply, these cookies never go out of date. Old-fashioned, just perfect for the oldie-at-heart that I am.
6. Green Pea Cookies, $15.80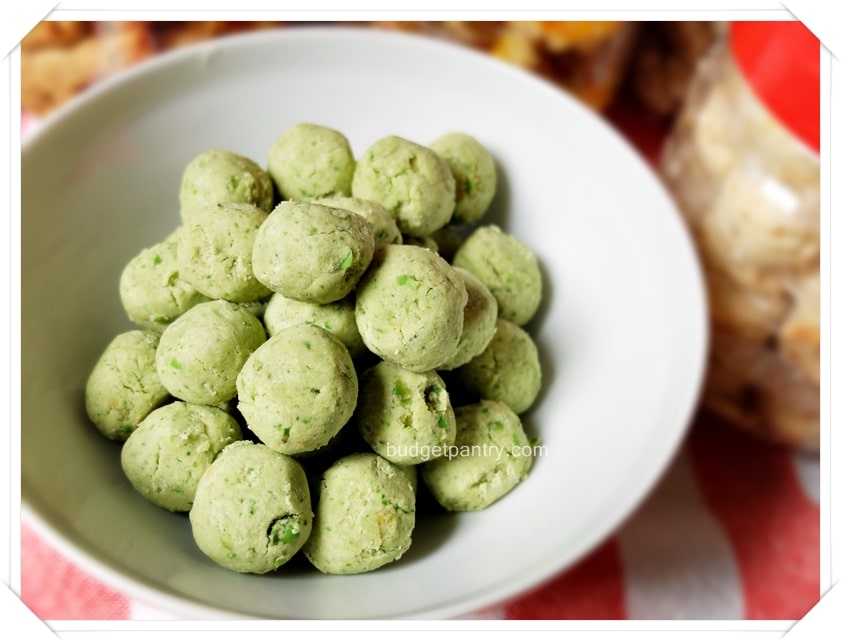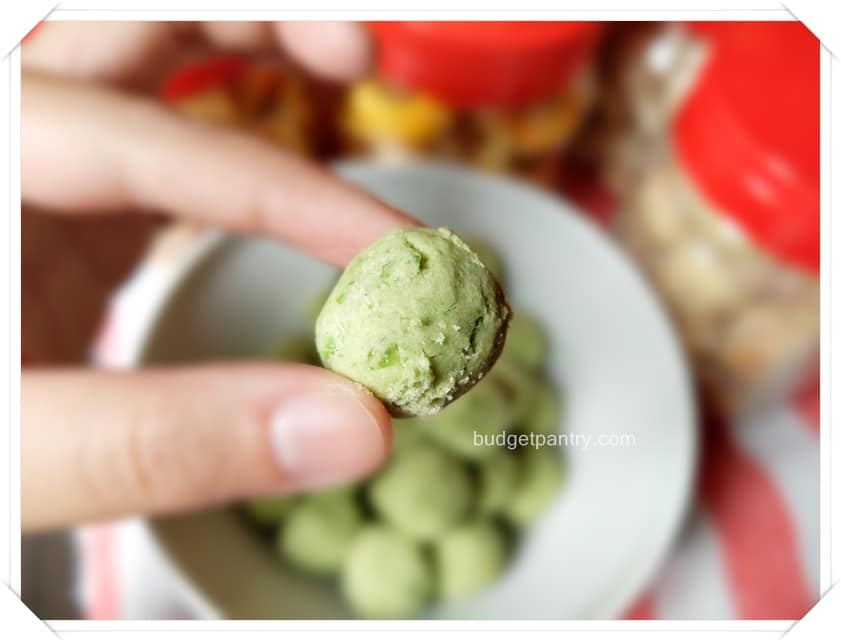 If you're don't have a sweet tooth, you'll love these savoury treats which are just a little salty. I was contemplating making these myself this year but now I don't have to! These are very good!
7. Kueh Bangkit, $16.80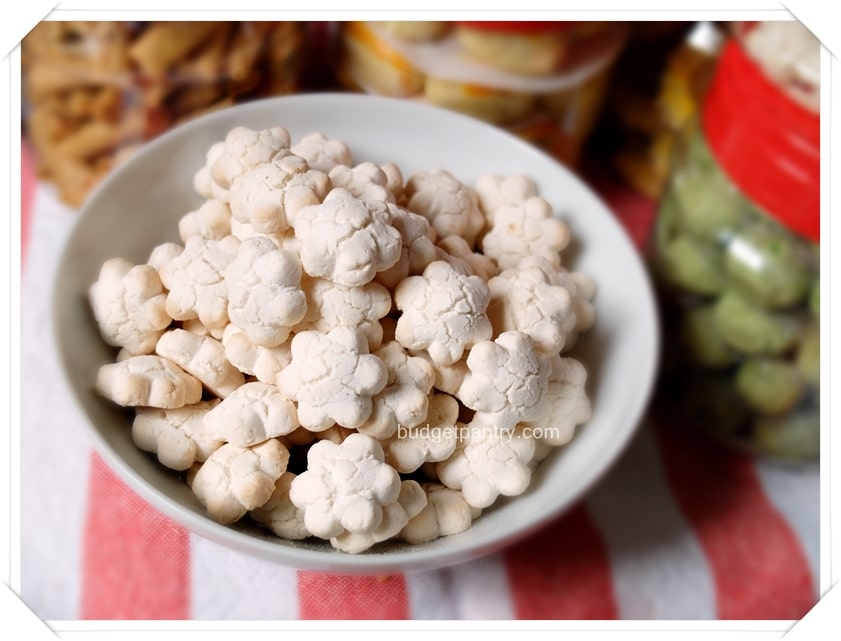 Kueh Bangkit is 88's favourite! I didn't know that for the best melt-in-your-mouth experience, it is recommended that you eat them about two days after baking (as Stephanie puts it, let them '出油' to taste nicer!). 88 is hoarding this bottle. I don't know if I can lay my hands on them.
8. Spicy Shrimp Rolls, $16.80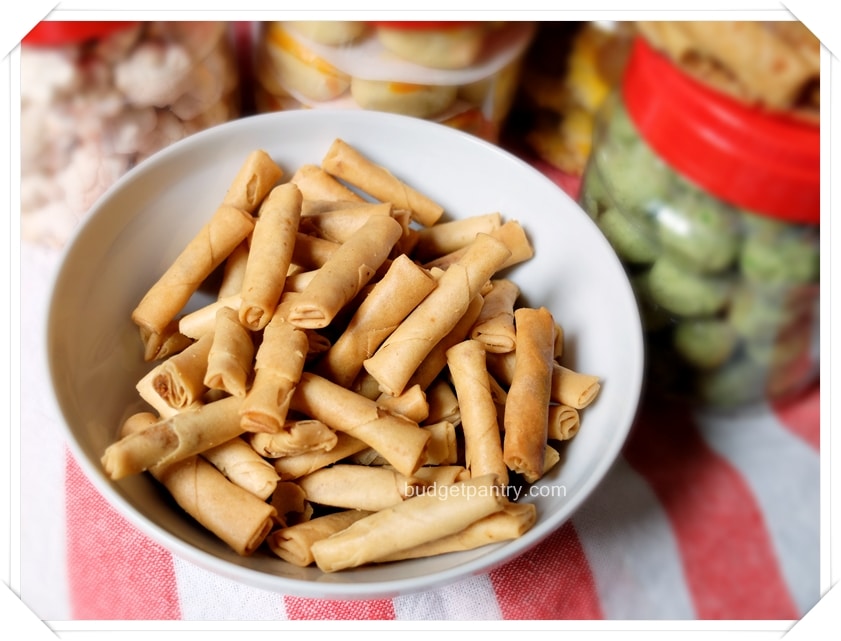 The spicy shrimp is fried with a secret chilli recipe. Their version does not have a lot of chilli oil which will turn bad after a while and also make the whole roll look messy. Now this is Ah-mm's favourite. She says the chilli is just right. When I passed her some to try, she was busy snacking on Bee Cheng Hiang's! She compared the two and said, 'Eh, 不错咧!好吃咧!' Then she put the Bee Cheng Hiang bottle away. What!
9. Chicken Floss Samosa, $16.80
This is a hit with young children and one of their top selling products. They get the chicken floss from Bee Cheng Hiang and then improvise on them.
And now for the promo! From now til 15 February, Hougang Nonya Kueh has a tie-up with Groupon to offer $15.80 for 2 jars of pineapple tarts, plus more options to choose from. $15.80 for TWO JARS!! They even do free delivery with a minimum order of 8 jars. For once, you can trust that this isn't some dodgy redemption from Groupon. I have tasted these cookies and have personally come into contact with Stephanie (eh by the way she says she read my website before leh, I am so stoked. LOL!). They won't do anything to jeopardise a 30-year-old business. Click here for the deal and email sales@full-house.com.sg if you have any questions!
This is one of the happiest blog posts I have written. I hope you support Hougang Nonya Kueh because they have really put in a lot of hard work and sweat these 30+ years. And as Singaporeans, if we don't preserve our heritage, no one else can do it for us. Thank you Stephanie and family for your passion in carrying on the business!
Hougang Nonya Kueh
Blk 678 Hougang Ave 8
#01-517 Singapore 530678
Website: http://www.full-house.com.sg