Homemade Yong Tau Foo 酿豆腐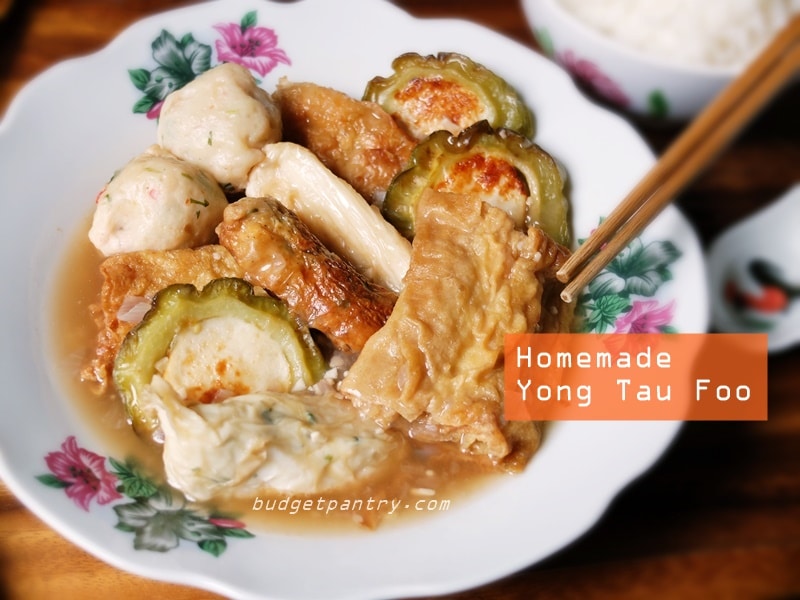 Yes, I still have the 闲情 to go make yong tau foo from scratch! Yong tau foo is a big part of my diet because I love to deceive myself just how healthy it is! It is healthy if you choose the fresh ingredients like broccoli, xiao bai cai, seaweed, tomato, lady's finger, and maybe add a dumpling or two, but it is NOT healthy if you order alllll the deep fried stuff and eat it with curry gravy!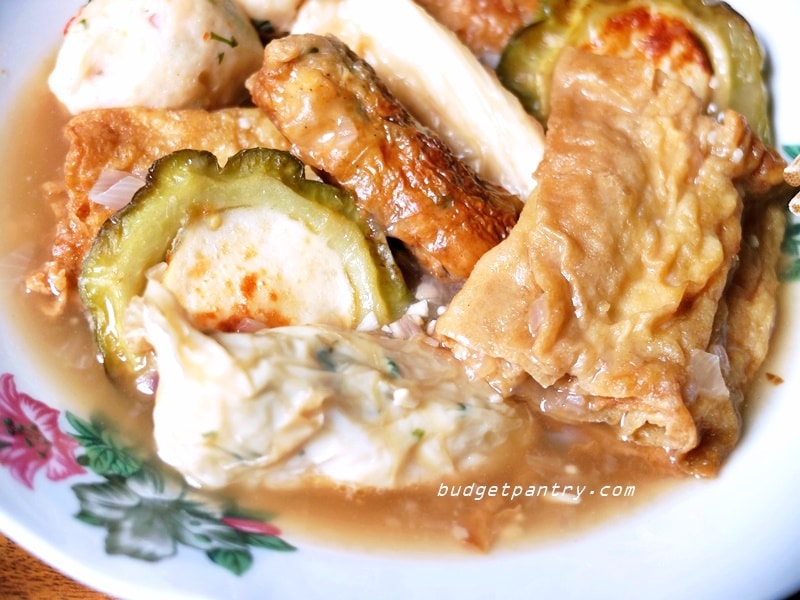 But that's just the way I like it! Apart from curry or laksa gravy, I also really like the gravy of Hakka Yong Tau Foo. I am hesitant to call this recipe 'Hakka' YTF because all the versions I've eaten before outside are stuffed with a mixture of minced meat and fish paste, but I only used fish paste and salted fish for mine. Can someone tell me more about authentic Hakka YTF? The gravy is quite close to what I've tried though. Shiok with ladled on top of all those (air) fried stuff!
The 'tedious' part is in making the fish paste mixture, but if you have a food processor, just chuck everything in and 80% of the job is done for you. Then it is just a matter of stuffing your vegetables or wrapping the bean curd skins. I airfried my ingredients (except the fish balls and fresh bean curd skins, which I boiled) after brushing with a thin layer of oil, but of course, you can also deep fry.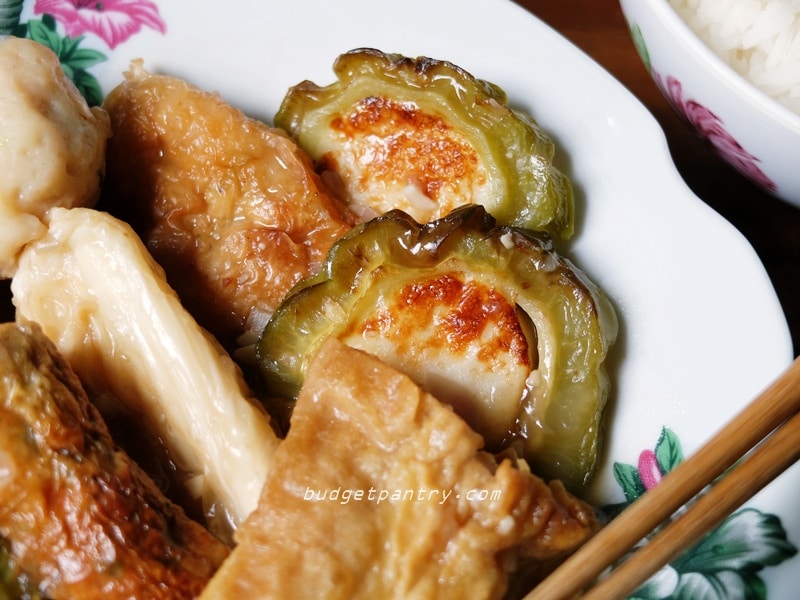 Let's see if I have the time (or the energy) to make this again before Chua Bee Bee comes out! I want to make a version with fish, pork belly and salted fish!
Homemade "Hakka" Yong Tau Foo
(budgetpantry.com)
What you need:
600g fish meat (I use mackerel fish)
10g salted fish
2 cloves garlic
Sprig of coriander (optional)
1 teaspoon sugar
Dash of white pepper
(To wrap) Few pieces bean curd skin 腐皮 (you can combine fresh and dried ones for variety)
(For stuffing) Any type of vegetables you like: bittergourd, lady's finger, eggplant, tofu puff, chilis, tau kwa, etc
For the gravy
1 clove garlic, minced
1 tbsp oyster sauce
1 teaspoon fermented bean paste
1 teaspoon sugar or to taste
Dash of white pepper
200ml water
2 tablespoons cornstarch solution
A little oil
Steps:
Clean mackerel and remove skin. Scrap the meat off the bones so you end up with only the fish meat. You can ask your fish monger to fillet the fish for you, which will make things easier.
Chop the fish meat roughly till it resembles a sticky paste. Add a dash of white pepper to the fish paste. Add the coriander, salted fish, garlic and sugar. Continue to chop till everything comes together. Add some water if too dry. You can also do this in a food processor.
Now to stuff and wrap. Slice up the bittergourd, remove seeds and stuff fish paste in the middle. I didn't use lady's finger/eggplant etc, but if you're using, make a slit in the middle and stuff with fish paste, taking note not to over stuff. You can make some into fish balls too.
To wrap, use a piece of damp cloth (wet with hot water) to wipe of excess salt on the bean curd skin and to soften. Place fish paste near the top and start rolling/folding, tucking in the sides as you go along.
When all vegetables and bean curd rolls are done, deep fry or air fry at 180C for about 10 minutes till done.
To make the sauce, heat up the oil and fry garlic. Add the bean paste, oyster sauce and water. Bring to boil, then add sugar and pepper. Add the cornstarch solution to thicken.
To serve, simmer all the ingredients in the gravy or simply ladle gravy over the prepared ingredients. Enjoy!