Vietnamese 'Bo Kho' Minced Meat Noodles
One of the most amazing trips I have ever been on was to Ho Chi Minh City, Vietnam, when I was 24. My best friend and I travelled together—two girls without a lot of money and nary a sense of fear or awareness. I remember one night when we wanted to go to a hip district with all the nice bars, cafes and specialty shops. We took a taxi. 'It says 15 minutes max with no traffic.'
We hopped into this taxi near our hostel (US$9 a night) and pointed to our destination on the map. The driver nodded and drove off. 40 minutes later and we were still in the car. It was pitch dark outside but whenever he drove by a street lamp (there was probably one isolated flickering lamp every five minutes), we could make out some paddy fields of sorts. 'Ok, this was not what we signed up for,' we both murmured. For the first time in a long time, we started to panic. We tried to ask the driver if he was going the wrong way, but it was pretty obvious English wasn't his first language. Thinking back, he probably couldn't even read our destination on the map!
He continued driving for another ten minutes before stopping in what seemed like a local wholesaler district and insisted we get out. The place was dingy and dark, with locals going about pushing barrels of fish, chicken, innards.. you know, rustic stuff. There was no way that this was the hip enclave we had intended to go. We tried desperately to get a taxi but in a place like this, everyone had their own transport. Thoughts raced through my mind: Could we even get back? What if we met bad people? And who the hell speaks English?
It took us close to an hour wandering the streets before spotting an empty cab which finally took us where we wanted to go. We lucked out—the first driver didn't drive us to our destination but he was not a bad person. What if he had ill intent? I always relate this story to young people in my country who are just starting to travel—to remind them to never take safety for granted.
And when we finally settled for dinner at a beautiful café, I craved something comforting, homely and delicious. I immediately ordered Bo Kho (stewed beef with tomato and lemongrass), served with a crusty baguette (Vietnamese baguette is phenomenal!). The bestie and I gobbled it down in five minutes flat.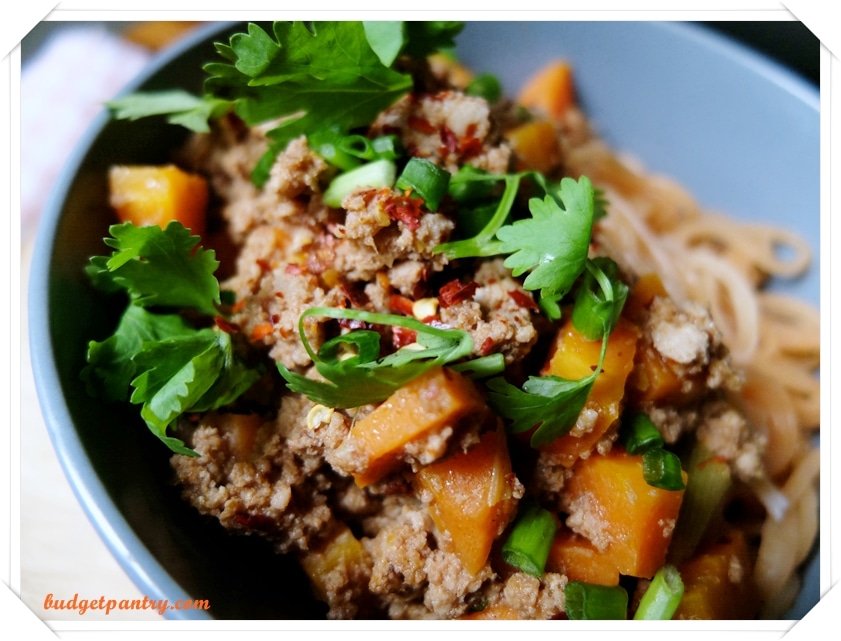 From then on, Bo Kho has always been that wee bit special to me. So when WORLDFOODS invited me to take part in their International Fusion Recipe Swap and sent me a selection of Asian sauces, I knew that I needed to cook something with their 'Vietnamese Five Spice 'Bo Kho' Stir-Fry Sauce. I made a simple minced meat and carrot stew topping to go with my home made tomato noodles. The tomato-based sauce is fragrant with lemongrass, onions, gingers and chilli with heady notes of spices. I mixed everything together—the topping, garnish (coriander and chilli flakes) and noodles—and enjoyed slurping up every slippery strand. I made my noodles from scratch with tomato juice and flour using the Philips noodle maker. You can use any noodles or even pasta of your choice. I loved how easy it was to put this together. I hope you like it too!
*** *** *** *** ***
WORLDFOODS sauces are available worldwide, with a different selection available in each country. To find out the selection of sauces available in your country along with stockist details please visit: http://www.worldfoods.com.my/wf/where_to_buy/index.php
Vietnamese 'Bo Kho' Minced Meat Noodles
Serves: 2
What you need:
1 bottle WORLDFOODS Vietnamese Five Spice 'Bo Kho' Stir-Fry Sauce
200g noodles
200g minced meat (pork or beef)
1 carrot, cubed
2-3 cloves shallots, smashed and minced
1 teaspoon Worcestershire sauce
3 tablespoons water
1 teaspoon olive oil
Fresh coriander
Dried chilli flakes
Steps:
Heat up the oil and fry shallots til fragrant but not brown.
Add the carrots, bottled sauce and Worcestershire sauce. Cook til carrots are tender.
Add the minced meat and cook for another ten minutes.
Add the tablespoons of water if it becomes too dry. In the mean time, cook your noodles according to package instructions.
Spoon meat mixture over noodles, top with coriander and chilli flakes and serve.