WORLDFOODS International Fusion Recipe Swap Challenge: Spicy Beef Cobbler!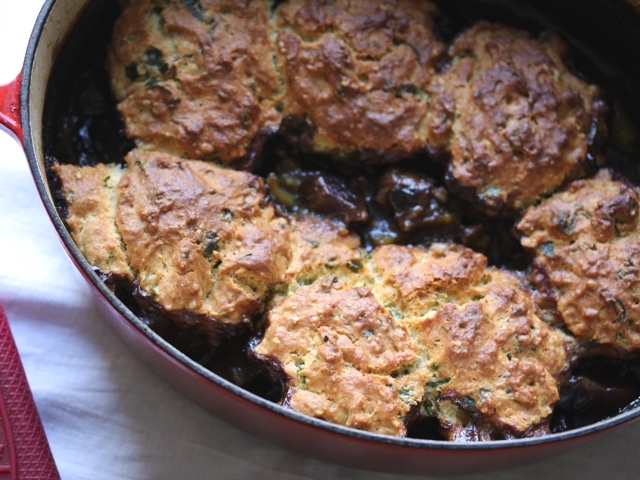 Today we have a guest writer on budgetpantry! Thank you WORLDFOODS for inviting me to take part in your International Fusion Recipe Swap Challenge. I think this is very interesting! My partner is Vanesther from Bangers & Mash (a family food blog from the UK) and I have to say, that Spicy Beef Cobbler surely looks delicious!

*** *** *** *** ***
When the weather turns nippy here in the UK (and the temperature really has plummeted in the last week), my thoughts instantly turn to hearty comfort food. Thick soups and rich stews, creamy macaroni cheese, fruit crumbles and stodgy sponge puds with lashings of hot, sweet custard… The kind of grub that sticks to your ribs and warms you from the inside out.
This is the kind of mood I was in when I decided to cook the family a Beef Cobbler the other day. It's essentially a beef casserole with a crumbly scone topping, kind of like American biscuits. It's properly satisfying food, and a touch healthier than stew and dumplings.
Then it occurred to me I could warm things up a little more by adding a touch of spice to the proceedings. The good people at WORLDFOODS had recently invited me to take part in their International Fusion Recipe Swap, challenging me to feature one of their Asian sauces in a traditional British recipe. What could be more quintessentially British than an old fashioned Beef Cobbler?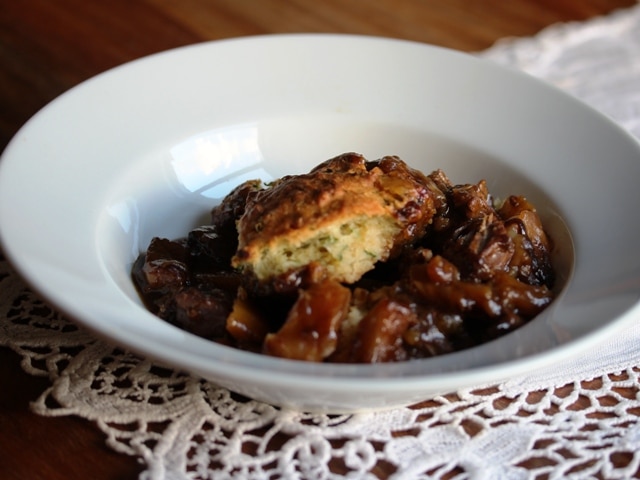 WORLDFOODS had sent me a selection of their delicious sauces to play with and, since I was cooking with beef, I was drawn to their Malaysian Rendang Curry Paste, which includes no less than 16 different herbs and spices, including chilli, galangal, lemon grass, tamarind and ginger. Beef Rendang is one of my favourite Malaysian curries and, as my mother is Malaysian, it seemed right to bring together the two sides of my own heritage for this fusion recipe challenge.
Rendang Curry Paste is hot but not too hot. Even so, I was a little concerned my children would find the end result a tad too fiery. I needn't have worried. Both my girls absolutely loved the spicy cobbler (and my husband too) and gobbled it up with gusto.
The cobbler topping, flavoured with coriander instead of the more traditional parsley, was just as I like it – crunchy on the outside, soft and fluffy on the inside – and was the perfect partner to the rich, meaty stew. The curry paste brought a beautiful rich warmth and depth to the sauce without overpowering the flavour of the tender beef.
It would seem I've discovered a new family favourite. I really hope Chris at Budget Pantry and all her blog readers enjoy it too!
*** *** *** *** ***
About Vanesther Rees:
Based in Somerset in South West England, Vanesther is a working mum and serious food junkie. She loves experimenting with recipes from around the world, determined to challenge her family's taste buds and take them on a taste adventure, without breaking the bank. Vanesther shares her more successful experiments on her family food blog, Bangers & Mash.
Find out more at bangers-and-mash.com and follow on Twitter @BangerMashChat.
*** *** *** *** ***
WORLDFOODS sauces are available worldwide, with a different selection available in each country. To find out the selection of sauces available in your country along with stockist details please visit: http://www.worldfoods.com.my/wf/where_to_buy/index.php
Spicy Beef Cobbler
Serves: 4-6

What you need:
500g beef braising steak, cut into large chunks
25g butter
3 tbsp sunflower oil
1 large onion, halved and sliced
2 garlic cloves, crushed
1 tbsp corn flour
1 litre beef stock
3 tbsp WORLDFOODS Malaysian Rendang Curry Paste
half a celeriac, peeled and diced
half a butternut squash, peeled, seeds scooped out and diced
salt and pepper
For the cobbler topping
165g plain flour
1 tbsp baking powder
salt
90g cold butter, diced
small bunch fresh coriander, roughly chopped
1 egg
2 tbsp natural yoghurt
100ml milk
Steps:
1. Preheat oven to 180°C / gas mark 4.
2. Heat the butter and 1 tbsp of the oil in a flameproof casserole over a medium-high heat and brown the beef in batches. Use a slotted spoon to remove the meat to a plate when it has reached a good colour.
3. Add the rest of the oil to the pan and fry the onion, stirring regularly, for around 15 minutes until sticky and caramelised. Add the garlic and cook for another minute or so.
4. Stir in the corn flour, followed by the beef stock and curry paste. Return the beef to the pan, along with the celeriac and butternut squash, and give it all a good stir. Season to taste.
5. Bring to a simmer, pop on the lid and cook in the oven for 1½ to 2 hours, stirring every now and again.
6. To make the cobbler topping, sift the flour, baking powder and a pinch of salt into a large bowl. Add the cold butter and rub together with the tips of your fingers until the mixture looks like breadcrumbs. Stir in the chopped coriander.
7. Break the egg into a jug and combine with the yoghurt and milk. Stir this into the dry ingredients.
8. When the stew is cooked and the meat is tender, use a large tablespoon to plop large round mounds of the topping around the edge of the casserole.
9. Bake in the oven for another 30-40 minutes until the cobbles have risen and are golden and crispy on top. Serve immediately.