Traditional Pumpkin Rice 南瓜饭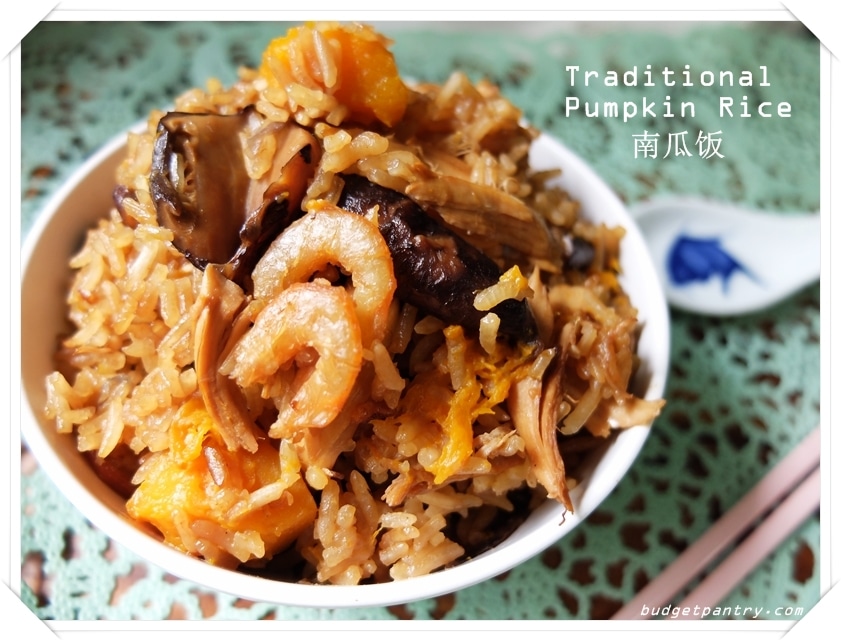 I love pumpkin rice! Whenever I order 老火汤, I always ask for pumpkin rice instead of white rice. Their pumpkin rice is really basic, just pumpkin steamed with rice I think, but I always finish the entire bowl even if I try to avoid carbs as much as I can. Imagine what will happen if I cook my own version which is chock full of ingredients? One month no need to eat rice! *faint*
My version of pumpkin rice is similar to those Hokkien version that some stalls still sell today. I like to add sliced shallots to enhance the fragrance, and loads of Chinese mushrooms, dried shrimp and shredded chicken so you get all the wholesome goodness in one pot.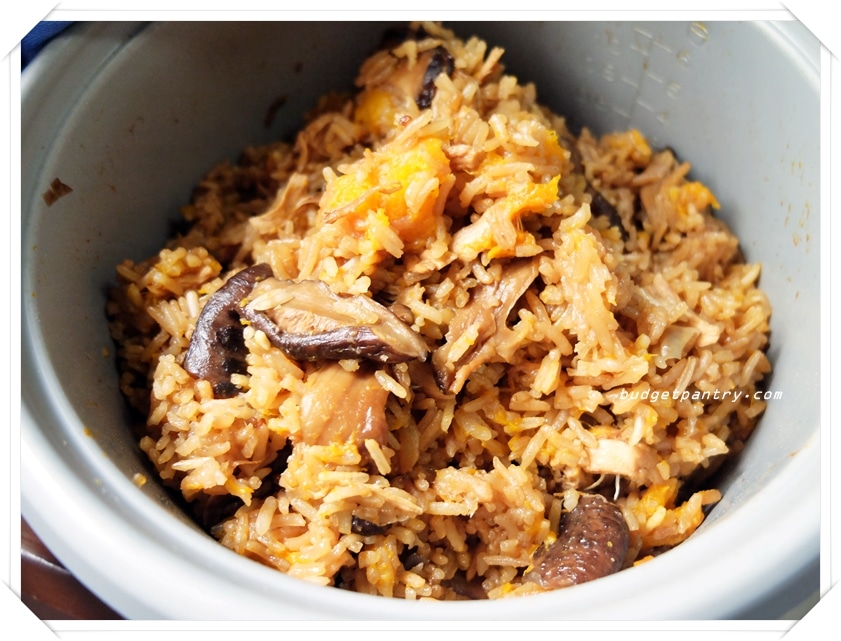 When I first said that I will be cooking pumpkin rice for Saturday's lunch, the husband made a face (don't think I didn't see it!) and said pumpkins are strange (don't ask). I was so confident that he will love it that I told him, "You just wait and see." 你等着瞧吧你! Come on, he is a yam cake, chwee kueh, carrot cake, glutinous rice, yam rice person.. how could he not love my pumpkin rice? Just not possible.
And indeed, when I was done cooking, I kay-siao told him to try one mouthful as a 'test-drive'. He ended up eating two large bowls before we went out and kept wishing that the aunts wouldn't finish the rest, so that there will still be some leftover for his supper!
This recipe is pretty simple. Basically, just fry shallots, mushrooms, dried shrimps, for a few minutes before adding uncooked pumpkin and cooked shredded chicken along with the seasonings. Add the uncooked rice grains, dry-fry til everything is coated with the sauce, then transfer everything to the rice cooker to let it do the work. I used shredded chicken for this (boil chicken fillet or chicken breast til cooked, then shred by hand) instead of chicken pieces or roasted pork and I loved it. Don't use bite-sized chicken pieces for this.. I don't think it'll be as good, but roast pork is always yummy.
This is similar to my yam rice recipe but I made some ingredients and proportion changes. Note that because it is easy for pumpkin to turn mushy, we can't add too much water to the rice. I simply let the water level come up to the same level as the rice and that's it.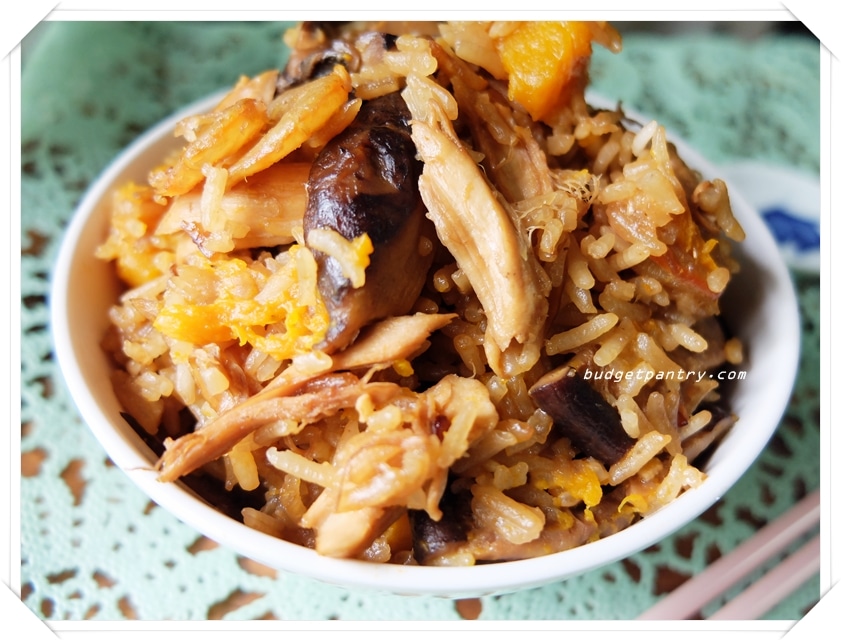 Oh and one pointer about rehydrating dried Chinese mushrooms: Always soak your mushrooms in room temperature water instead of hot water. Mushrooms soaked in hot water are less flavourful than those soaked in room temperature water. Using hot water takes less time, yes, but doing so extracts the flavour of the mushrooms *from* the mushrooms straight into the soaking water. Thekitchn.com did an experiment to compare.. you might be interested to read about it. Something new for most people?
I love how easy it is to put this together.. I think this is almost fool-proof. Have fun trying this! :)
Traditional Pumpkin Rice 南瓜饭

(budgetpantry.com)
Serves: 5-6
Total cost per serving: $1.29
What you need:
400g pumpkin, skin and seeds removed, chopped into cubes (no need to steam first)
3 cups uncooked rice, rinsed and set aside
3 and 1/4 cups water
8 dried chinese mushrooms
2 tbsp dried shrimps
3 strips chicken fillet, boiled and shredded
6 shallots, sliced thinly
1 tbsp olive oil
Seasonings
2 tbsp dark soy sauce
3 tbsp light soy sauce
1 tbsp oyster sauce or abalone sauce
1 tbsp cooking wine
A dash of white pepper
Steps:
Prepare the mushrooms: Rinse, then soak in 2-3 *cups room temperature water until soft, about 3 hours. Reserve the soaking liquid. Squeeze out excess water and slice at an angle. Set aside. *Use the same measuring cup you will use to measure the rice (usually comes with the rice cooker).
Prepare the dried shrimps: Rinse, then soak in 1 cup hot water for 15 minutes. Drain and reserve the soaking liquid. Again, I used the same rice cup to measure the amount of water. Set aside.
In a heated wok, add the olive oil and fry shallots, mushrooms and dried shrimps til fragrant, about 4 minutes. Add pumpkin, shredded chicken, uncooked rice and seasonings. "Dry-fry" til all ingredients are coated with the seasonings. Doesn't matter if they're uncooked.
Transfer everything into your rice cooker, add 3 and 1/4 cups water – use the mushroom + dried shrimp soaking water you reserved earlier. Ensure that the water just about covers the rice, nothing more. Discard excess water.
Cook it as you would regular rice. When ready, stir with serving spoon and let it sit for 10 minutes in the rice cooker. Serve and enjoy your carb fest.
How much I spent:
$3.04 for Japanese pumpkin
$1.20 for chicken fillet
$1.50 for dried shrimps
$2 for mushrooms
Everything else from my pantry