Slow Cooker Braised Pork Ribs 辣豆酱焖排骨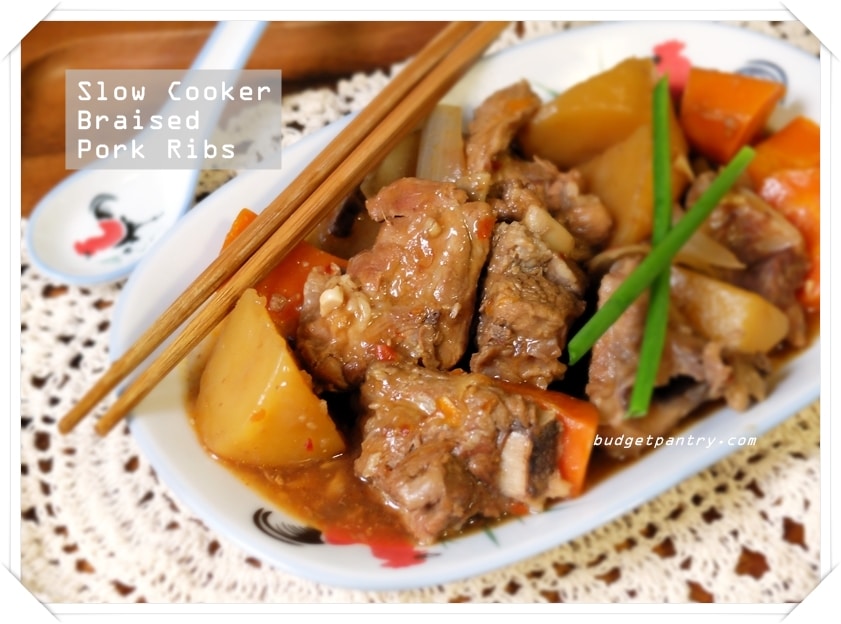 I had prepared all the ingredients for ABC Soup – pork ribs, potatoes, carrots and onions – for what I thought was gonna be our dinner tonight. Moments before placing everything into the slow cooker along with 2 litres of water, I hesitated.
Soup?

I mean, soup is yummy and everyone in the family loves soup, but it is unimaginative and quite boring. Whenever I feel lazy or out of ideas, I cook soup. And soup has been appearing on our dinner table far too often these days. How could I?
I quickly surveyed the ingredients in front of me. Meat, potatoes, carrots and onions. If not for soup, what else could I make? Looking at my slow cooker on the countertop, it was quite a no-brainer. Slow cooker braised pork ribs it's gonna be! What better way to make braised pork ribs than in the slow cooker? Just leave everything in it -> go do my thing for the next seven hours -> come back to tender, fall-off-the-bone pork ribs. Sounds amazing.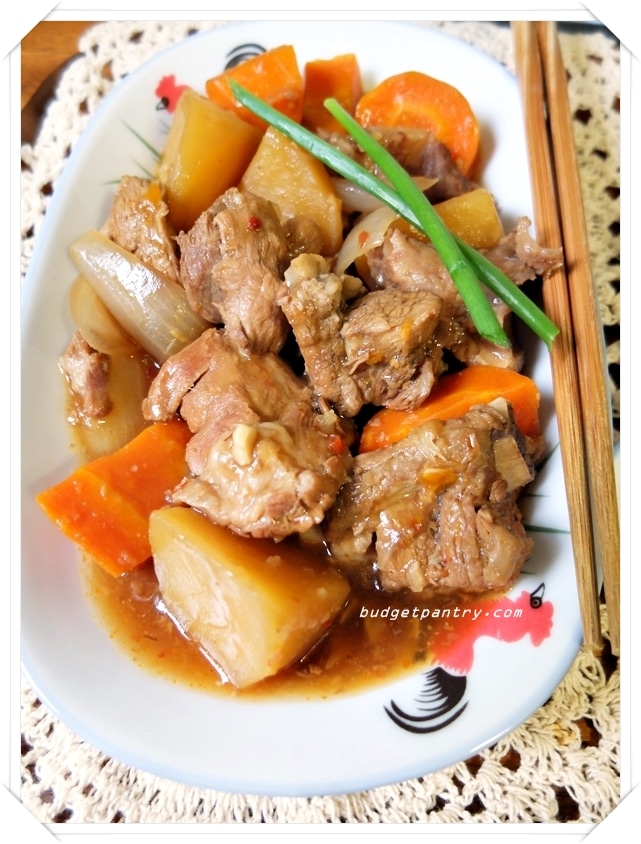 For this dish, you can easily substitute the pork for beef chuck, shank or brisket if you prefer. Too bad Jason and 88 don't eat beef.. I think slow cooker braised beef shank will be even better.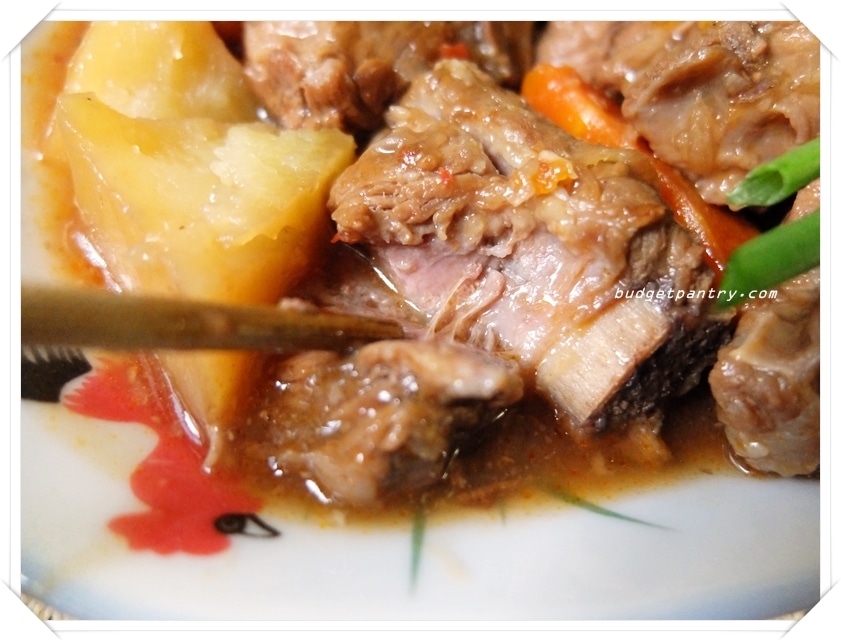 Some recipes call for you to brown the meat in oil, garlic and sauces first before transferring the contents to the slow cooker. What? You want me to wash another pot? Don't want la! Knowing me, if I can avoid an extra step, I avoid an extra step. Cooking everything in one pot sounds like a better deal. Here's what it looks like before I switched on the slow cooker: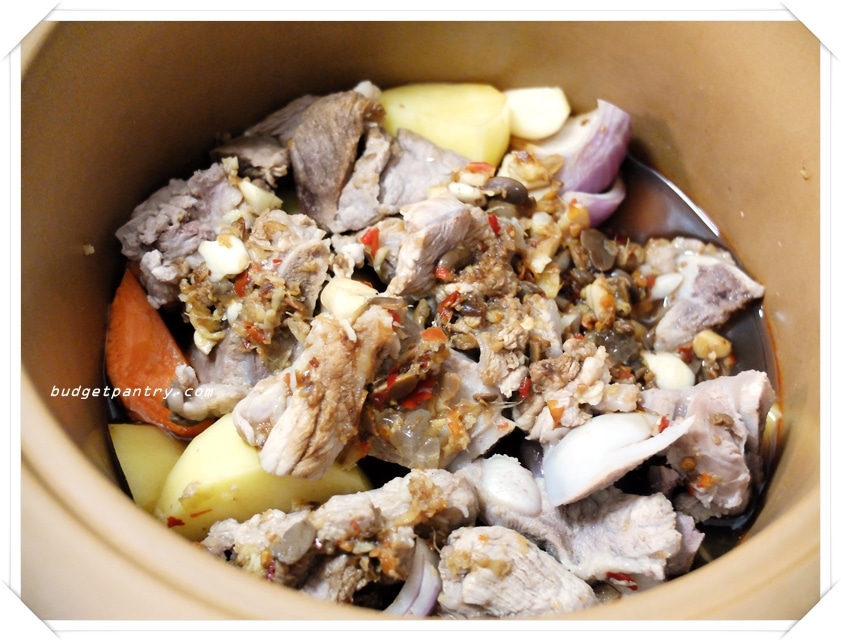 In short, the recipe goes like this: Combine everything in the slow cooker and cook for seven hours. Eat.
Sounds SUPER to me!
p/s- if you don't have a slow cooker, don't despair. You can also cook this over the stove top. Bring everything to boil, lower flame and cook for 3-4 hours til meat is tender. Stir every now and then to make sure nothing's burnt! And here's a picture of the spicy bean paste I used (I got it from the provision store but I think Giant carries it):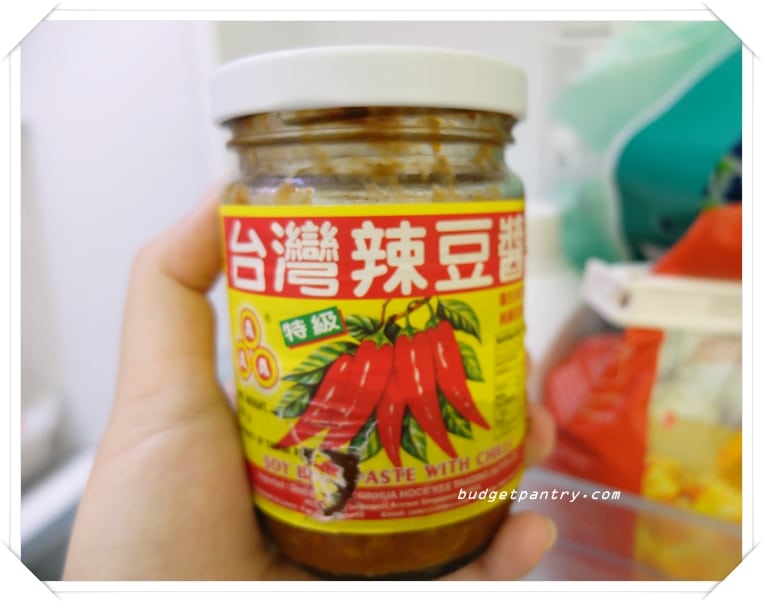 You can use other brands if you can't find this. Enjoy the dish!
Slow Cooker Braised Pork Ribs

(budgetpantry.com)
Serves: 3-4 as part of a Chinese meal
Total cost per serving: $2.30
What you need:
500g pork ribs
2 medium potatoes
1 large carrot
1 medium red onion
2 tablespoons cornstarch solution (1 tablespoon cornstarch mixed with 2 tablespoons water)
Sauce ingredients (mix together)
350ml hot water
2 tablespoons spicy bean paste (辣豆瓣)
1 tablespoon oyster sauce
1 teaspoon dark soy sauce (I used LKK's premium dark soy sauce)
1 tablespoon chinese cooking wine (hua diao wine)
1 tablespoon fresh grated ginger
6 cloves fresh garlic, smashed and minced
Half teaspoon coarse black pepper
Steps:
Peel and chop potatoes, carrots and onions into chunks.
Wash pork ribs til water runs clear, blanch in boiling water to remove grime, drain and set aside.
Lay potatoes, carrots and onions in the slow cooker, followed by the pork ribs. Pour the sauce ingredients on top. Switch on your slow cooker and braise on "Auto-shift" for 6-7 hours or "High" for 3-4 hours. When done, mix in the cornstarch solution. Cook for another 5-10 minutes to thicken.
Serve hot with rice.
How much I spent:
$8.50 for fresh pork ribs
$0.60 for potatoes
$0.40 for carrot
Everything else from my pantry