Stir Fried Beef with Bell Peppers
This was a dish that my eldest sister-in-law cooked for me when I was on hospitalisation leave. I am very lucky that my family members all dote on me. When I was recovering from surgery, even my second sis-in-law (who's not a fan of the kitchen but she's good in so many other things) brewed tea and brought them in a thermos flask to the hospital. I'm one of the luckiest girls in the world.
My eldest sister-in-law sent this stir fried beef over to my place one afternoon, along with collagen chicken soup and red date tea. The kitchen goddess of our household cooks 20000% times better than me. The only thing that I can "win" her is in food presentation. She's a real advocate of "ugly never mind, good to eat can already". I cannot. I must make my dish pretty and take (or attempt to) take beautiful photos, if not what's the point? I can't even tell you how many times I have postponed cooking something because the lighting was bad.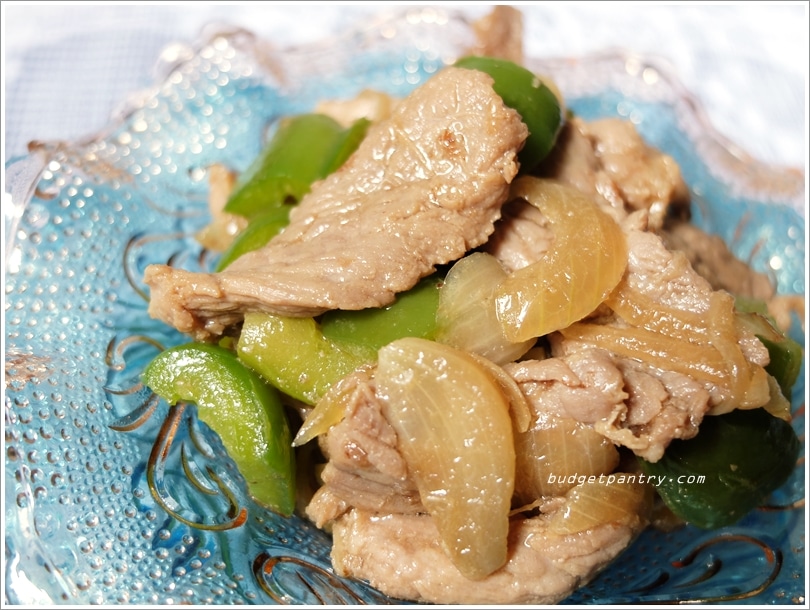 This dish is crazy delicious! The gravy (from the onion, bell pepper and beef) was spectacular and just perfect with rice. I had a taste of it and demanded that she tell me her recipe now now NOW. She only used four ingredients: sliced beef, yellow onion, green bell pepper and a dash of light soy sauce. The cut of the beef makes a difference for sure. She sliced her marbled sirloin (she buys them in bulk at $250 for 36 pieces) and used it to cook stir fried beef.. how can it not taste good? Other than the good cut of beef, she also swears by Lee Kum Kee's Premium Light Sauce because it isn't too salty and has a tinge of sweetness (I prefer Kikkoman). And of course, yellow onions and green bell peppers create magic together. And since we're on the topic of soy sauce, Fenghe Garden seems to be very popular now.. I bought a small bottle to try and all I can taste is sweetness. Why is the whole world crazy over it?
Anyway. If you're using more regular beef cuts sliced for stir frying, don't fret. Add one teaspoon of cornstarch or tapioca flour to the beef before frying. Not only does the flour coating tenderise the meat, it also protects it from the high heat, which could severely dry it out.
This is a supremely easy to cook dish that anyone can try. I am tempted to cook it this weekend using beef shabu shabu slices!
Stir Fried Beef with Bell Peppers

(budgetpantry.com)
Serves: 1
Total cost per serving: $8.15 (cheaper if you don't use sirloin, of course)
What you need:
180-200g sliced beef (my sis-in-law used sirloin with good marbling)
1 large yellow onion, sliced
1 green bell pepper, cut into small chunks
1 tablespoon olive oil
Dash of light soy sauce (she used Lee Kum Kee's premium light soy sauce)
Steps:
Heat your pan and add the olive oil. Fry onions till slightly soft and add bell peppers.
Fry for a few minutes till peppers are fragrant. On high flame, add beef slices. Give it a quick stir then lower the flame and cook til preferred doneness. I prefer mine medium-well, when they're just starting to turn light brown.
Add the dash of soy sauce and turn off the flame. Allow to sit for 2 minutes before dishing up. Serve hot with rice.
*If you're using regular cut beef for stir fry instead of marbled sirloin, add one teaspoon cornstarch or tapioca flour to the beef before frying so that it will not be stiff and dry.
How much I spent:
$6.95 for sirloin (my sis-in-law buys them in bulk at $250 for 36 pieces)
$0.30 for yellow onion
$0.90 for bell pepper
Everything else from my pantry